Post by ChineseNinjaHero on May 7, 2013 17:14:11 GMT -5
Met up with one of our lovely lady attorneys in Las Vegas, susand24224, and we had the best day hanging out and visiting the famous Cactus Joe's at the Red Rock Canyon.
Cactus Joe's is actually a cactus/art shop (I think that's how you'd describe it), but they sell a huge amount of rocks!! So we went 'rockhounding' the easy way!!! (best way! You guys who actually go digging in the dirt in 0% humidity and 100% heat have my admiration!) Even doing that wore me out in the heat, holy cow it was HOT out there, and this is SPRING!!!
Susan and I spent most of our time holed up in the slab shack, which was wonderful... coulda spent another hour in there:P.
This is Cactus Joe's... if you are in Las Vegas, skip the strip (way worse than the Gov't for stealing money), and go here instead!!!
What a great place!!!
On the way there, we got to see wild burros!!!
It's a beautiful and scenic drive too!
Cactus Joe's is surrounded by beautiful red hills... just a breathtaking area to visit, and close to Vegas:
Stone Turtles!!! (thought Shotgunner and JamesP would like to see these):
They sell the neatest stuff there: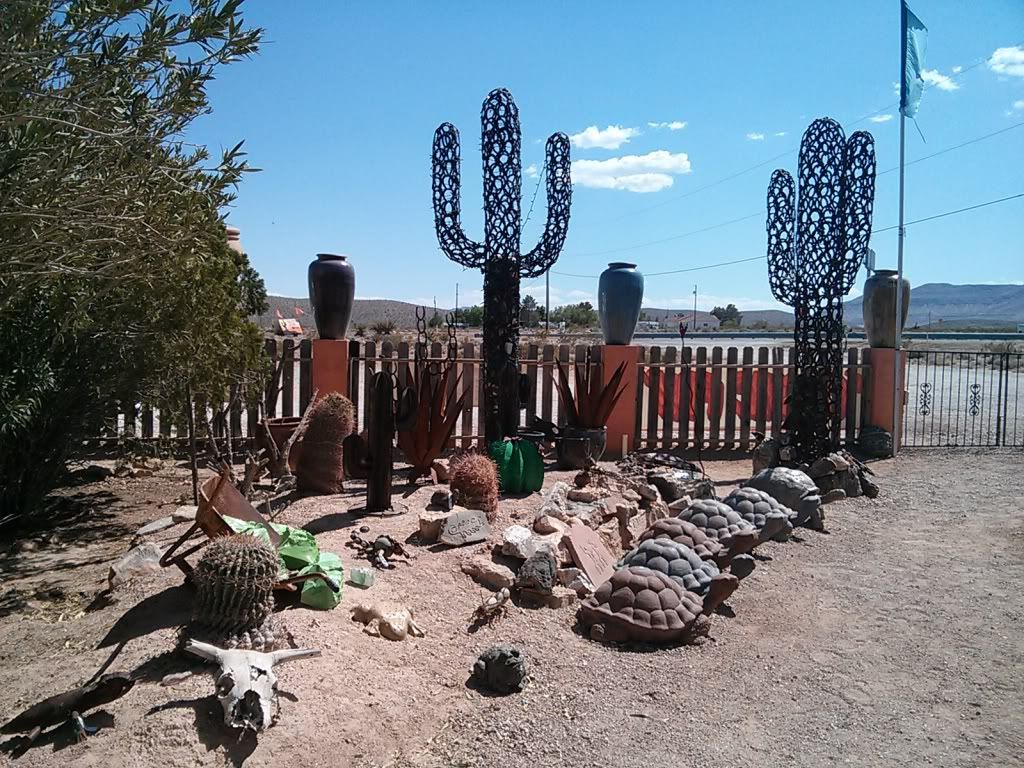 Mounds and mounds of slag glass ($4/lb):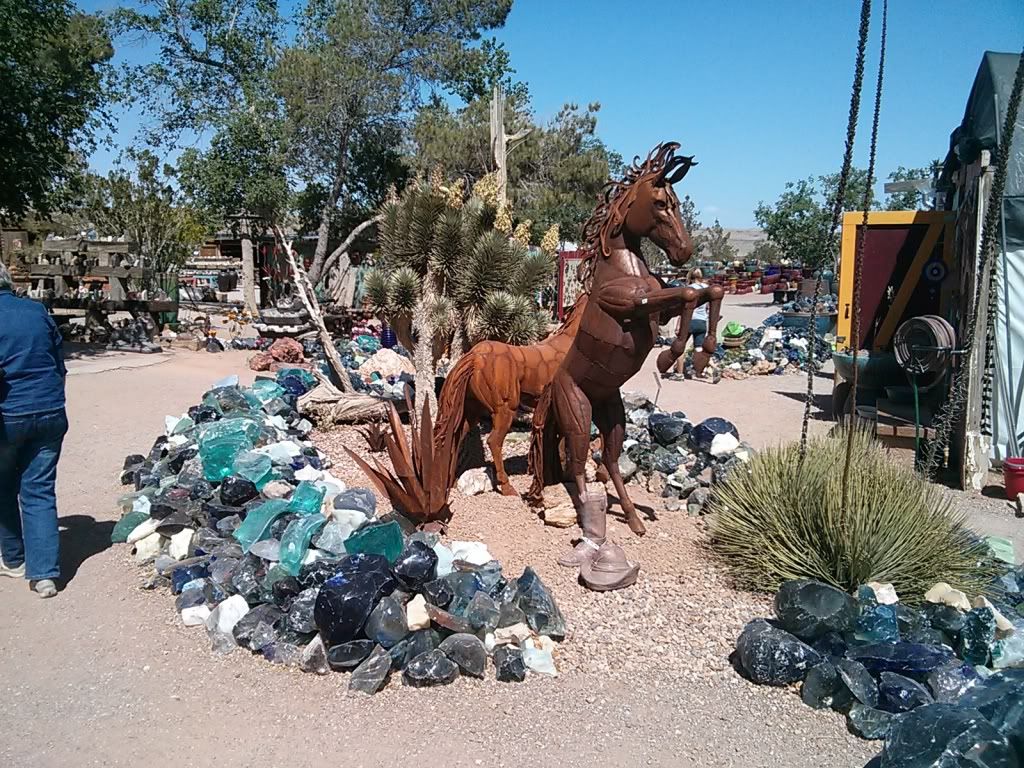 An adorable collection of rock 'ants' (rocks and wire)... I got the ant on the far left with the rake:P: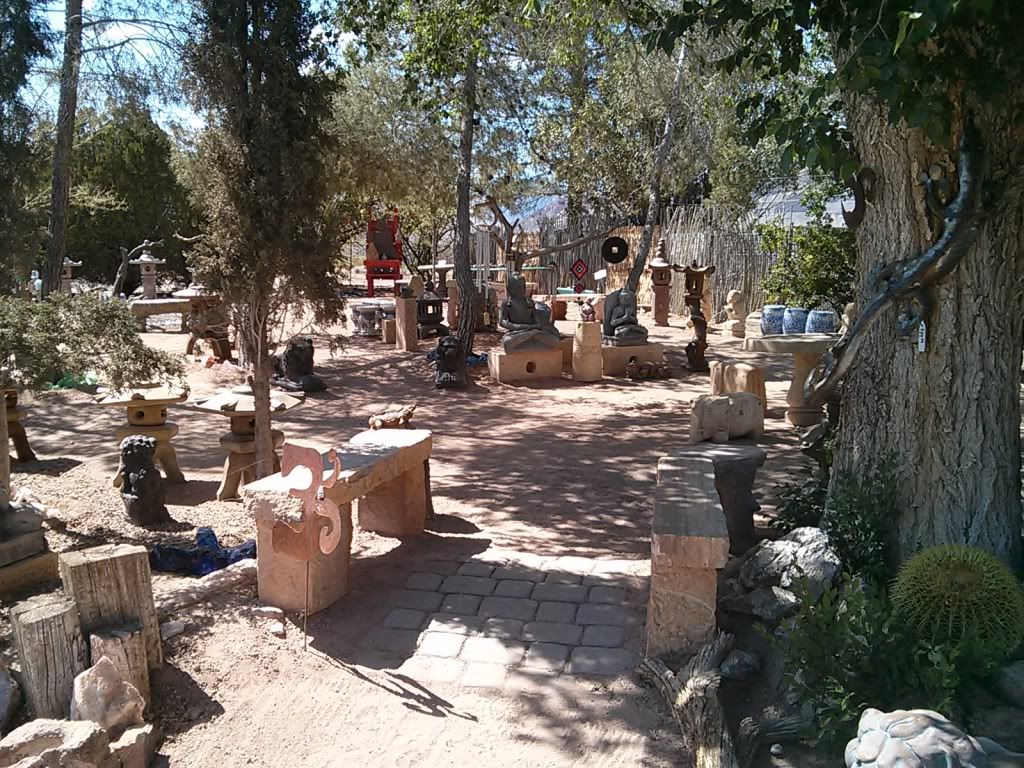 Rock Shop:
The Slab Shed!!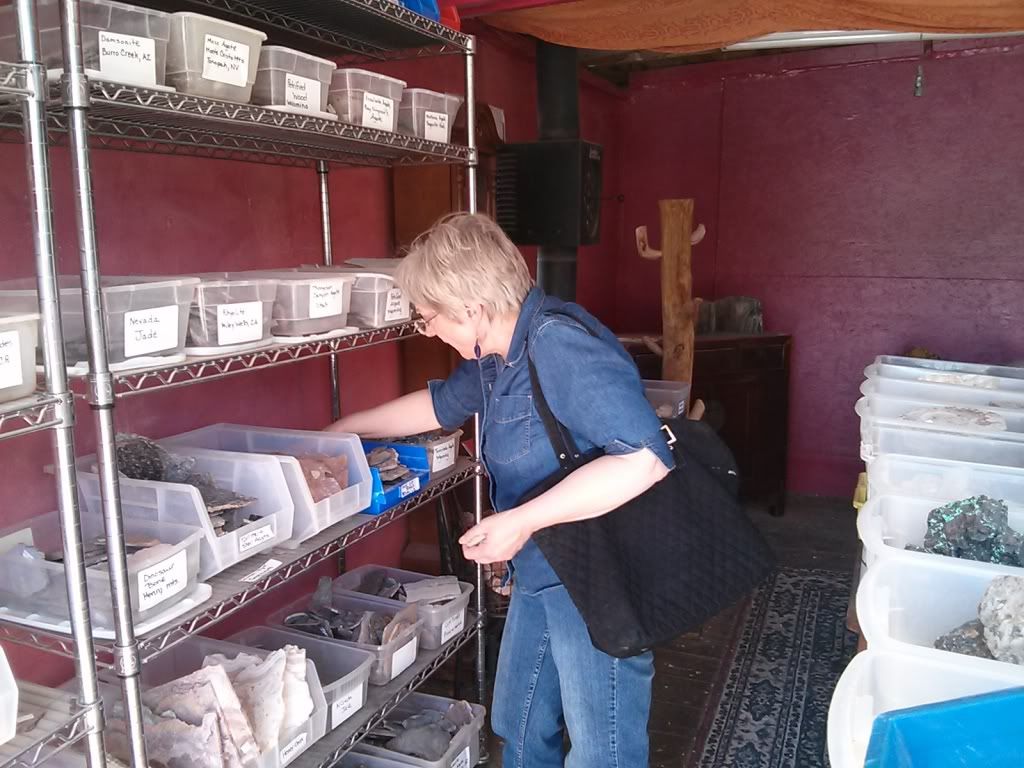 Their 'porch', where the nice people there gave us bottled water as we lay on their furniture panting from heat exhaustion:P:
What a great trip! Susan is terrific, and both of us came out of there with real BOOOTAYY!!
Here's some of mine:
A neat rock that I'm going to guess is chrysocolla and malachite streaks in Quartz. Susan actually found this one and let me have it (did you get one Susan??):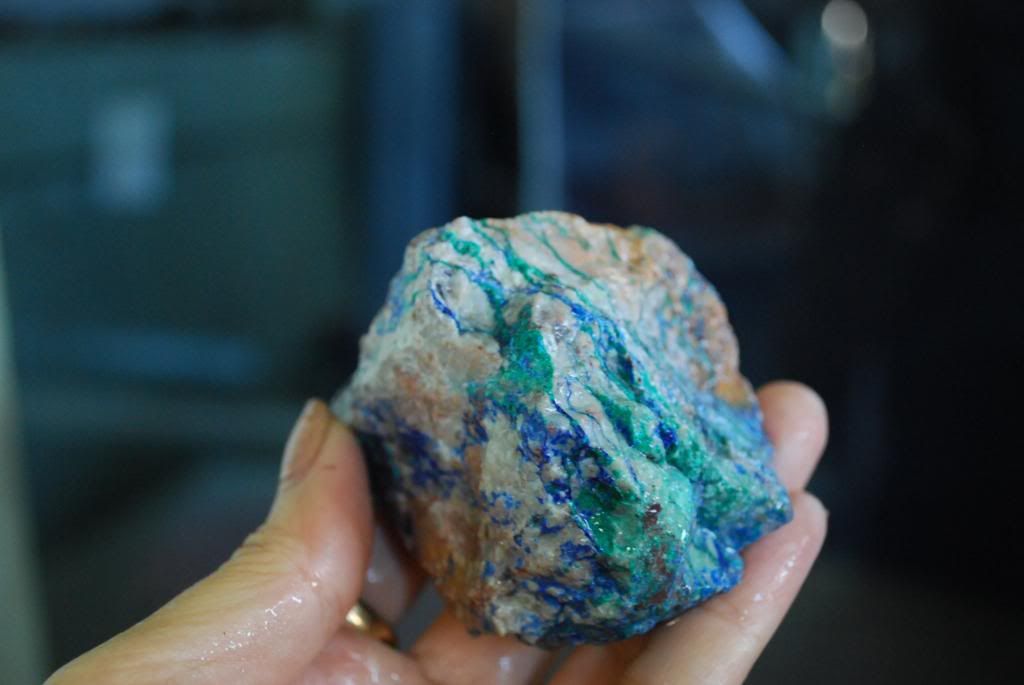 A poppy rock... at the moment I'm obsessed with poppies... rocks, flowers, patterns... this is so cute!
Then I went a bit nuts with the little slabs... these are my favorites: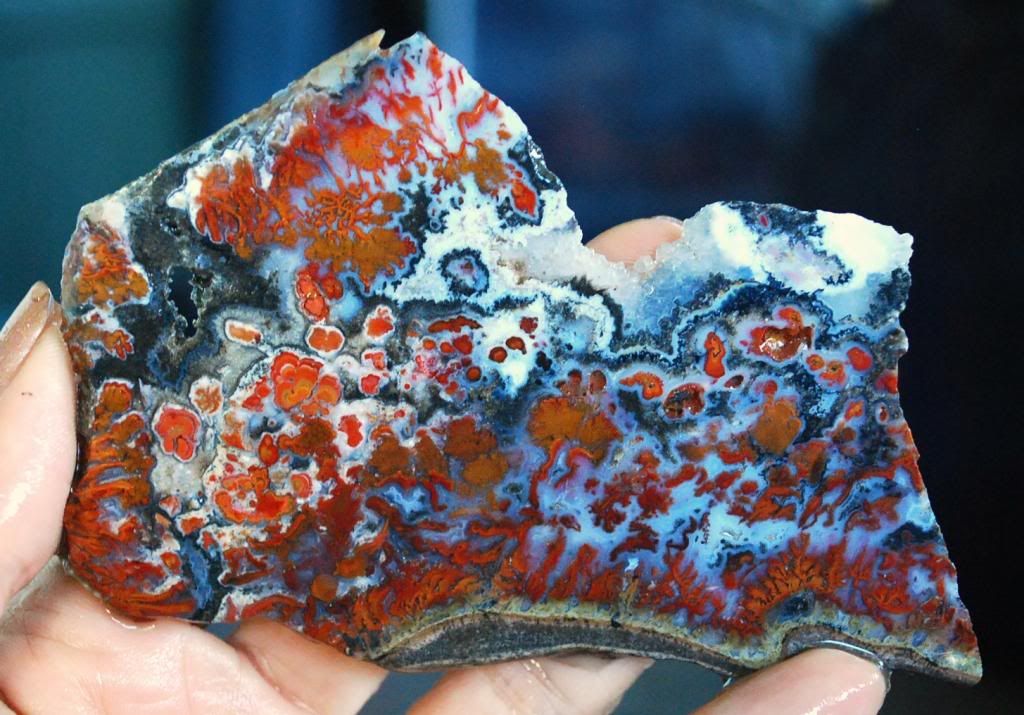 Don't have a clue what this is, but it's blue/purple:
Don't know what this is either... but it's got an onyx like texture, and looks like a sandwich slice:
This one looks like Koi Jasper... but I thought all their rocks there were from the US- and the pattern doesn't look like Koi to me, even if the colors do: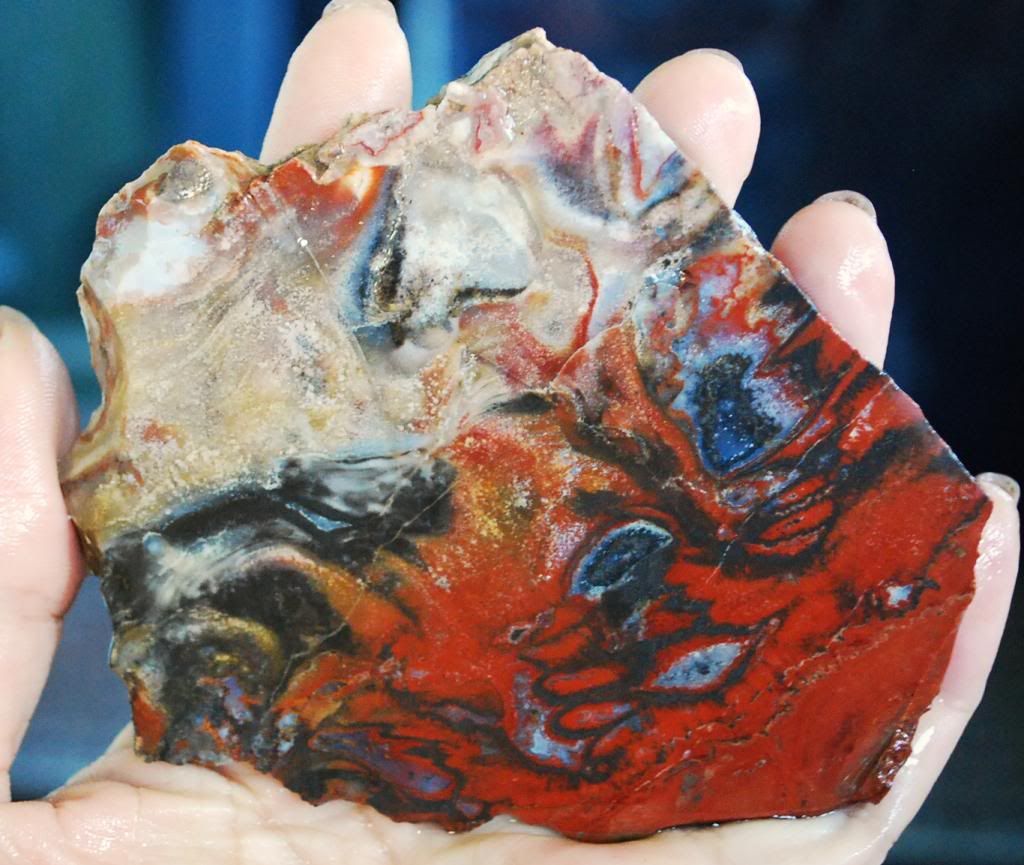 At the time, I thought this was devil's toenails... but it's not... no clue what it is, but it's really interesting looking -the filled in bluish agate parts look like they are segmented, like agatized worms or something (not fractures!):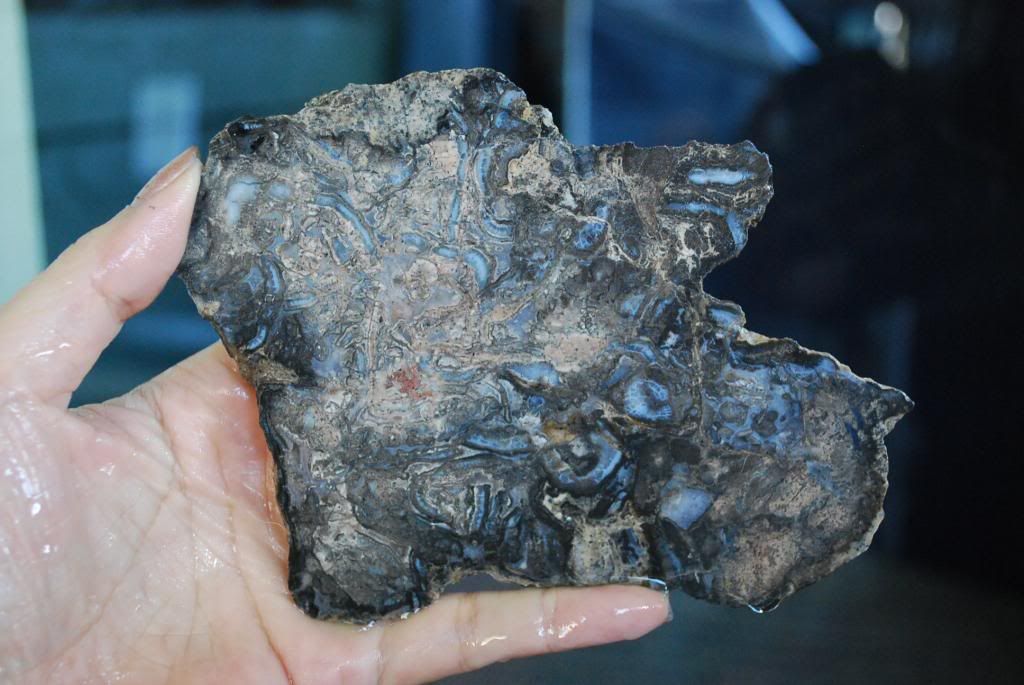 Have a couple of slabs of this... no idea what it is. It resembles mushroom rhyolite a bit, but has tubes and isn't the right colors (much paler and peach tones):
This one resembles imperial because of the green... but the pattern in the middle looks more like carrasite?
And a fish (looks like a stonefish!), but it may be palmroot?: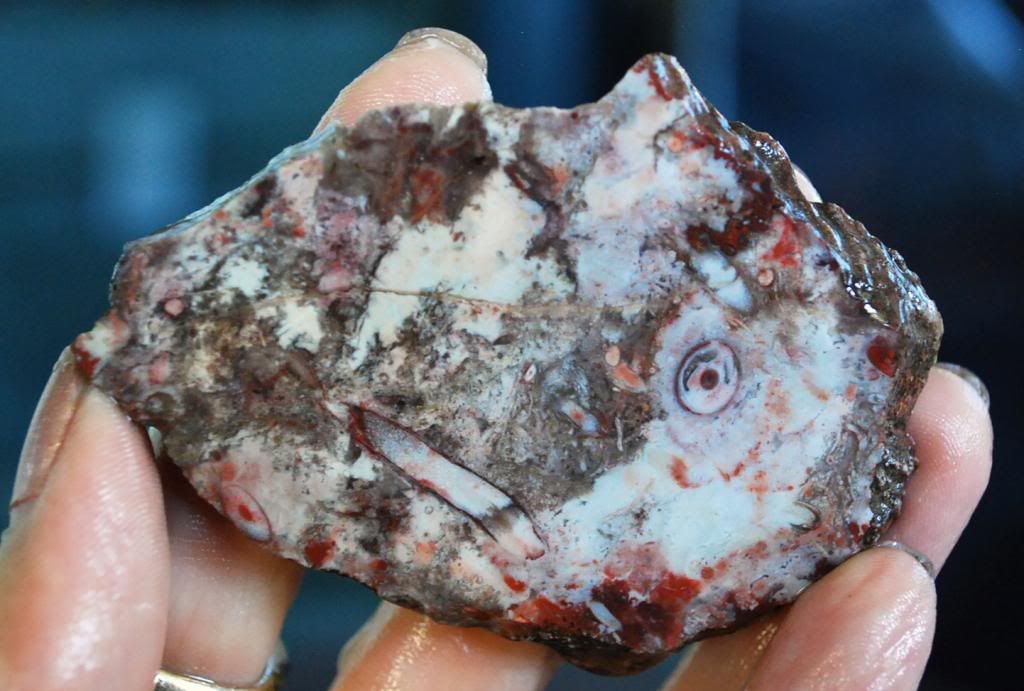 Here's a slideshow of all the rocks I got:
s1339.photobucket.com/user/hystark/slideshow/2013-LasVegas/2013-CactusJoeRocks
Thanks again Susan, for telling me about this really amazing place, I had a ton of fun with you and your brother:)!!