Post by chris1956 on Jan 27, 2023 21:08:38 GMT -5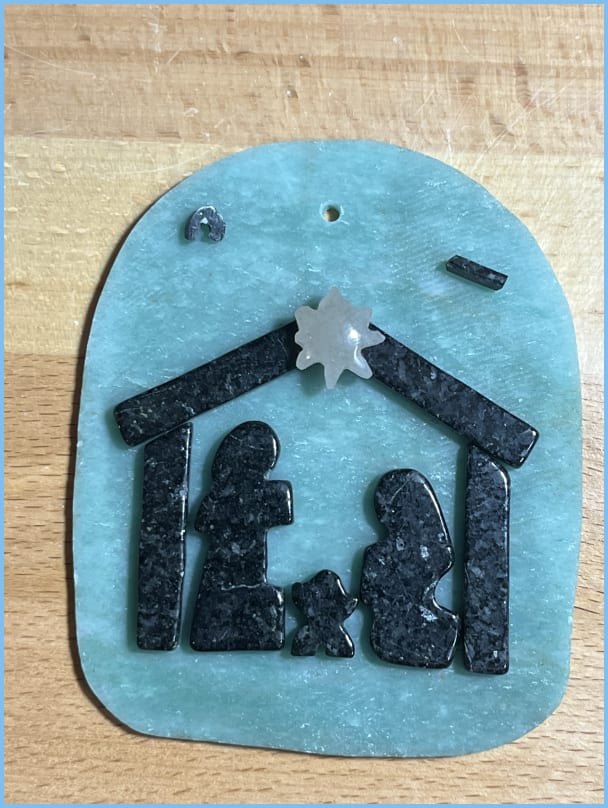 Last year I made sets of Rob's (Michigan Rocks) Christmas ornaments for several family and friends. Everyone loved them. My sister-in-law loved them so much she requested additional ones for this year including a nativity scene. My first reaction was "How in the world am I going to do that?"
I didn't think I had the skill or tools to cut the scene out of one slab. After some time, I got the idea to do the scene in pieces and then epoxy them to a background slab as seen in the photo (not epoxied yet). I cut everything but the two pieces of the staff and star on a trim saw and then ran them through the Lot-O tumbler. The two staff pieces were ground on a caber and a Dremel drill press with diamond drill bits. The star was cut on a trim saw and then ground and polished on a caber. I have done another set of the staff pieces since the ones you see didn't turn out well and one cracked. I may also try a second star as I think I can do better on that. They are very tiny pieces as the adventurine background is about 4 inches tall.
Anyway, all went well until I tried to do a mock assembly of all the pieces on the background. That is when I realized how difficult it is to line everything up correctly. I managed to do it for the mockup, but I ended up sliding pieces back and forth to get it lined up. I am concerned that when I put epoxy on the pieces, and try to get them aligned, I will get epoxy all over the place. My fingers are too big.
So my question is how to proceed from this point. I was thinking of making an outline of the building with tape and placing that on the background slab. Then I could align the building, get it epoxied, and then do the figures and manger inside which should be easier to epoxy once the building is fixed. I think once you have everything epoxied, you could peel off the tape without too much trouble.
Another idea is to draw the outline of the building and figures in pencil on the background and then epoxy. But I am concerned that the pencil lines will show up or they will be too close to the figures to remove.
I read that acetone would dissolve epoxy. If it works on the 330 epoxy, maybe cleanup wouldn't be a problem? Does anyone have experience with using acetone like this? I wanted to leave the adventurine background unpolished so I don't want to do any grinding or polishing for epoxy cleanup.
I am a little concerned about the weight with the background slab (I made it as thin as I thought it could be) but if it is too heavy for a tree, I am sure my sister-in-law will find somewhere to hang it.
Is there a better way to do this? Or should I go back to the idea of making it all out of one slab (I think I might be able to use my drill press to start holes and then use the side of the drill bits like a router.). However, I like the look of the tumbled pieces. Or should I give up and do something simple? Any suggestions would be appreciated.
Thanks,
Chris