Post by vegasjames on May 8, 2023 0:25:47 GMT -5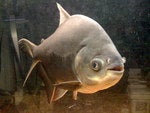 There are other volcanic glasses other than obsidian, such as tachylite.

People will often call all volcanic glasses obsidian which is not correct. Obsidian flows have a high content of silica and a high viscosity which means they cool over very fast. Lava cooling in the air does not become obsidian.

If you just take normal basaltic lava and dump it in water you do get a volcanic glass, just not obsidian.
(examples of pillow basalt in NE Washington)
(Example of volcanic glass formed from basalt contacting water)
(Example of rapid cooling. The brown is palagonite, then glassy tachylite and then basalt)
I am aware there are various forms of volcanic glass. I was thinking about writing an article on this for our club newsletter as I have been in debates with some members who think that the only volcanic glass is obsidian.

What I am still trying to figure out though, is why is the lava that forms under water in Hawaii still called a basalt, more specifically pillow basalt instead of forming obsidian due to rapid cooling. I saw the same thing in Iceland where a lot the volcanic flows occurred under glaciers and ice fields, yet obsidian is so hard to find there.