Post by Deleted on Apr 23, 2009 14:21:37 GMT -5
Having been a Pet Groomer for going on 18 years now, I am often asked grooming questions. Rogue was asking about trimming his dogs toenails....and there IS an easy way to do black nails that many dont know about. Since there are so many pet owners on the board, I just thought I would share. The same rules apply whether you are using nail trimmers, a dremel/Pedi Paws etc.
White/light colored nails are easy. The pink that you see through the nail is the living quick or nerve. As long as you cut in front of that, you'll be fine. If you cut into the pink, you will make the nail bleed.
On black nails its a bit diferent. Here is an untrimmed black toenail, about 8 weeks growth.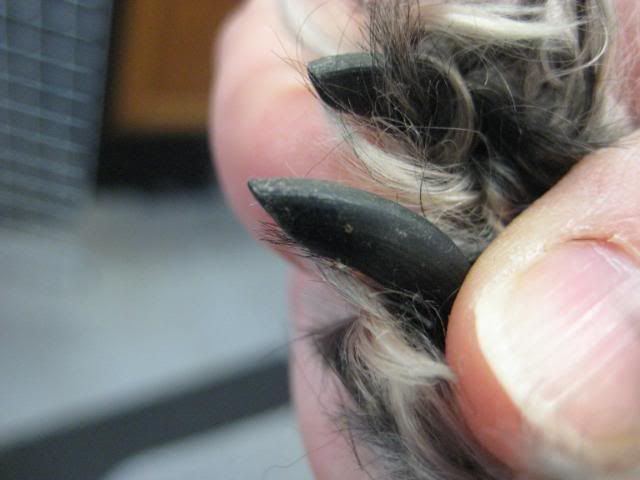 With your nail trimmers, shave off just the tip of the nail, we are talking 1-2 mm at a time.
After the first little snip, look at the end of the nail straight on. Notice that the center is WHITE.
As you get closer to the nerve, the center will start to turn darker. Notice the bit of gray?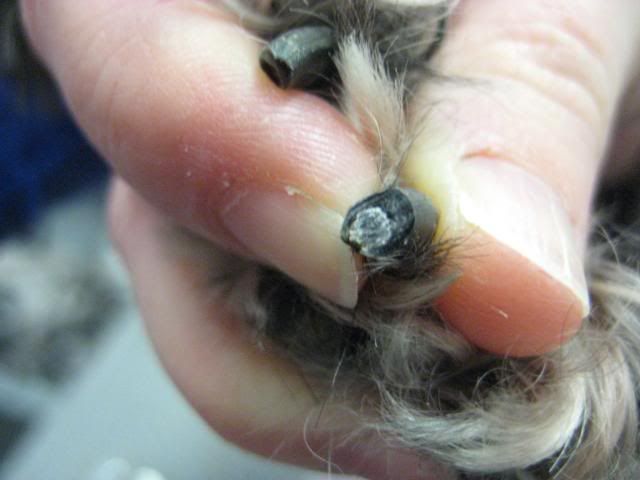 Another snip, an its even darker.
The center of the nail is now very BLACK. This is where you want to stop. If you cut beyond this, you will make the nail bleed.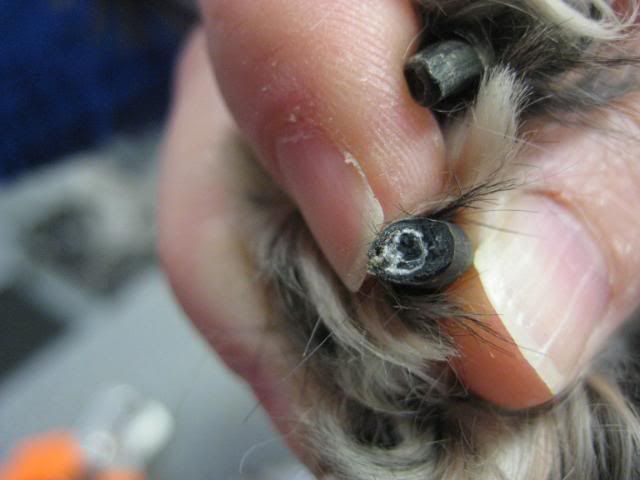 Here is what the nail now looks like.
As a side note, cutting to far and making the nail bleed is not really a big deal.....well, besides the dog running around bleeding all over your floor. Like most minor things, they just bleed a lot. I use styptic powder to stop the bleeding. If you dont have any, a pinch of flour from your kitchen, packed into the end of the nail will help stop any bleeding.
As for behavioral issues while trimming nails......if your dog yelps, jerks its foot away etc. and you stop, you are just rewarding for that behavior. I NEVER let go when I am trimming nails. If the dog wants to throw a fit, so be it, I calmly continue what I am doing. After one or two times of this, the dog learns that its just something that it has to accept. No, they will never like it, but just like with your kids getting shots at the doc.......it just has to be done for their health.
*Long toenails can contribute to foot malformations and even hip displasia*
Hopes this helps. ;D