Post by catmandewe on Oct 2, 2011 21:22:00 GMT -5
Just got home from McDermitt a few hours ago and put all the camping gear away and unloaded the rock.
I had a great time with some good friends and met some new friends.
I got a few pictures taken and hopefully some other members will add to this post.
Roy and I arrived after dark on Thursday night, we found Scot, Arnie, and Tom already there. Here is a picture of camp on Friday morning.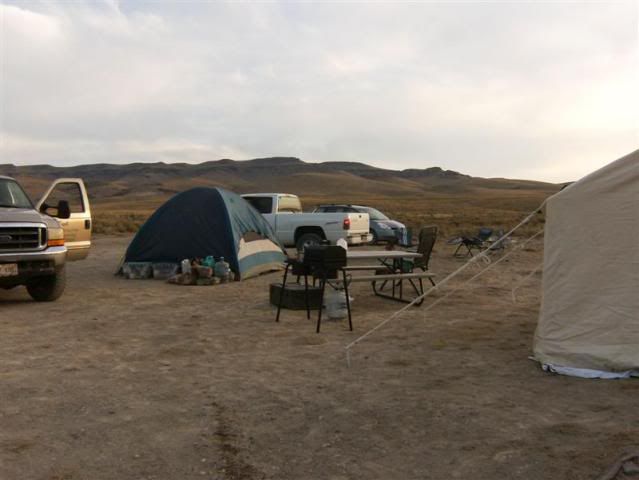 Our first stop on Friday morning was Purple Cow, here is Scot and Arnie out combing the brush for some pieces.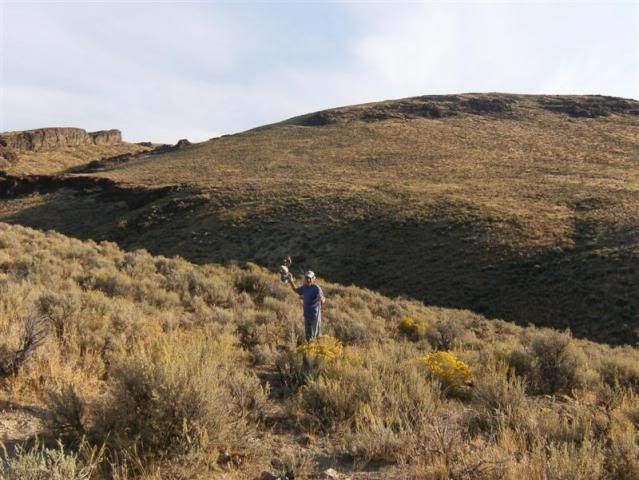 Here is Tom out looking for the really good piece.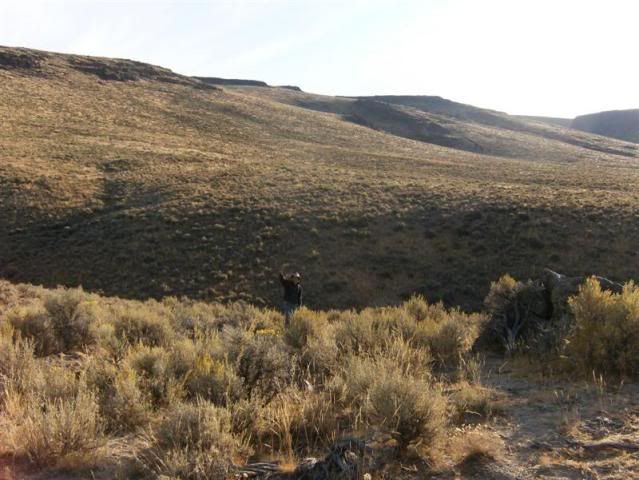 Roy found a good piece lurking just under the surface, so he is busy digging it out.
We went back to camp for lunch and Tom left to go dig turquoise in Tonopah. The rest of us headed to Gary Green for the afternoon.
Left to right Roy, Arnie, Scot.
A big ole chunk of Gary Green we pried out of the hill side.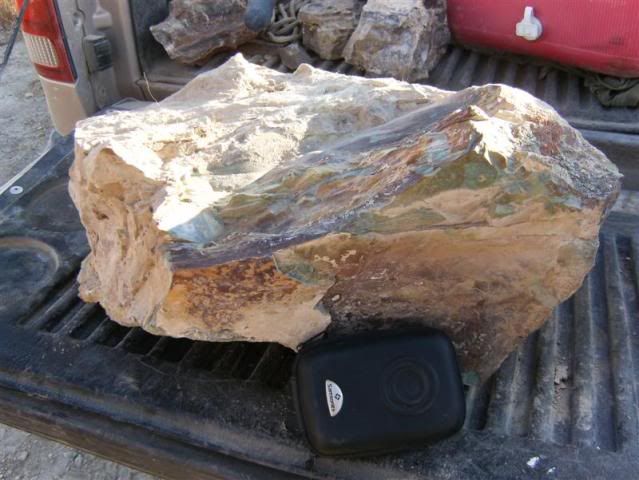 Saturday morning just before we headed out a guy named Dwayne stopped by and asked if we were hunters, we told him we were hunting rocks and he said he was too, so we invited him to tag along. The first stop of the morning was a dig called fortification agate, we found literally tons and tons of agate, but the fortification must have already been cleaned out. Here is the area we stopped at to hunt.
Agates like this are literally laying all over the ground for a hundred yards either direction.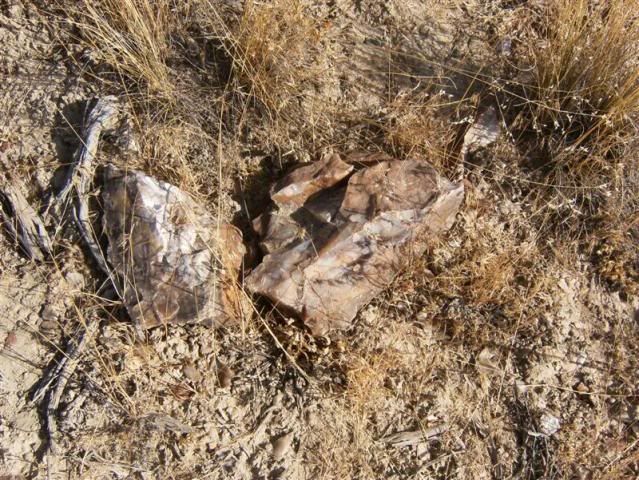 Here is a solid agate that probably weighs in at about 1500 lbs, I put my foot on it to show scale.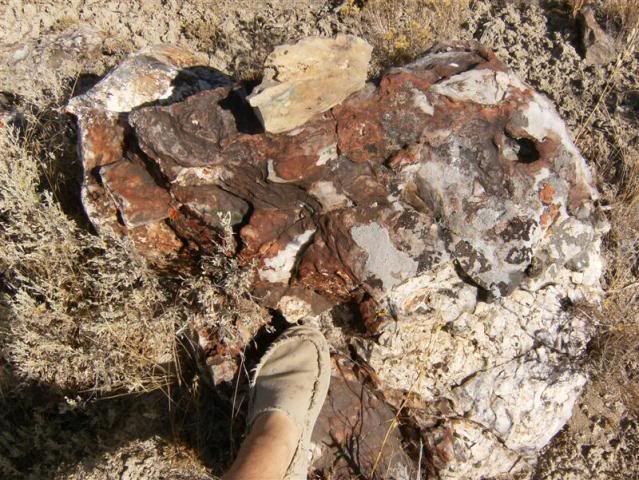 Another big agate that weighs over 1500 lbs and has little geodes sticking out all over it, sadly we couldn't get it in the pickup.
We spent the rest of the day hitting small little digs and looking at tons and tons of agate, it got to where you didn't want to pick anything up unless it was exceptional.
Arnie left Saturday evening to hit a few places along the way home.
The rest of us drove into town and grabbed a shower at the Stateline RV park and left a few bucks at the Casino.
Sunday we made breakfast and broke camp so we could get home at a decent hour.
Here is a shot of the general collecting area as seen from our camp.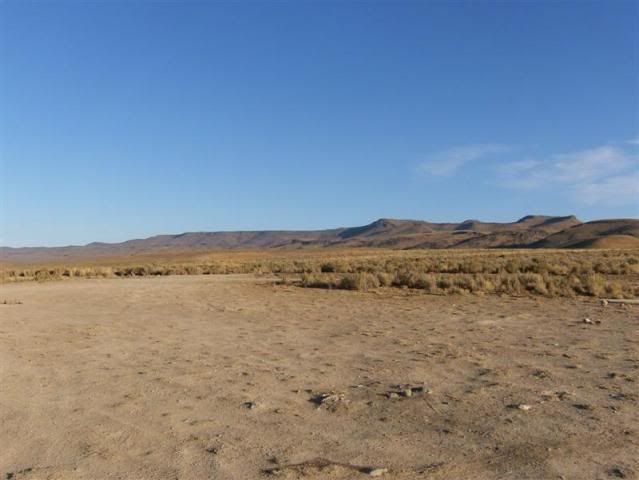 Scot, Roy and Myself just before we left, we look a little grungy but happy.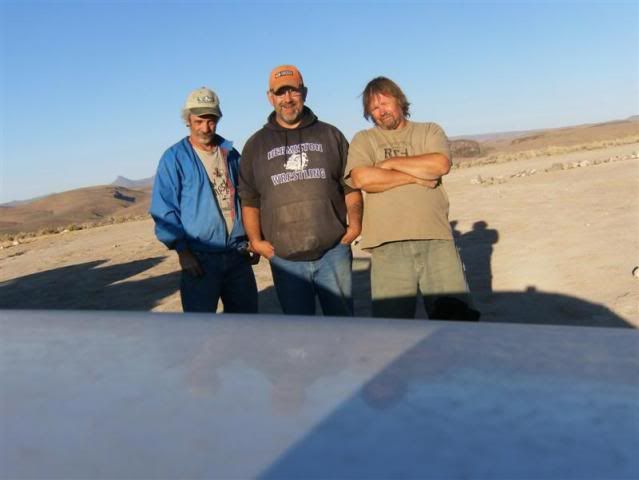 Everytime I come here I am amazed at the sheer amount of material just laying around. This is an excellent area to go play in.
I am so glad I went and I had a blast.
Thanks to everyone who showed up.
Tony