Post by kk on Jan 30, 2012 6:19:39 GMT -5
A long journey it's been.
I thought of a project like this before I even started cabbing, because of my dear wife.I love her to death, she has a heart of gold, yet sometimes I wish her to hell. Married live, what's there more to say? LOLOL
So early last year, I saw this image on Google's and saved it. Now after the squid project, I felt confident enough to actually realize the image in stone. 6 week late though; as I said I would attempt it before the year is out last August.
Before coming to the actual project its time to give some long overdue thanks:
To Sara for her unfailing optimism in my abilities yet to be realized.
To Mike for his continuing support in nearly all technical aspects that I still need to be constantly reminded of.

To Helen who yet again, has given brilliant advice concerning overall balance and proportions
Plus, to Ajo, David and Pete for timely posting of their own fantastic work, that caused me to go back once more to 400 grid yesterday and start all over once more.
Each and every one of you had a decisive impact on the final outcome, hence; Thank you sooooo much. yes16
So now lets get on with it:
Cheated a little, by transferring the basic image via carbon-paper onto the stone. As you all know, I work by intuition not by planing, so its guranteed to look different in the end, but doing this original transver gives a big help in getting started.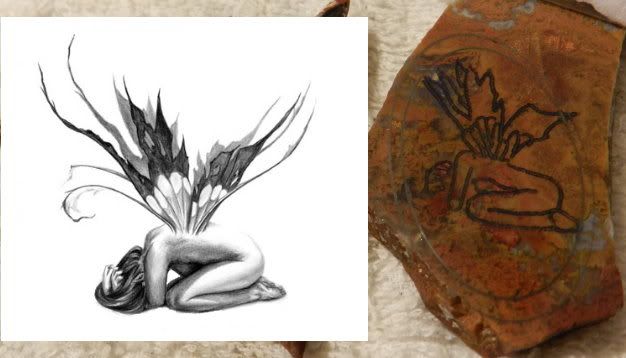 Surprised myself by how easy it was to create the body. Then came the idea about "being on the rocks" to re-enforce the image of "fallen". So I decided to frame the bottom with rocks. Was made a lot easier by the fact that I just recently found cup-shaped burrs.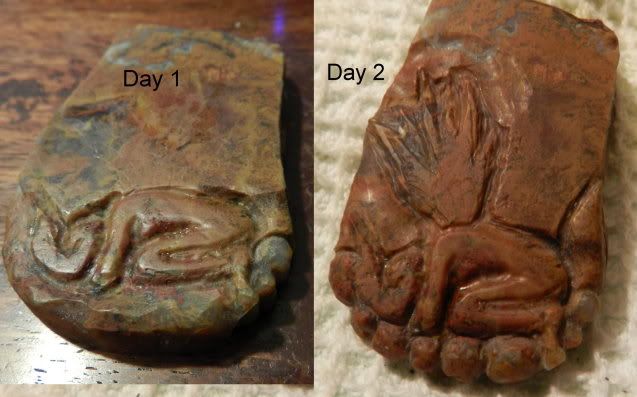 But then the trouble really started. I thought of having a "helping hand" to the left and a demonic creature hovering to the right above. The hand was a bust and looked like one only from one specific angle. The demonic creature turned into something like a goat. Overall, it does not look so bad in the picture, but I quite hated the overall appearance of the piece at hand.
So, wasted over two days, trying to create hand and creature only to cut them out again. Simpler, but much more pleasant to the eye (and easier to wear, as its much lighter LOL). At least now, I think, someone would be actually willing to wear it.
Yipeeeeeeee, got a bonus! ura12
During the first part of sanding, I realized that I got inadvertently two hidden creatures without even trying. The snake can only be seen backlit and the other reminds me of a stylized "Tribal tatoo" version of a horned dragon.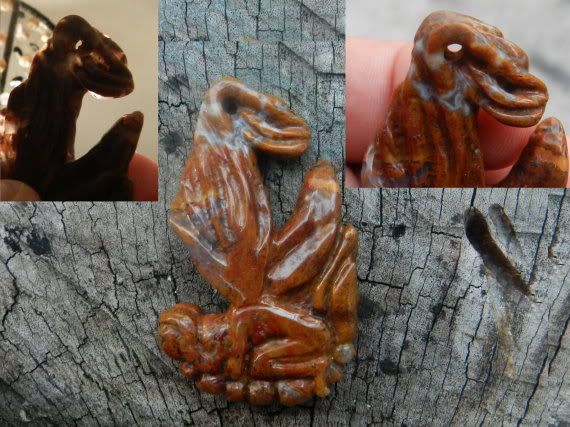 So after looking at the pictures yesterday and seeing the fantastic finishes in Ajo and Pete's posts it became clear that I will have to step it up. Luckyly, I posted the journey thus far and Helen saw it. So after a quick re-cut and re-sanding all the way from 400 grid, here is the final result.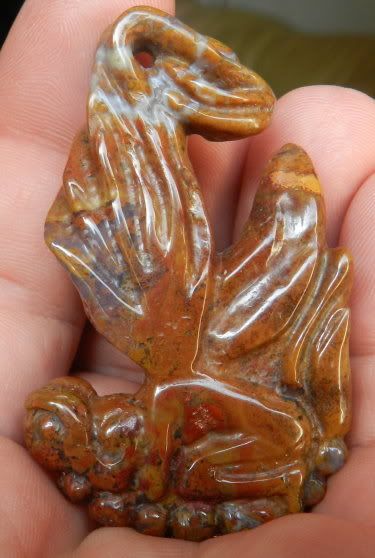 Not yet a "Graduation Piece", but I think I'm getting close
A quick fix, to give it a shot being worn by my usual victim lol15
That brings us to 4 reasonable (for me anyway) pieces in 40 days. Unfortunately, I will have to concentrate on work the next few weeks, so I will hustle you less for your time for a while.
Thanks again for all your help and the opportunity to show-case here......