Post by herchenx on Mar 27, 2012 20:33:06 GMT -5
UPDATE:
ok folks, i've passed 6 contiguous weeks of this thing. I added 5C of 60/90 a total of three times, and added water as needed. The whole thing weighs well over 100# now and I need to somehow empty and clean it.
I am thinking of doing it in batches, removing some amount, cleaning it, and leaving the thing running in the meantime so it doesn't solidify.
Alternately I have a giant tub I can dump it into, add soap and water, stir it up and sort of work my way through it, keeping it stirred once a day or so.
I'll put everything in other buckets I guess, and do it in 10# batches in the vibe to get to polish.
Thoughts/suggestions/ideas?
ORIGINAL POST
Well through an unbelievable turn of luck and some crazy timing and who knows what else, I just became the owner of a Contempo Lapidary very large rotary tumbler. I was thinking it was a 40# tumbler, but it may be a 65# as I compare the barrel dimensions to the 65#Lortone. It is like 15" in diameter and maybe 16 inches long, and in near-perfect shape.
This will be my agate basher. I have 70# of Lakers and they are gonna get in this as soon as I can get some guidance.
First, how do I know what "full" is on this thing? The end cover is 8" in diameter. Should I just fill it to below that?
Then how much grit?
Then for how long before I clean and recharge?
Also, is this thing as sweet as I think it is or am I in trouble?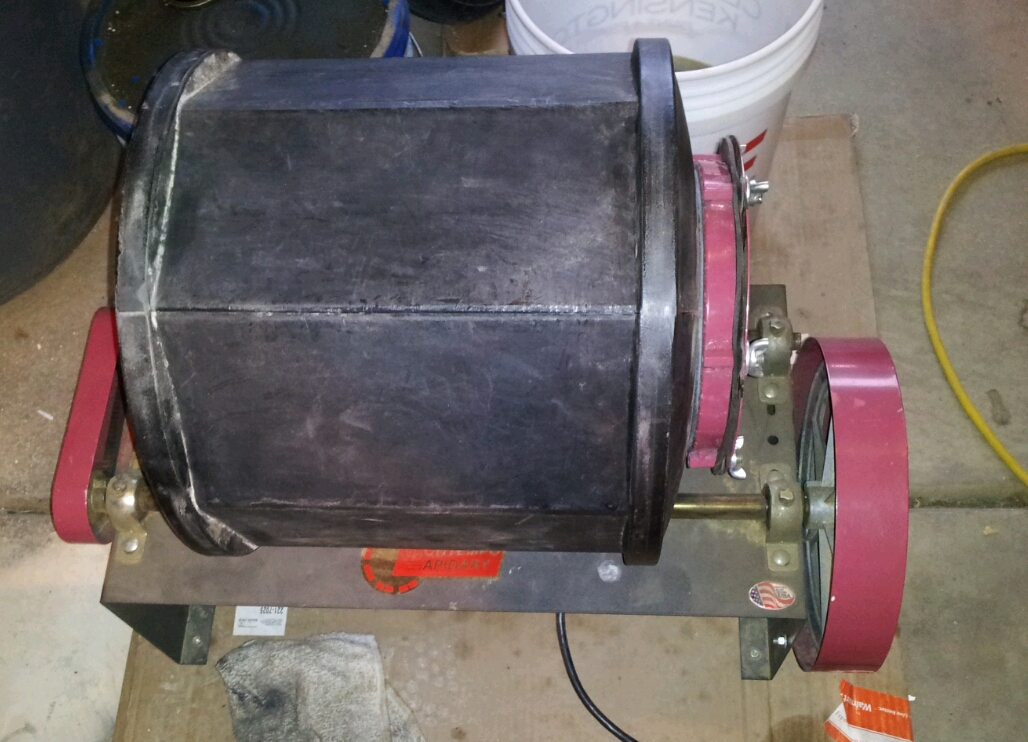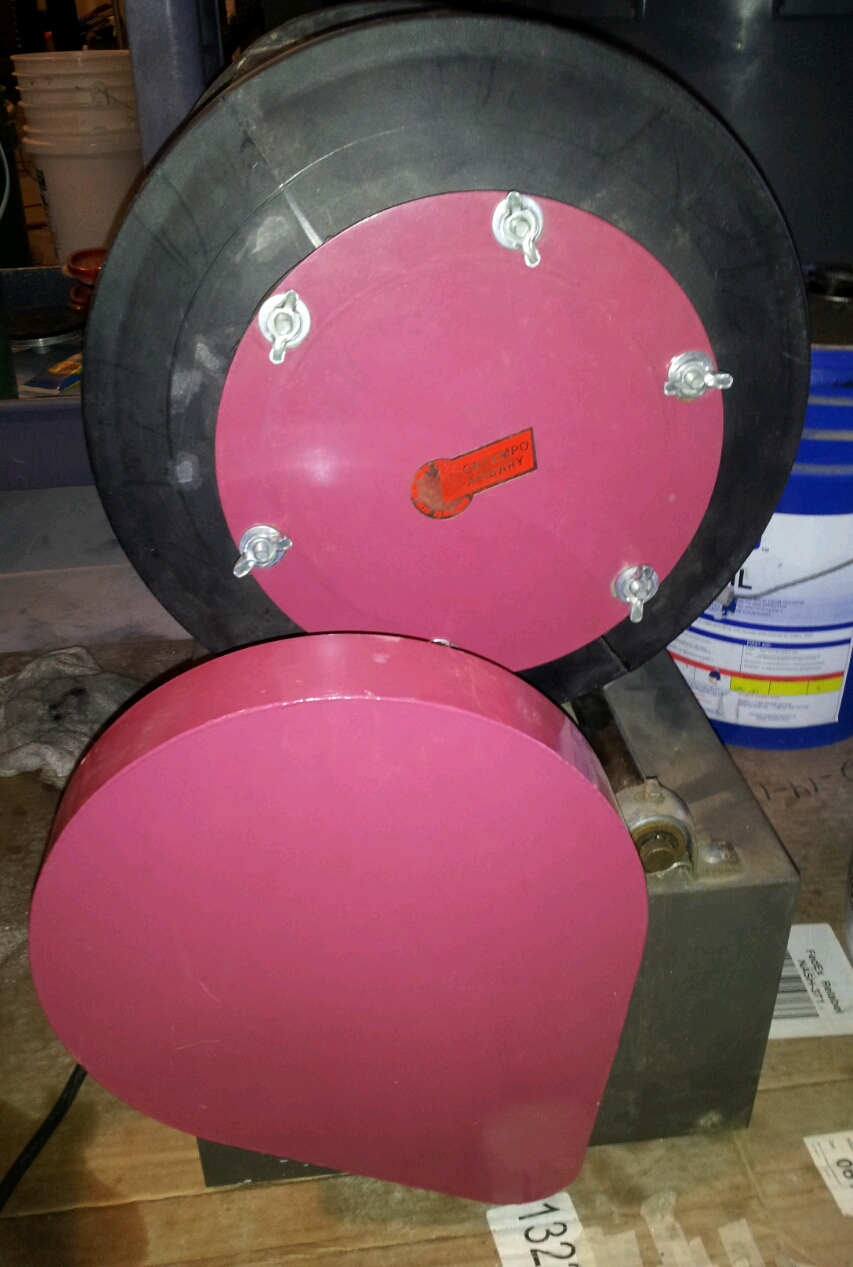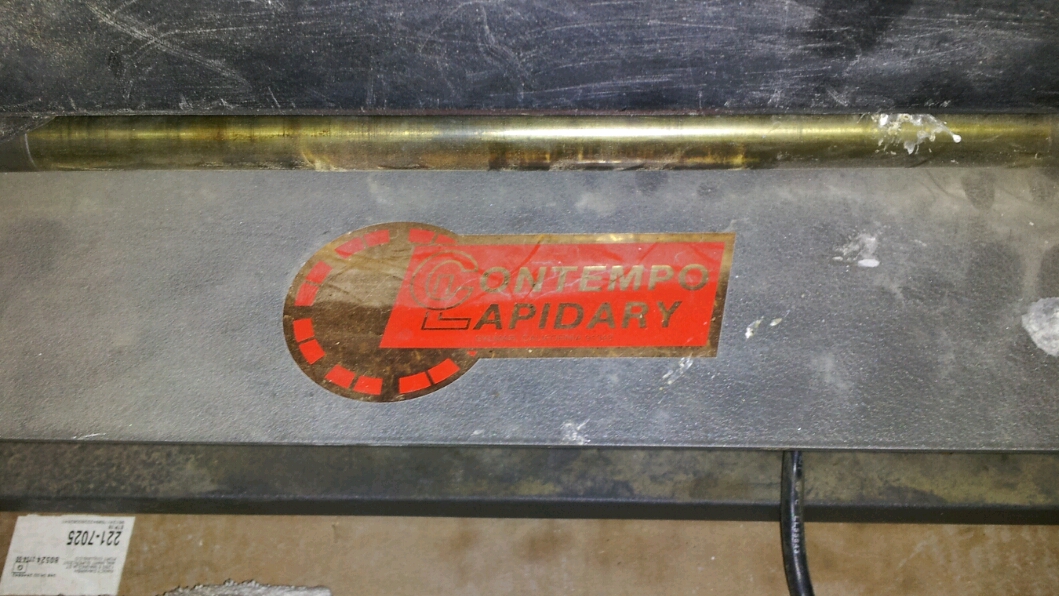 Well I ended up putting 48# of lakers and 5# of Bahia agate in. I rounded up to 3.5 cups of 46/70 and 5 cups of water. I'll check it in a few days and make sure there is a slurry. I am pretty sure it is a 65# tumbler, it looks very similar and the dimensions are the same as the Lortone 65# tumbler.
I only filled it half way for the first run. Hopefully my wife doesn't object to the noise in the garage, that thing is loud.
UPDATE DAY 1
I opened it up at lunch and had a nice slurry. I followed all the suggestions and added more rock up to 3/4 full, bringing the total weight of rock to 90#!!!
I added 3 more cups of SiC, 5 more cups of water, buttoned it up and with some effort got it back on the rollers.
It is much quieter now.
Here it is before closing the lid: