Post by herchenx on Nov 19, 2013 1:27:44 GMT -5
As some of you may recall my mega tumbler bit the dust earlier this year.
It was sort of the beginning of the end (to be overly dramatic) for me with tumbling (don't worry too much, I'm working my way back in) - but the damage to the load of pet wood when it leaked was pretty profound and I have yet to really get another great batch going again.
I've had it in my mind that maybe there is a way to get this thing going again and I wanted to reach out to this community made up of some amazing Do-it-yourself/maker-types to see if there was any way to salvage the barrel.
I could order a replacement barrel, the company was purchased by Diamond Pacific and there is a better barrel now with the same specs, it is the 65T barrel at the bottom of the page:
www.therockshed.com/tumbler5.html
but $270 is steep and I don't have that right now.
What I *don't* want to end up doing is spending that much in a repair when I could just buy the newer version of the barrel for that price.
What I am hoping I can do is repair the barrel I have. I see the inherent flaw in the design (what caused the issue to begin with) - I've taken a couple pics, using my knife to help show where the problem exists: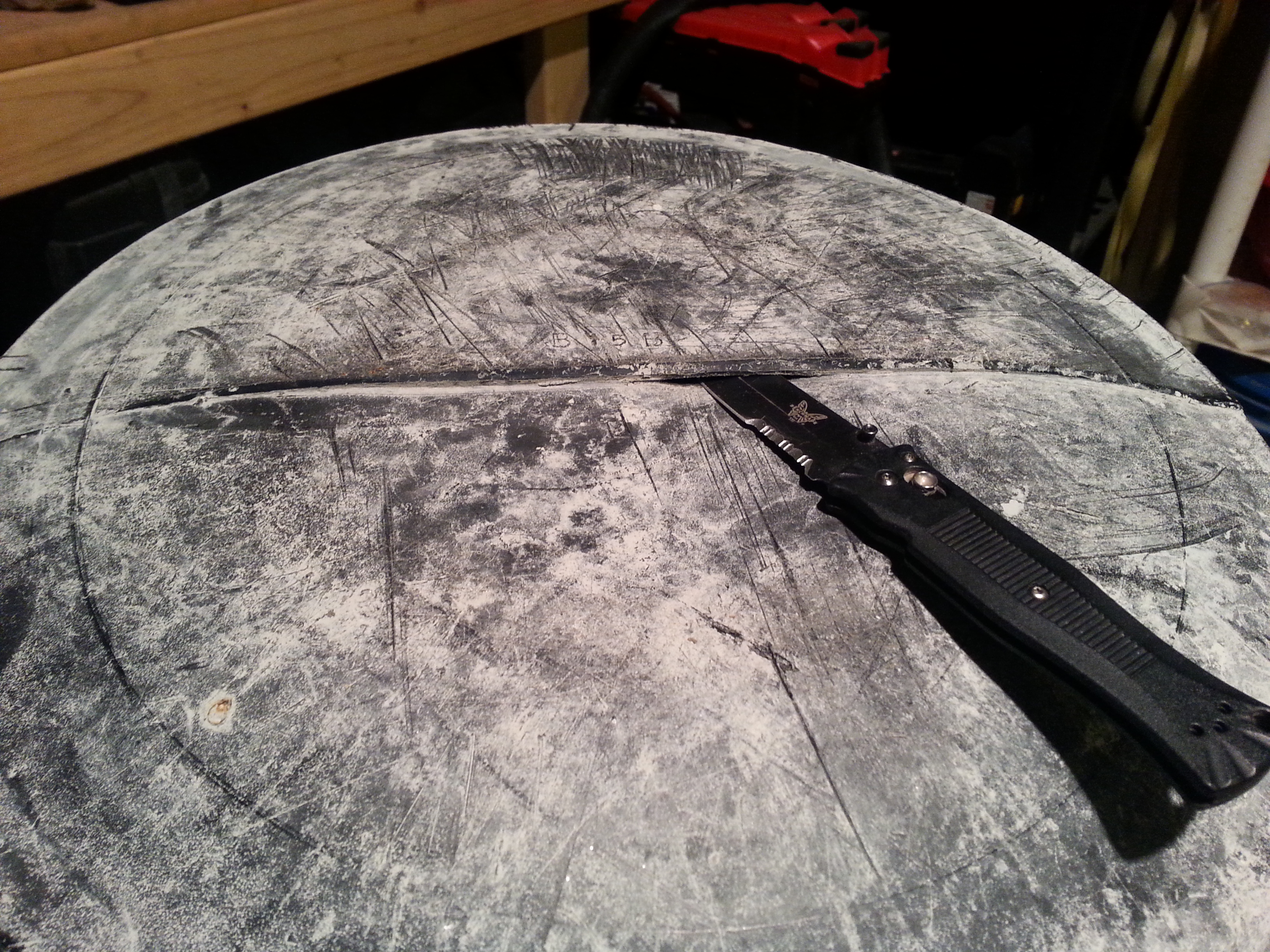 As you probably can surmise, my ability to make things is limited. I come from a family of do-it-yourselfers, but I've never welded, never really worked with forming metal or plastic (beyond a little jewelry metal work, wire wrapping and such) - so larger-scale, can't fail, take a beating and keep on ticking is foreign to me.
So, here is my hair-brained idea; can I fix this barrel by somehow repair and reinforcing the inside and outside of the bottom of the barrel and get it running again?
As it turns out the base with the motor and rollers is fully functional, it just needs a new belt and some more oil; the bearings are still OK, they appear to be sealed and they run smoothly.
My first idea is to cut a circle of some durable material and use some appropriately durable adhesive to cement it in place in the bottom of the barrel, then rough the whole thing up and spray a can of bed liner over everything. Perhaps do something similar on the outside, less bedliner though.
Option 2 is to use some plywood and cut 2 circles, bevel the edges, coat in polyurethane, cement in place then run stainless bolts through one on the inside and one on the outside to create a super-duty bottom. The issue I see here is that the wood would wear on the inside, but I don't know if it might be something I could repair once a year and keep going.
So what do you all think? Crazy? Stupid? Brilliant?