Post by herchenx on Jun 25, 2014 2:06:46 GMT -5
Edit after a few years, apparently Pro Boards - in all its wisdom - does a find-and-replace on "dirty words" - so "swee t water" (when it is one word) gets converted to "swee oops ter" (as a programmer this is poorly executed text sanitization) - so I replaced all the offending text with "sweet water" to keep it happy :\
I've been meaning to write this report but as is typical I've been busier than I can handle and haven't gotten to it until now.
Back in the beginning of June I took my son to Blue Forest in far west Wyoming. He's been wanting to go for years and we've not managed to make it before this. He had some specific behaviour and educational goals the last month of school, and I promised this trip as a reward.
I did warn him that getting Blue Forest wood was not like other surface collecting that we've done in the past - he would have to dig and work to get the wood, and that it wouldn't be easy to find. In spite of that often-repeated caution he was undaunted in his determination to go. I know my son, though - and I knew what to expect when the digging started.
All that in mind, I knew we'd have plenty of places to look once we got west, so even if digging wasn't going to be his cup of tea we'd have lots of fun exploring.
We set out on a Friday morning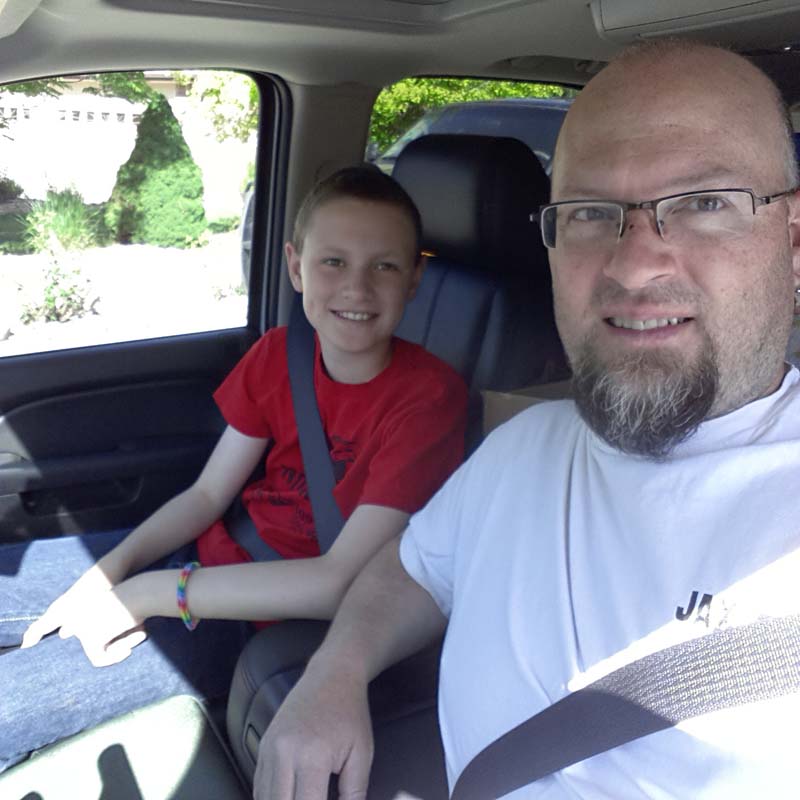 We stopped in Laramie at a little Rock Shop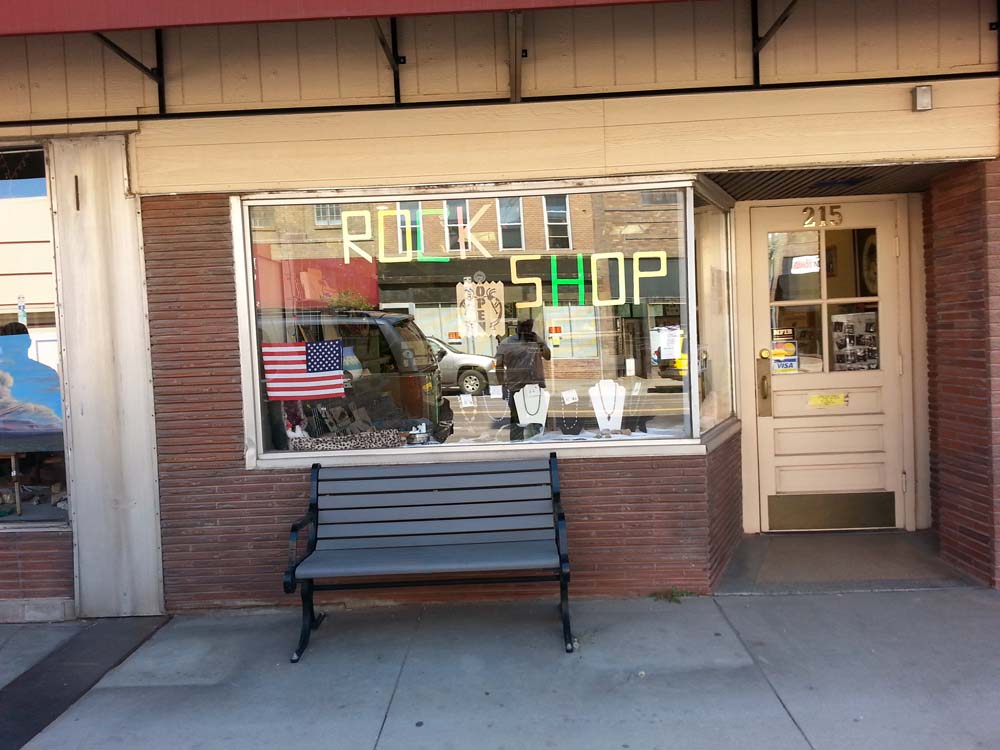 There is an important story here, and I don't know all of it - but here's what I've gathered: Vivian Tracy keeps shop now that her husband (the rock hound, I don't know his name) passed away. She doesn't sell online, and from what I gathered has an aversion to computers. She relies on people coming by her store in Laramie, WY and I didn't get the impression that business was booming. Her shop (on her card at least) is Green Gold Jade - 215 South Third Street, Suite 108 - Laramie, WY 82070 - 307-742-0003. Hours are 10-5 Tuesday-Saturday.
She is a very nice lady and she does her own cabbing and silver smithing. I didn't want to worry her so I didn't take photos inside the shop but she has nice jewelry for sale, slabs, rough, some books and I think some treasures at her home that I will follow up on when I get back up there.
I think she could use any traffic she can get so if you or someone you know is going to be anywhere near Laramie stop by and say hi.
We got a new copy of the Rockhounding Wyoming book that I stupidly left sitting on my desk at home (so now I have 2 copies) and headed on our way with promises of letting folks know about her shop and that I would stop by again and see about some more substantial purchasing.
We headed back out on I-80 West and hoofed it to Rawlins, where we stopped at Rose's Lariat for some Mexican. Keep your expectations in check and you can have a good lunch for not many pesos. The plain beef burritos are like $2 and are delicious and filling. Corben liked his smothered burritos.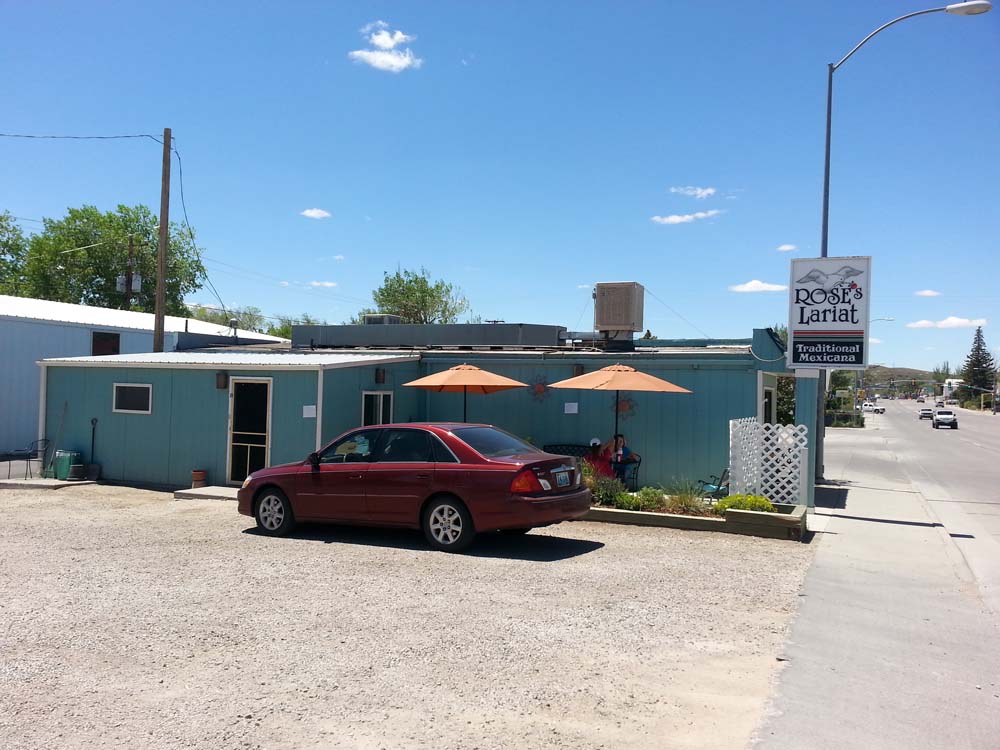 ** Wait to get gas until you are 10 or so miles west of Rawlins, the gas stations in town were all 10 cents more. **
Back on the highway, we drove by Wamsutter (normally I exit there and snag some Turritella Agate and Stromatolite - but we were on a mission)
We went through Rock Springs and topped off the tank then exited the interstate just west of the Green River and followed the directions through some very confusing Oil country until we finally arrived at the Blue Forest location (I just followed the directions in the Rockhounding Wyoming book.) Everything the book says is pretty close, but there are enough new oil roads that we got turned around several times. We were in the middle of nowhere, at least 30 miles from gas, but there were other folks out there digging when we were there.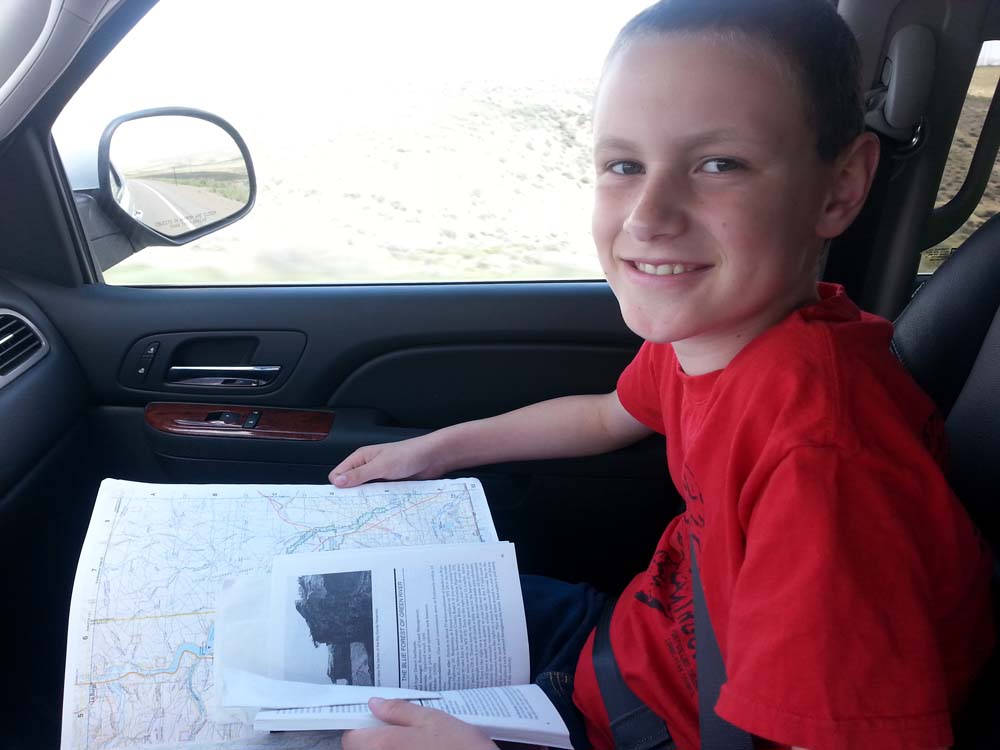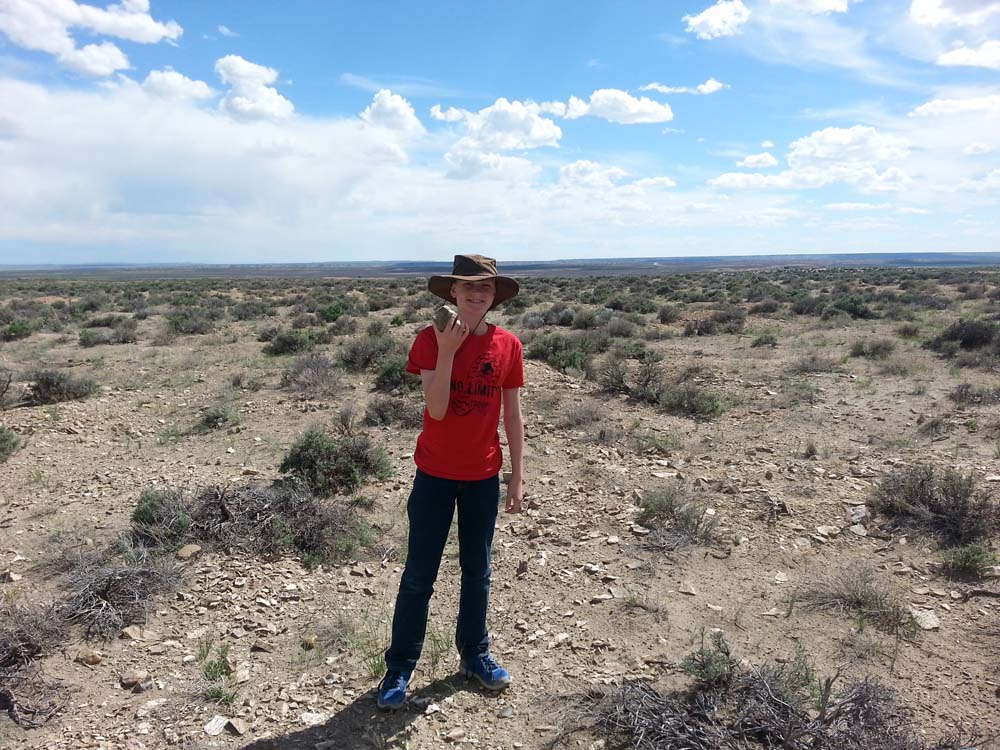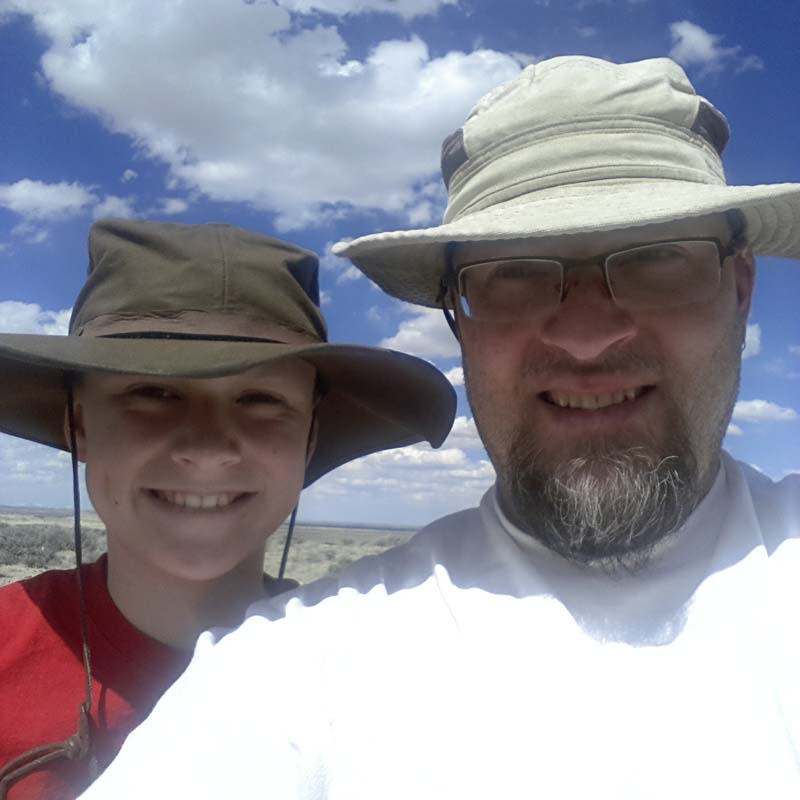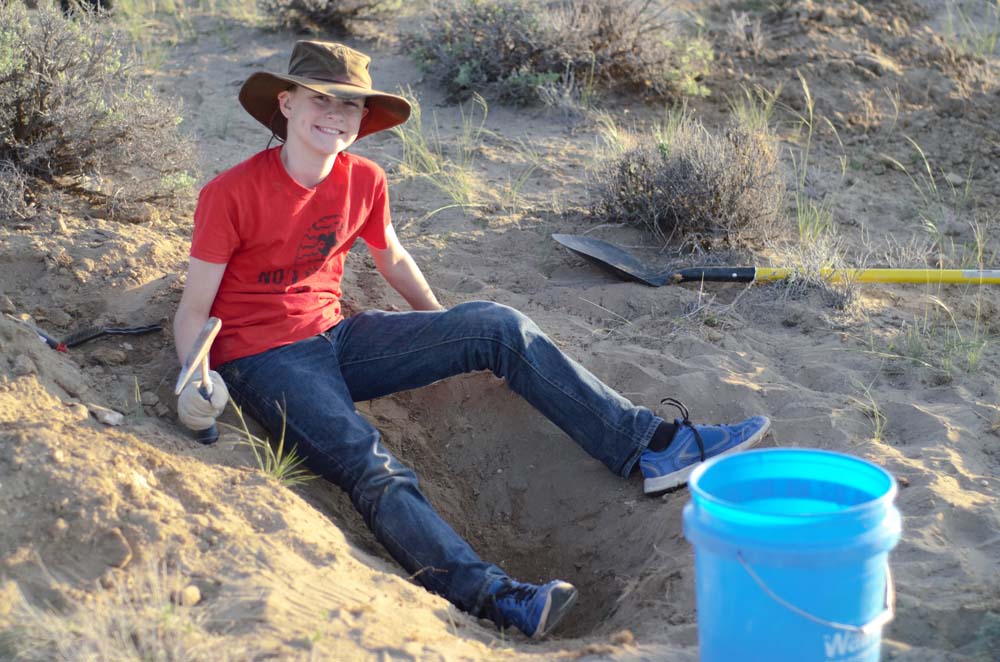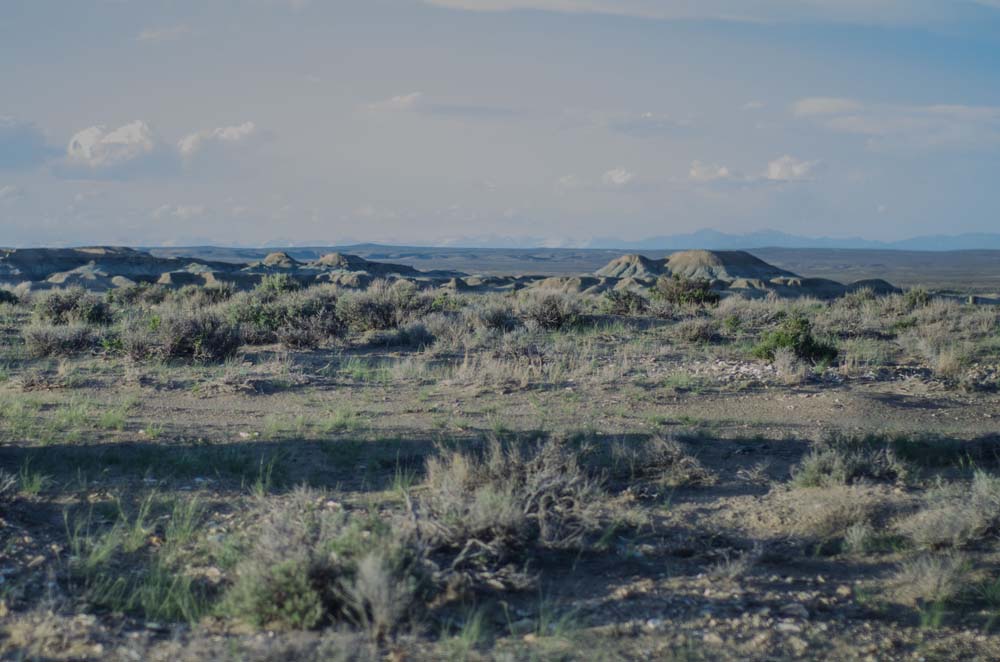 There are obvious holes dug everywhere out there, and wood shrapnel lies scattered around all over as well, but it is mostly the purple/blue chalcedony that covers the wood and the low-grade algae layer that folks have chipped off.
After digging in deep holes and getting nothing but a backache, I reset and went to an area on the edge of what had been dug and just started scooping the loose sand forming a new hole of my own. Within 10 scoops I found this - in the top, loose sand (very easy digging)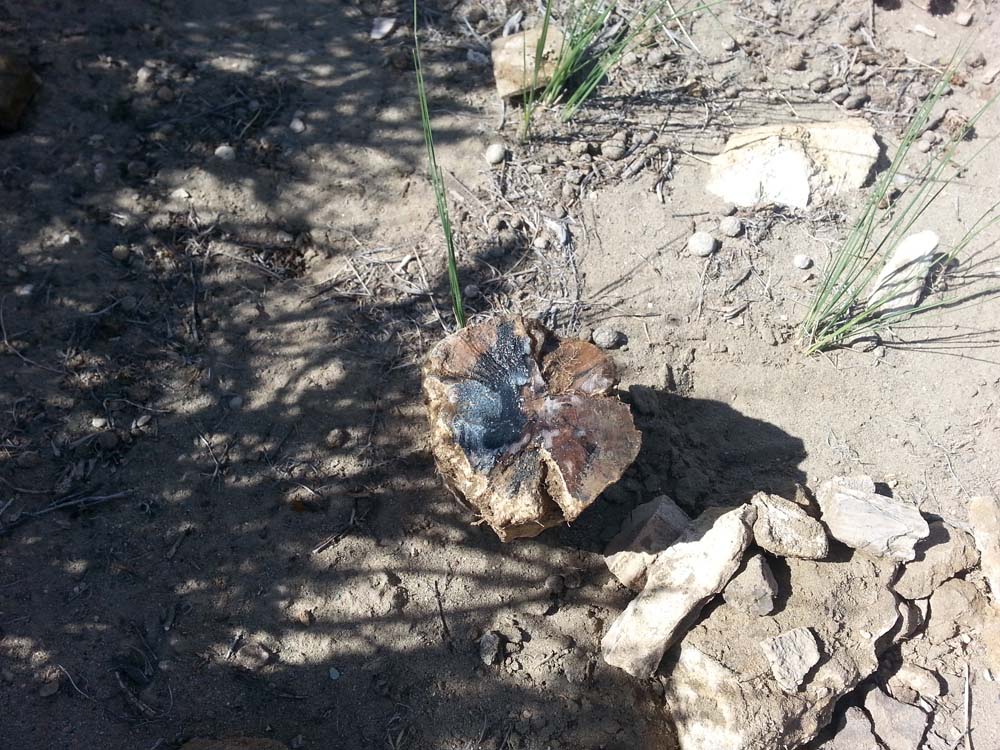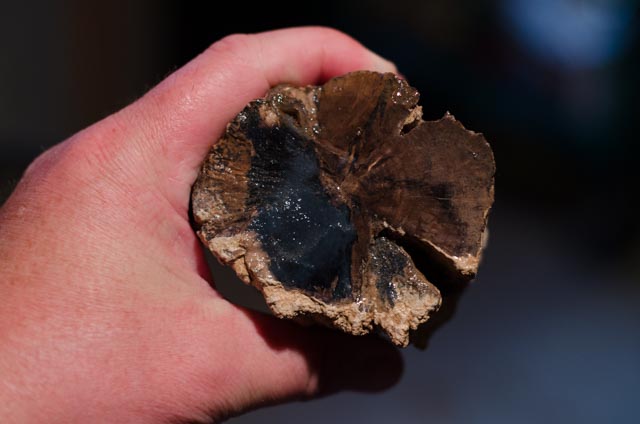 That ended up being my best piece. Corben eventually found a couple pound (but still small) piece but had to work for it. Under about 12-18 inches of the loose sand there are patches of white, shale-like algae that can contain the prized Blue Forest wood. A shovel is of little use, and the pick we brought would have broken the wood in the algae so we had limited options. Corben worked about 45 minutes in the shale layer once he located the end of his piece and was able to pull it out intact, he had to use the rock pick, smaller picks and brushes to get it. I don't have a good photo of his wood, we will have to clean it up yet.
Here are some pieces of the purple-blue chalcedony that is scattered around. In the late afternoon sun it looked a LOT like moonstone laying on the ground. I hope to be able to cab some of it to show off the color. The pieces will be small but should be pretty.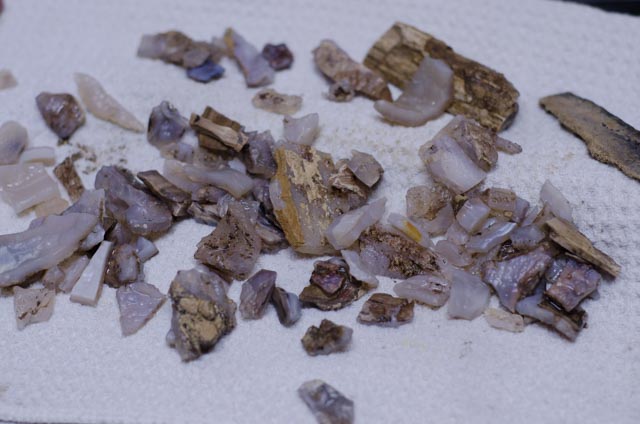 After we were there for about 4 hours we decided to head back east and move on toward Lander, to some spots I found last fall while deer hunting. We were treated to a beautiful sunset.
We thought about stopping in Farson for some Eden Valley wood, but given the challenge of getting the wood the first day and the desire to do more investigating into new areas we determined to make it all the way to Lander and stay the night there. Something stopped us though:
Yes, inexplicably, in the middle of Western Wyoming is a shop home to the world's largest ice cream cone. And they were open past 9pm (it was 9 when we arrived).
This was a single scoop: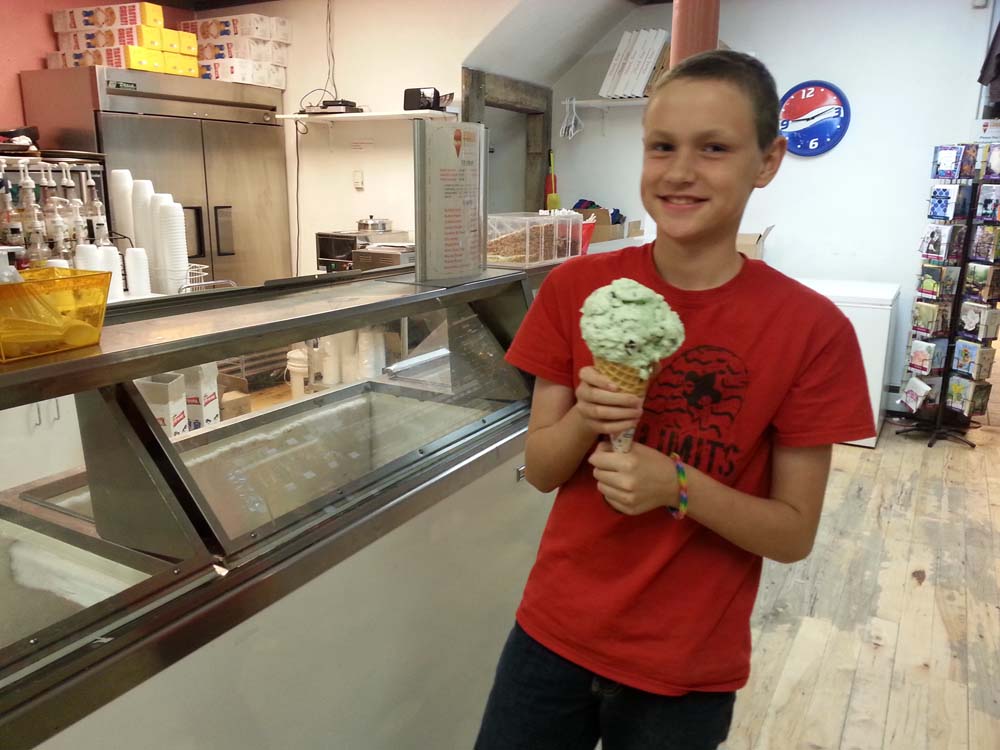 It is seriously almost a quart of ice cream. They will stack up to 4 of these (it was like $6 for 4 scoops) a single scoop was $3.
The weather was getting worse as we drove into the dark. Wind, rain and I swear several flurries as we headed there.
We managed to get a room at the Maverick in Lander. It is a modest place, but I like going to breakfast there and we couldn't find anywhere else to stay. I didn't sleep well at all, not for any particular reason, but generally my first night on the road I can't sleep well.
After tossing and turning we got up and had a great breakfast at the Maverick. This was the kiddie pancake: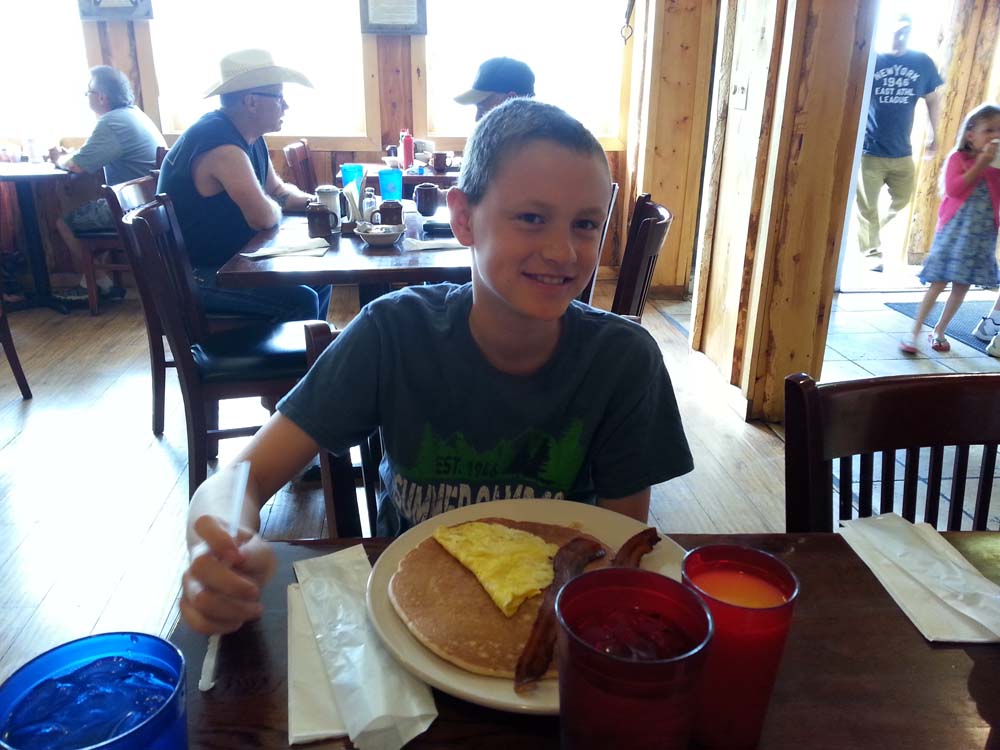 Bellies full, we drove about 40 miles to "Sweet Water" Station and headed to a hillside where I found some opalite and "Sweet Water" source agate last fall. The mosquitoes were so bad we only stayed about 10 minutes. I didn't get any photos there, but here is some of what I collected.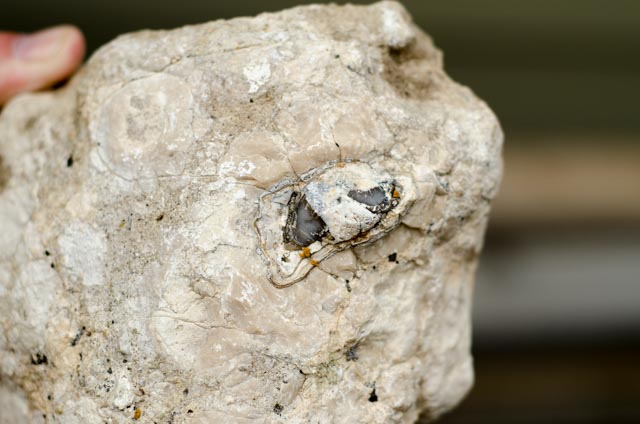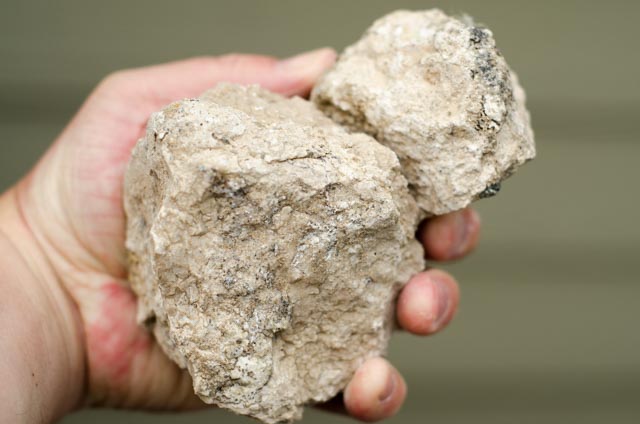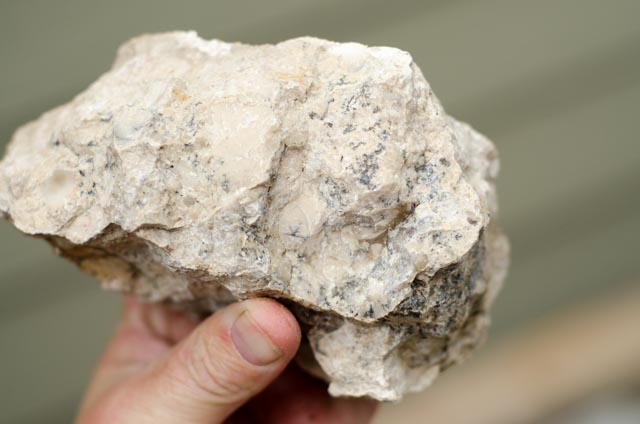 You can see a piece of the agate within the matrix in the first photo. The second one is what you see on the ground, white chunks that are more or less round. Some are mostly porous but some are more silicified and contain manganese dendrites and some opalite and occasionally the agate. There are granite boulders in the hillside and we even found some "Sweet Water" agate poking right out of the granite.
After the mosquitoes had their fill and looked satisfied we headed up the road to the opal site. I found a hillside by the "Sweet Water" River with chunks of fire opal. Nothing high grade, no flash, but cool to find regardless. The hillside is reddish sandstone, and there is a layer of opal on some of it. There is common opal lying around, but when it is transparent or mixed and swirled it can be pretty. I took some photos of what I found last fall and shared that before, nothing new but it was fun to find.
I'd been warning Corben to watch for snakes, and we found one. I didn't get a photo (I've typed that a lot I see) but a 24-inch or so rattler buzzed then high-tailed it under a rock. It was the only one we encountered during the trip thankfully, and was no threat so we were sure to leave it alone.
As we headed back to the truck with our buckets of opal, a herd of curious horses showed up over the far ridge and headed our way. They stopped 80 or so yards from us and just looked, and then one by one they came toward us. We stood still and let them approach. We spent about 15 minutes with them, they let us scratch their sides, pet their noses, but what was most entertaining was watching them mug for themselves in the reflective windows on the sides of the SUV. I shot a 5 minute video of them approaching and letting us pet them, if I can find a way to share it I will. Here are some photos: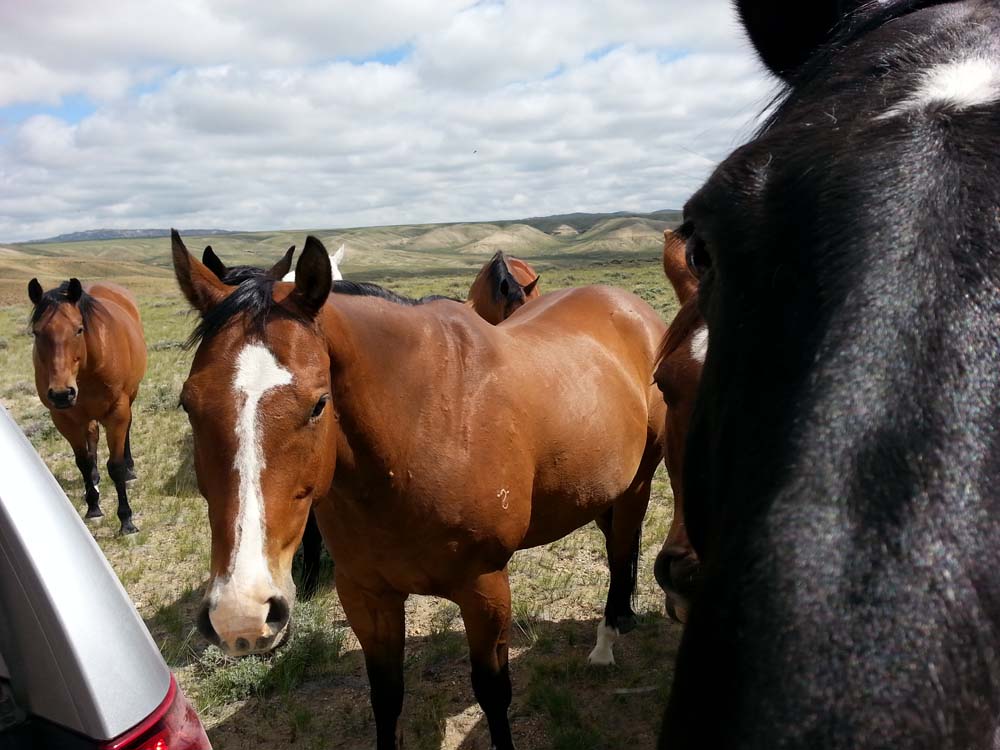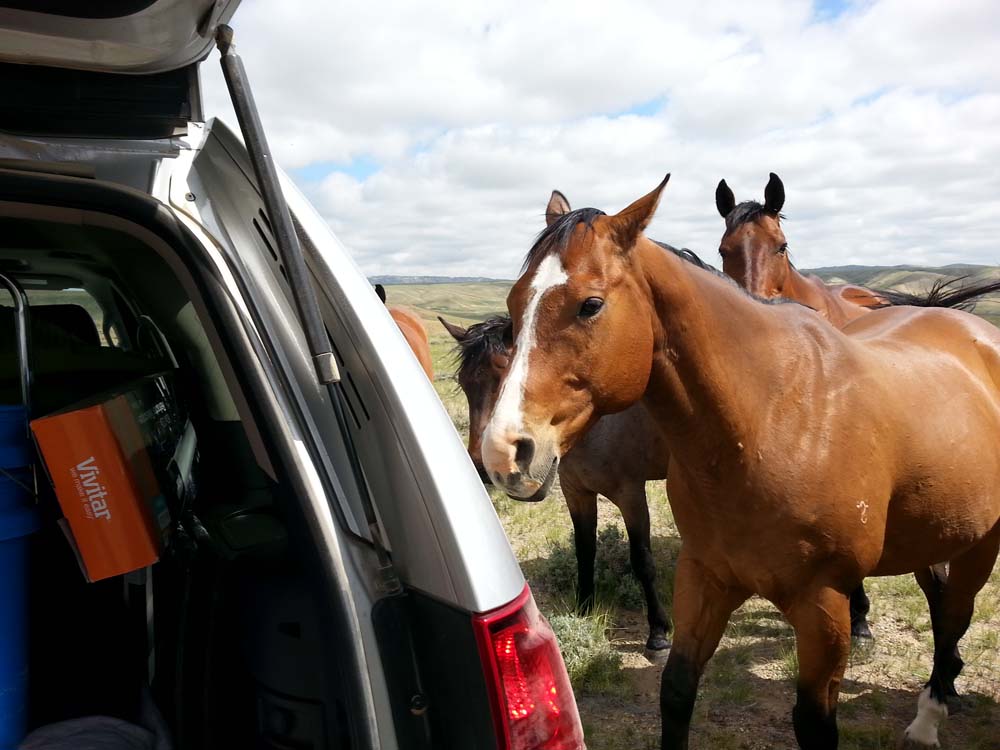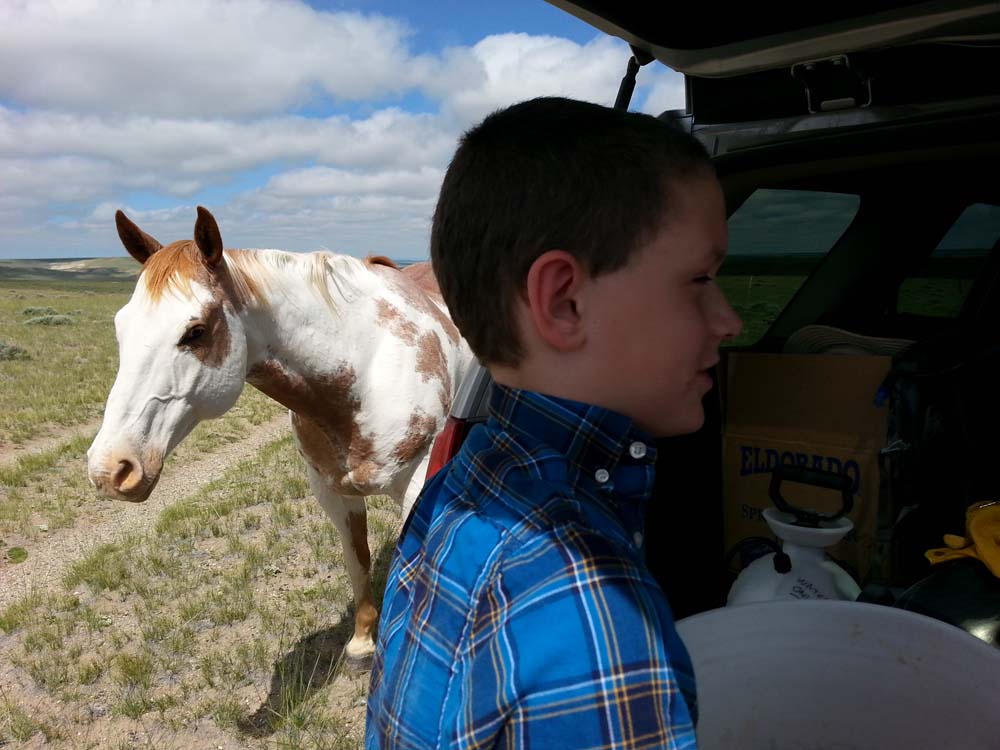 While we are on fauna, there was flora aplenty as well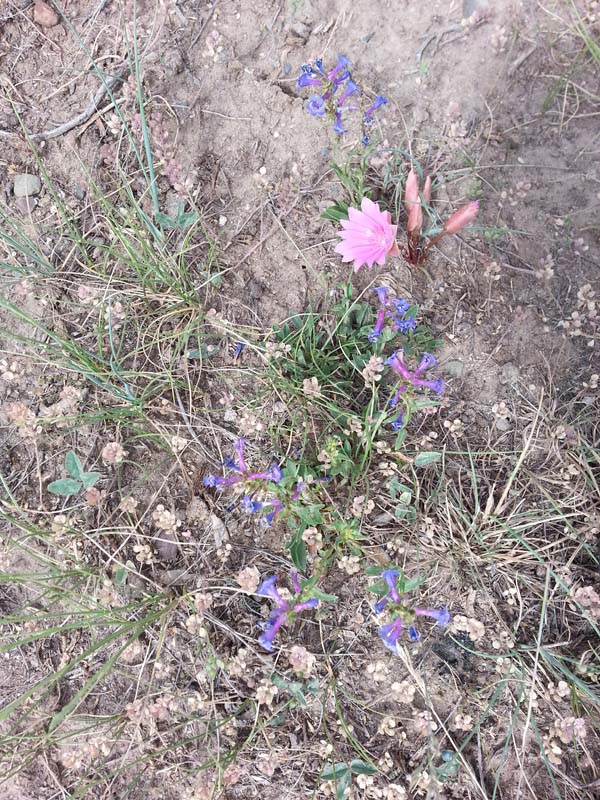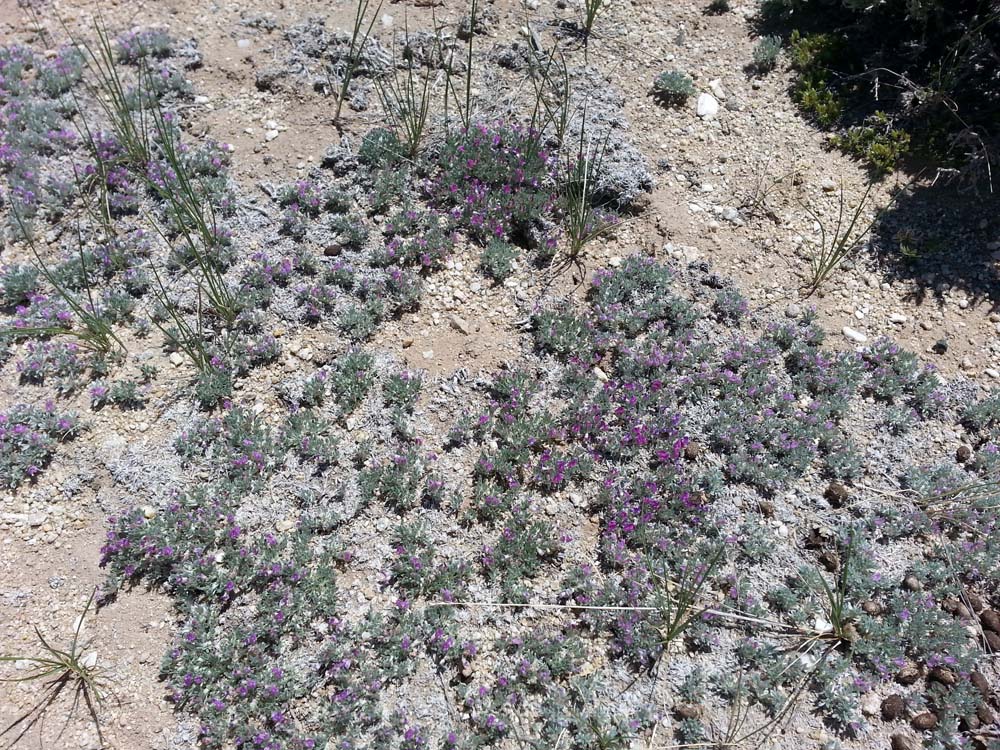 From the opal spot we headed to Agate Flats, East of Jeffrey City, where I went last summer with
Thunder69
and
wyobrian
to look for some "typical" "Sweet Water" agates.
I shot a couple panoramas, it is beautiful and desolate out there.


Again Corben's normal 11-year-old impatience kicked in, even as we were finding agates he wanted to stop and move on after about 30 minutes. The one semi-legit road out there is straight for miles, so I let him have a go behind the wheel. I was able to see some areas that we can work on improving in his sense of where the road is and how a vehicle handles. He is obviously a few years from having a license, but I was able to drive very young on the camps and farms of my childhood and it has served me well.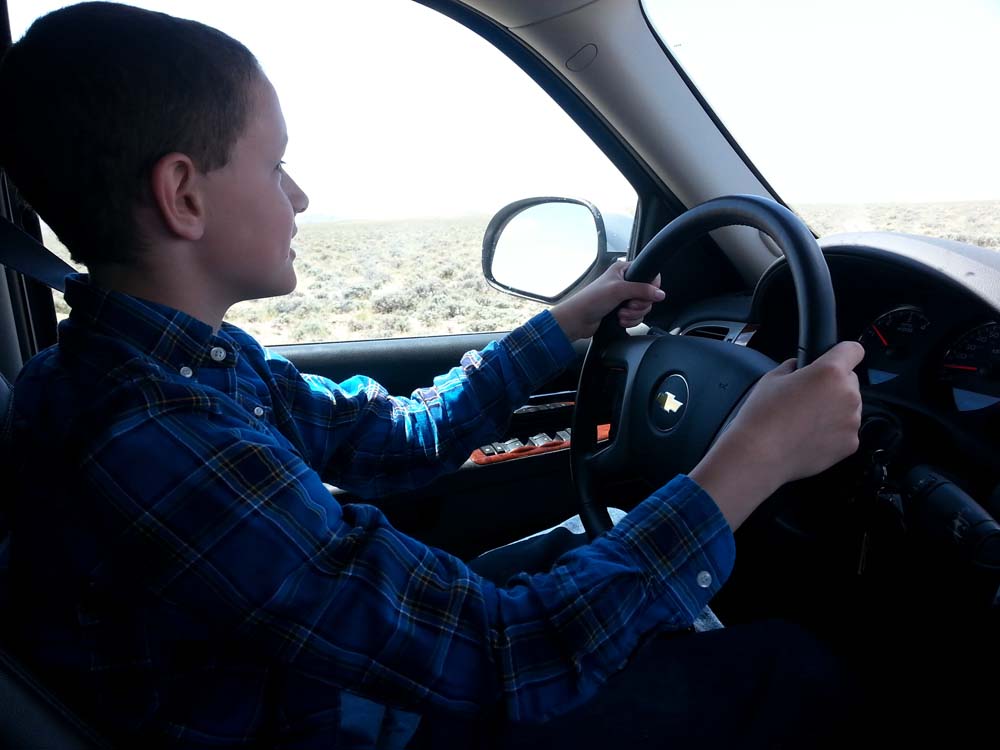 Here are some of the "Sweet Water"s here at home, not as many as I would have liked and the bucket doesn't help show them off, but they will be cool tumbled along with the other bunch I already have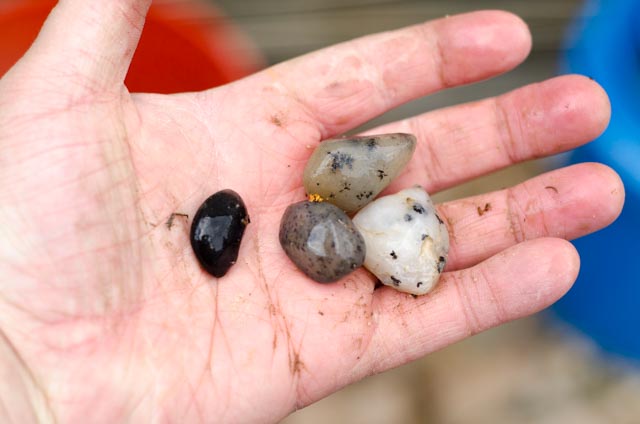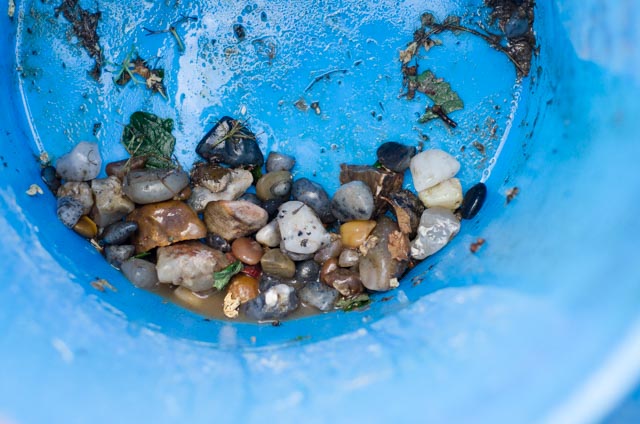 We drove to Muddy Gap to gas up and had planned on heading out to Green Mountain to find some wood. After spending longer than intended at the gas station (there is one bathroom in that part of the state, and it is Muddy Gap, which is near a Mormon Trail and there were a lot of folks on pilgrimage apparently - so we had to wait) - we read more of the Rockhounding Wyoming book and decided to explore north toward Casper.
We headed north and saw some cool views of Pathfinder Reservoir - a place I hope to visit with the family and our boat another day - before heading to Muddy Mountain (no relation to Muddy Gap) to look for some "red banded agate" (so labelled by the book.) This is where the book let us down. "Agate" is generally one of two things - chalcedony with dendrites or (more tradionally) banded agate (a-la Fairburns, Bahias, Lake Superior Agate, etc.) - the ONLY material we found in the areas described on Muddy Mountain was some red jasper, with hints of swirled white whisps, and we only found little chips, not even worth tumbling. I get a little frustrated with the liberal use of the term "agate" to describe chert, flint, translucent chalcedony or anything other that an actual - banded agate (I realize I used colloquial terms for Turritella Agate and "Sweet Water" Agate above - neither of which would really qualify as agate - but something so well known merits exception in my opinion)
ANYWAY the weather was getting weird, and the mountain began to earn its name as the entire area was smothered in fog and began to turn everything to thick mud. We headed up to the archery range on top of Casper Mountain and started wandering around looking for the supposed pyrite crystals that we never found. It is a small area and we didn't see any sign, so either we were just wrong in our understanding of where we were supposed to be or what we were supposed to be looking for - OR it had all been collected. The book did mention some banded chert, and we did find some cool colorful chert. In retrospect this had the potential to be the most colorful stuff we found on the trip. These photos don't get to the color very well. It is fairly fractured and may not be solid enough to do anything with but the initial colors and variety look interesting, and I find myself wishing we had collected more.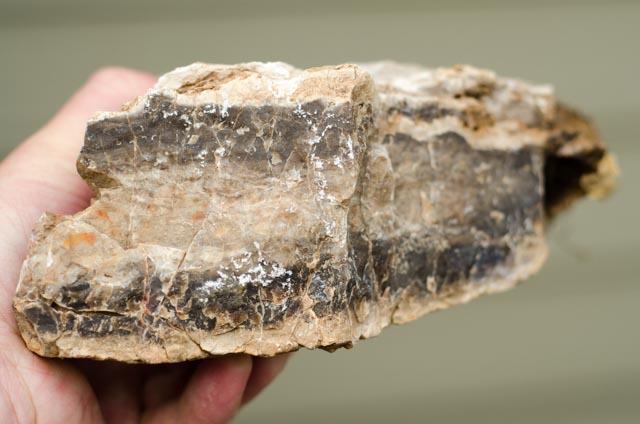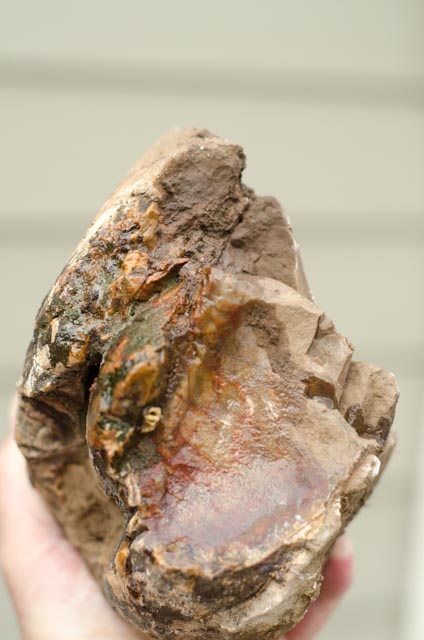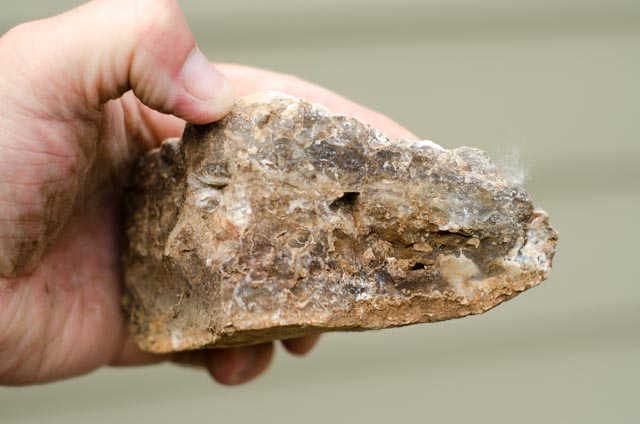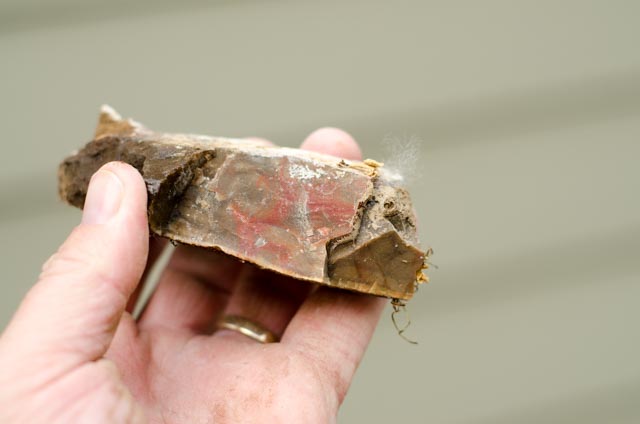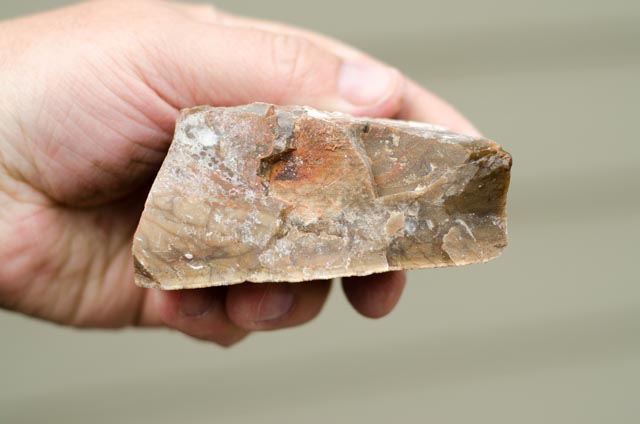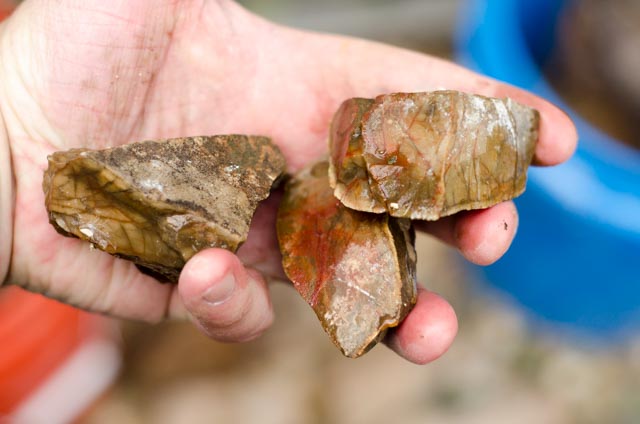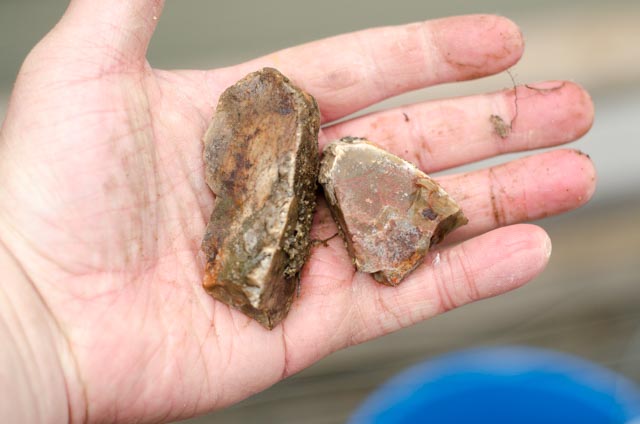 Part of the reason I didn't get more while I was there was that at this point it was nearly 6PM and this day had been an absolute marathon. Coupled with the lack of sleep and our growing exhaustion and hunger we needed to get fed and headed to bed.
We went into Casper and got a room at a cheap hotel and had a delicious steak dinner at Poor Boys Steakhouse. We got back to the room and in spite of being tired Corben wanted to go out. Casper isn't exactly New York so the options on a Saturday night are a bit limited. They do have a mall though, so we went through the almost empty (of people) space and checked out some electronics stores and the sporting goods store Dick's (my friend's masonry company had done all the block for that store, so it was cool to get to go check it out)
We did get back to the room about 9pm, hit the shower and then and crashed hard. I slept a lot better.
In the morning we had the continental breakfast at the hotel and then hit the road, doubling back on our prior day to head to green mountain to look for wood.
This was the most harrowing part of the trip as the rain had moved in and everything was wet. The last leg of our trip was into very remote area south of Green Mountain. Normally I come up from Rawlins and know how to get to the area pretty well. Given that we were coming from the North, I thought I'd chance it and try to save 40 miles by coming in from the north following the GPS directions from Google Maps. This was a terrible mistake. I can't relay all the details of the 10 or so offroad miles we traveled, but it was some of the gnarliest stuff I've driven - and I've been a lot of pretty tough places. The main factor was that the roads in this area haven't been traveled in decades. We had the earth bridge over a 10 foot culvert disappear a we crossed it, making it impossible to back track. I had to double back at one point because there was a 15 foot deep ravine flooded with a raging river from the rain. I had to get out and clear several boulders from a washed out hillside that used to be a road just so I could clear the large gravel. I descended the steepest incline I've encountered to date, which was wet and muddy and composed mostly of large river gravel rounded stones.
The cherry on top though was the trek over this mountain: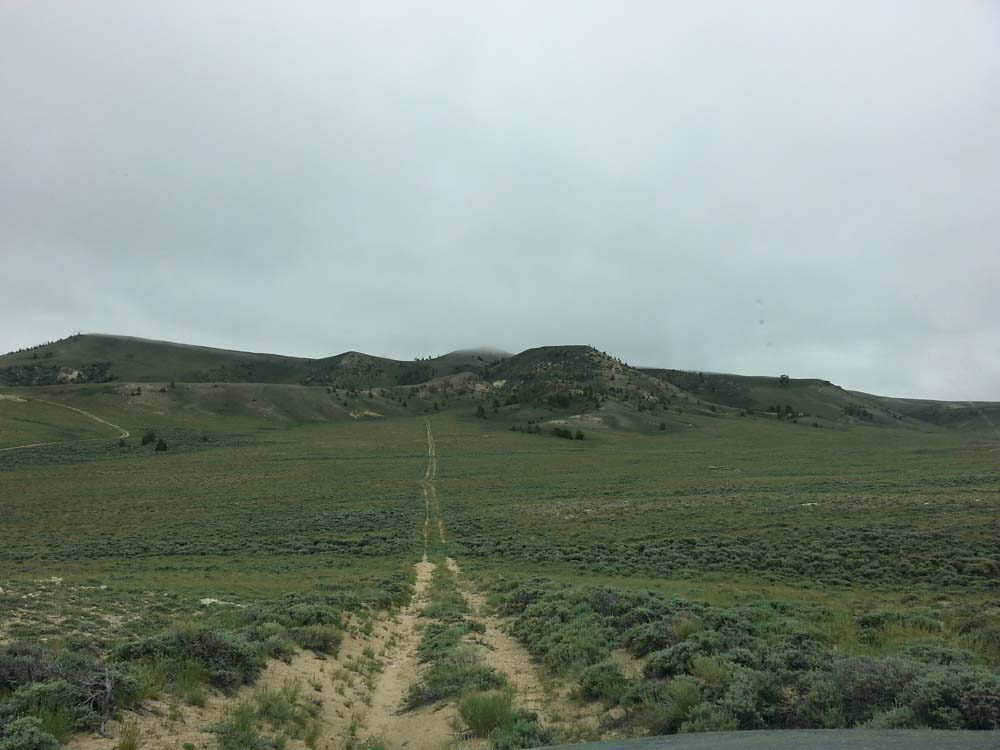 The photo doesn't do this justice. The road crawls up into a series of ravines and apparently goes right across the summit of this mountain. I say apparently because after a couple gnarly switchbacks I ended up on a saddle with a washed out hill in front of me where a road used to be, with no way to proceed and no way to turn around. For a moment I considered backing down, but that was not possible because we'd threaded a forest of needles coming up, tightly turning around trees and boulders. I ended up heading up the wash just to have room to turn around. I'd guess my 180 had about 15 points in the turn before I managed to get us nose-down the way we came up.
After 3.5 hours we finally ended up where we intended. Everything was wet but fortunately it was sandy enough that it wasn't muddy slop that we'd get stuck in. My boots and pants did get soaked though.
Corben hadn't packed a decent jacket so I showed him the trash bag poncho, which kept him kind of dry. We did find our wood though, which made him very happy.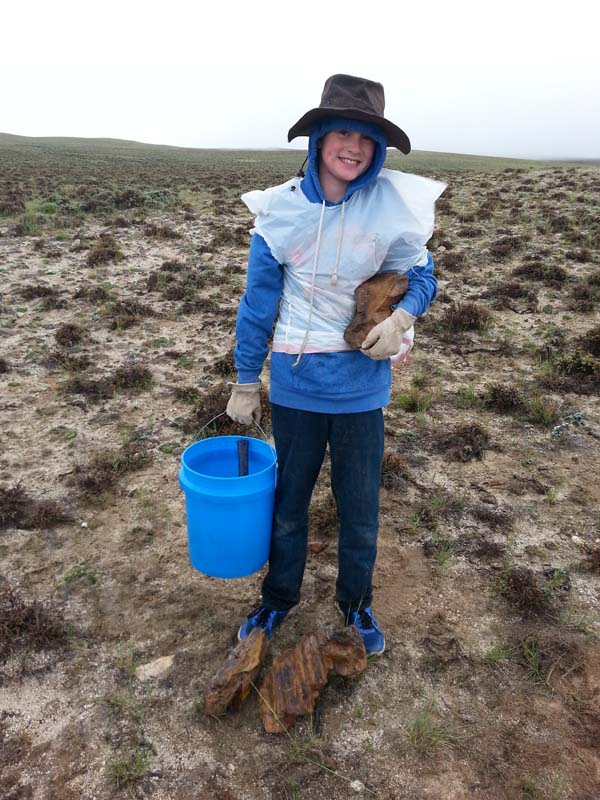 Here's what I brought home, nothing huge this time (no trophies) but my daily limit which was just fine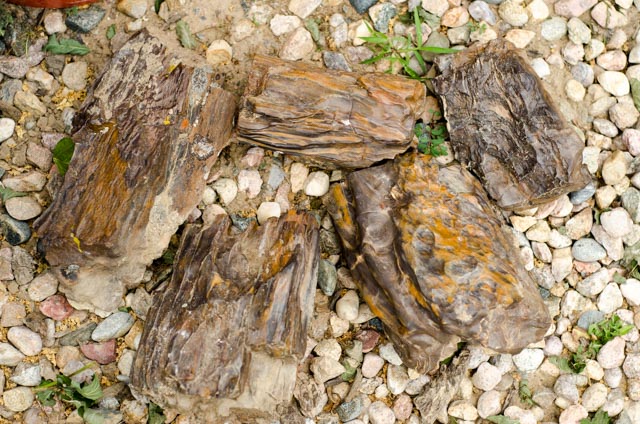 My younger daughter had a piano recital Sunday night, so we needed to leave after about 45 minutes on-site. The drive home was very rainy and windy, but we made it home in time to see her play. She did well.
Corben had fun, I had fun, we found a lot of rock and covered a lot of ground.
If I end up finding a way to host the horse video and when I cut up the Casper Archery Range Jasper I'll post some photos.
Thanks for sticking with me!
UPDATE here's the horse video: