Post by herchenx on Jul 30, 2014 1:06:57 GMT -5
I have a close friend getting married. He is a rock hounding buddy who I've gone on Fairburn hunts with.
One trip
Another trip
He's made a couple more up there without me, and has become pretty active on some Fairburn threads on Facebook. I poke in from time to time but he is fully committed.
Well for his bachelor party he said he'd like to go to South Dakota and look for Fairburns, and canoe the Cheyenne River as part of the trip.
The night before we left his older brother Jake (another close friend who I hunt and fish with as well) had us all over for a bachelor BBQ. Jake (older brother) is on the left and Nate (bachelor) is on the right.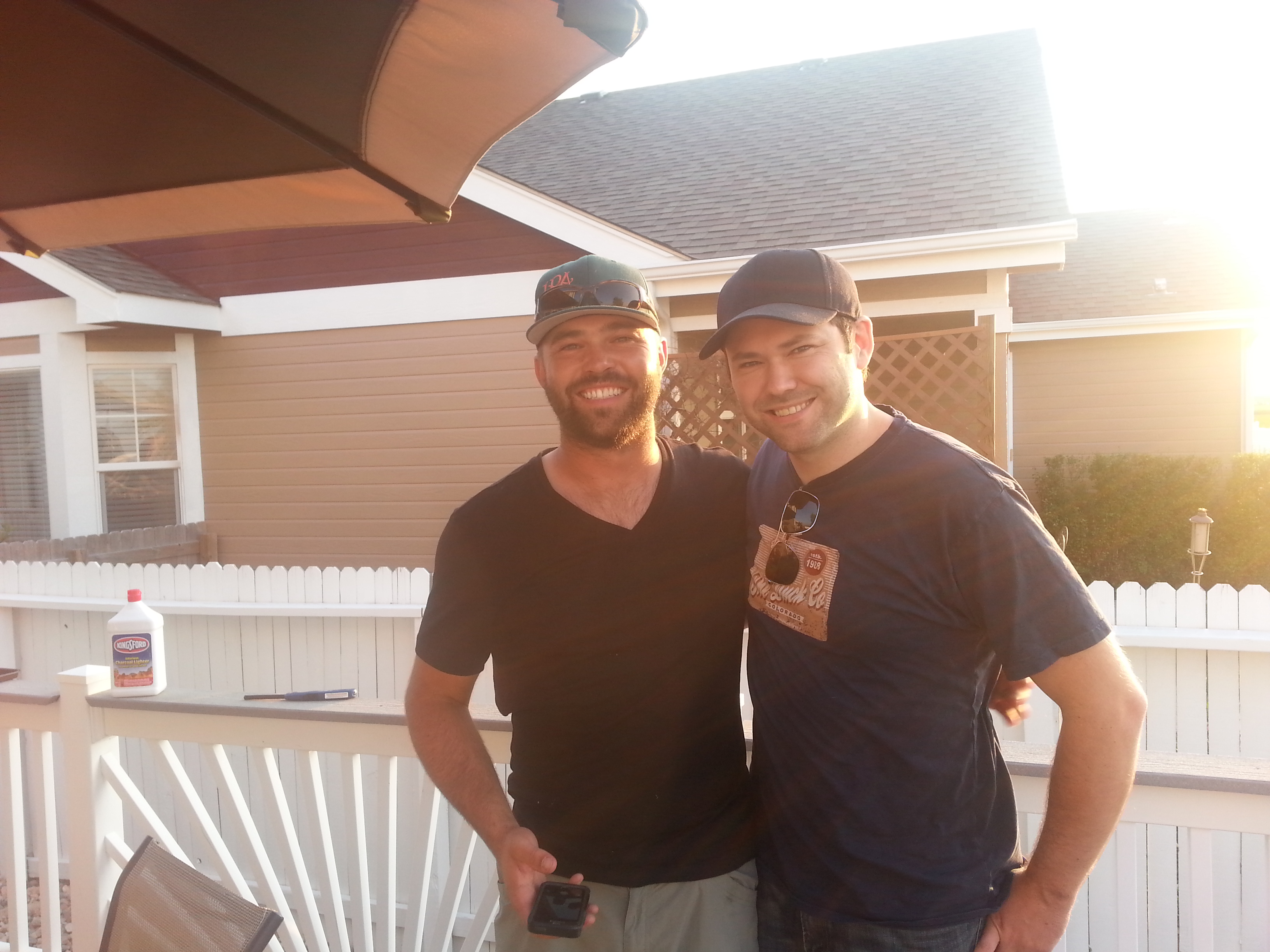 Earlier that day I went and picked up the newest tool in my rock collecting arsenal, a new canoe:
We met up early the next morning and by 7:30 we were on the road to South Dakota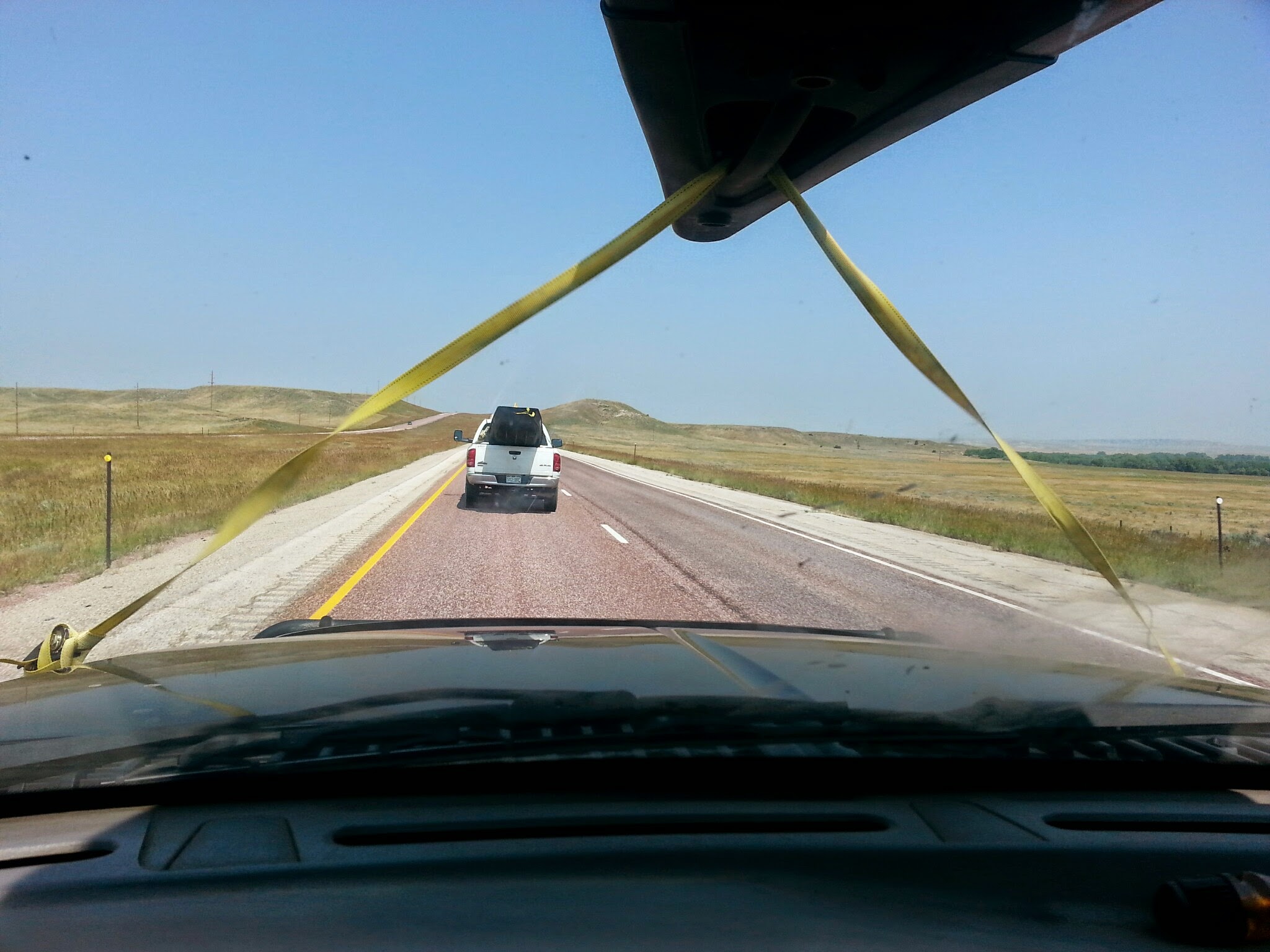 The drive was long and mostly uneventful, but as we entered South Dakota, the clouds got darker and as we approached some storms a small fire had already popped up from a lightning strike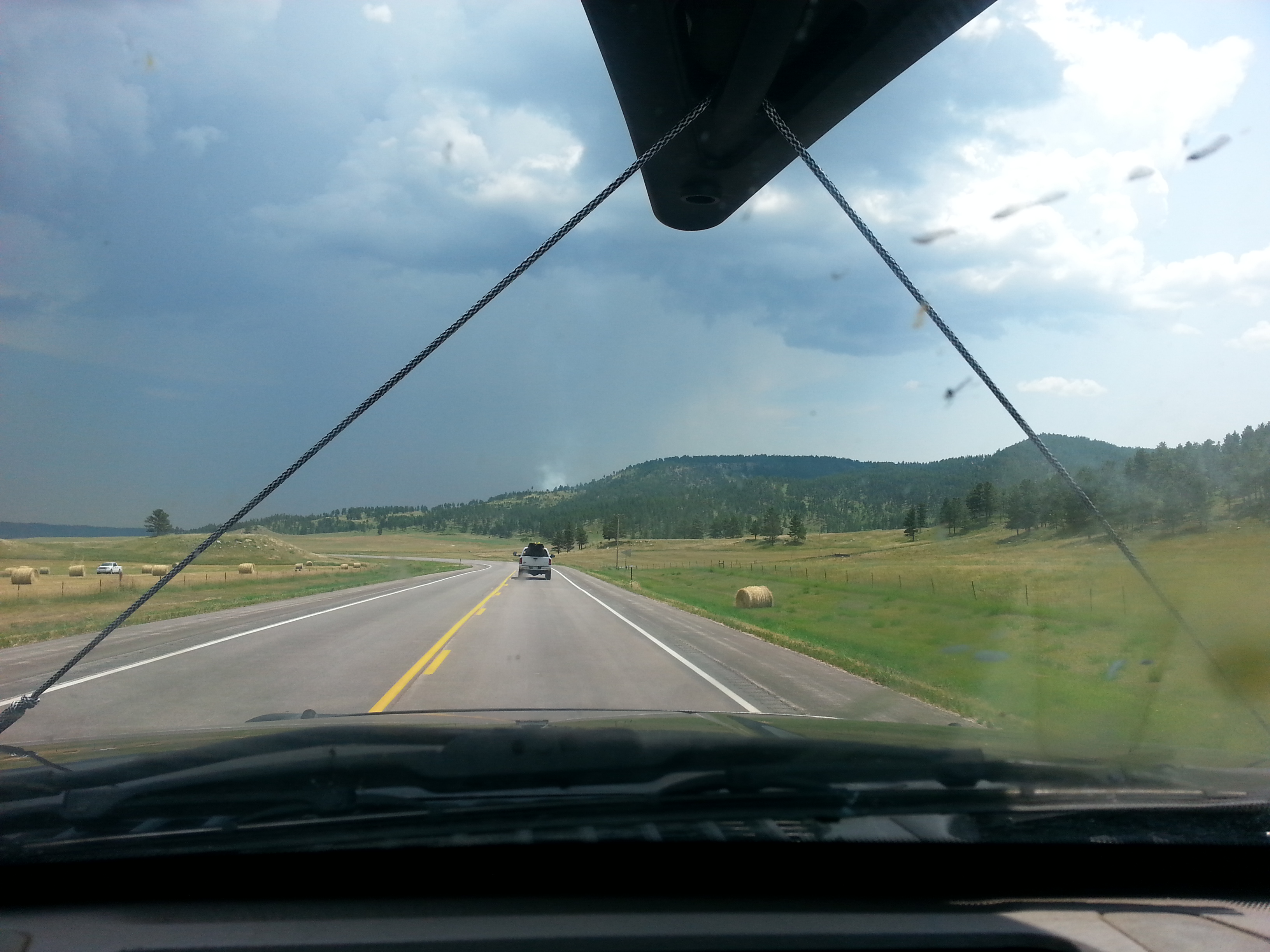 We gassed up in Hot Springs, and the rain was falling hard at this point. Here are some of the guys keeping dry while we fuel up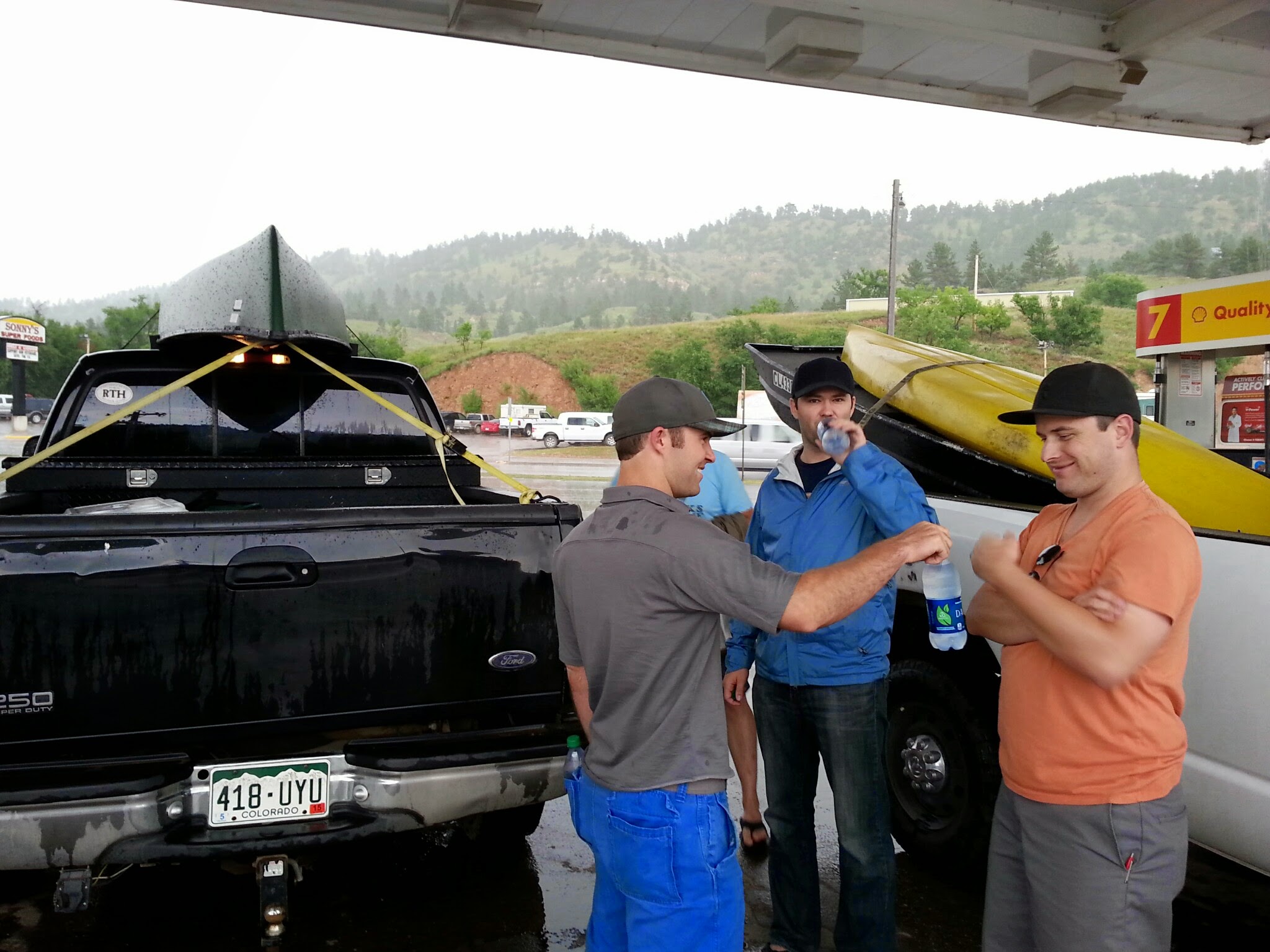 And my truck with my RTH sticker from
beefjello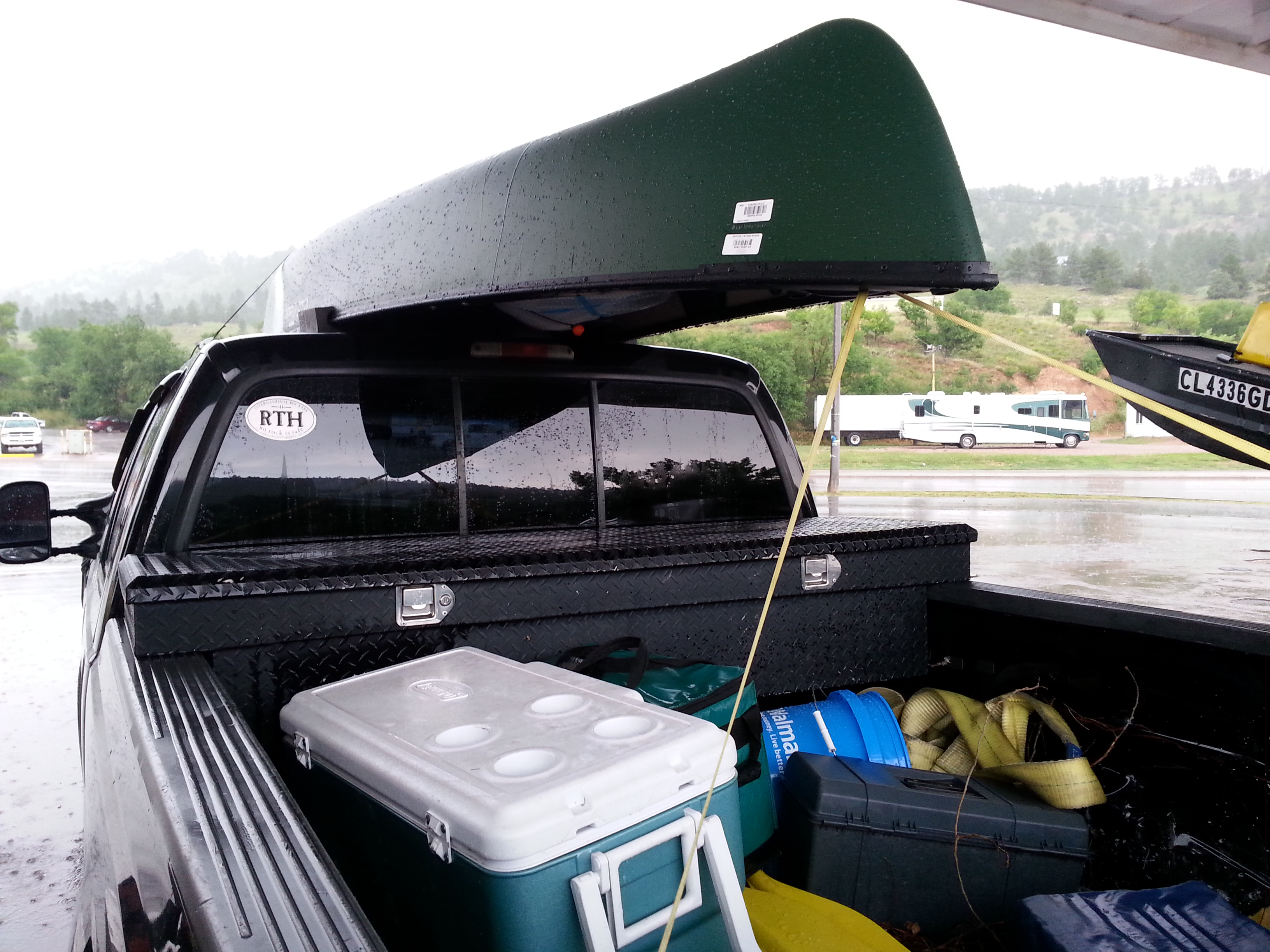 We kept rolling right into Fairburn just as the show was setting up. The first person I saw was a friend and well-known Fairburn hunter Wayne Shortridge and his wife Beverly. Wayne and I belong to the
Fort Collins Rockhounds Club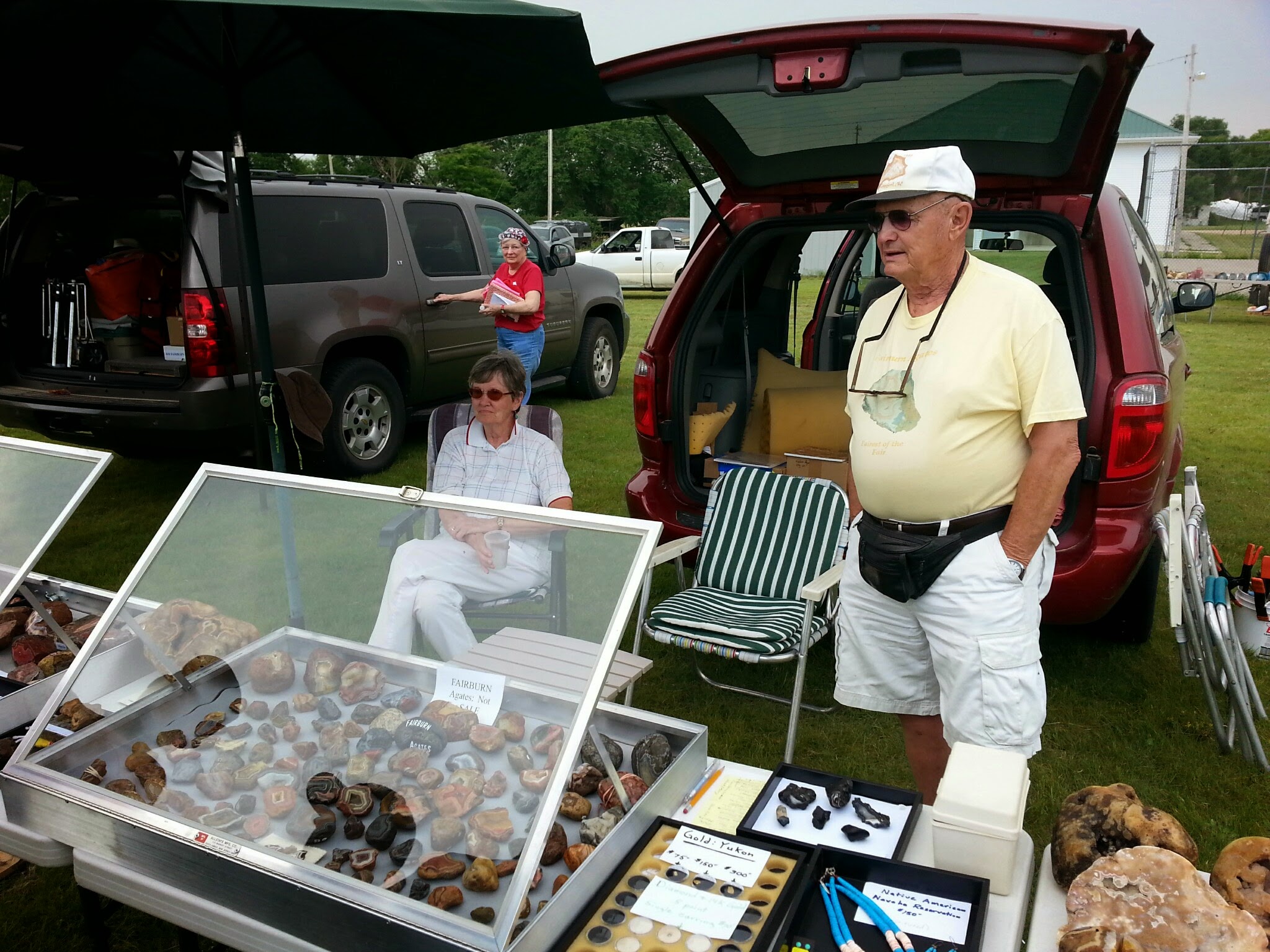 Wayne has an enviable collection, and this was the first time he'd had it all on display anywhere other than his home (where I'd seen it along with a vast array of other treasures in years past.) All the guys in our group saw the enthusiasm Wayne had and I think it helped them understand Nate's budding passion a little as well.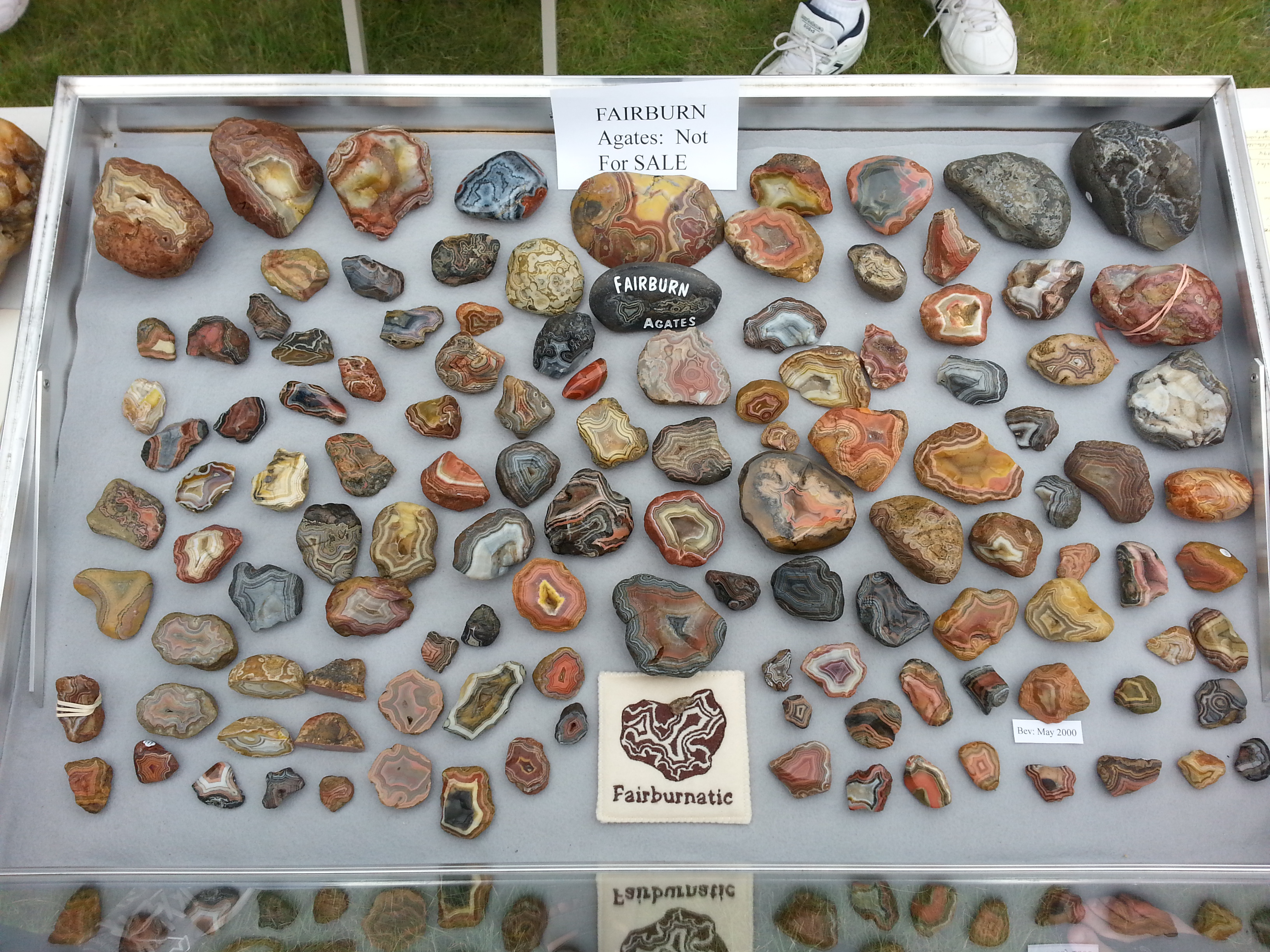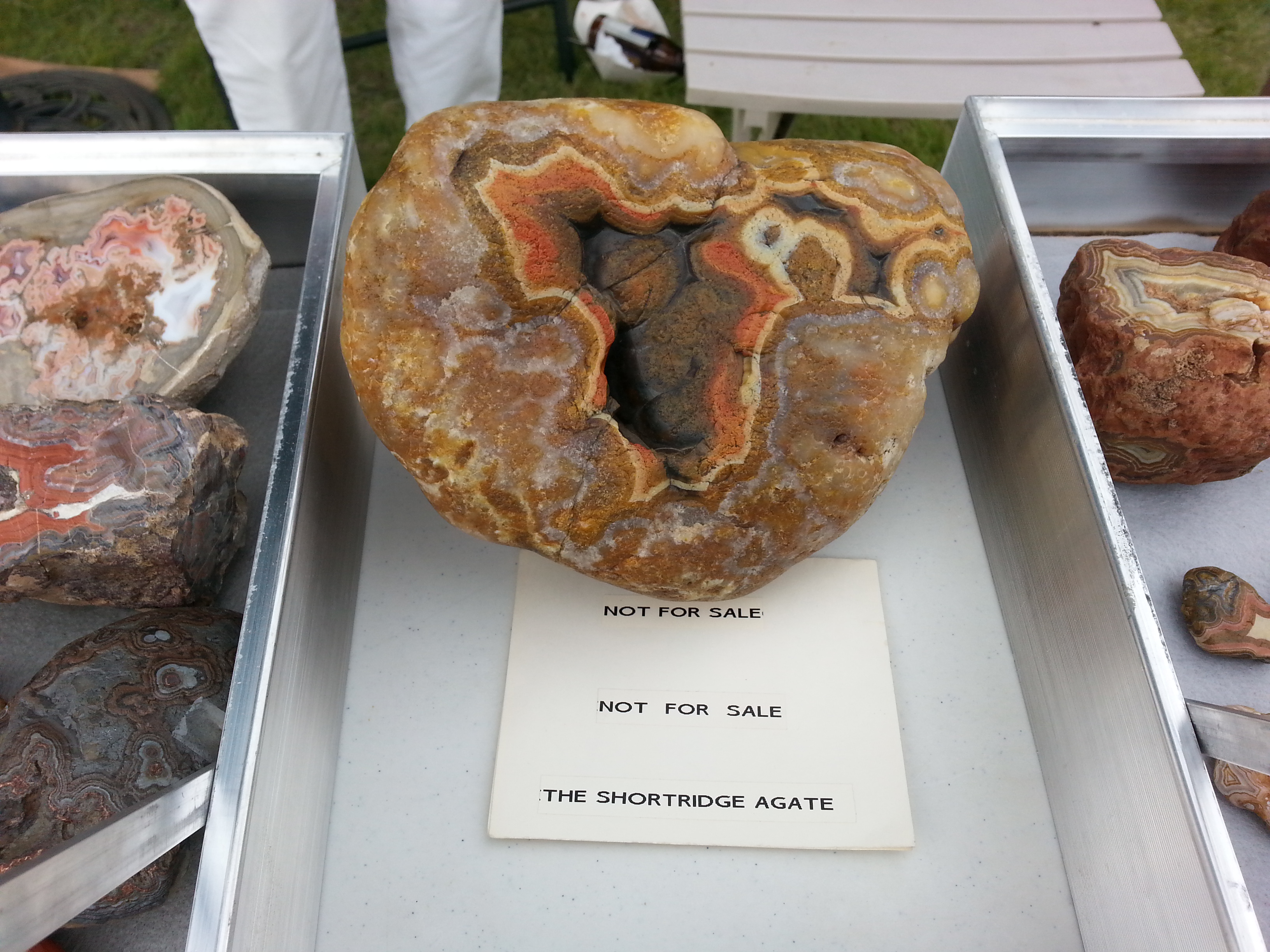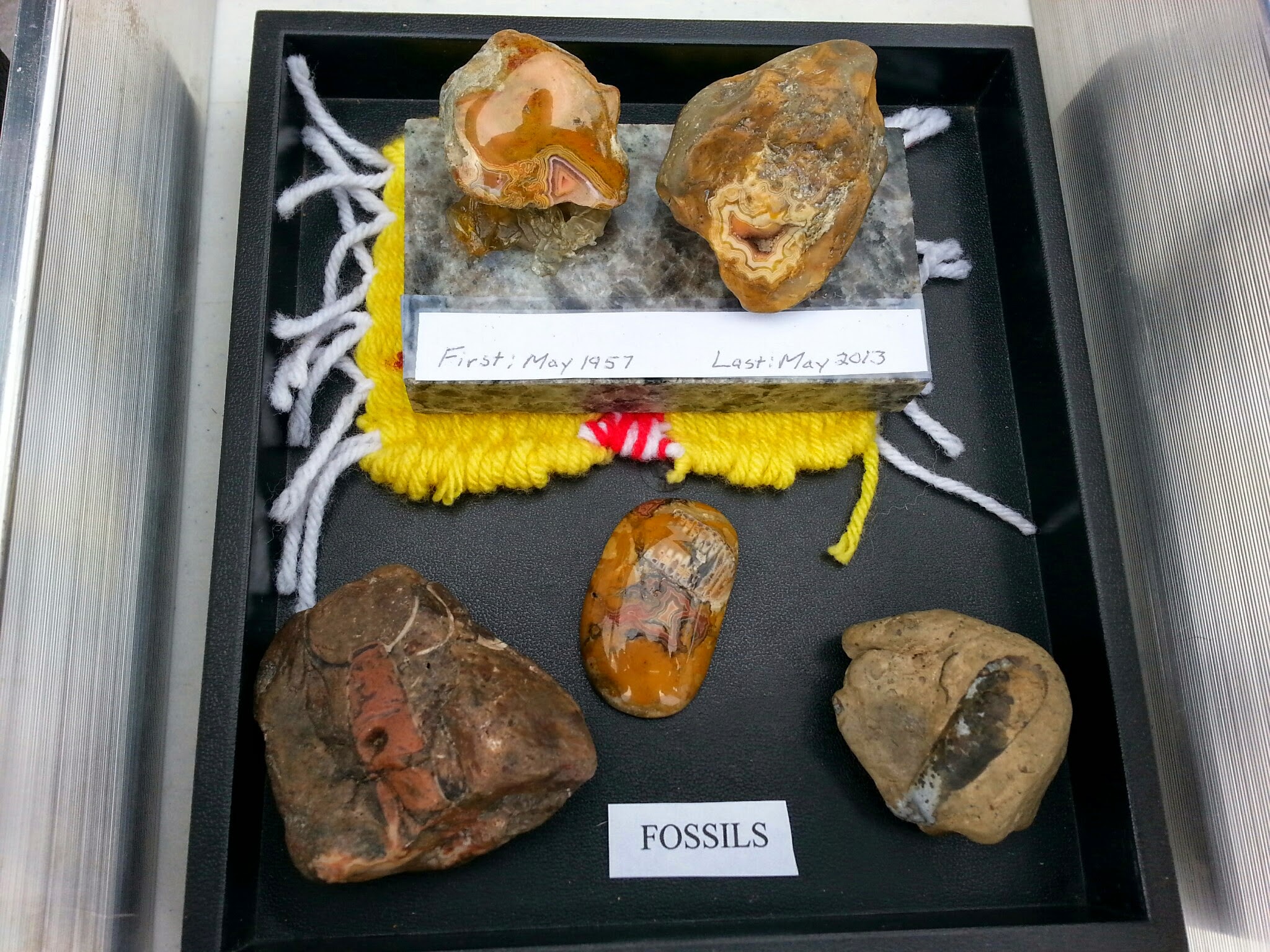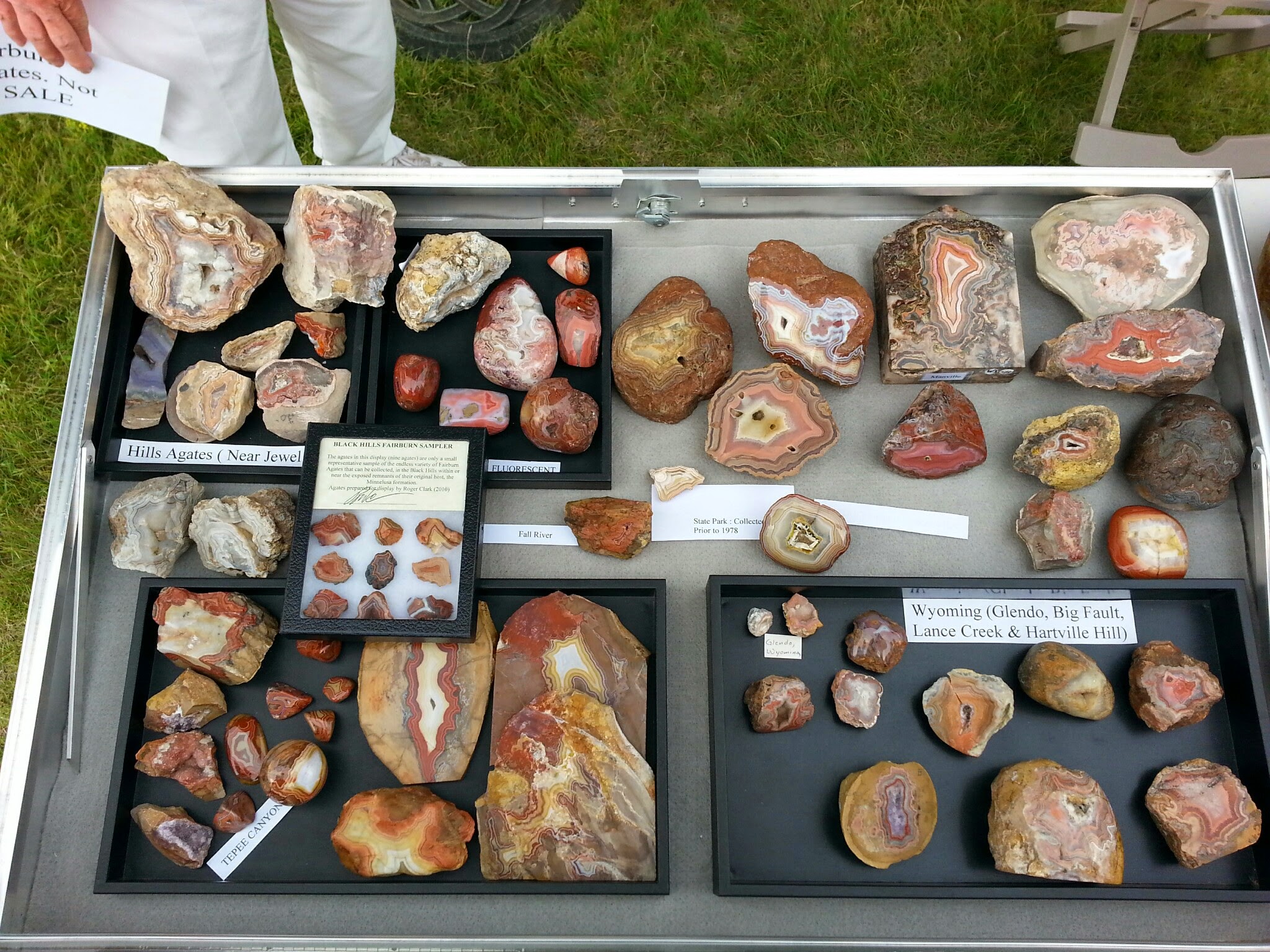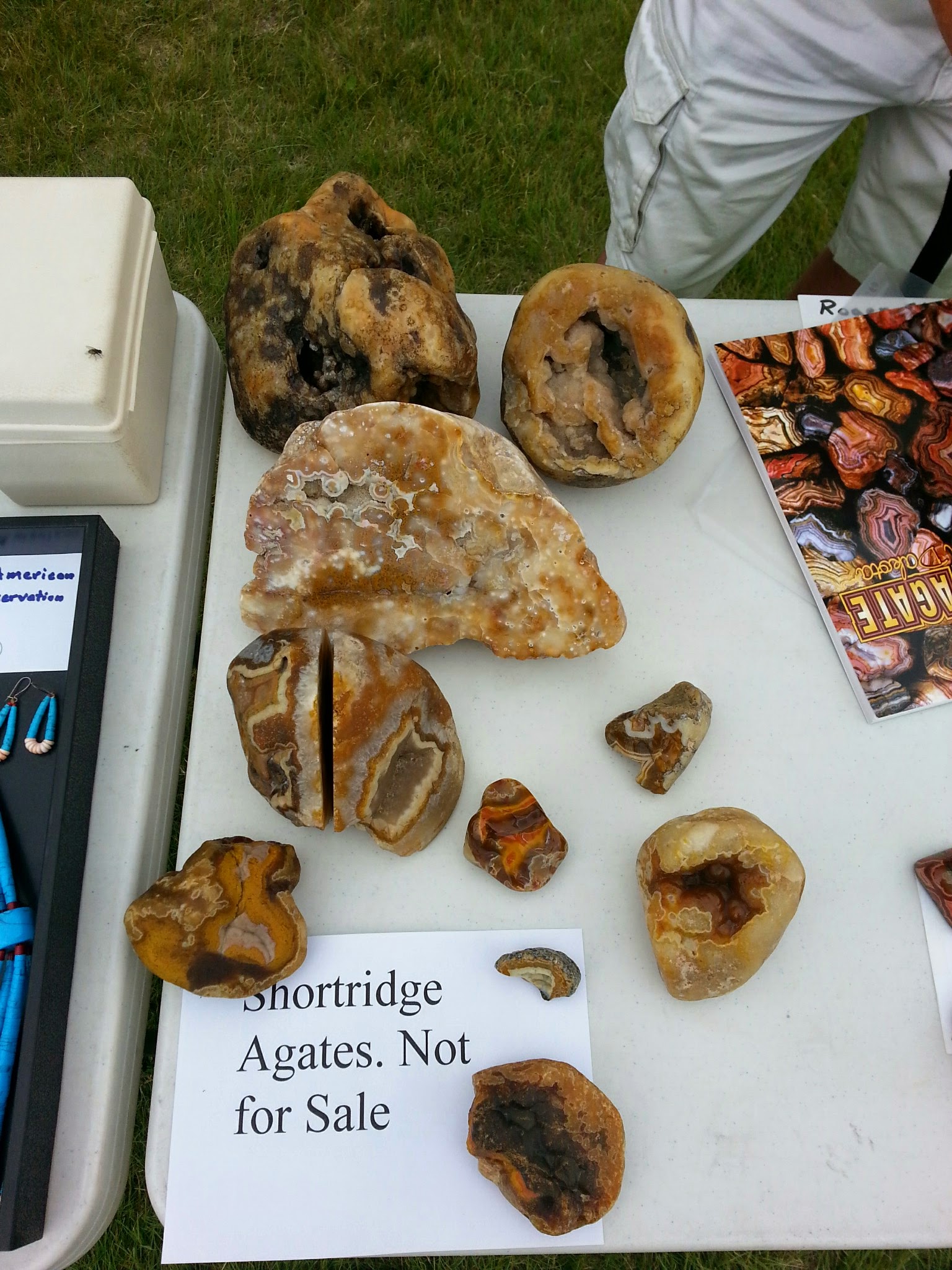 I bought a copy of the Fairburn book which had been signed by the author (who setting up right beside Wayne) and Wayne was gracious enough to sign the chapter he had authored for me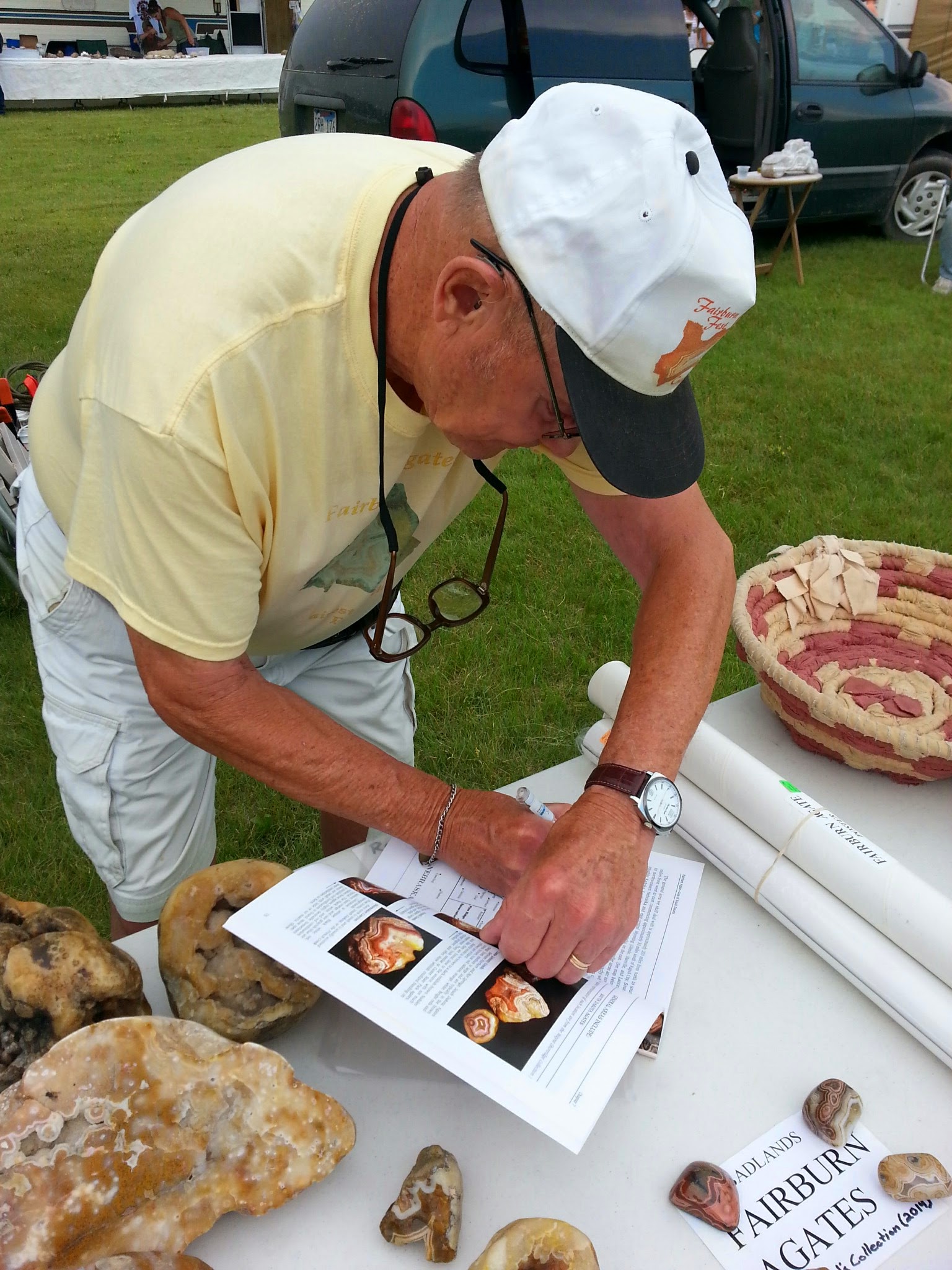 While I was there several other people were setting up, and a lot of folks were already buying and selling. I bought 8 decent small Fairburns from one table after some haggling and then we headed out to start hunting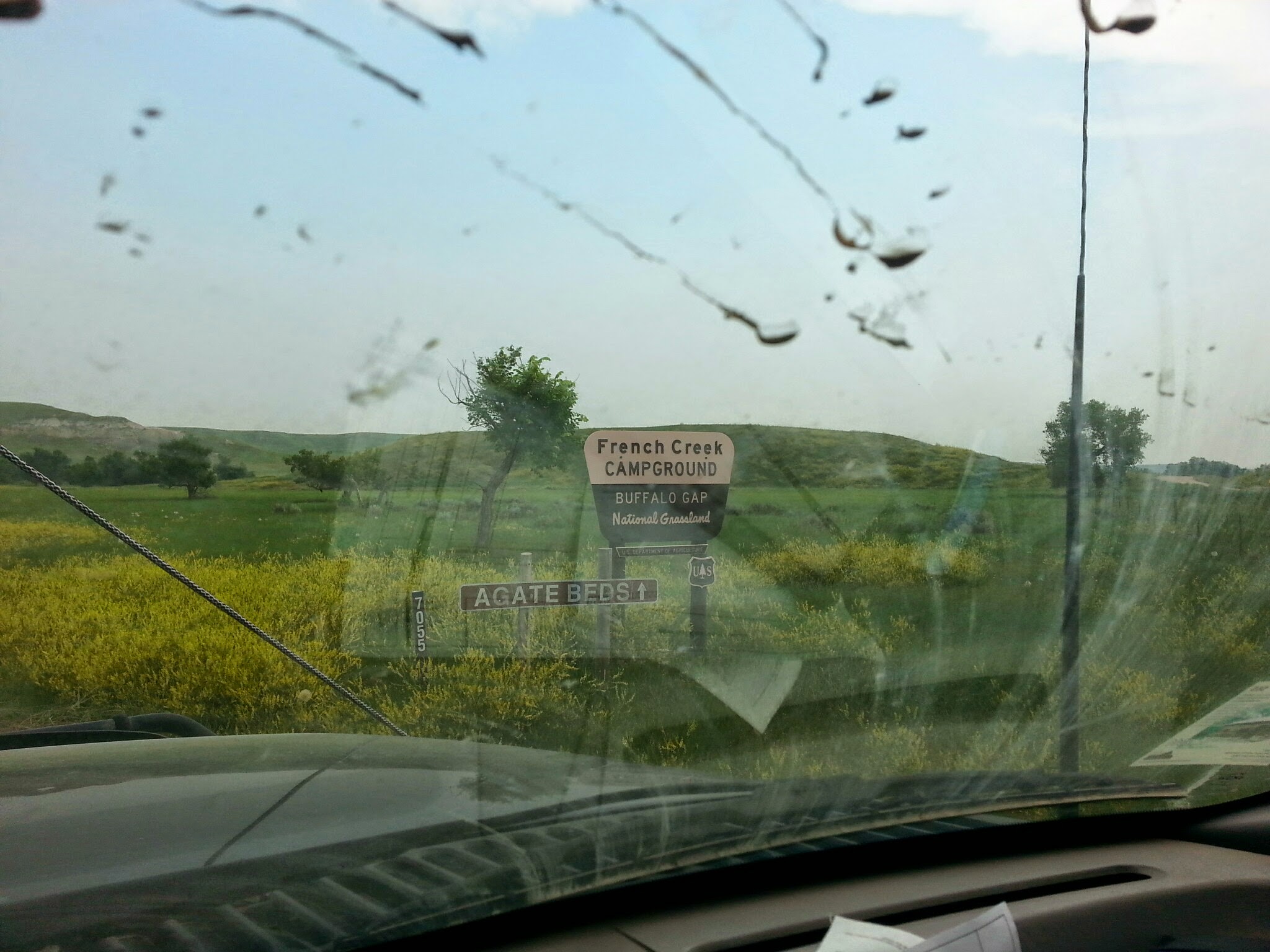 We parked out near French Creek and went to work. I headed out on my own while all the other guys stayed with Nate, who was showing them the ropes.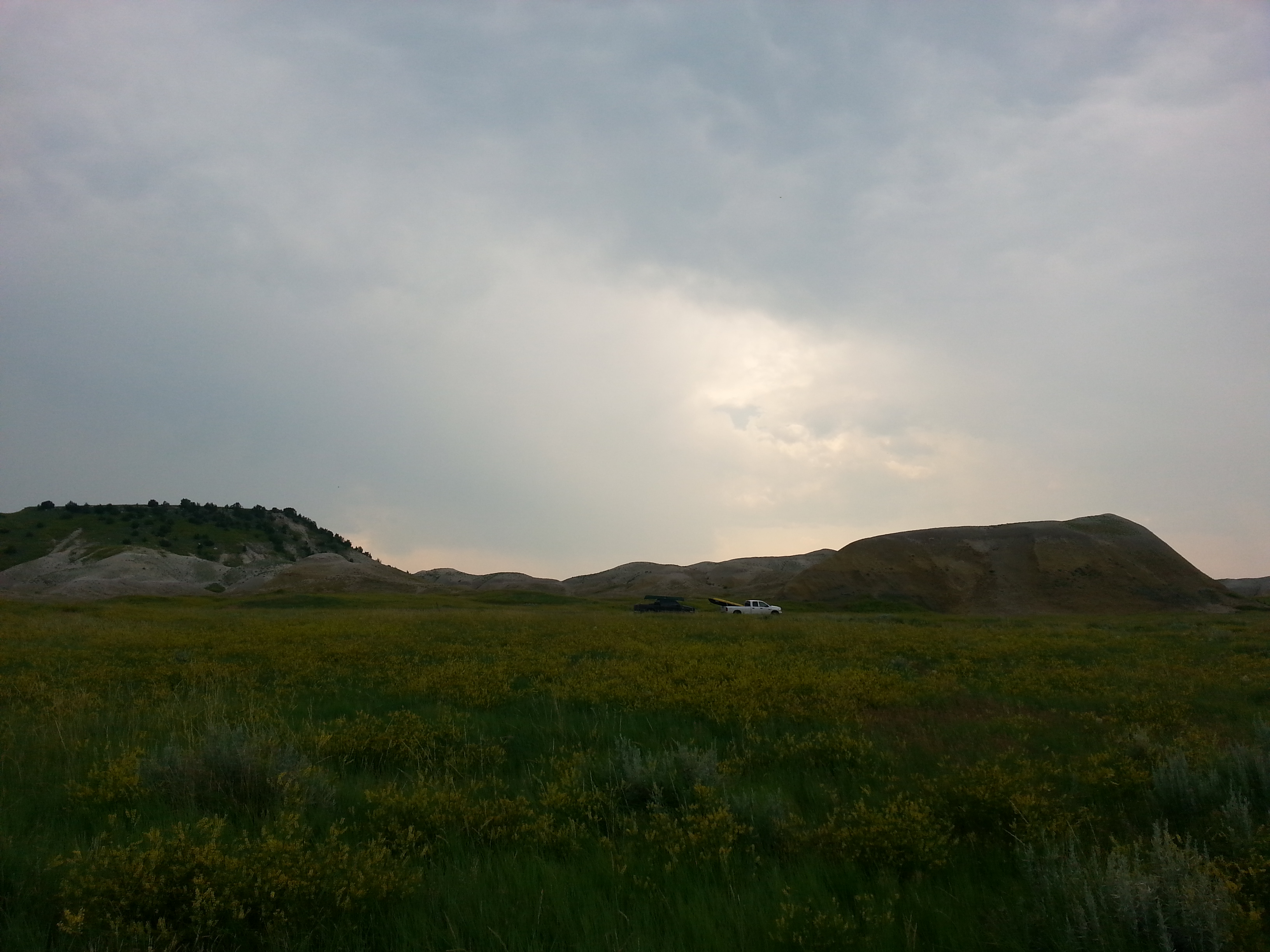 I worked my way onto a clay hillside and got a better view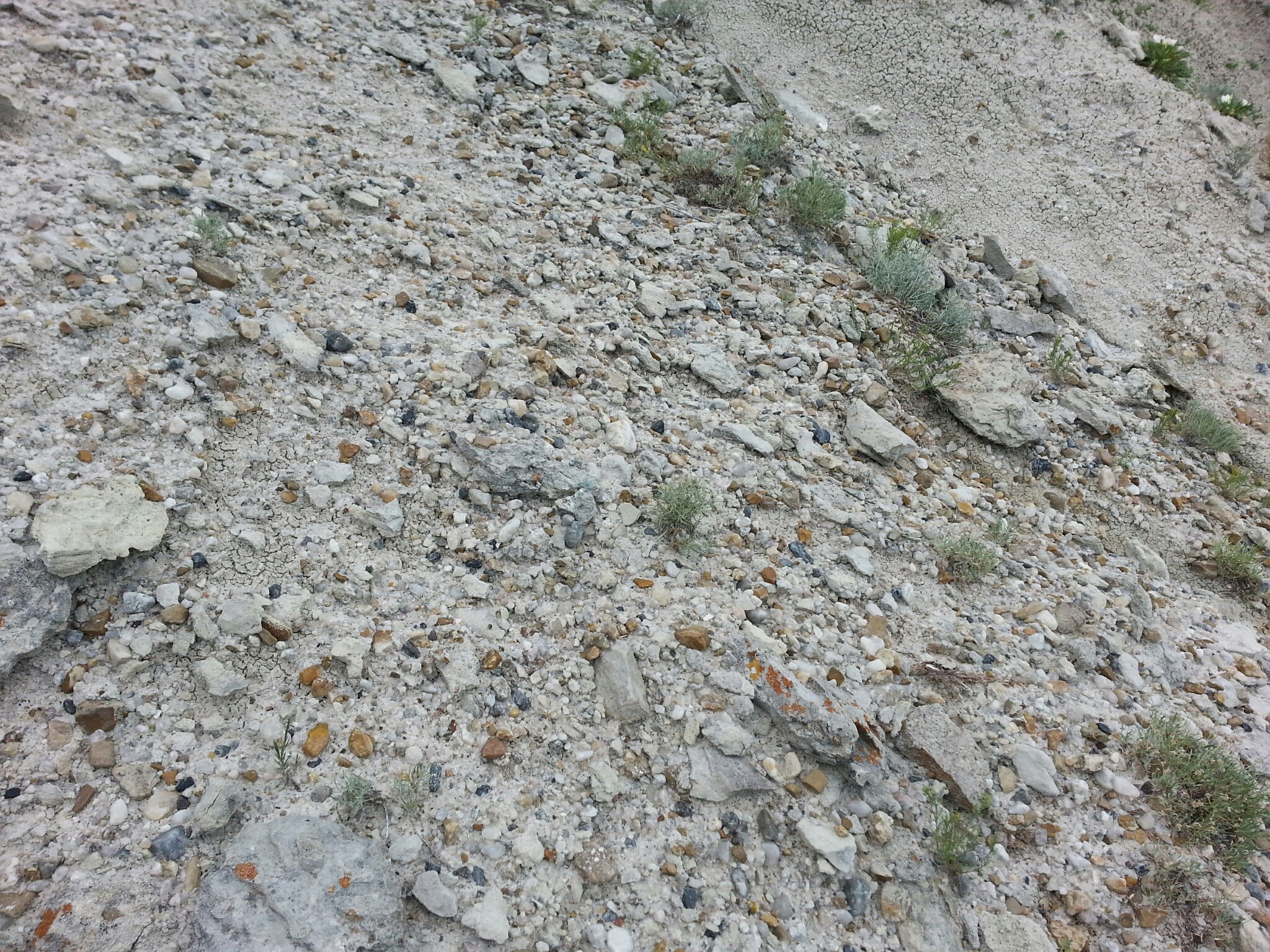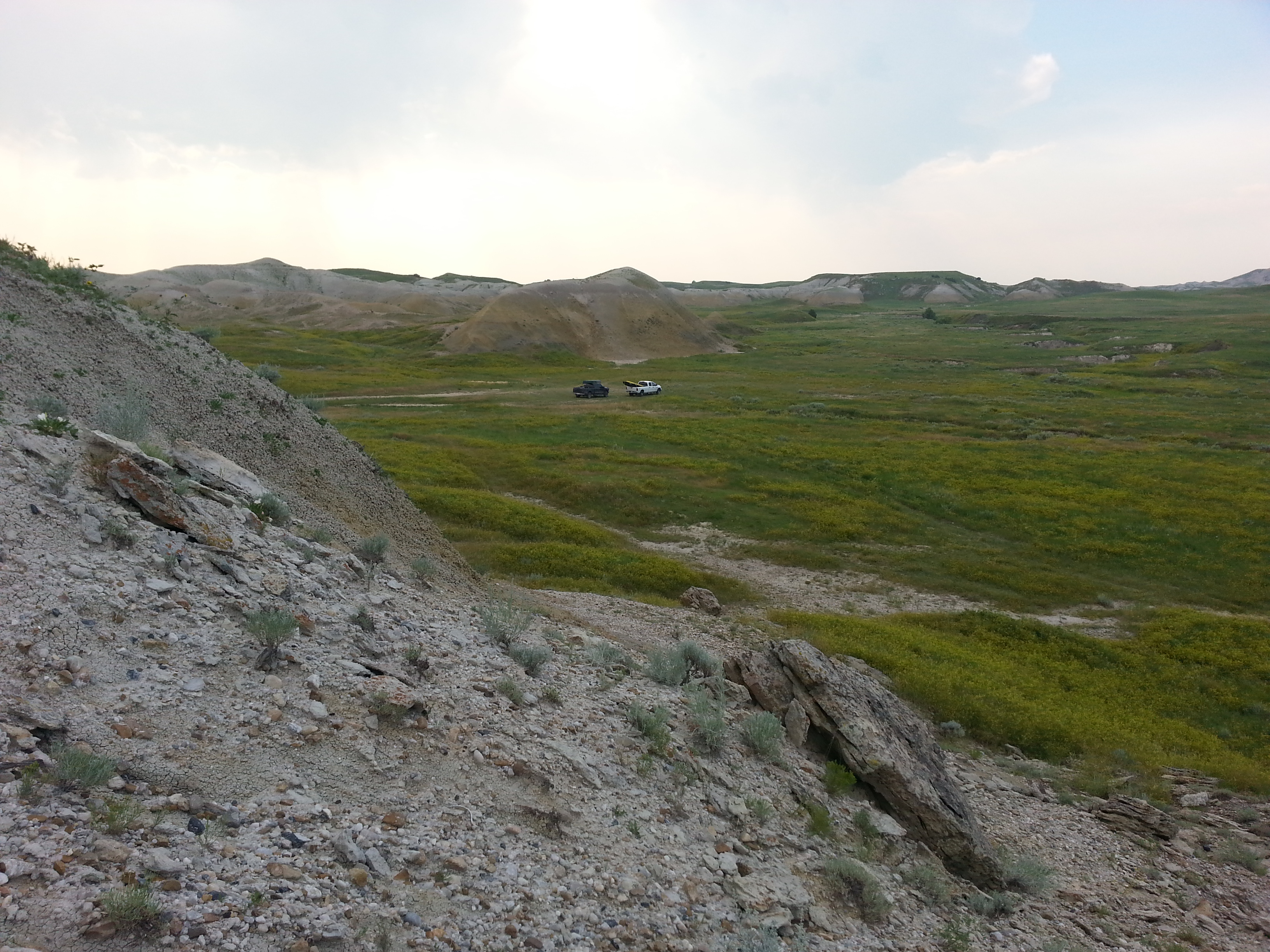 The clay "badlands" hills are really interesting. Even though it had just rained the ground is so porous it allowed the water to drain away. I chased a little toad around for a few minutes.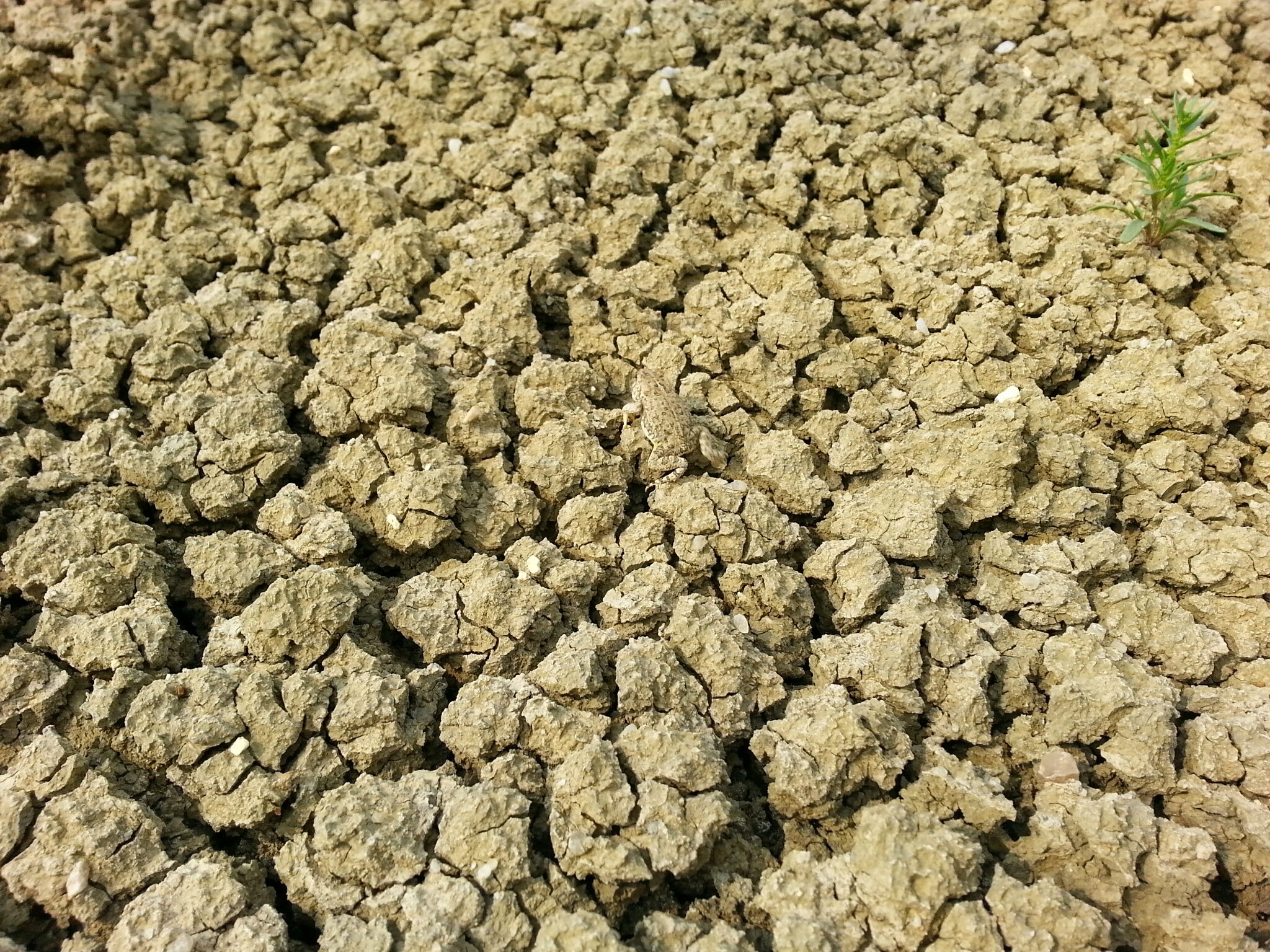 Some flora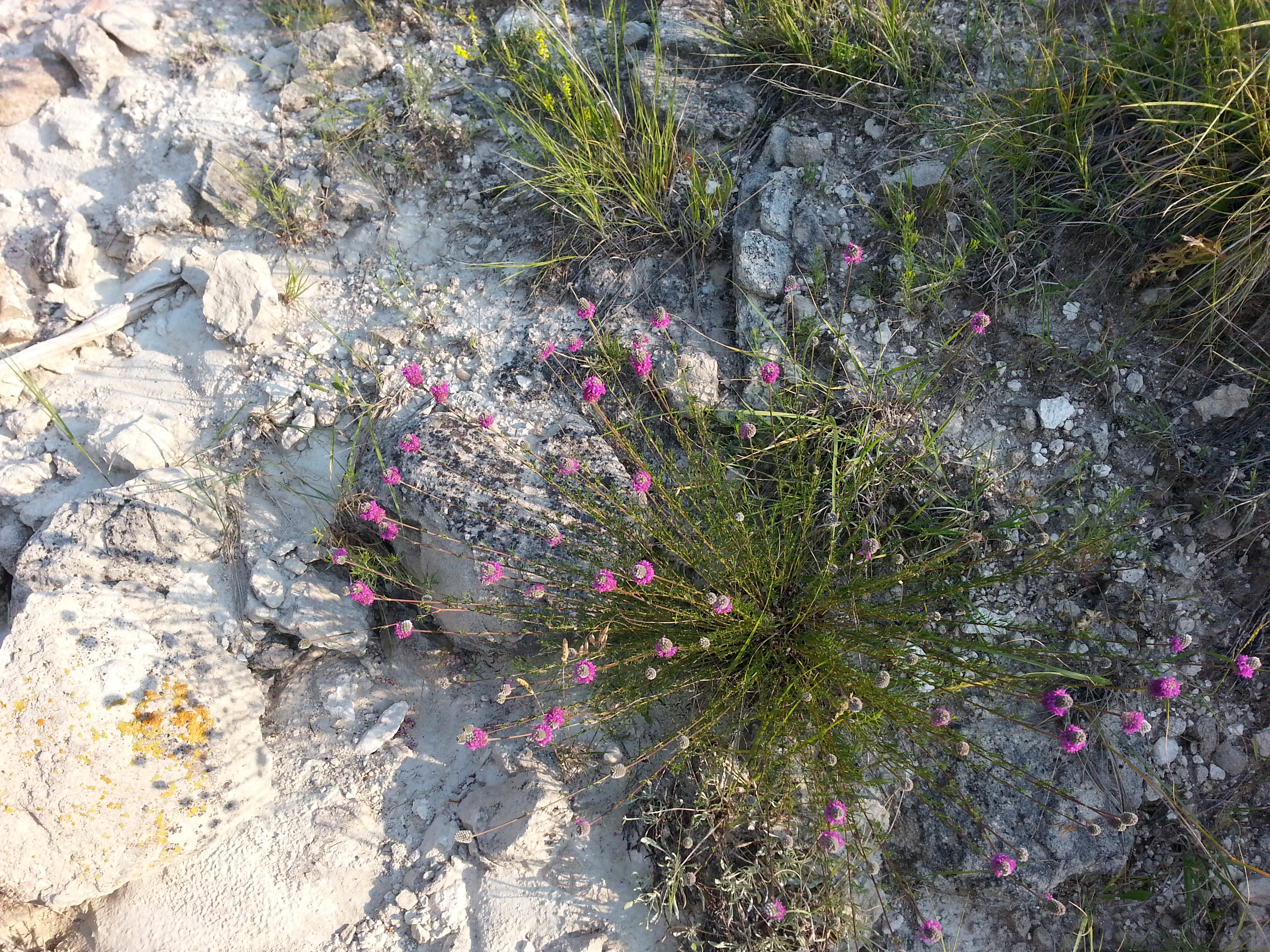 I didn't find any Fairburns on our first outing, but this hillside had some white material I checked out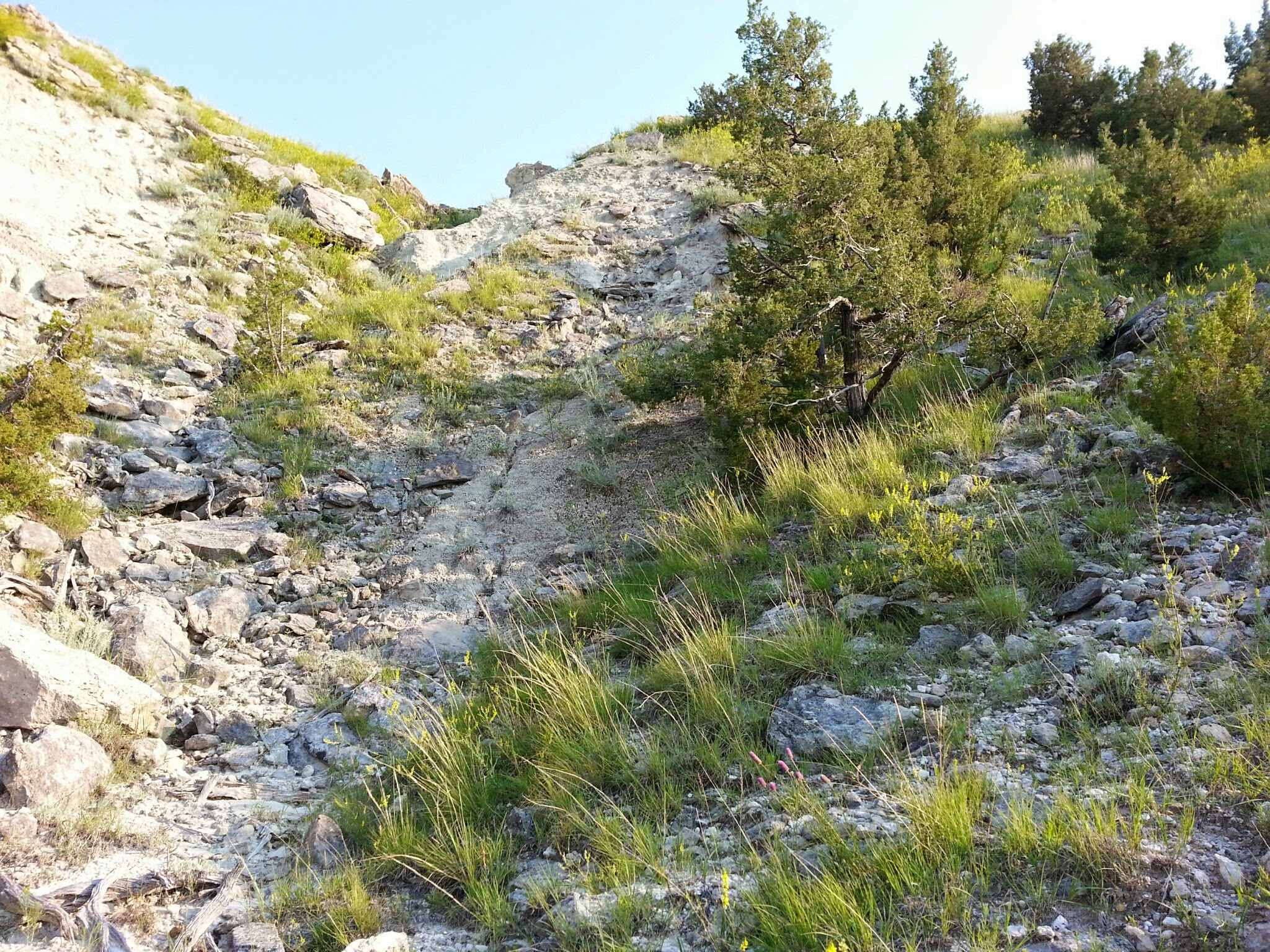 It was a cool dendritic opalite that I hope takes a nice shine.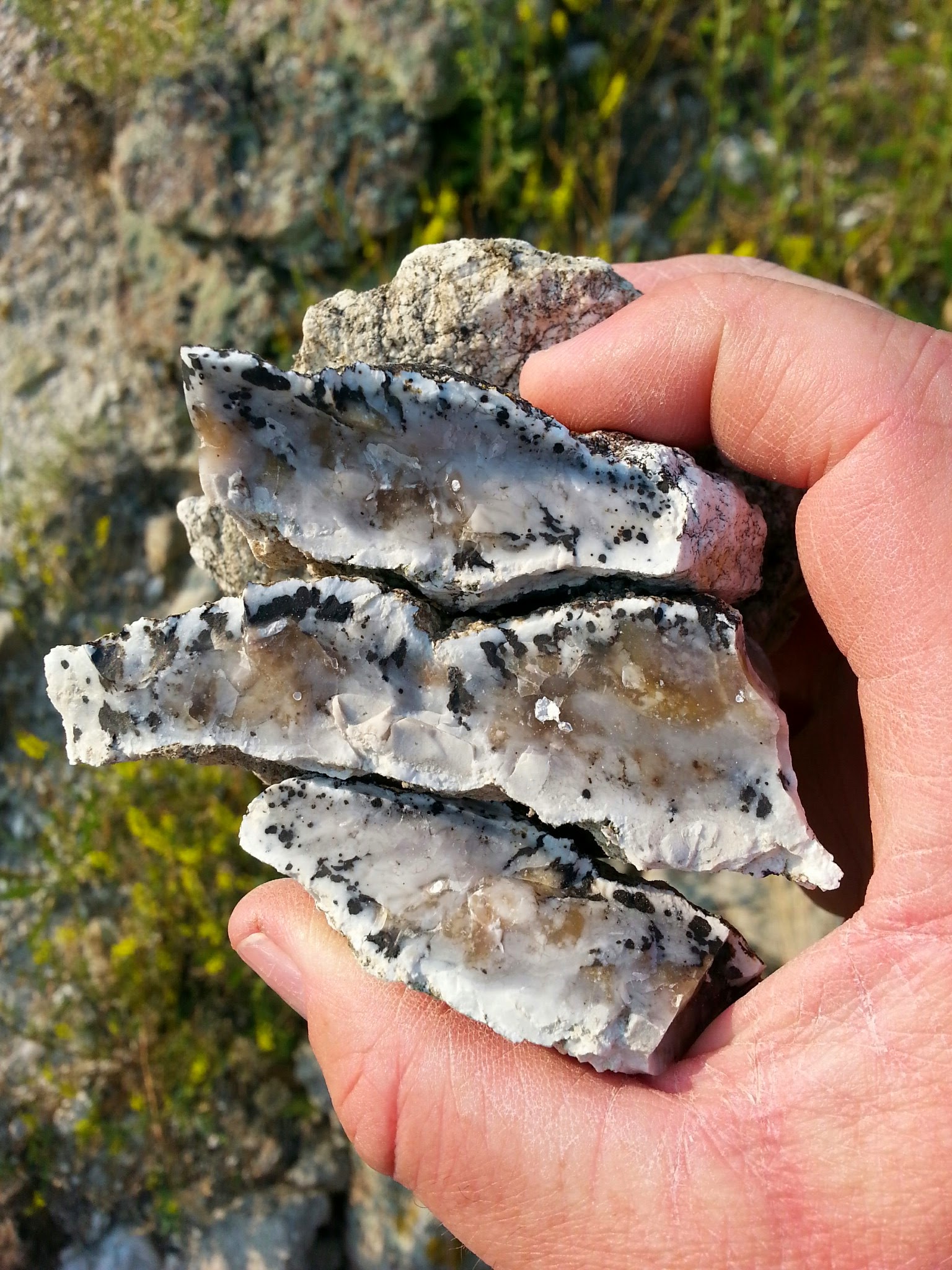 After a couple hours I saw the guys back at the truck and headed over to find Nate holding something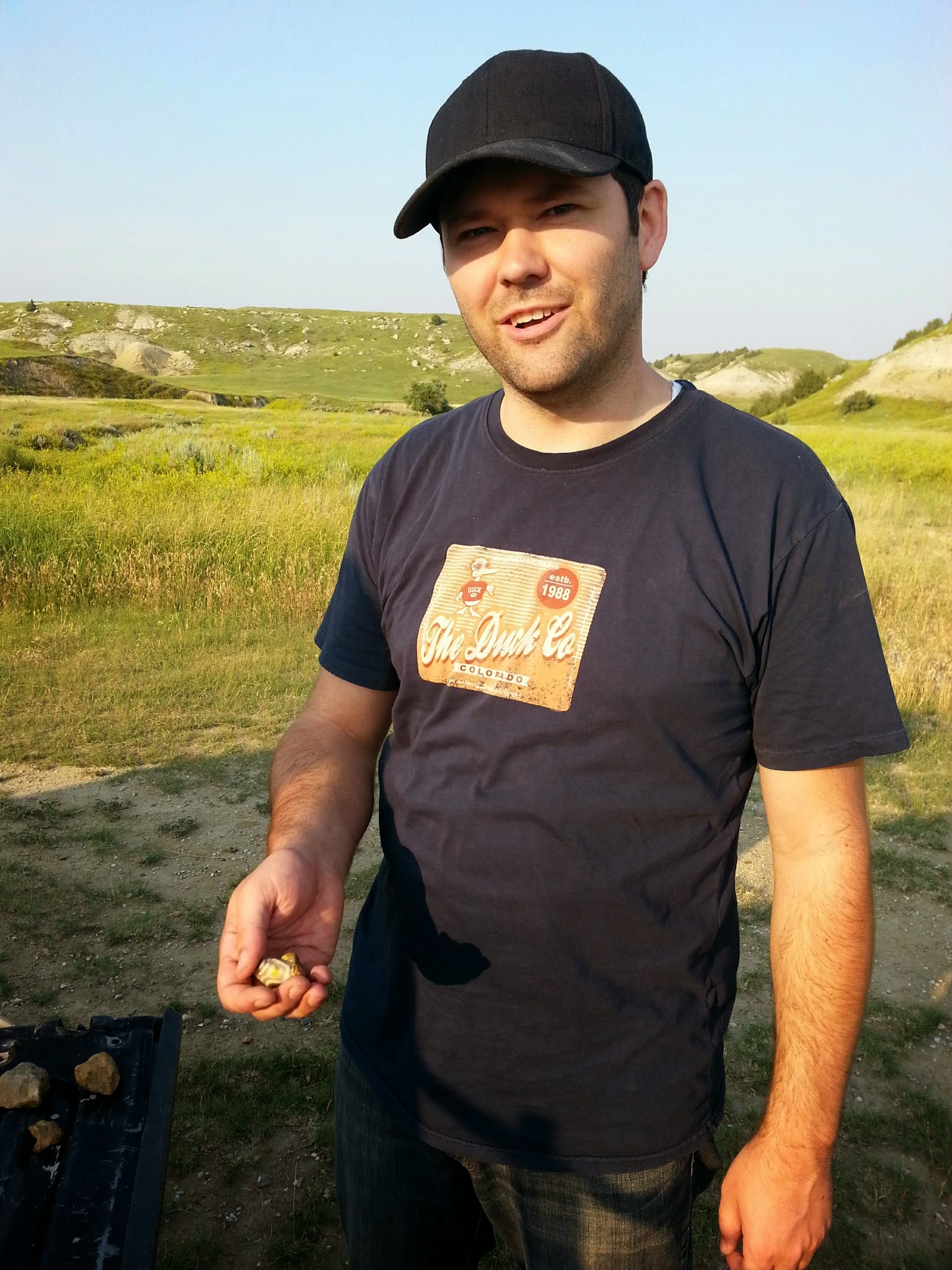 A nice Fairburn!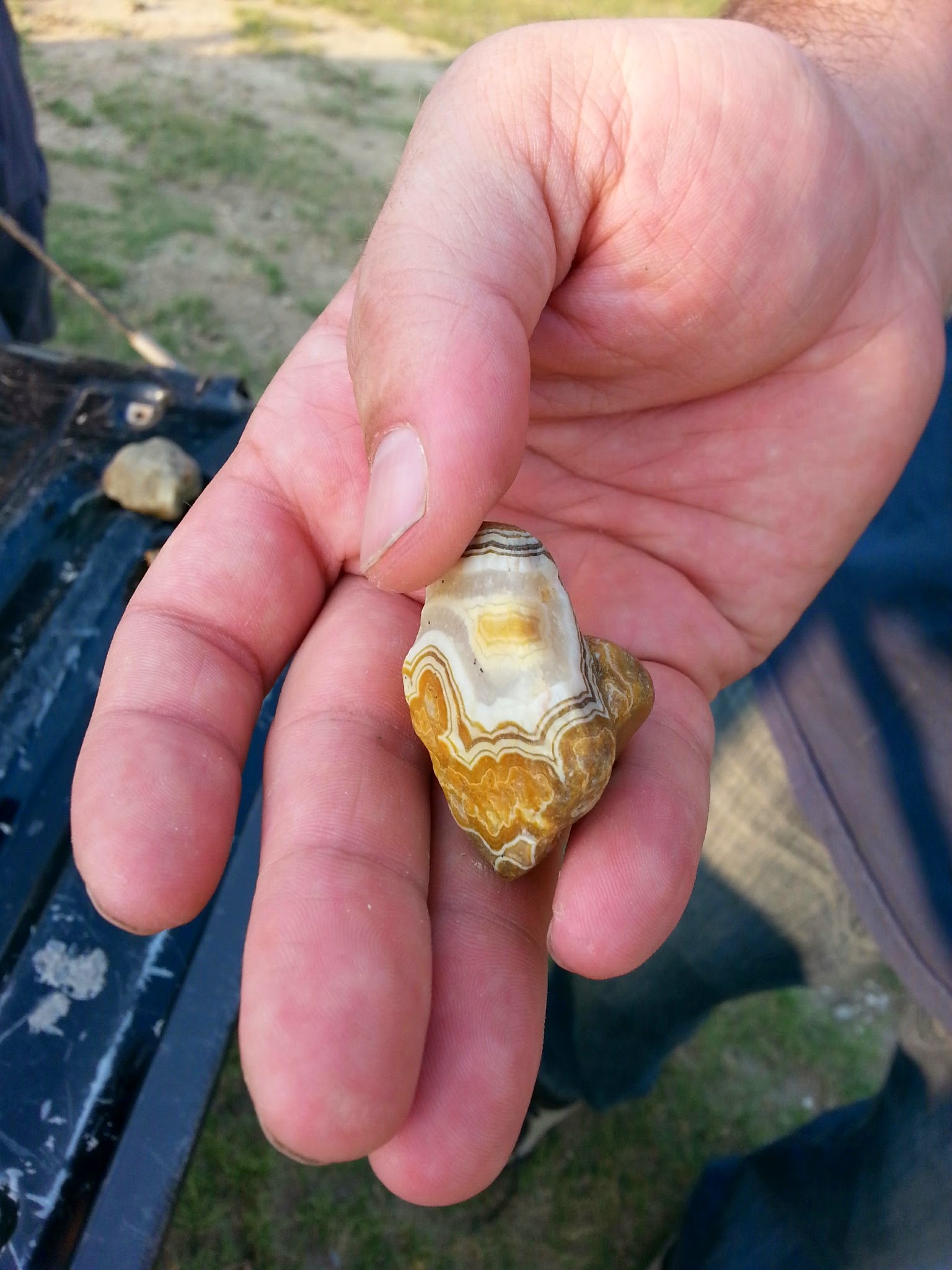 We were bushed already so we headed into Rapid City to a cabin Jake had lined up. I regret not taking photos of the cabin, it was beautiful. Newer construction but timber framed with all blacksmithed hardware (hinges, clasps, handles) and very rustic but authentic decor (bear and beaver traps, old posters etc.)
The view was great though. The cabin backed up to Spring Creek Canyon.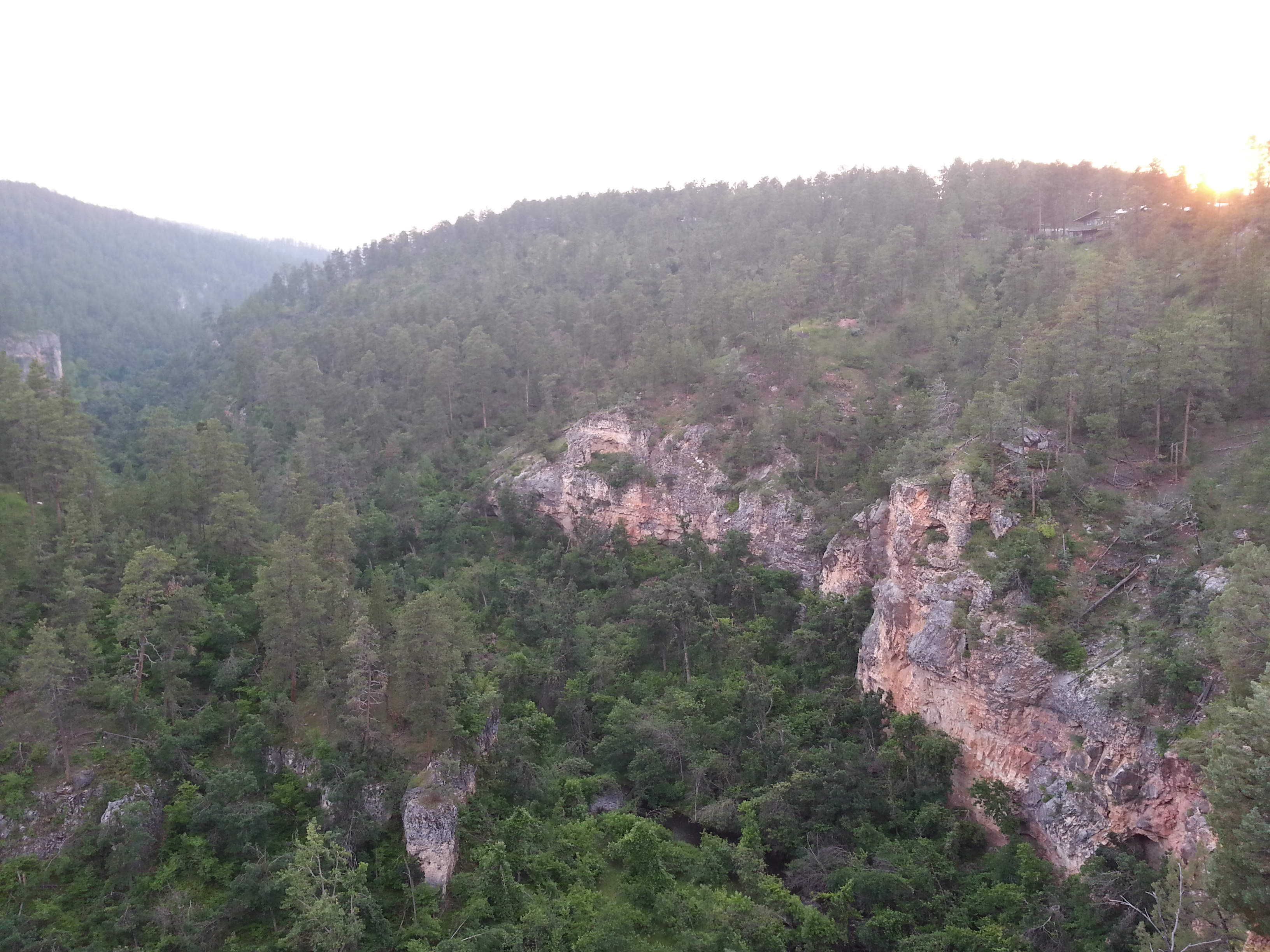 Nate still pretty fired up over his Fairburn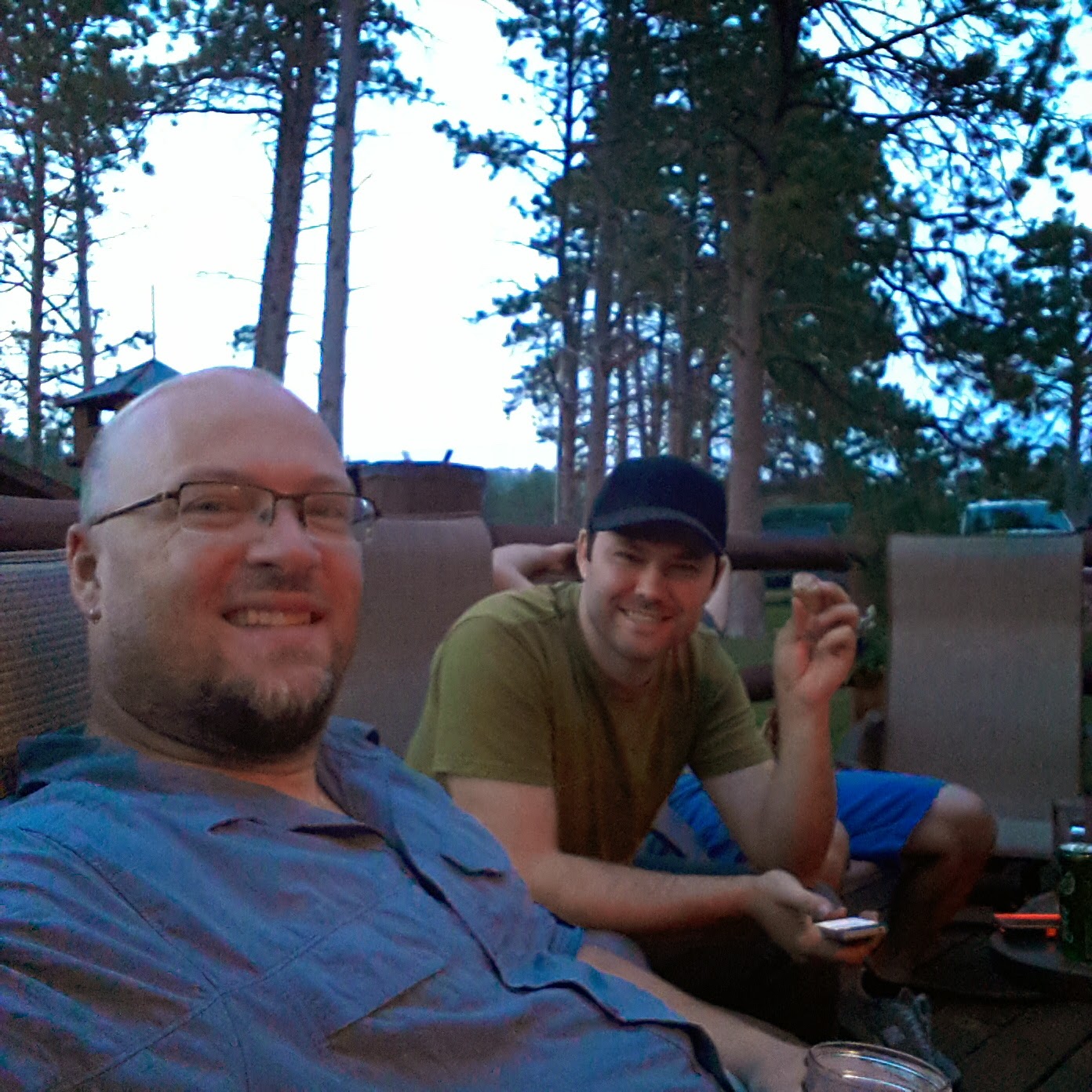 Saturday morning was a little bit of a late start due to some late night embibe-ment in town at one of the pubs. We got our water gear and headed out to the edge of the Oglala Lakotah Nation where we parked on BLM land and put into the Cheyenne River. Fortunately the night before it had rained a lot, and the river had doubled in flow overnight. If that had not happened I fear our trip would have ended with a lot longer, sadder story as we'd have been dragging canoe and Jon Boat 20 miles.
Some pics on the river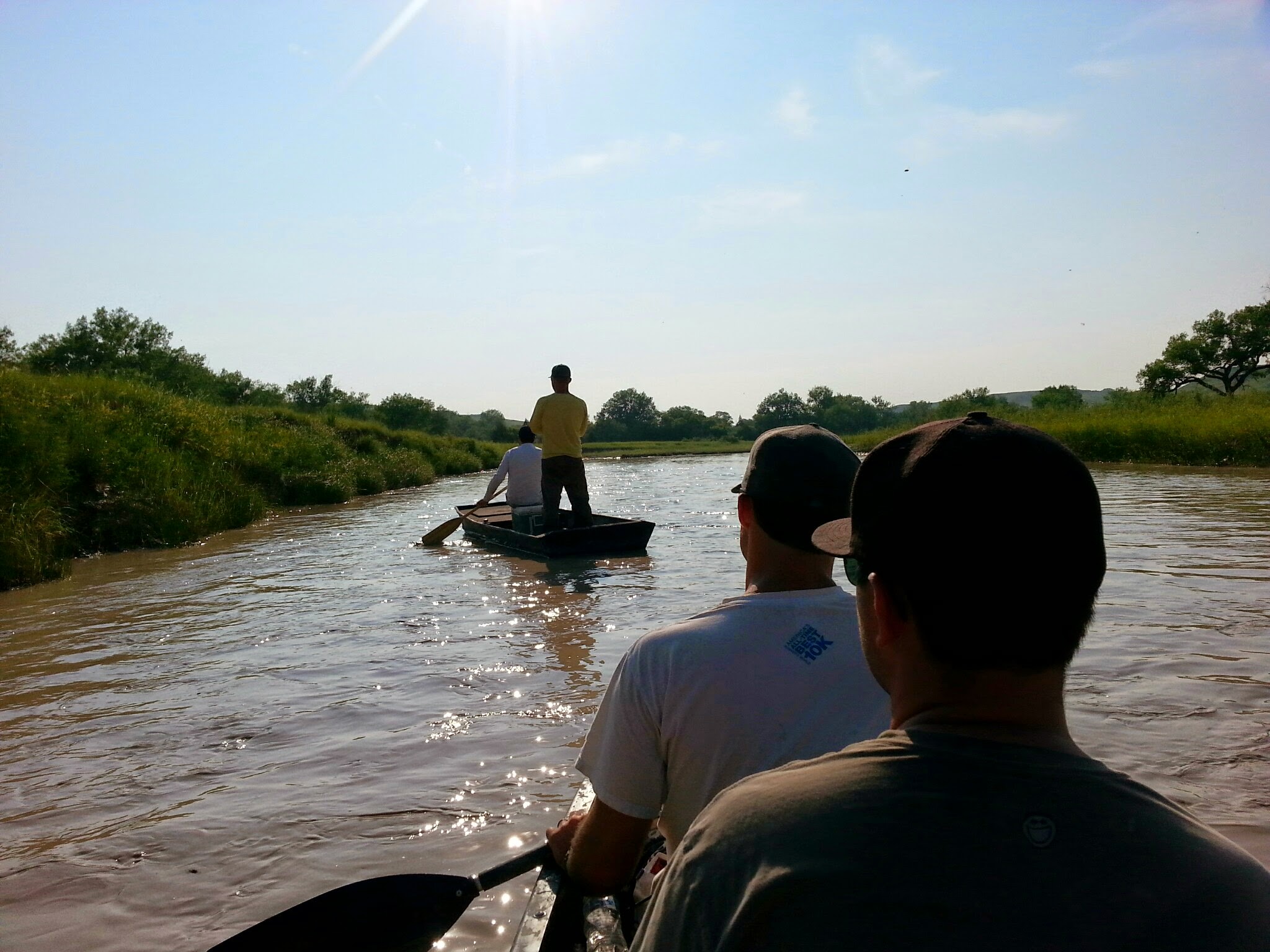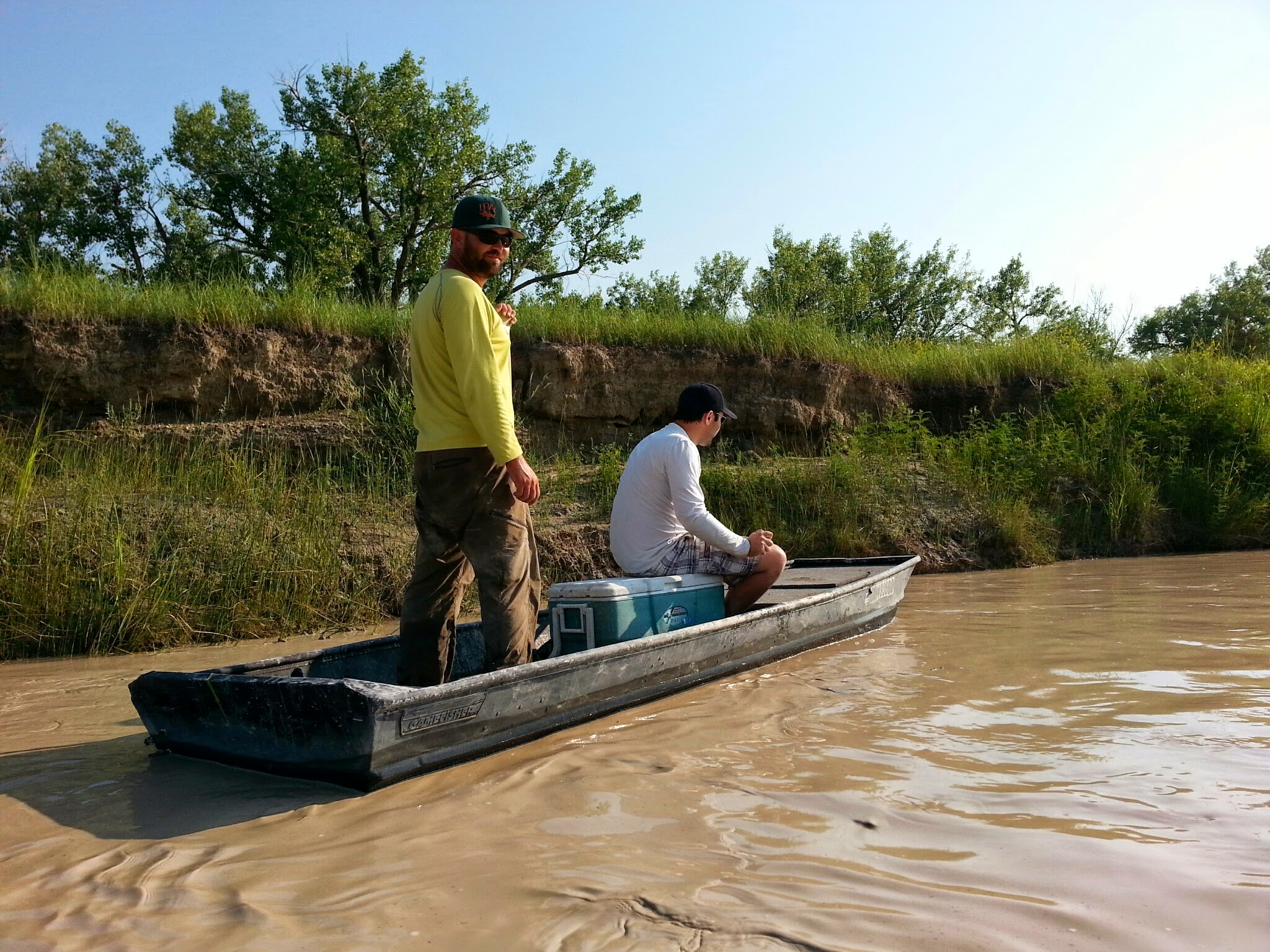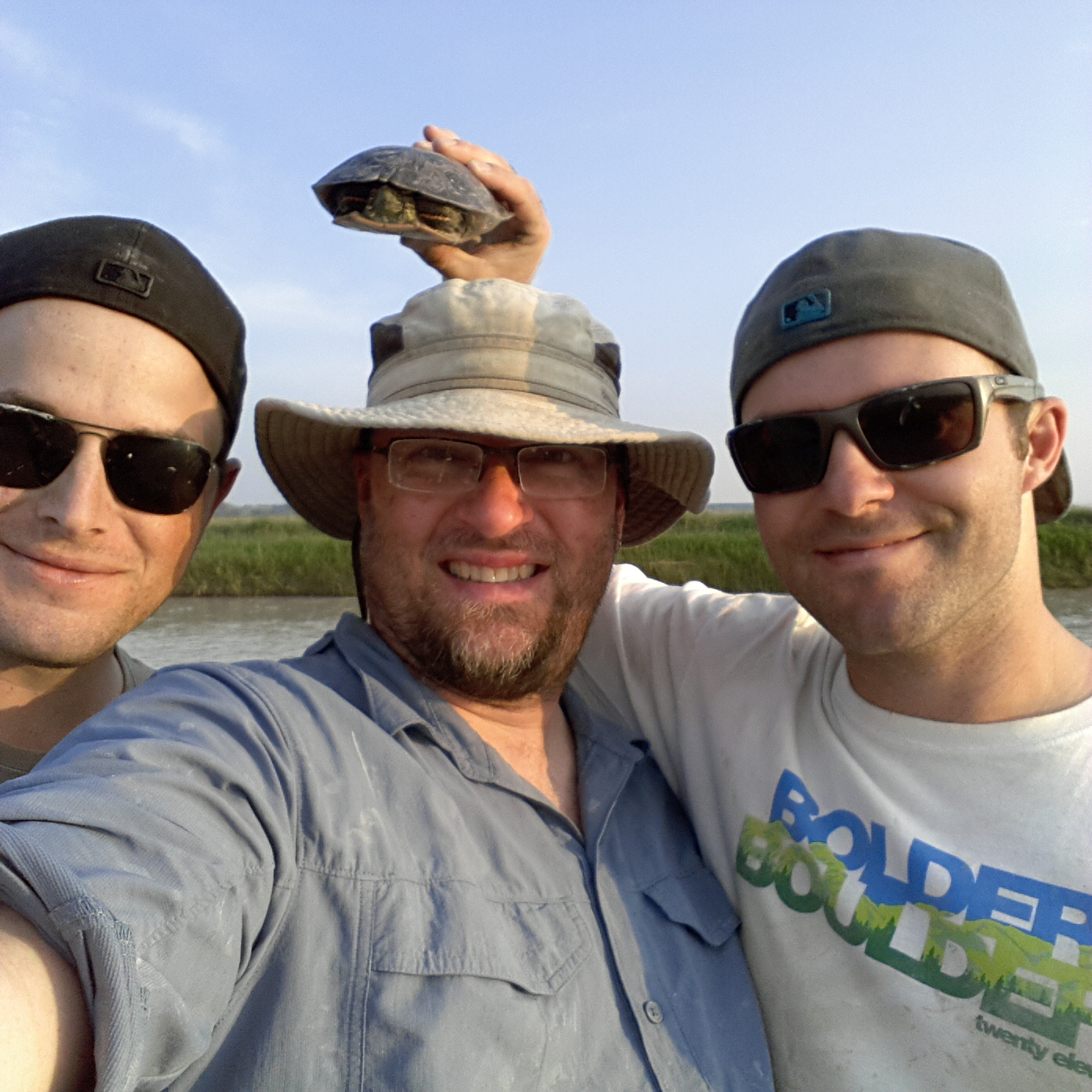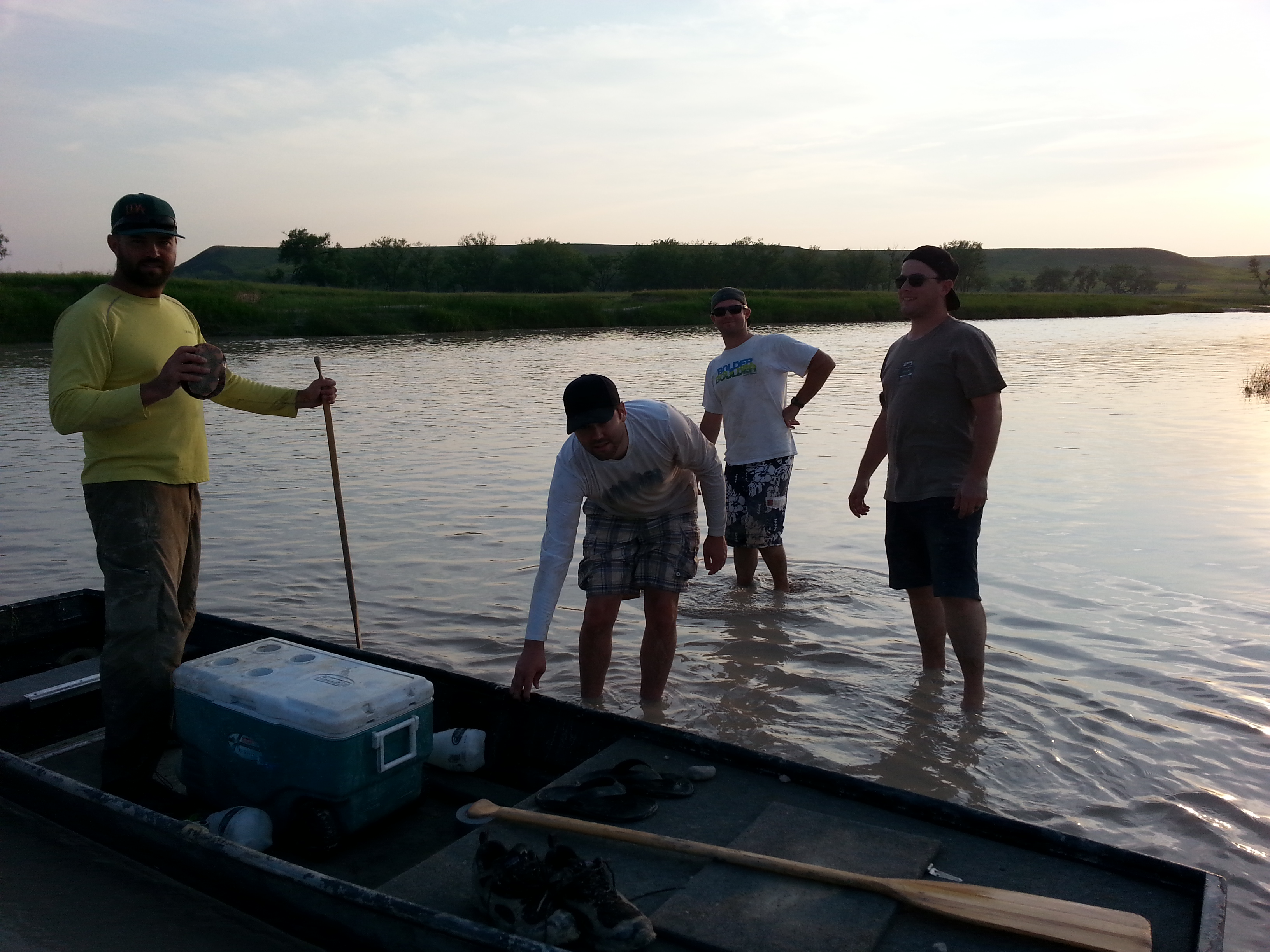 All the hard rain had filled the water with the strangest silt. It was almost the consistency of paint, and if anything went into the water it came out almost glazed. I'll give at least partial credit to the silt for keeping all of us from getting any sunburn at all. We did apply sunblock but we sweated enough and didn't reapply that I think we had a little help.
I mentioned 20 miles. When we put in, the assumption was that we'd be going about 12 miles and it might take 4 or 5 hours. Once I was home I carefully traced all the bends in the river from drop off to take out and it was almost exactly 20, and we had a heck of a time. We didn't have cell signal early on so my GPS was unable to map us for most of the day. We thought we were nearing the end after about 4 hours, but as we plodded on and looked carefully at maps we realized that we weren't even half way. This killed most of our hounding. We didn't stay on gravel bars more than a few minutes and when we were in the water we started pushing hard to make time. Fortunately a number of streams emptied into the Cheyenne so it did pick up speed as the day wore on.
We'd parked on top of a bluff about a half a mile from the water, and as the hours ticked away I finally got a cell signal and saw we were still several miles from where I thought the truck was, and my cell battery was dying, as was the daylight. The sun set as we paddled furiously, at one point ducking over some dangerous barbed wire - a single strand had been stretched across the river and we were able to duck under it. Unfortunately the guys in the jonboat weren't low enough and Nate took a swim when the wire grabbed him and threw him overboard. He wasn't badly hurt even though at that point the water was in a fast riffle - only a scratch on his hand from one of the barbs.
We were still about a mile from where I thought the truck was and the sky fell dark. There was just enough ambient light to see the river channel, and we came around a very large bend, where the water was moving pretty fast, and I saw the silhouette of the truck on the hill against the faintest of a glow from the last light of dusk. We got the canoe (which was ahead of the jonboat given our 3 paddlers and faster craft) against the outside of the bend only to find the bank was steep and covered in brush with no where to land. We were most of the way through the curve and panic was setting in as we got to a dirt bank and Nate jumped out and grabbed the bank. His cousin was using a borrowed paddle which belonged to Nate's future father in law, and as he lunged onto the bank the paddle got kicked into the current.
Without thinking I jumped into the fast water and tore at the current to get to the paddle before I couldn't see it. I got it, but then had a whole new set of problems. I managed to get my feet on the bottom but the water was neck deep and rushing against me. I was against the outside of the curve and there was a vertical wall in place of the bank. I couldn't move upstream and was slipping backward with the current. I managed to get along the side of the river and inch by inch for 30 yards clawed at the bank, grabbed whatever grass I could find, and dug the paddle into the bottom to push my way back to the place we'd "landed"
I got to the spot, and the 2 other guys has been able to get the canoe up onto the grassy flat, but the bank was now completely mud. I tossed the paddle up and Nate and I started to holler for Jake, as we had lost the jonboat in the mad dash to find the take out. After a few minutes we heard them and started yelling for them to get to the outside of the river. They couldn't hear us for the water and kept paddling along until they were about 30 yards upstream and finally understood what was going on. Nate had climbed back into the water with me and we stood waiting to try to catch the boat.
I should mention at this point that the jonboat was purchased used, and had absorbed a good amount of water into the plywood deck material. In addition, the previous owner thought that bed liner would be a nice hull coating, so this thing was a good 200 pounds. The guys managed to get it roughly parallel to shore and close enough we could see them coming, so we grabbed what we could and yelled for them to get onto the bank as the boat spun around out into the current (we held a corner against the bank) until it finally completed the 180 and came along shore downsteam of us.
After another few minutes of chaos we got it emptied and hauled onto the flat, everyone finally out of the water.
The next hour or so was spent swearing, bleeding, climbing and using our best search-by-braille techniques to try and find a road we had seen when we left the truck that morning, which went down by the water. We finally got everything into the truck, and in the process I managed to *twice* hyperextend a bad knee, which twice dropped me, one time onto something sharp enough to tear open one of my fingers. I can only imagine what the scene looked like in the morning because I bled like a stuck pig.
I'd been so badly wanting a delicious steak for dinner. When we finally came back toward Rapid City it was after midnight and we had to settle for gas station food. I had the worst pre-made sub I'd ever had and it was the best thing I'd ever eaten. Some gatorade and corn nuts to round out the meal, a full tank of gas and we headed back to the cabin to clean up before hitting the sack.
Sunday dawned at the crack of noon the next day. We'd been able to get a message to the property owner and they said a late departure was no problem. I was able to enjoy coffee overlooking the gorge behind the house before we packed up and headed out for one last look.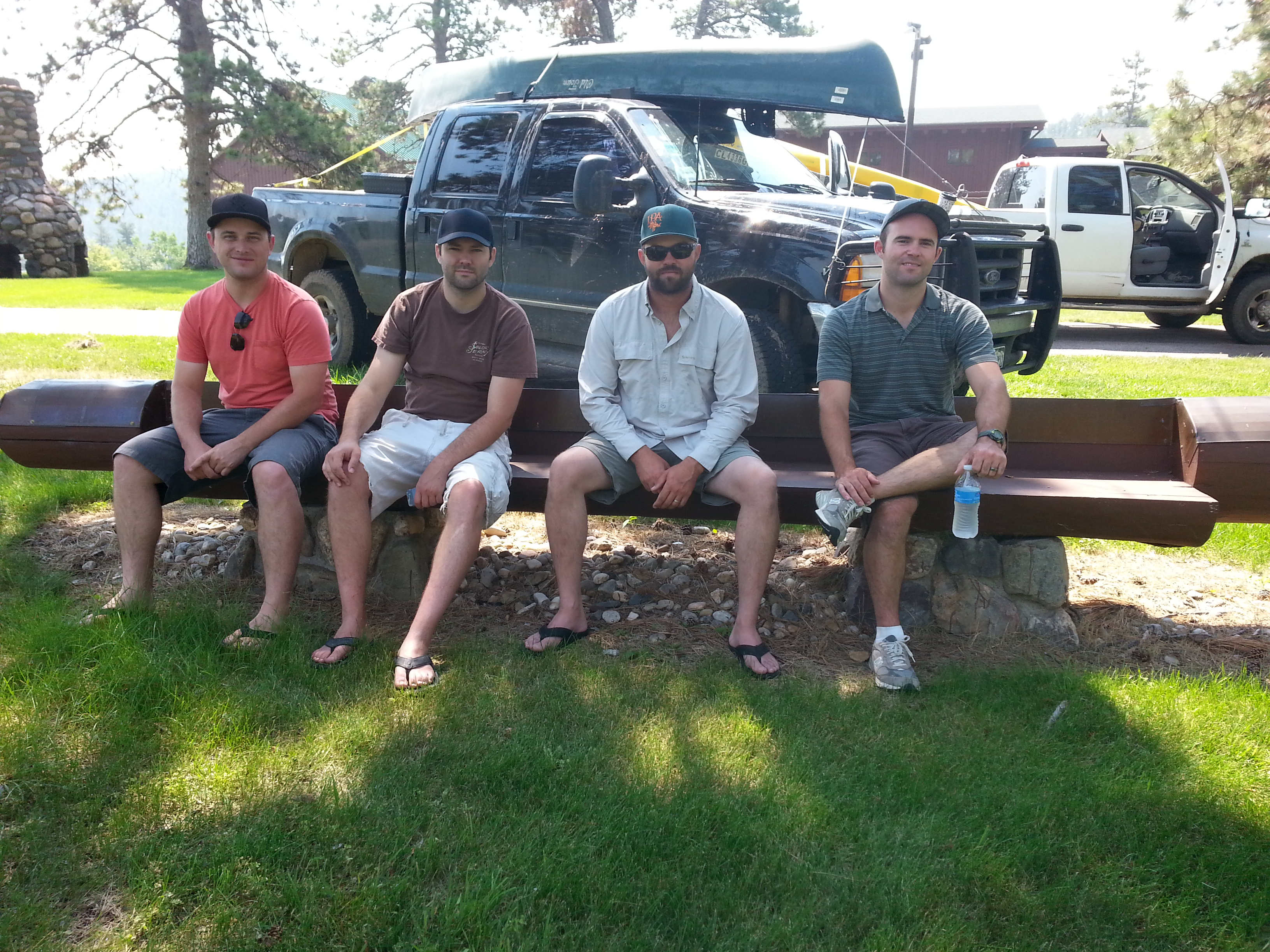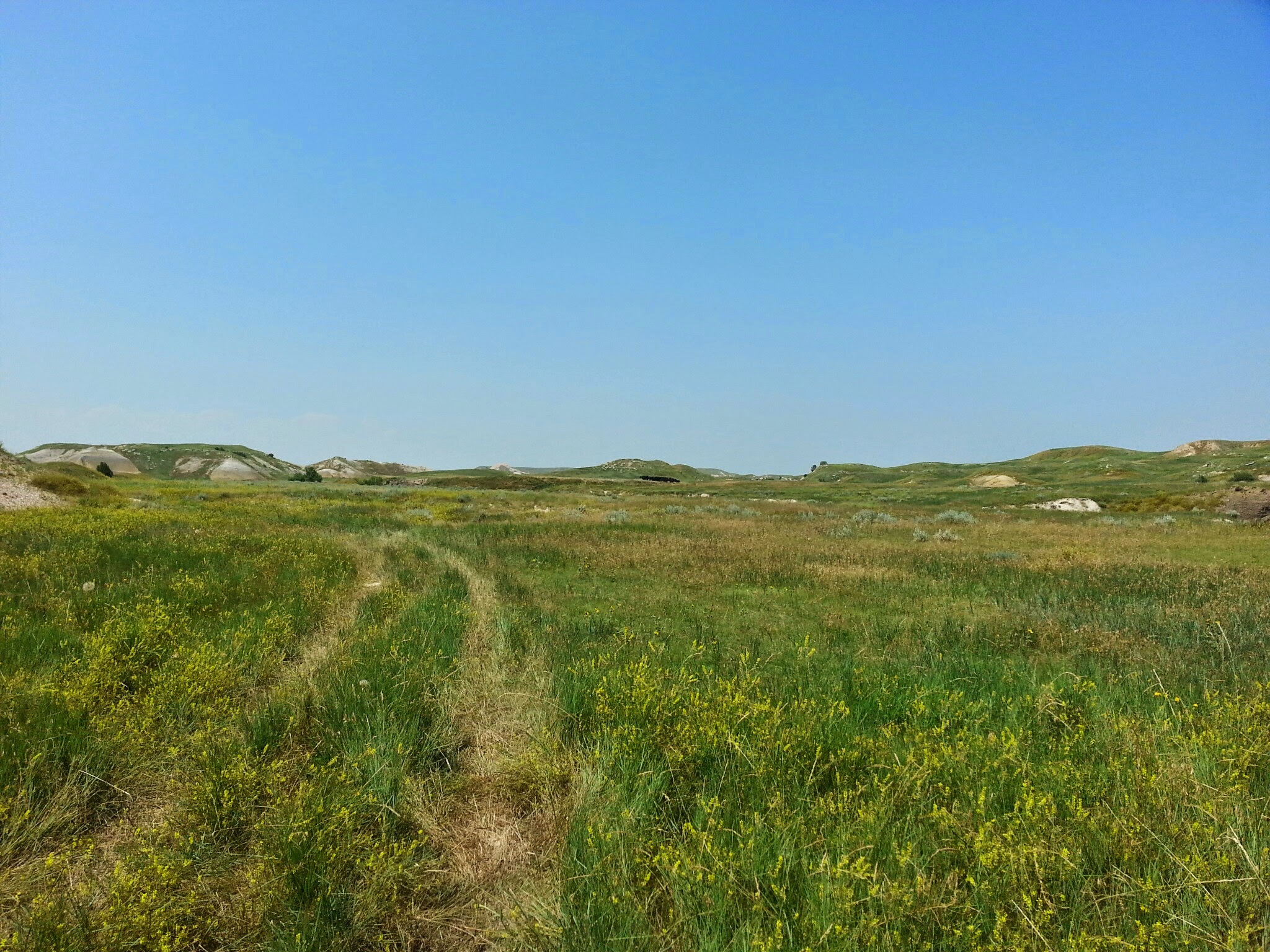 In the end I didn't get a Fairburn. Nate did though, and 2 of the other guys as well, so it was a successful trip. The time spent was good and we laughed a whole lot. We won't soon forget the river ride.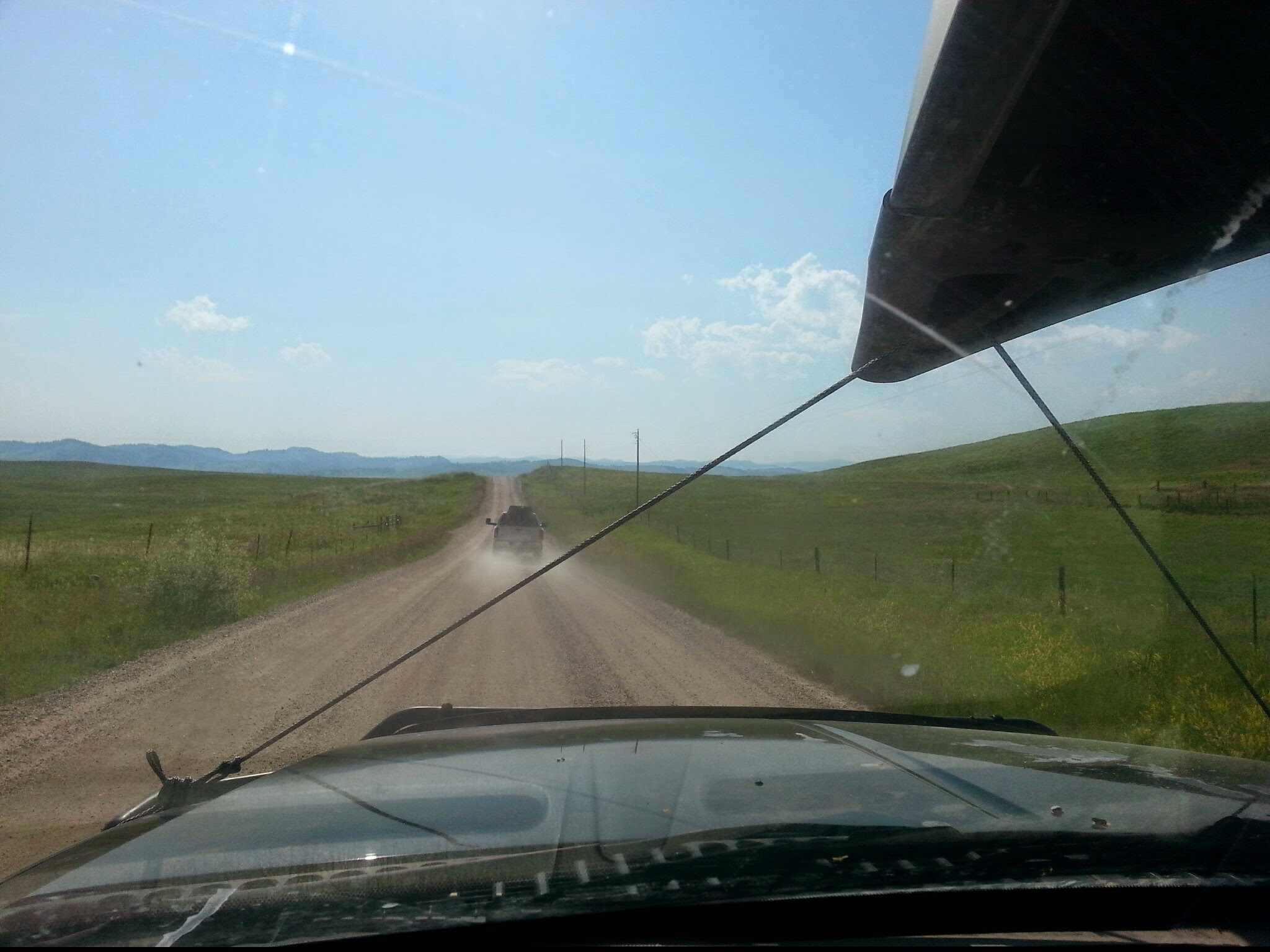 We headed home and arrived back in town near midnight.