Post by 1dave on May 8, 2018 9:30:41 GMT -5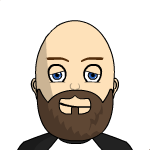 For me, if that had been the case, the southeastern slope would have been the Mancos Shale, NOT the Salt Wash Member of the Morrison.
For me, 150 million years ago a comet impact slid the Jurassic rocks from the Utah/Colorado Border at least 3 miles to the northwest, forming the San Rafael Swell, and buckling the land beyond, creating Castle valley, forcing up the Coal Cliffs, etc.
Cool! So, where's the crater?
Aye, there's the rub.
What does a comet impact site look like?
Comets are mostly nebulous Comas with a "dirty snowball" center jammed together over billions of years traveling through deep space filled with supernova remnents, the total having less than half the density of water.
First a Google look at the "Swell."
See how everything has been jammed to the northwest?
Now the BIG Picture:
MY interpretation
is that a multi-lobed comet spiraled in on a low orbit allowing the ice of the central section to melt and become a vanadium/uranium/niobium/tantalum contaminated water balloon. That portion carved out the paradox valley and emplaced the 80 mile radius "Uravan Mineral Belt" centered on Upheaval Dome. The direction of travel is established by Robert's Rift.
The northeastern portion produced Eagle Basin and forced up the 2nd Uncompahgre Uplift (and there was a third), while the southern portion created the Zuni Depression.
The huge vibrations created sand waves that forced water repeatedly out of the surrounding sandstone creating leisegang lines, goethite pipes, and Moqui Marbles. The waves created the weaknesses that allowed for the later erosion to form Arches National Park.
The underlying Paradox Salt Formation allowed the overlying Triassic and Jurassic rocks to be slid north for Dinosaur National Park, northwest for San Rafael, Southwest for Capitol Reef, the waterpocket Fold, and Comb Ridge/Monument uplift.
So far the Geology Community ignores the whole thing.
The accepted explanation for Uravan is that the uranium came from eroding granite.
Why so much in a circular area and very little in the surrounding area before or after?