Post by fernwood on Jun 29, 2019 6:05:54 GMT -5
Maybe
1dave
or someone else can add more info to this.
In my quest for geological info on the area I live, have acquired many resources. I find the study of how glacial activity shaped the land to be very interesting. What path these glaciers took in their trek. The geology of the land they passed over/through. How their melting formed lakes/rivers.
Between 10,000 to 26,000 years ago the Laurentide Ice Sheet covered a portion of Wisconsin. The ice sheet was split into various lobes, due to the topography of the land at this time.
In NW Wisconsin, The Superior and Chippewa Lobes formed, do to an area of mountains. This area is still a higher elevation than surrounding areas. The remnants of these mountains can be seen today in Barron and Rusk Counties. The area is mostly County owned and contains many campgrounds, lakes and trout streams.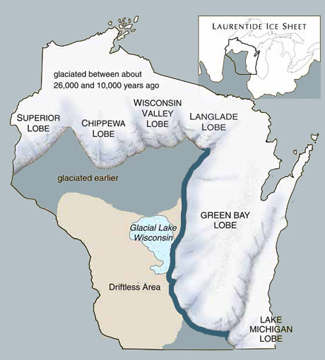 In NE Wisconsin, the mighty Niagara Escarpment (shown in red below) helped to form the Green Bay Lobe, according to some. This lobe, moved over and through some of the escarpment, carrying the remnants with it. Portions of the Niagara Escarpment are still visible in Wisconsin. They provide a habitat for a variety of plants, birds and animals.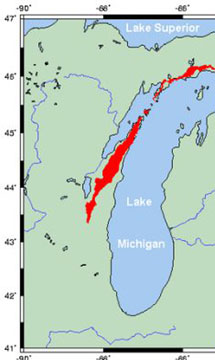 As the glacier melted, Lake Wisconsin was formed. This lake is long gone, but the bed provides fertile land and marshy areas.
Below is a map of Wisconsin Counties. The red x indicates the approximate location where I live.
The lands of my next door neighbor and I contain much evidence of how the glacier shaped the land. There are deep ravines, dry creeks and eskers.
One of my favorite areas is a deep ravine. On one side, there is a cliff like feature. The sides are slightly slanted, and go down about 250'. The bottom area has a tropical like canopy of trees. This area is much cooler than the surrounding land. There are dry creek beds flowing through. The entire area covers about 4 acres.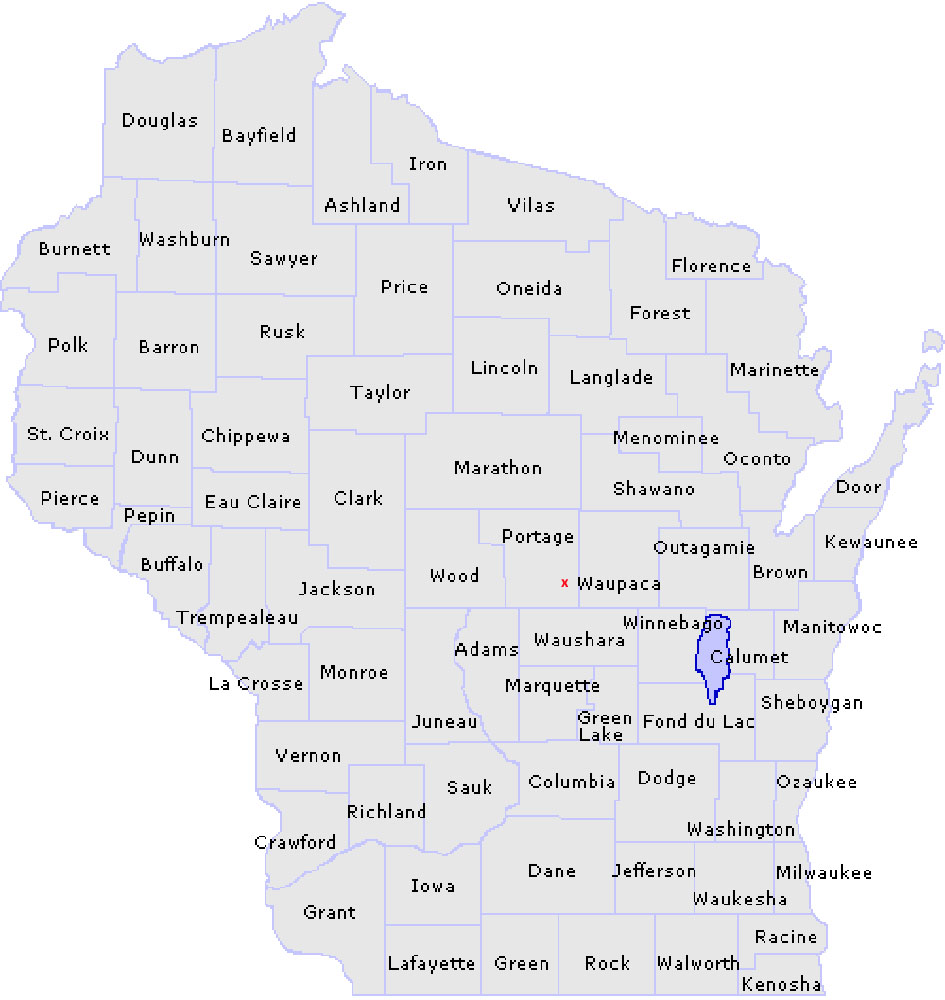 Large Granite boulders often appear with the change of seasons. Forced to the surface by natural freezing and melting.
Sometimes, fossils emerge as a reminder that they were transported and deposited there.
I am sure there are many other treasurers waiting to be found. Or, waiting for the right time to make an appearance.
The forces of nature are amazing. How they shaped the land of today many years ago.