Post by ocklawahaboy on Nov 11, 2019 19:18:01 GMT -5
I just got back from 2 weeks in UT/CO What a great area to look for rocks. Way too cold and snowy to be up high were most of the famous CO crystals are located so I'll have to save that for another trip. First of all, let me give credit to whoever put up this Google map.
www.google.com/maps/d/viewer?msa=0&dg=feature&mid=1u68C4Yn5MDqdj2ojV5hV9bmX4Fs&ll=38.734619200605856%2C-111.92835979999995&z=6
This is how I found most of my sites in UT. I spent several whole days and several partial days looking around the deserts, canyons and foothills. I don't know what was better, the rockhounding or the scenery.
I mailed back 5 large flat rate boxes. The first one arrived completely burst open, so I packaged the other four better and mailed them later. We'll see.

The first day I took the little truck out to a wash that was on the Google map, west of Green River Utah.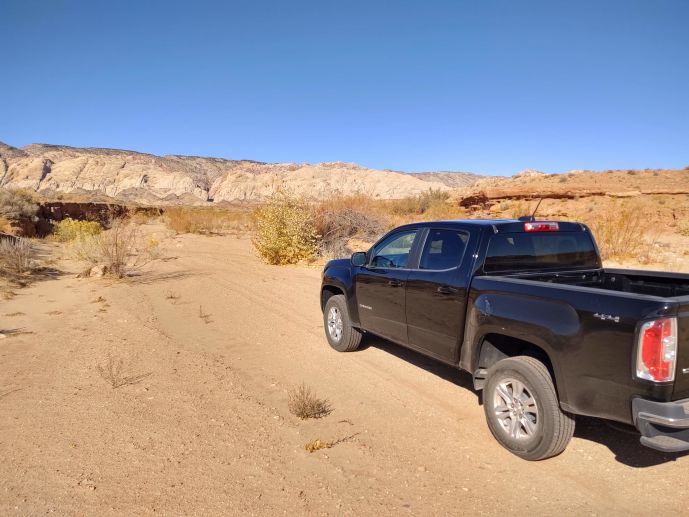 Within sight of the truck, I found 100s of these little geodes, between the size of a golf ball, down to about the size of a pea.  Some were already broken open showing little druzy crystals and a lot are solid.  They were all on the surface, no need dig. Some are clear, some more milky and some approaching lavender color.  The site said there was celestite here.  I don't know if the lavender ones might be that. I have some that are much more toward the lavender, prob in the other boxes.  I'll post a pic when they arrive.  I know it's not purple enough to be amethyst.
After a quick hit on the wheel: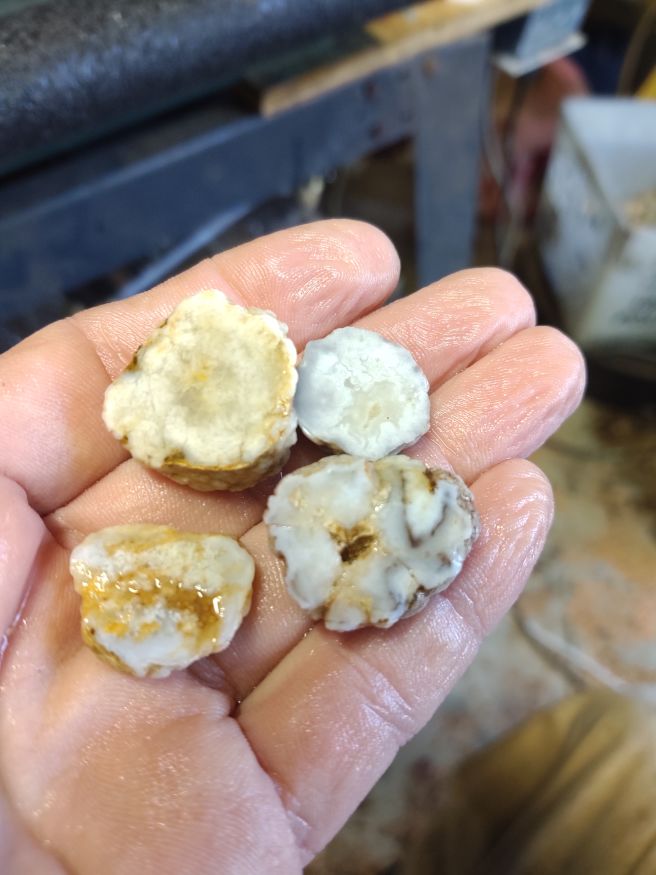 I stayed there for a few hours, then headed to the San Rafel Swill/ North end of Capital Reef (BLM not Nat. Park) to look for agate.  Didn't find any but great scenery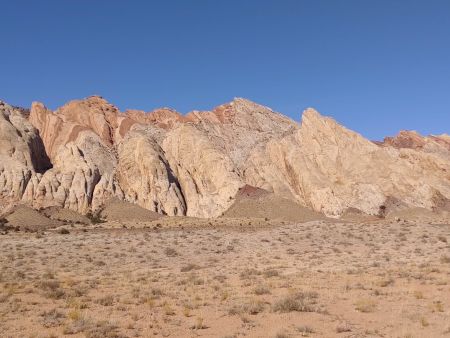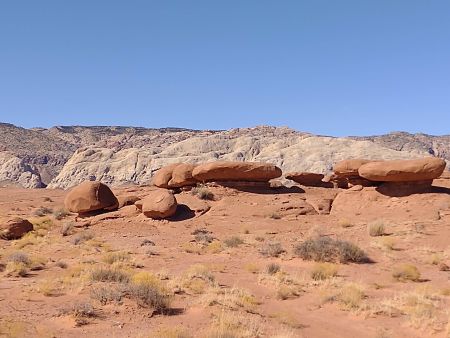 On my way back, I occasionally slowed down to look at this or that and found a site that was not on the rockhounding map, that was loaded with agate, jasper chalcedony.  I'm not an expert at telling which is which but most of it was red/yellow/white and mostly opaque.  There was some that was more brown.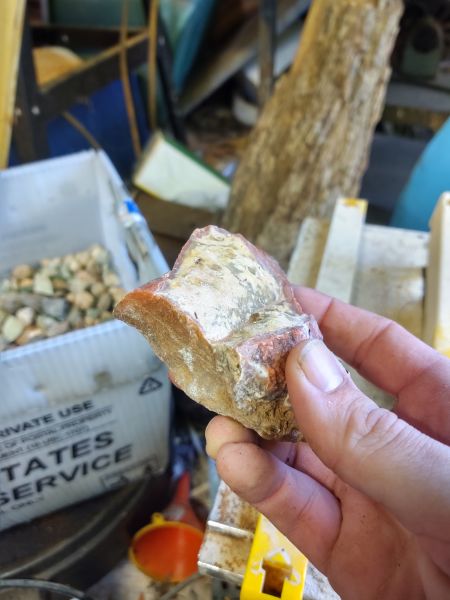 After a few minutes on the wheel
I later dropped that piece and it, of course, broke along the obvious fracture line in the middle.
I also found a lot of other stuff that I haven't identified yet. 

I found a bunch of stuff that I thought might be "Utah Turquoise" aka Variscite. This is from a different location, near the Klondike trails, north of Moab.
From Wikipedia:
Stuff I found: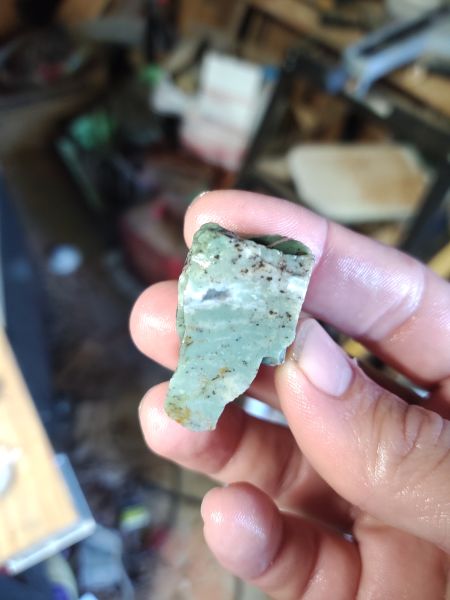 After further research, I think it may be a shale or some such that has unoxidized iron/copper in it.  I picked up about 5lbs of the stuff because I found it interesting.  Towards the top-left of this piece there is an inclusion of quartz that might make it more interesting.

That's all for now.  I've got lots more pics and the other 4 boxes coming tomorrow.  I'll add to as time permits.  Right now I've got potatoes to mash and pork roast to take of the rotisserie.