Post by EricD on Nov 17, 2019 12:33:34 GMT -5
jamesp
showed some interest in my project car so I thought I would post some pictures of it here. Seems an appropriate place.
It all started out with me missing my first car that I had living in Atlanta. A lowered 1968 VW Baja.
I saw what was advertized as a 1968 Beetle on ebay for cheap in Idaho (I had since moved from Atlanta to Montana), so I went ahead and bought it.
Dad and I drove down there with a trailer we borrowed, only to find out it was a '72 super beetle. Well, shit.

After driving down there for about 8 hours and having to spend the night at a motel because the seller couldn't be reached, we loaded it up and brought it home anyway.
Shortly afterward I saw an old beetle sitting on a farm that someone had converted to run on an electric motor powered by a briggs and straton 5hp engine. Wild.
It turned out to be a totally moused 1960. I contacted the landowner and paid him $500 for it.
I like VW ball joint suspension, so I proceeded to take the '60 body and bolt it onto the '72 chassis with new welded-in floor pans. I decided I wanted it to be a baja, so I ordered a fiberglass baja body kit and proceeded to cut the front and rear of the car to fit it all on there.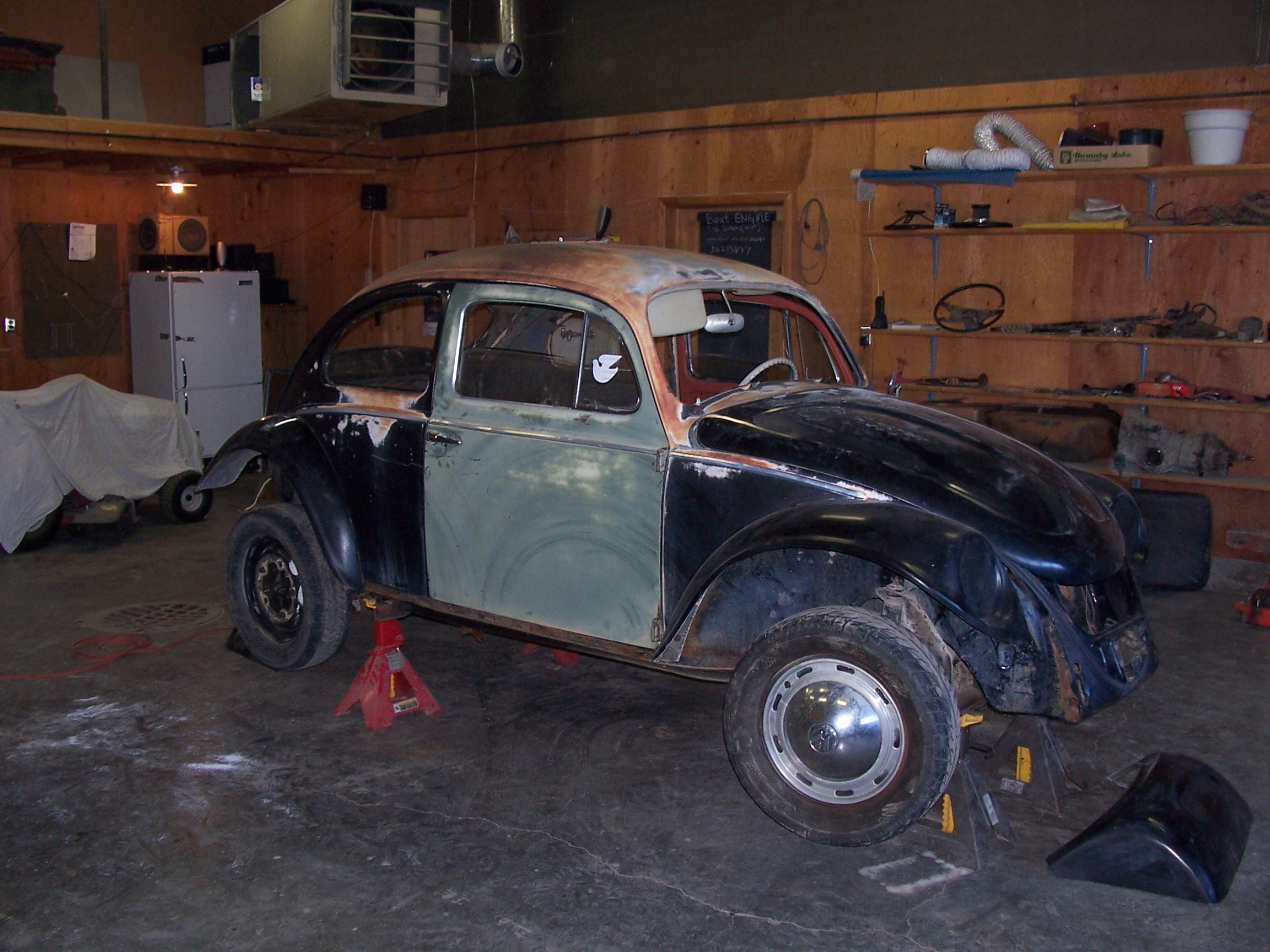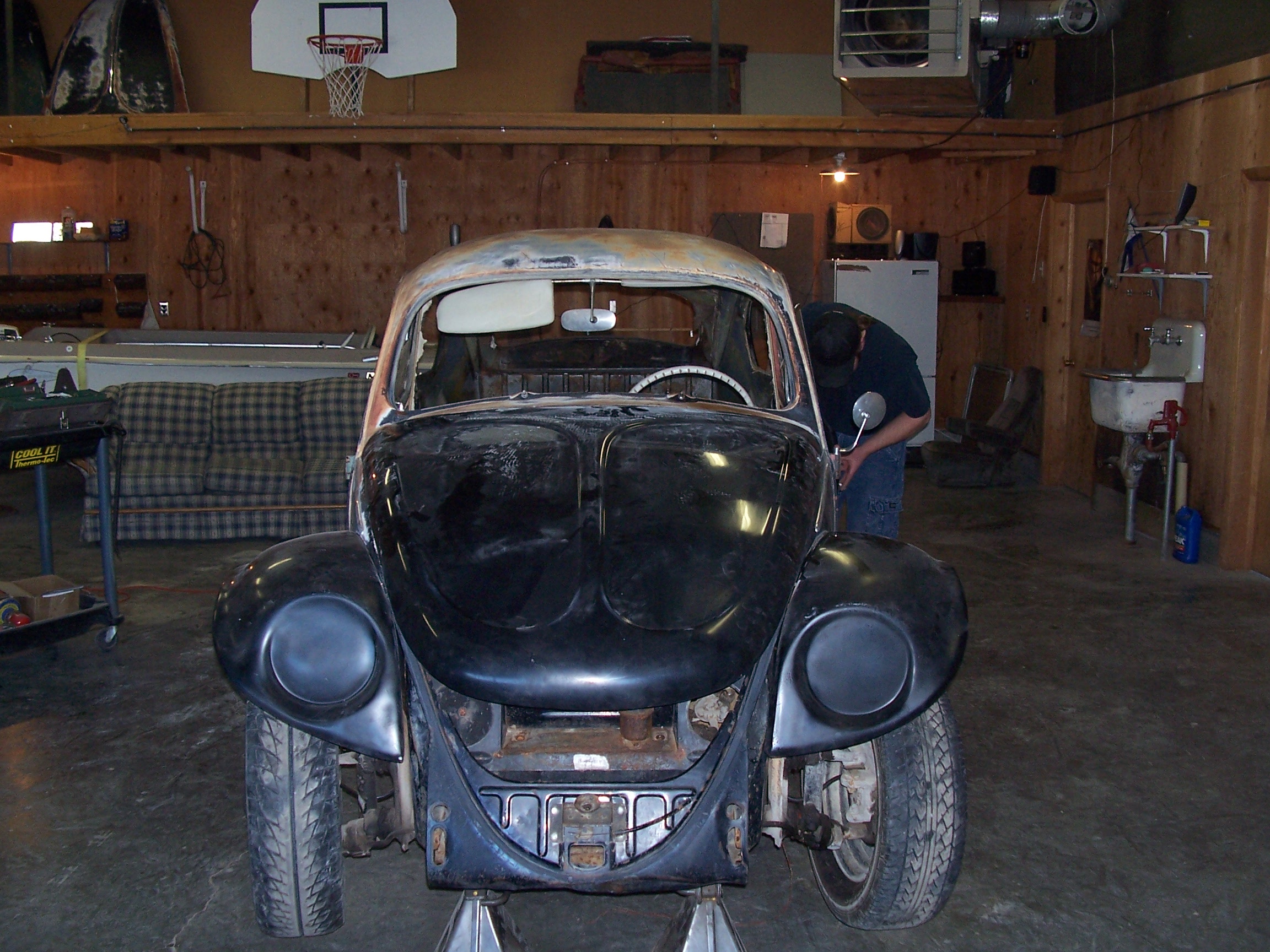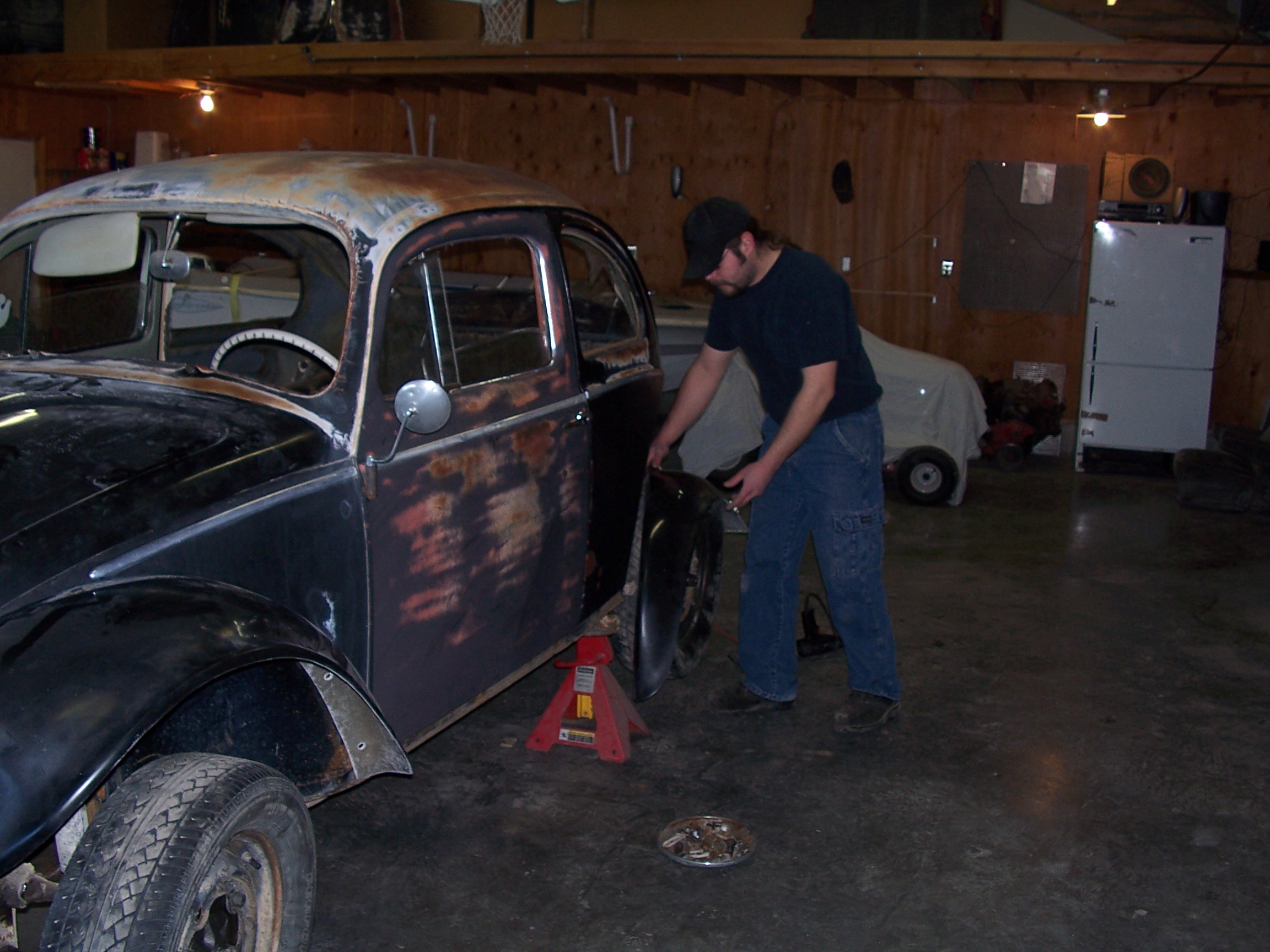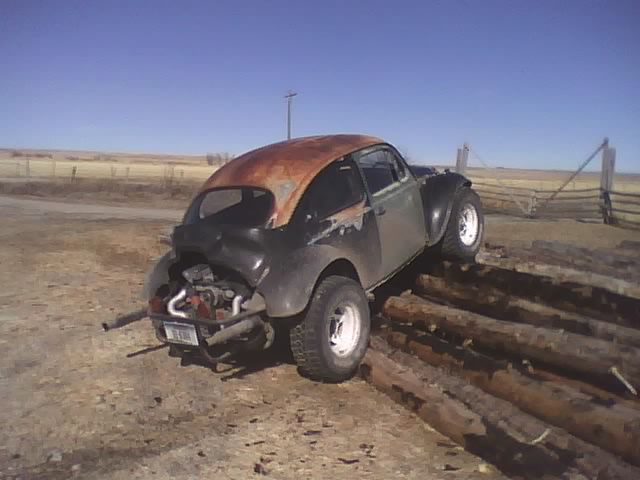 It was fun, but the stock dual port engine with a Weber progressive 2 barrel couldn't go the speed limit (70) up a slight incline with those 31" tires. I stripped out half the reverse idler gear playing in the snow, so I backed it into the shop to pull the engine and transmission out, and was going to rebuild the transmission. It stuck in reverse doing so, and wouldn't shift out.
Halfway through the transmission disassembly, I turned to my father and said "this is a pretty weak transmission design, isn't it? This is just going to keep happening, won't it". He agreed. He used to build race transmissions for his boss when I was about 5 years old in Seattle.
I happened to come across a rolled 2000 Buick Park Avenue at a friend of mine's local junk yard. He offered it to me for $100. I bought it and stripped it. Engine, engine controls, fuel tank, wiring, instrument cluster, HVAC.

I called up Kennedy Engineered Products and got an adapter kit to mount the fuel injected Buick 3.8 liter engine to a VW transaxle.
I found a rolled Melroe Spra-Coupe (a VW powered crop spraying machine). It was low hours, with an industrial 1600 engine and a 1978 VW Transporter (Bus) transmission. The guy let us have the pair for $50 because it was going to be crushed anyhow. The bus transaxle is the toughest transaxle a VW can have, short of a 5 to 10 thousand dollar race transmission. It also has a much lower final drive ratio, which makes it great for turning large tires.
Things were shaping up for the monster bug.
Since the Bus transaxle is wider than the bug version, I proceeded to do what almost any VW enthusiast would call sacrilege. I took my sawz all and chopped of the forks the engine/transaxle mounts to.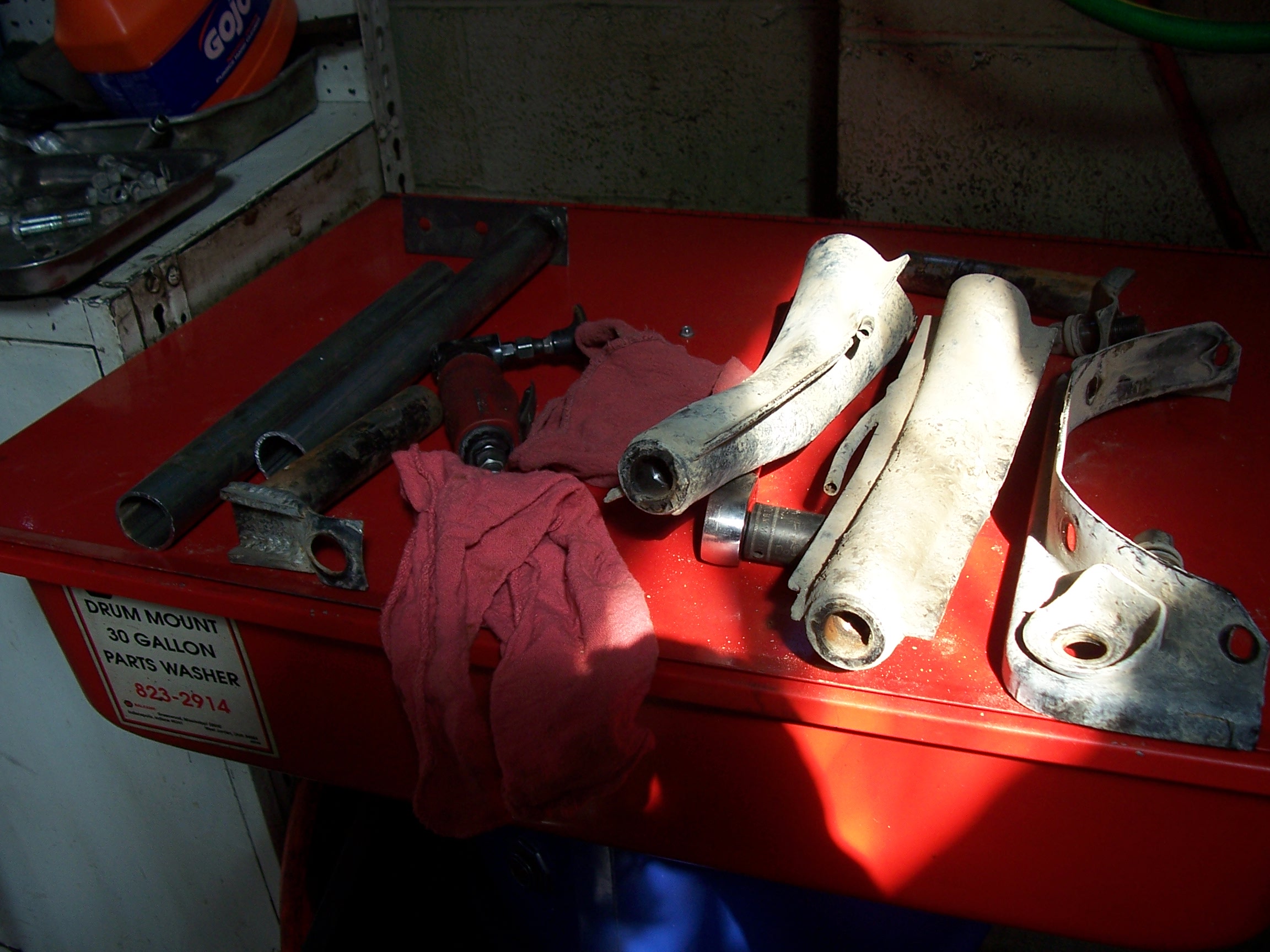 And proceeded to make my own mounting solution.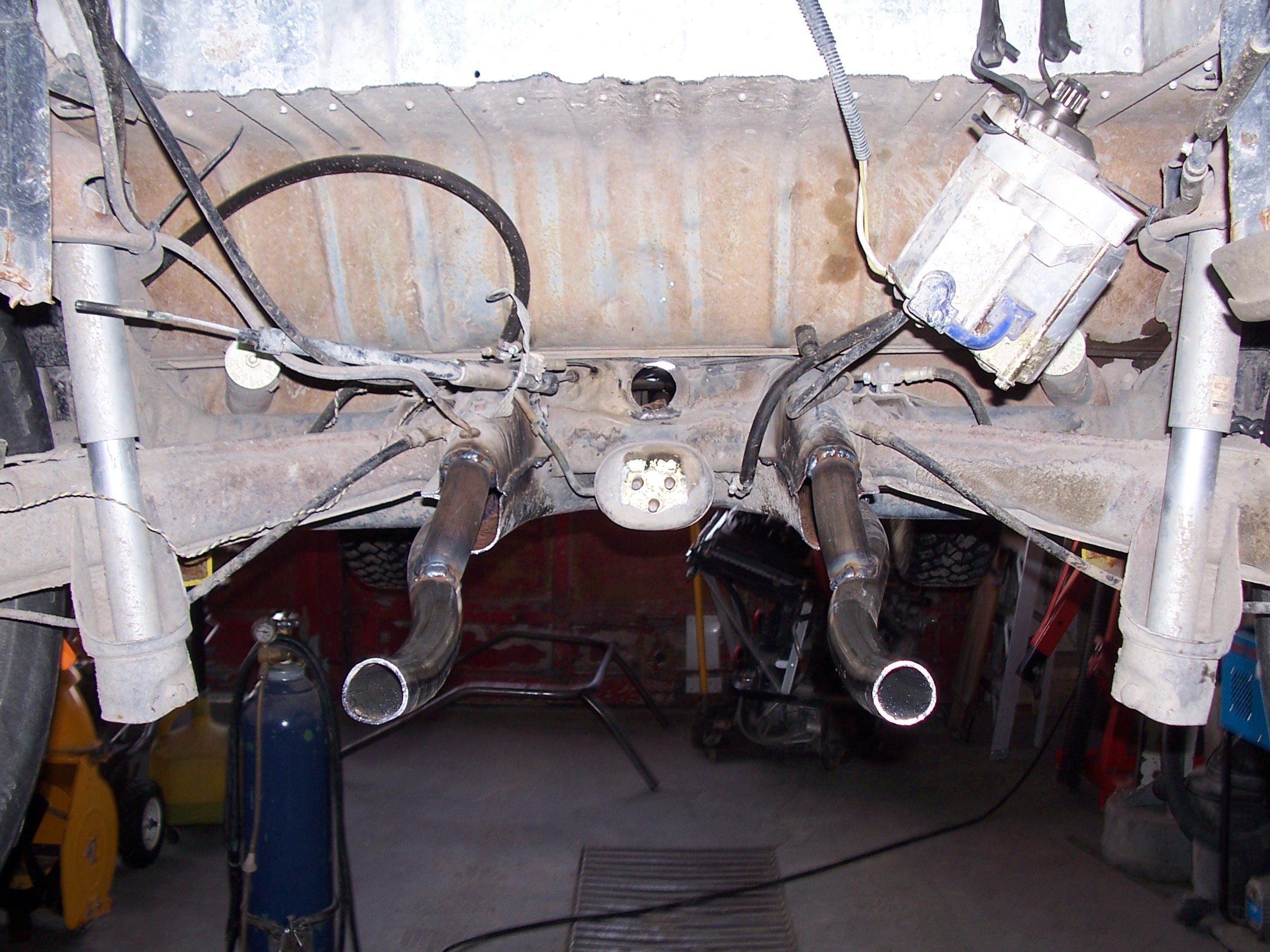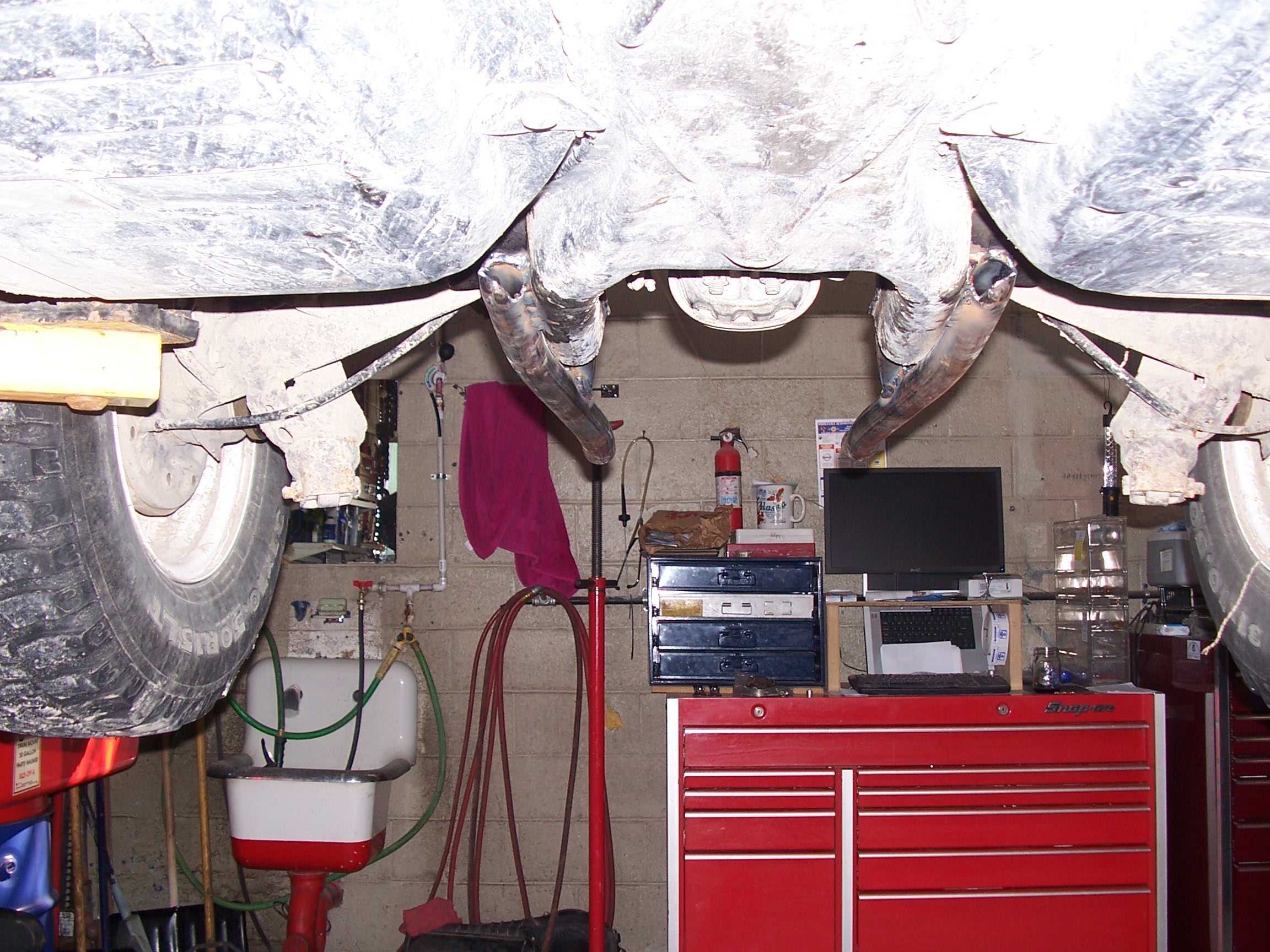 It took a ton of research and patience getting the engine computer wired and sorting through all the un-needed circuits and trimming the wiring harness down.
I am missing a lot of pictures of the build mainly because I didn't take any because I was so worn out going through all the wiring diagrams.
Photos taken after it was in running condition: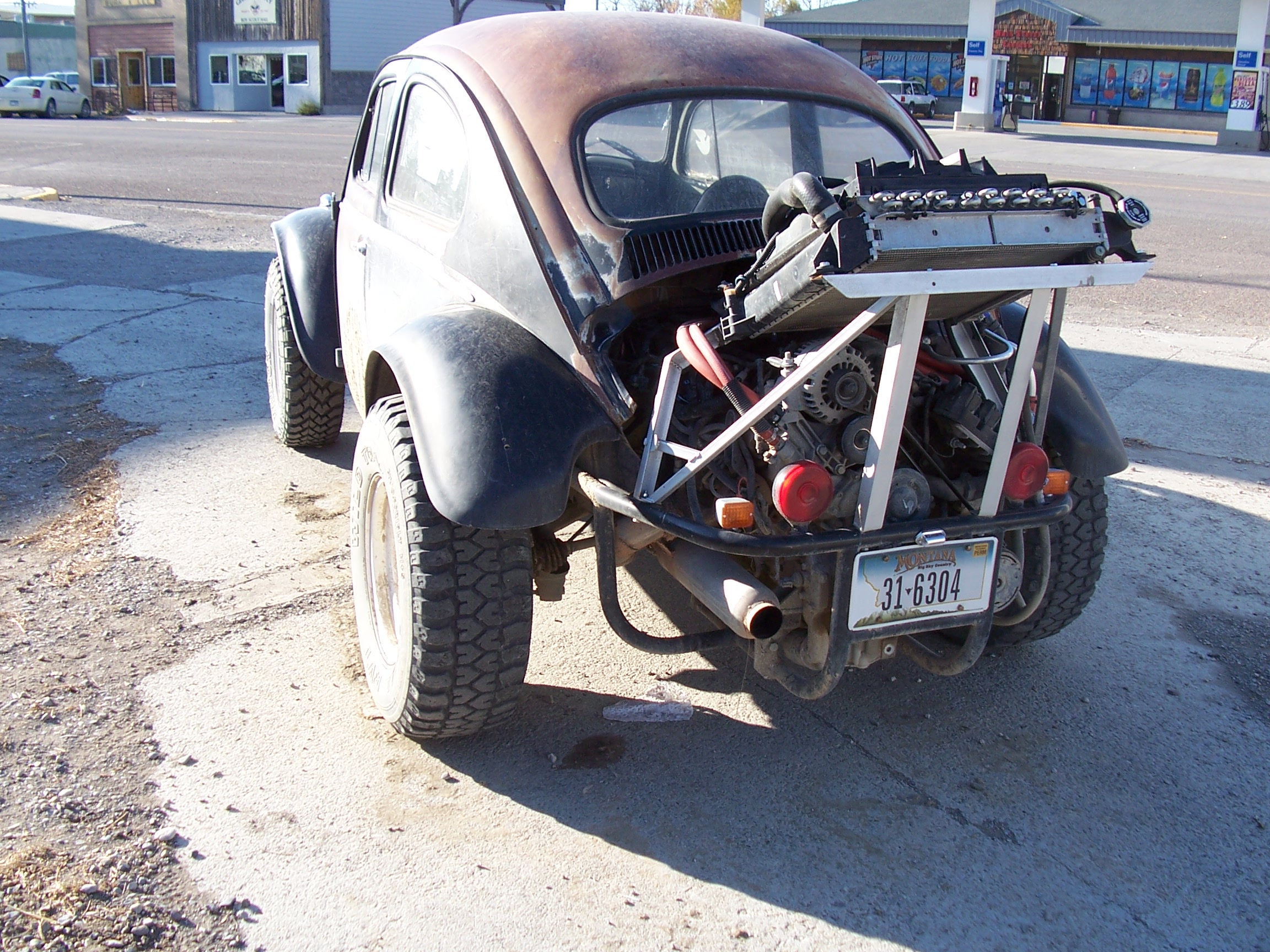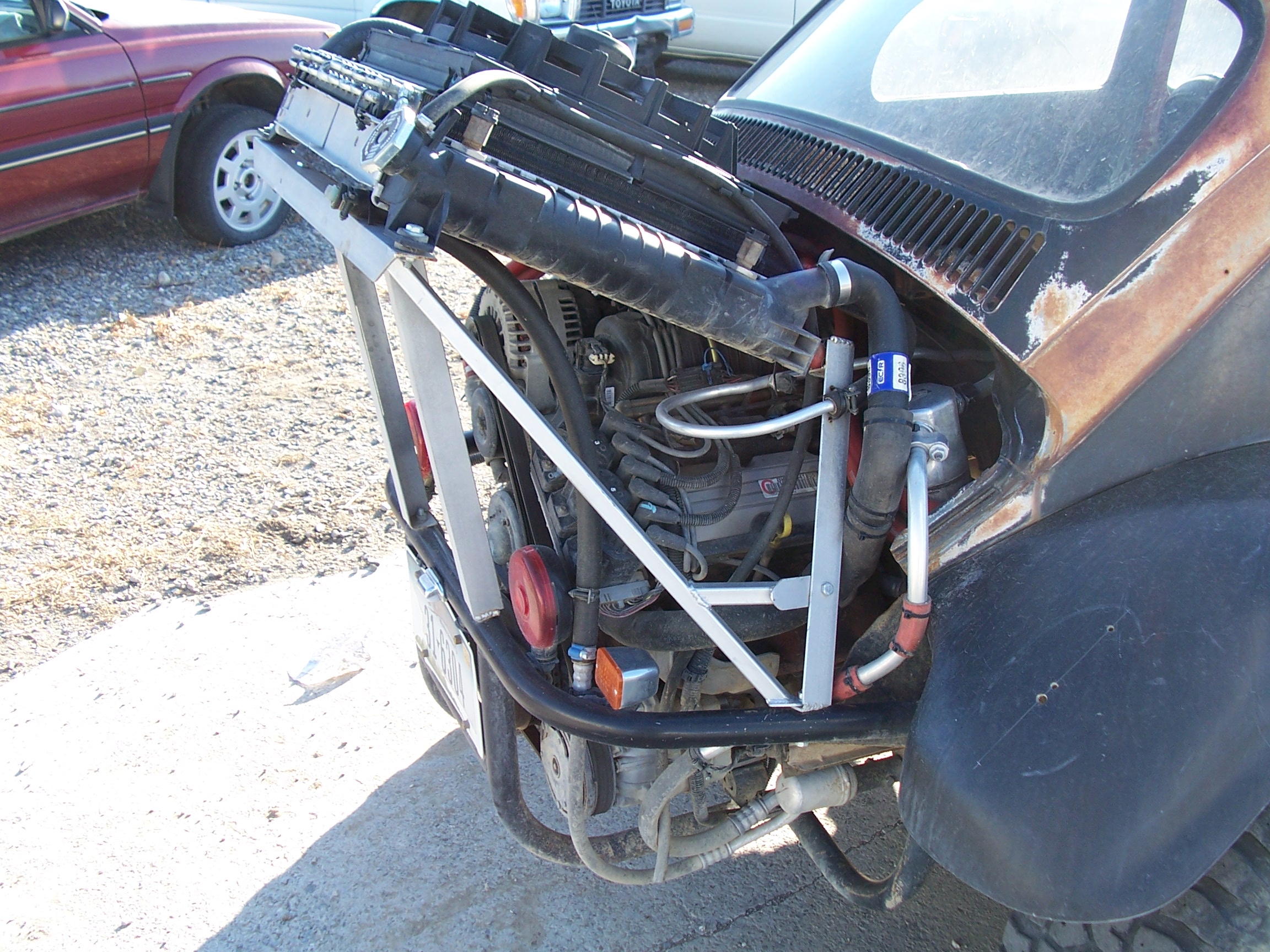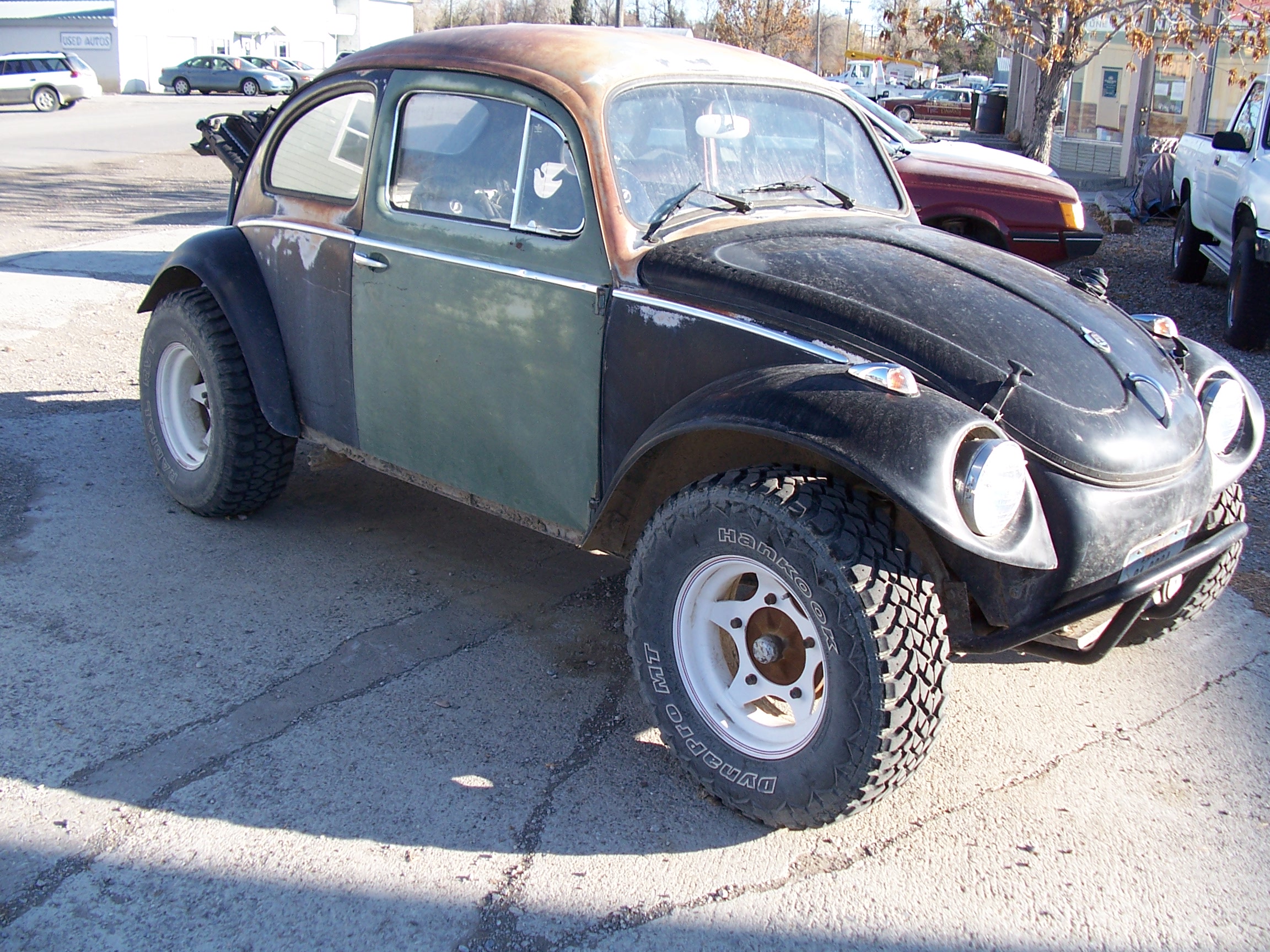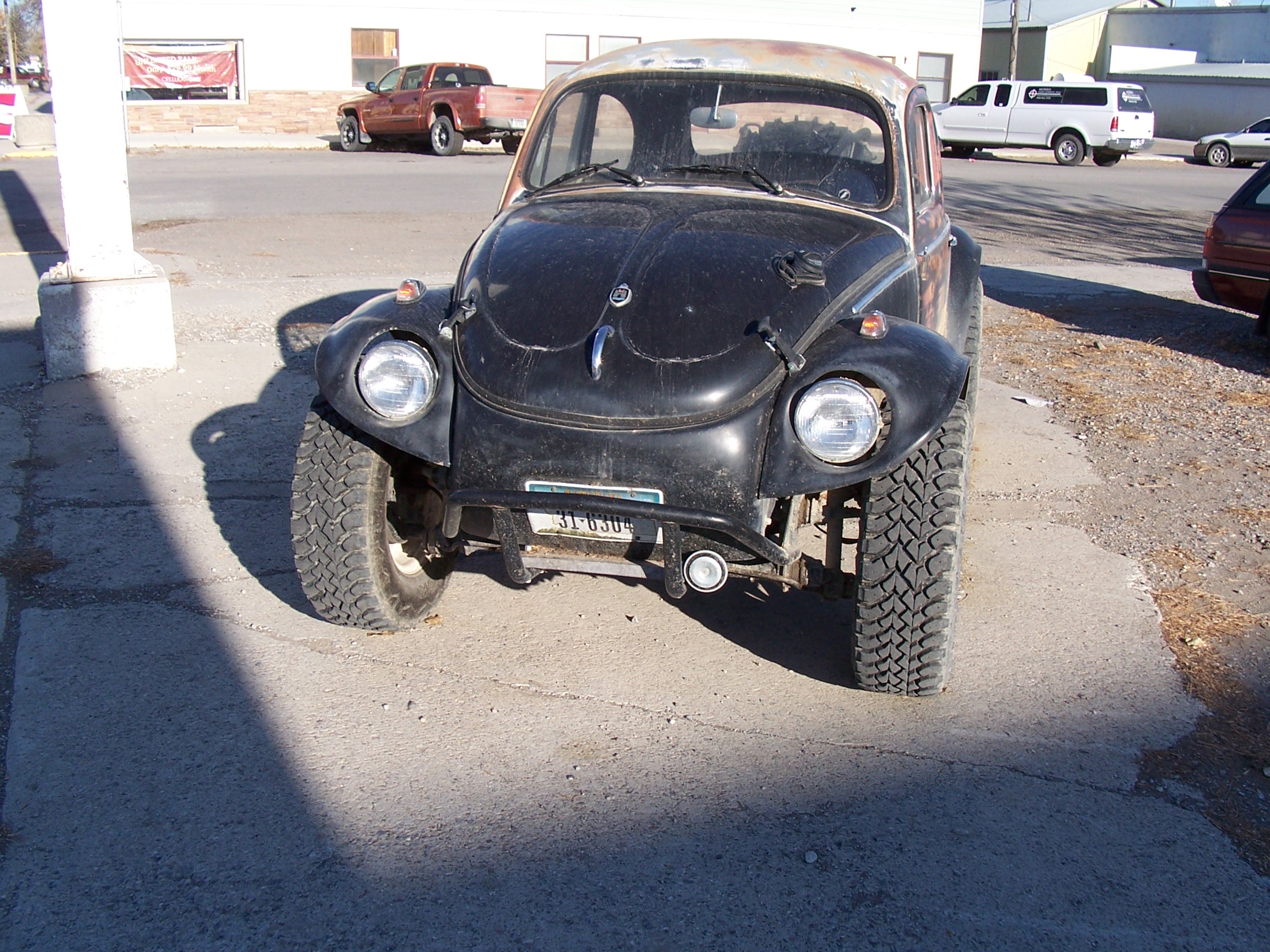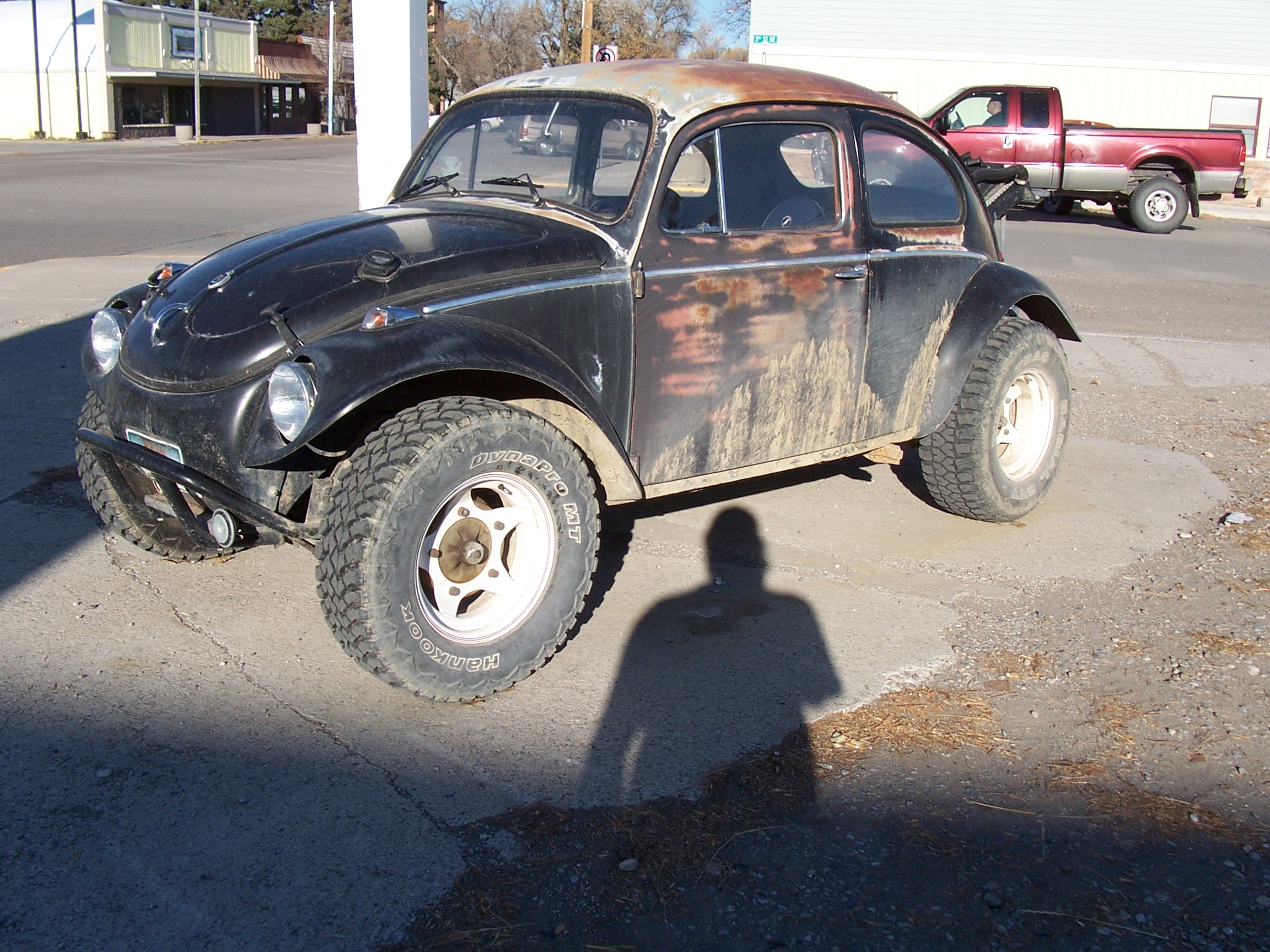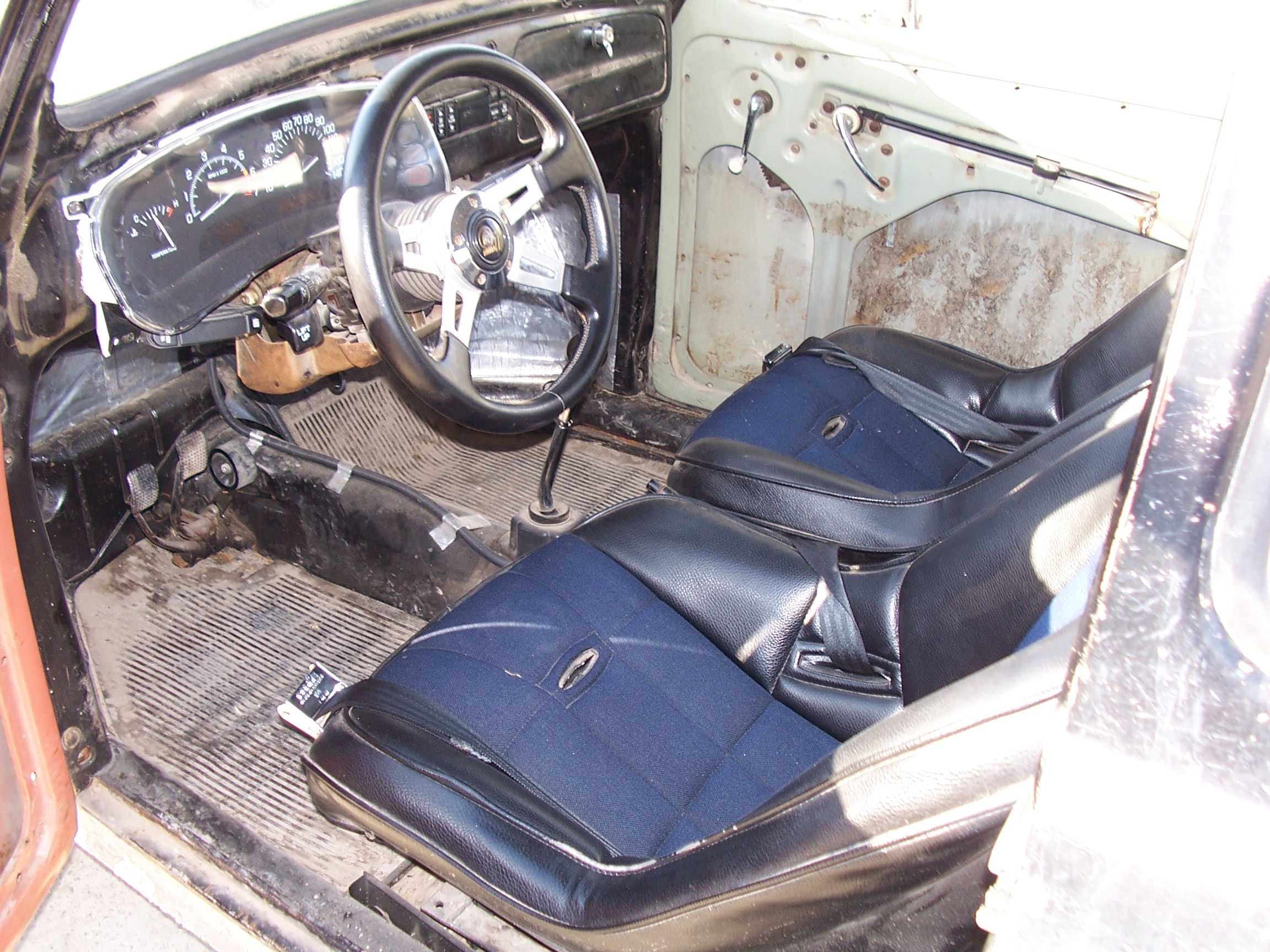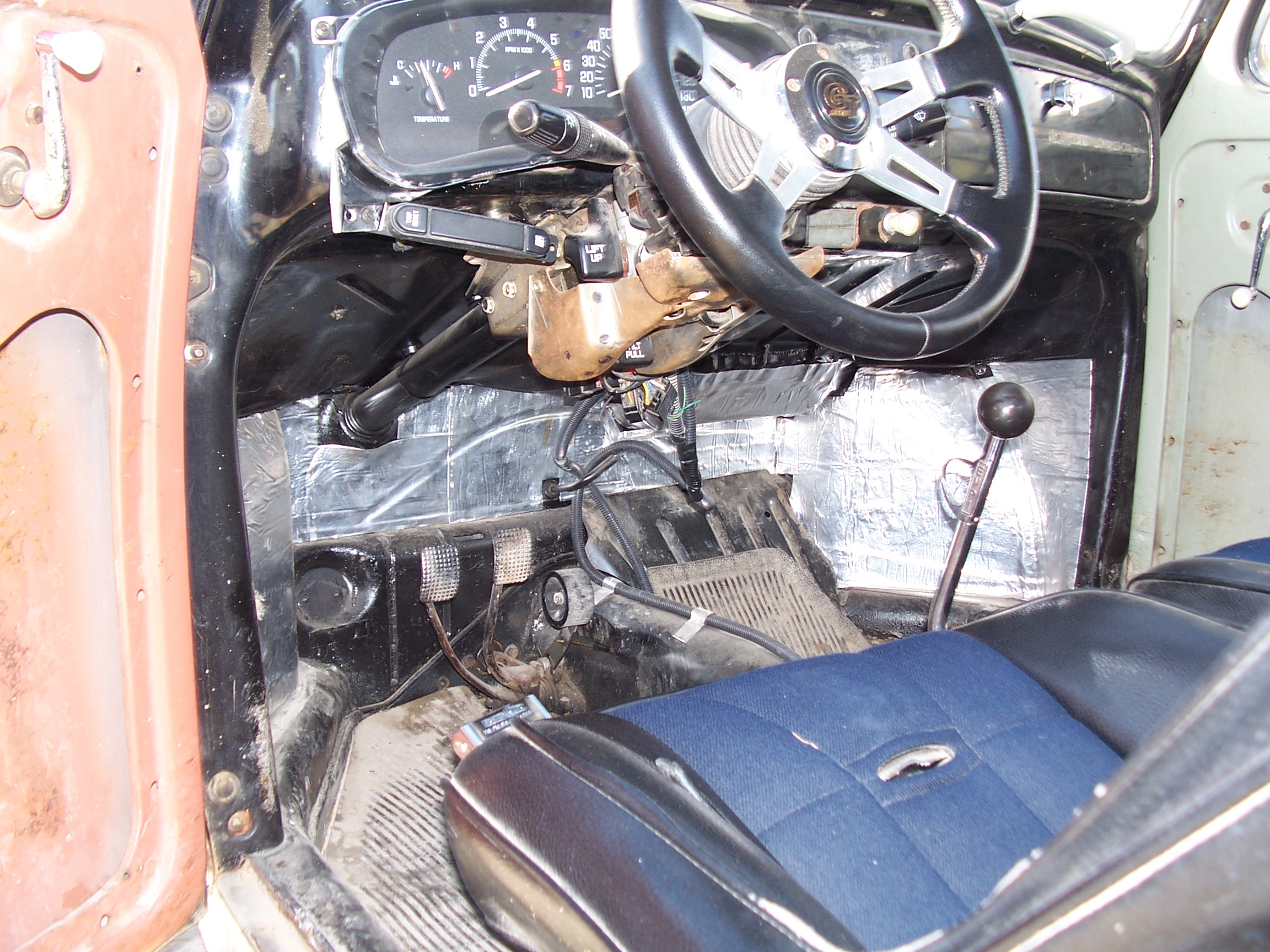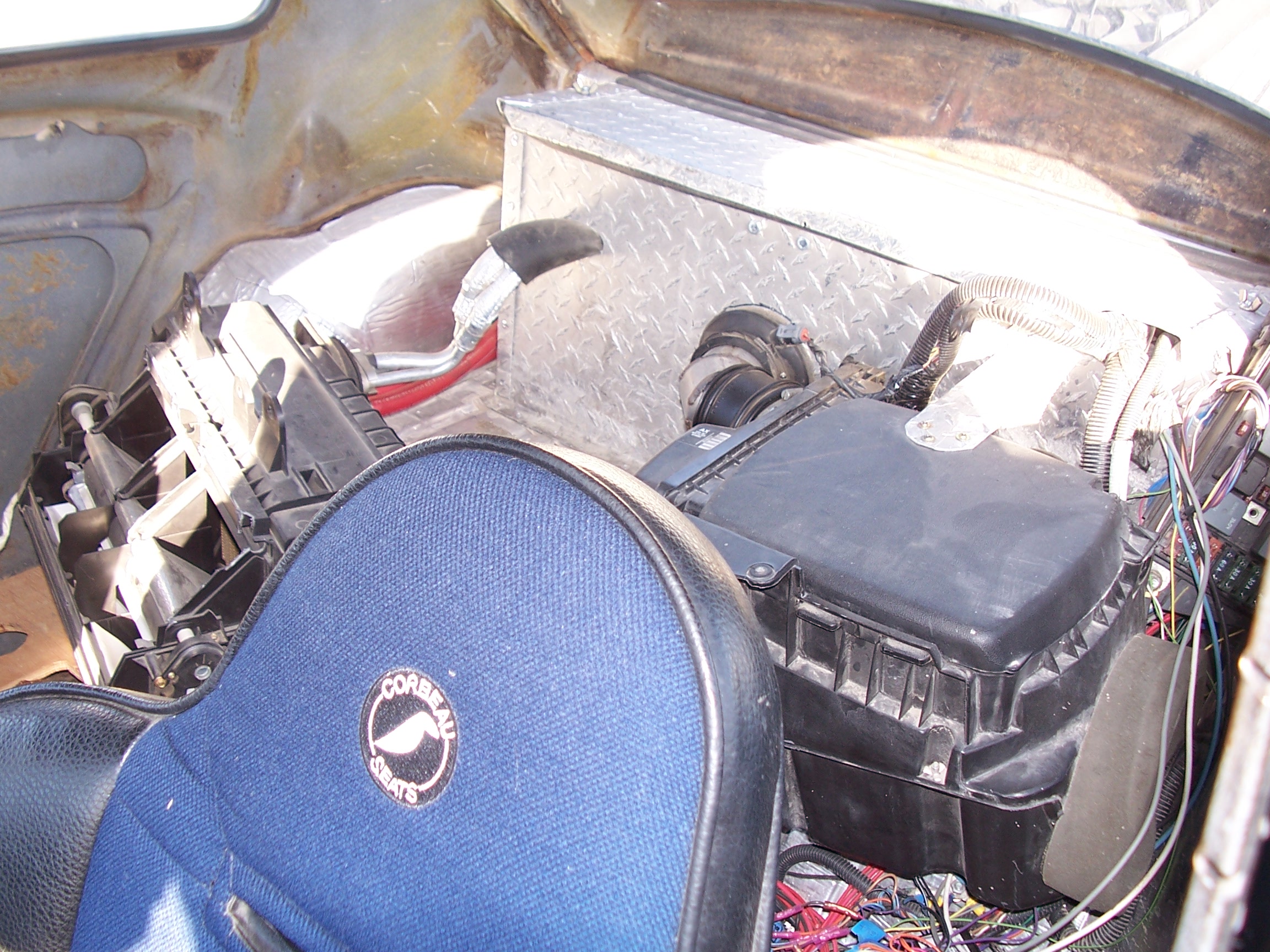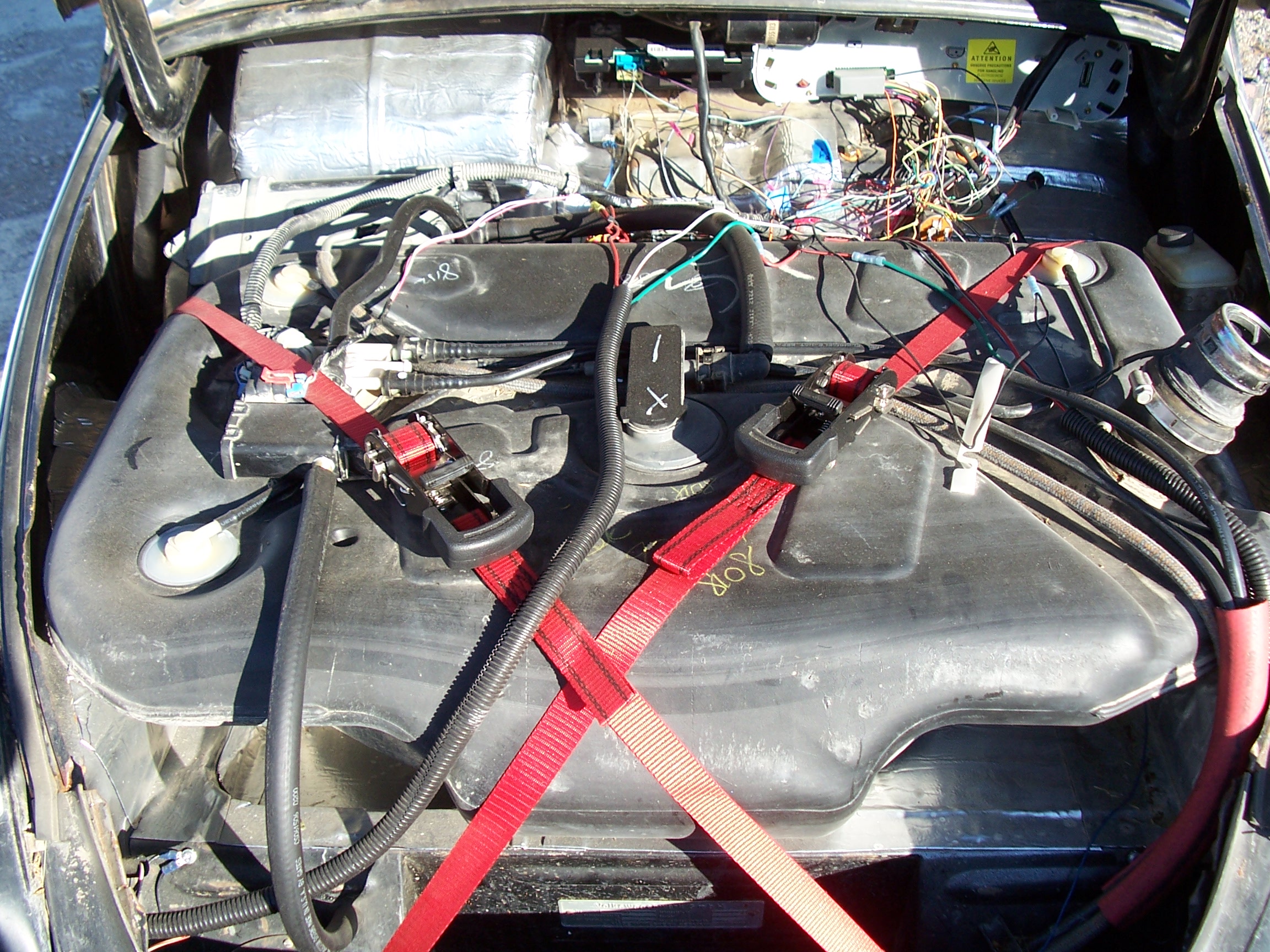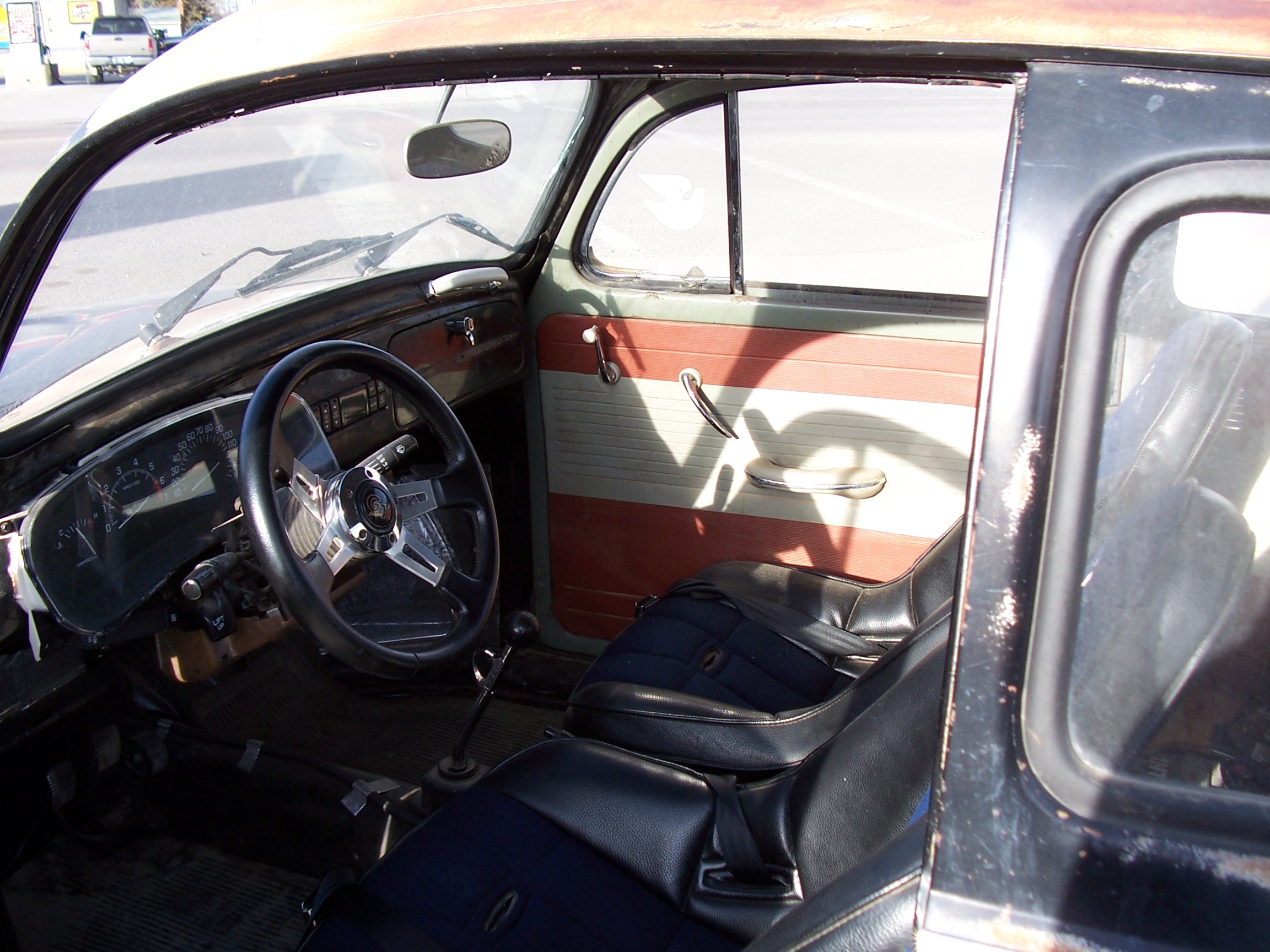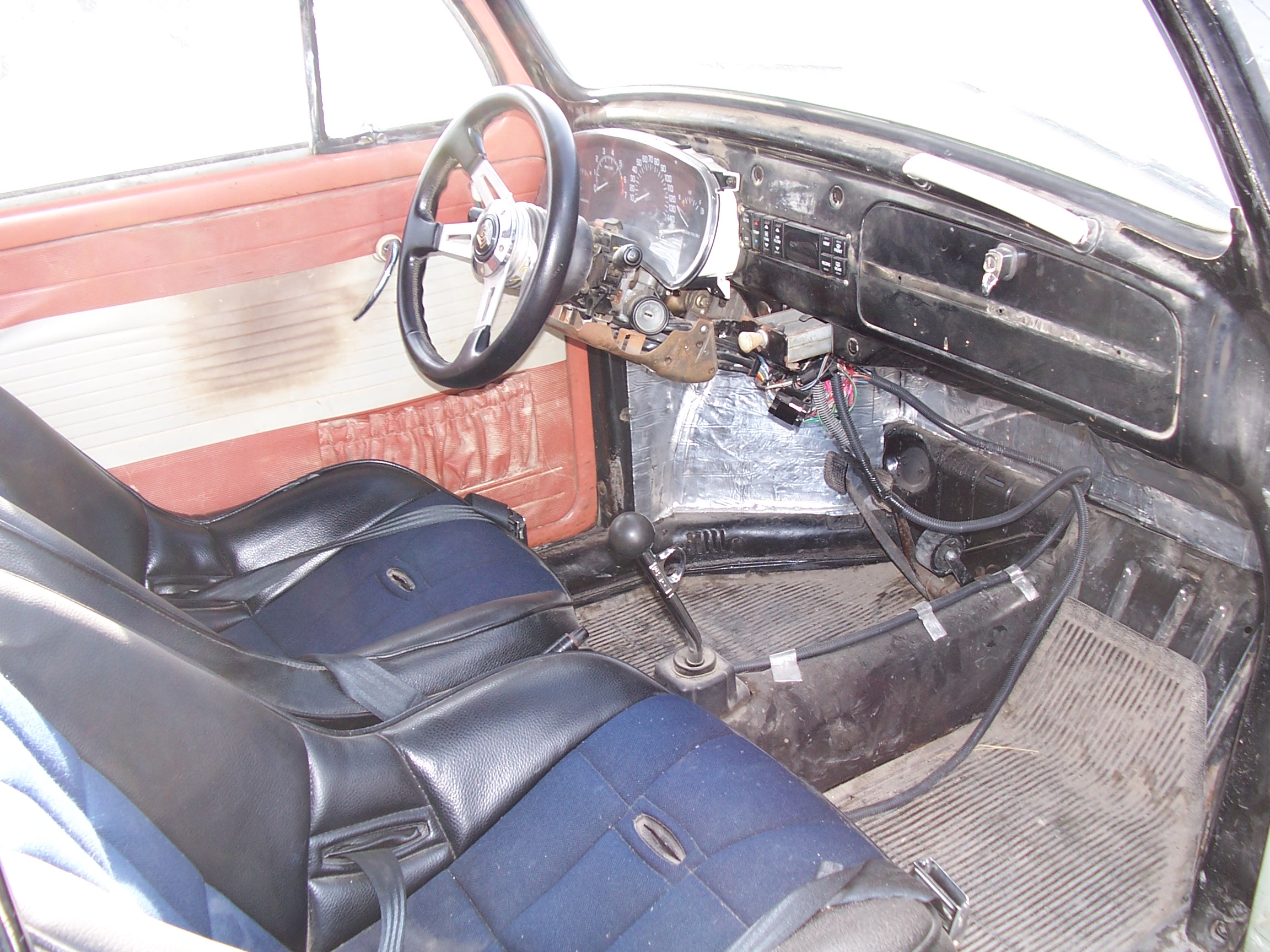 I tried to sell it for a while but got no genuine interest.
I decided I wanted it wider. Also higher, more suspension travel. I ordered a set of wider, longer trailing arms for the rear (3" wider and 3" longer), and longer axles/new larger C/V joints and axle stubs/flanges.
Now the front was too skinny! I pondered buying a wider front beam with long trailing arms. That stuff gets expensive, so out came the drawing board to design some rediculously long travel A-arm suspension for the front.
I decided to put disc brakes on the front that I got off of an old Ford Ranger.
Steering rack is from a Dodge Intrepid.
Steering column from a Subaru Legacy that is so worn out you don't need a key to start it.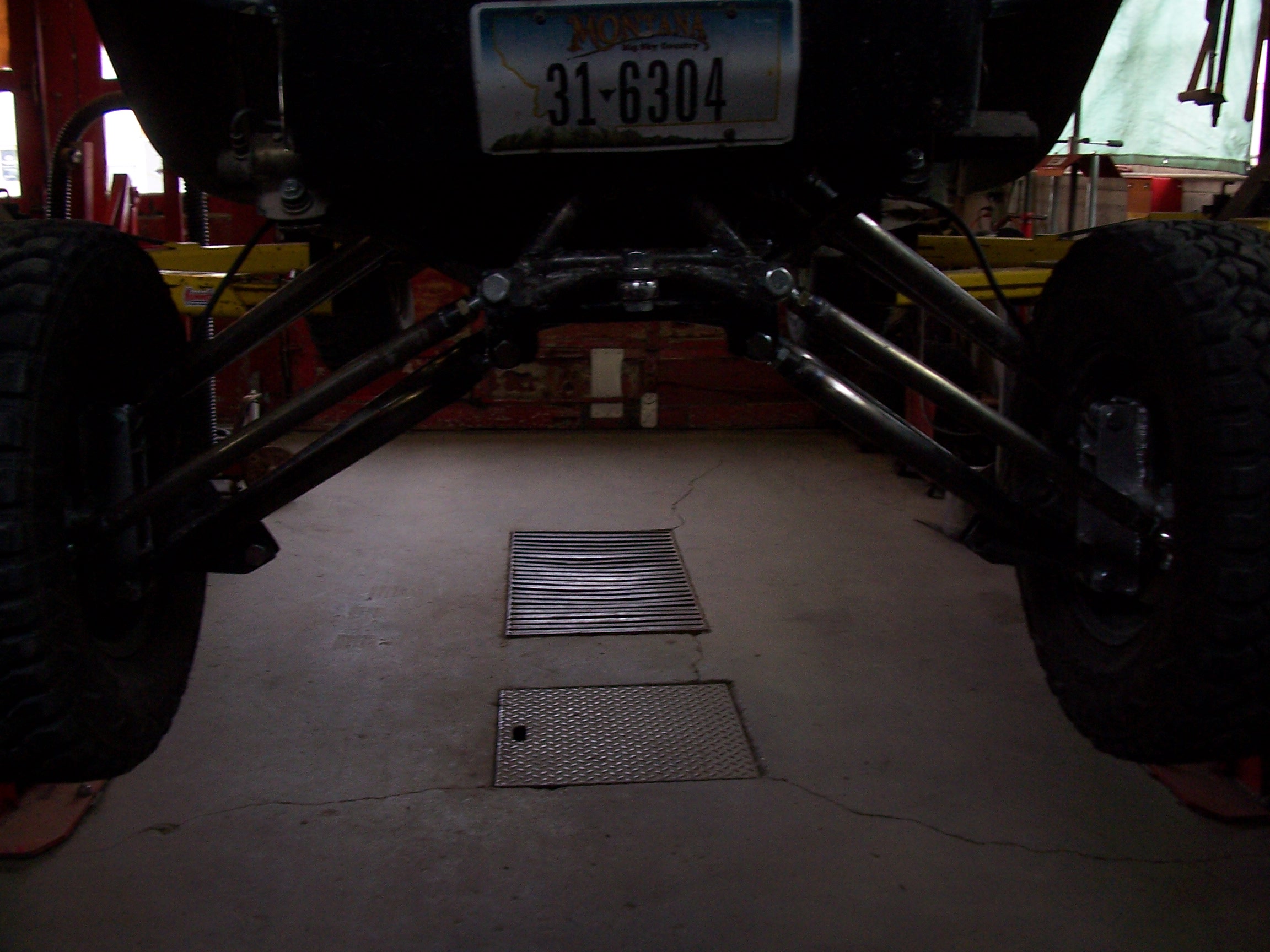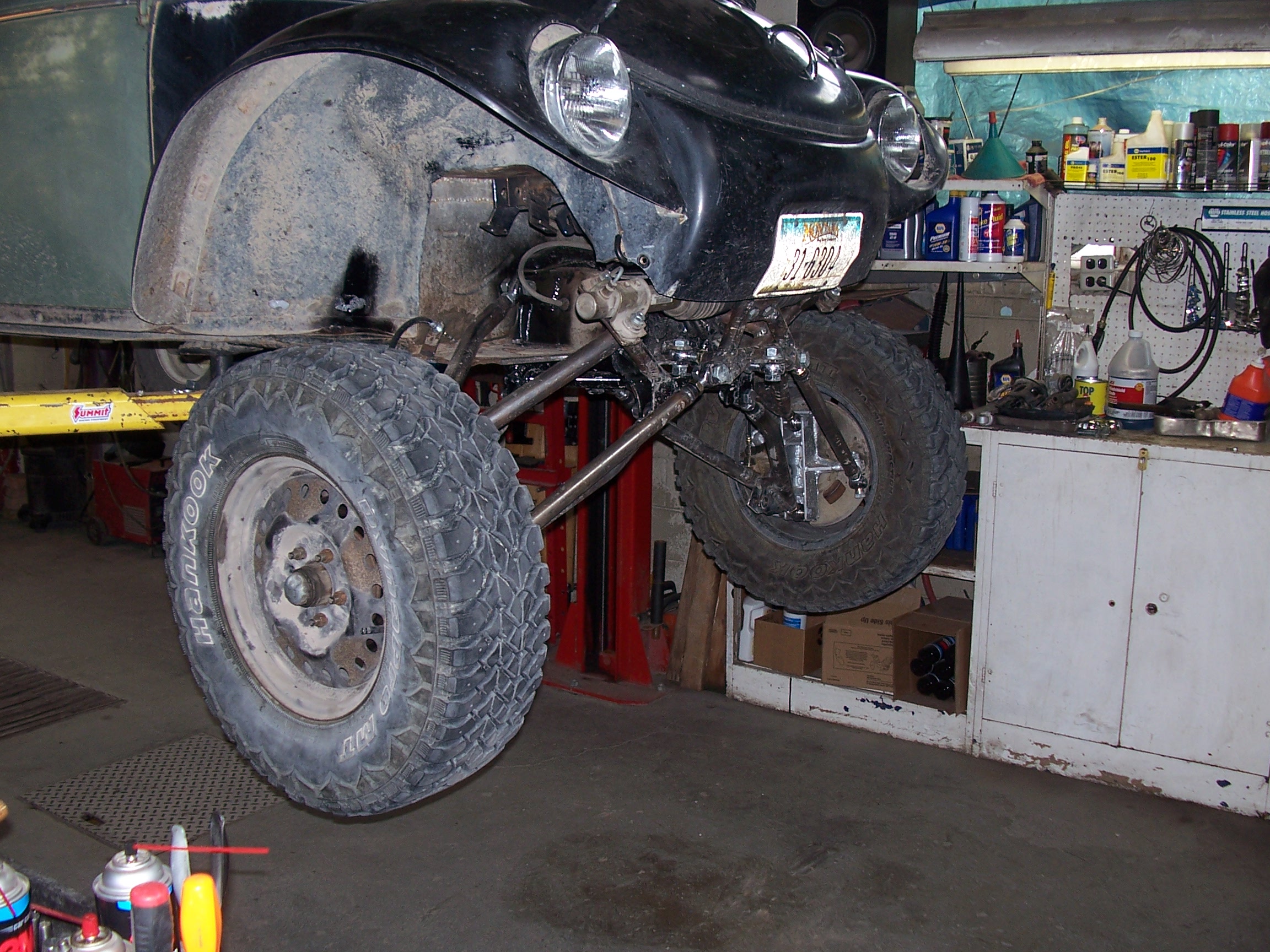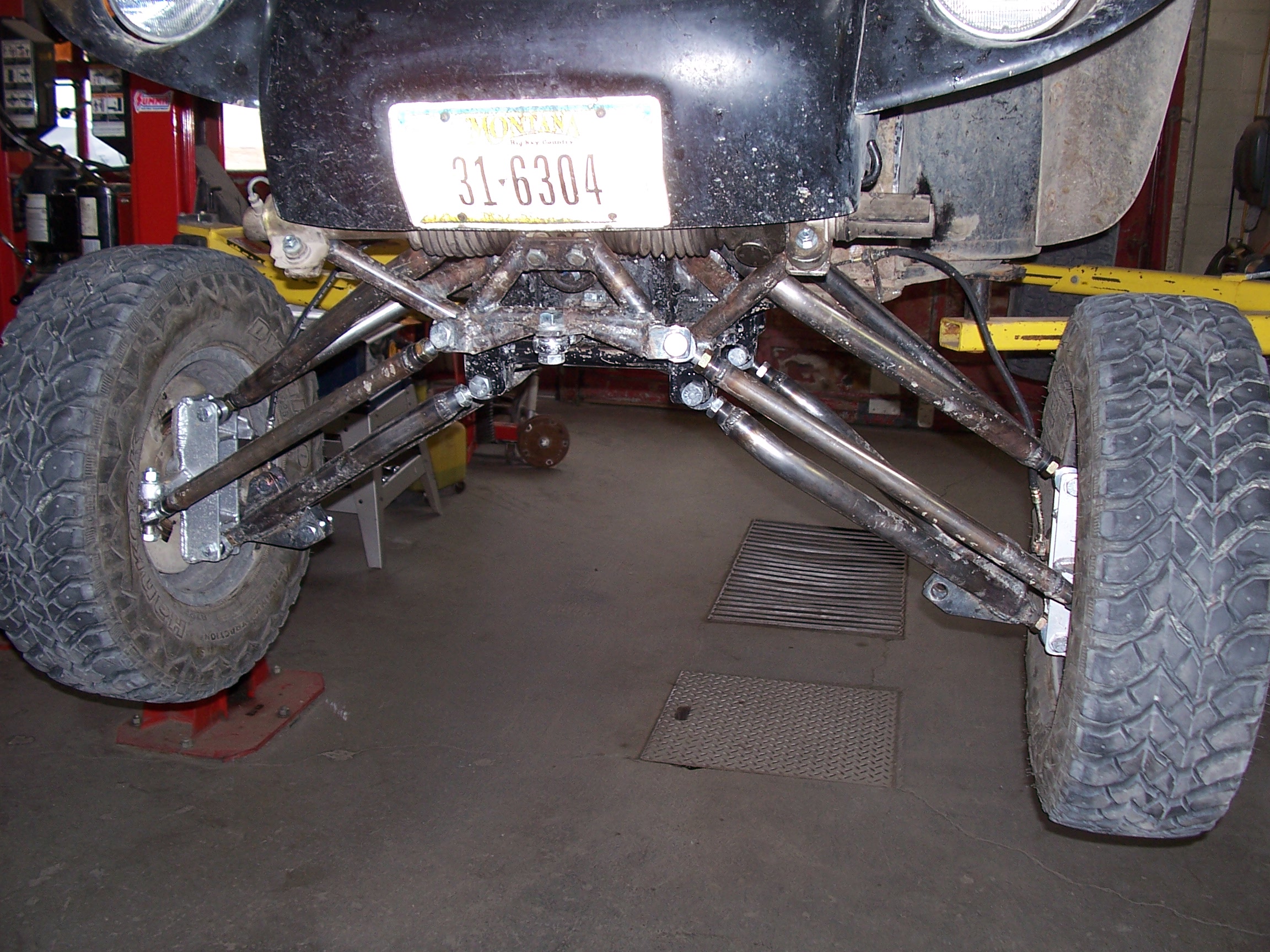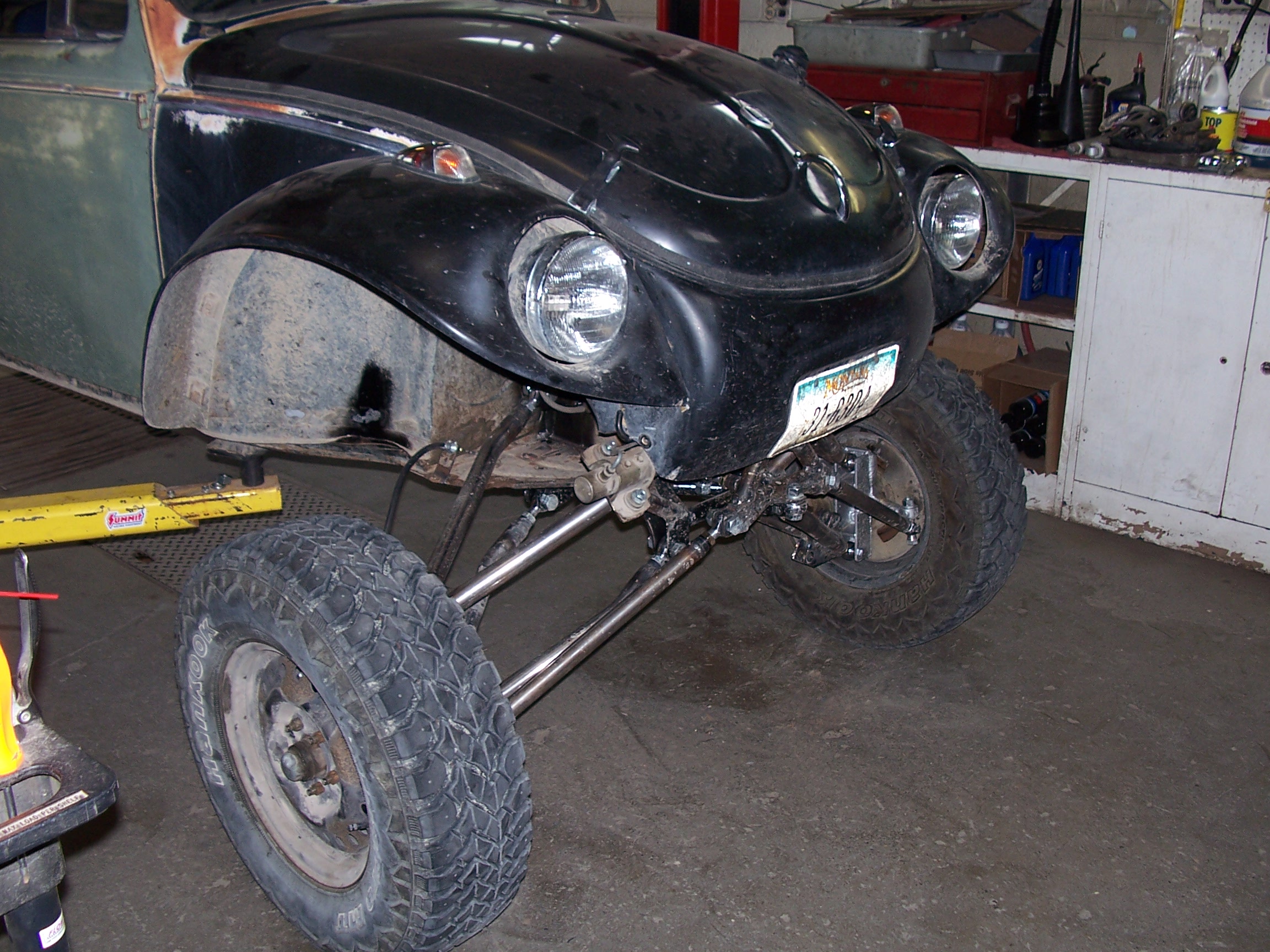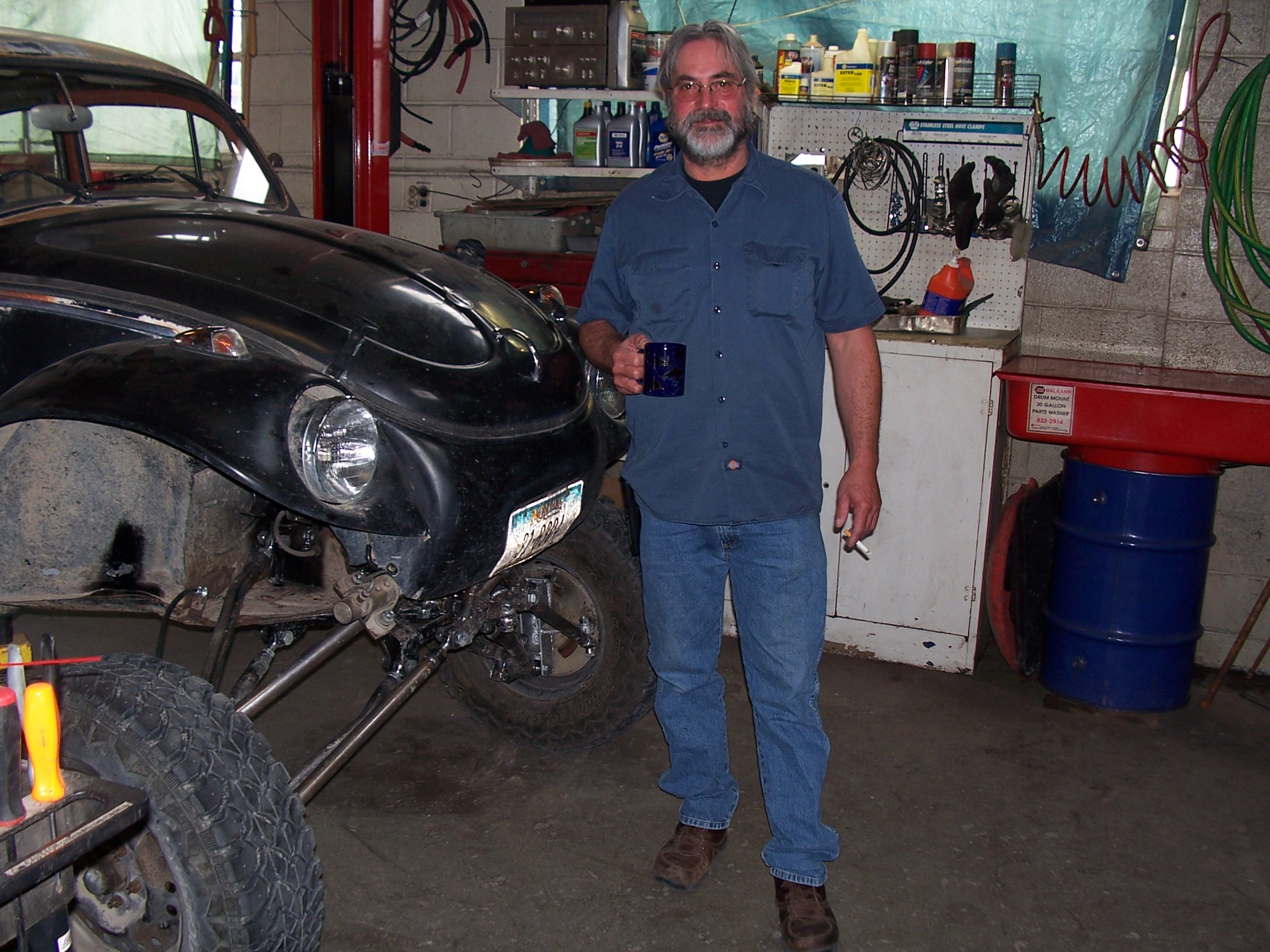 That's my dad.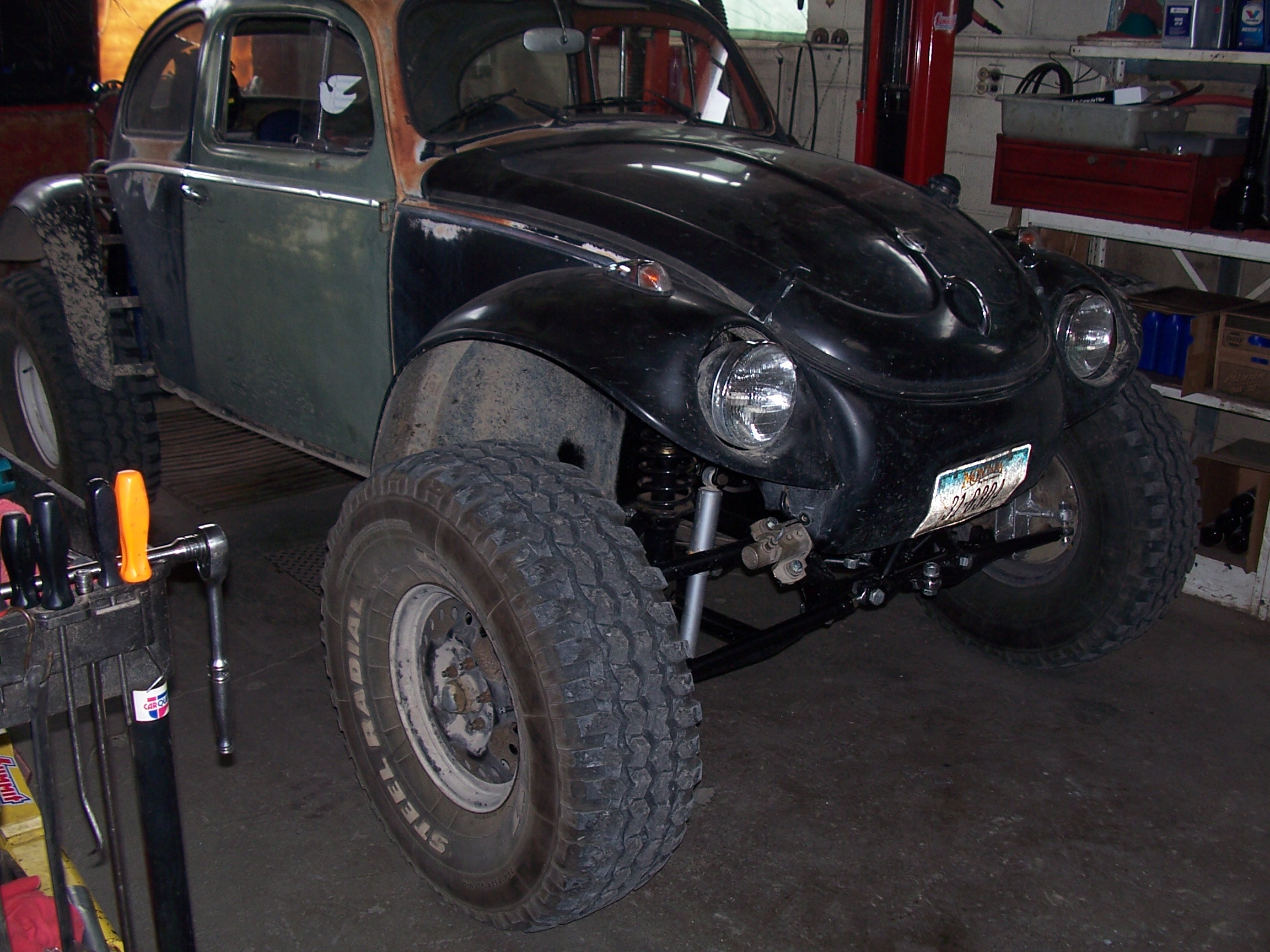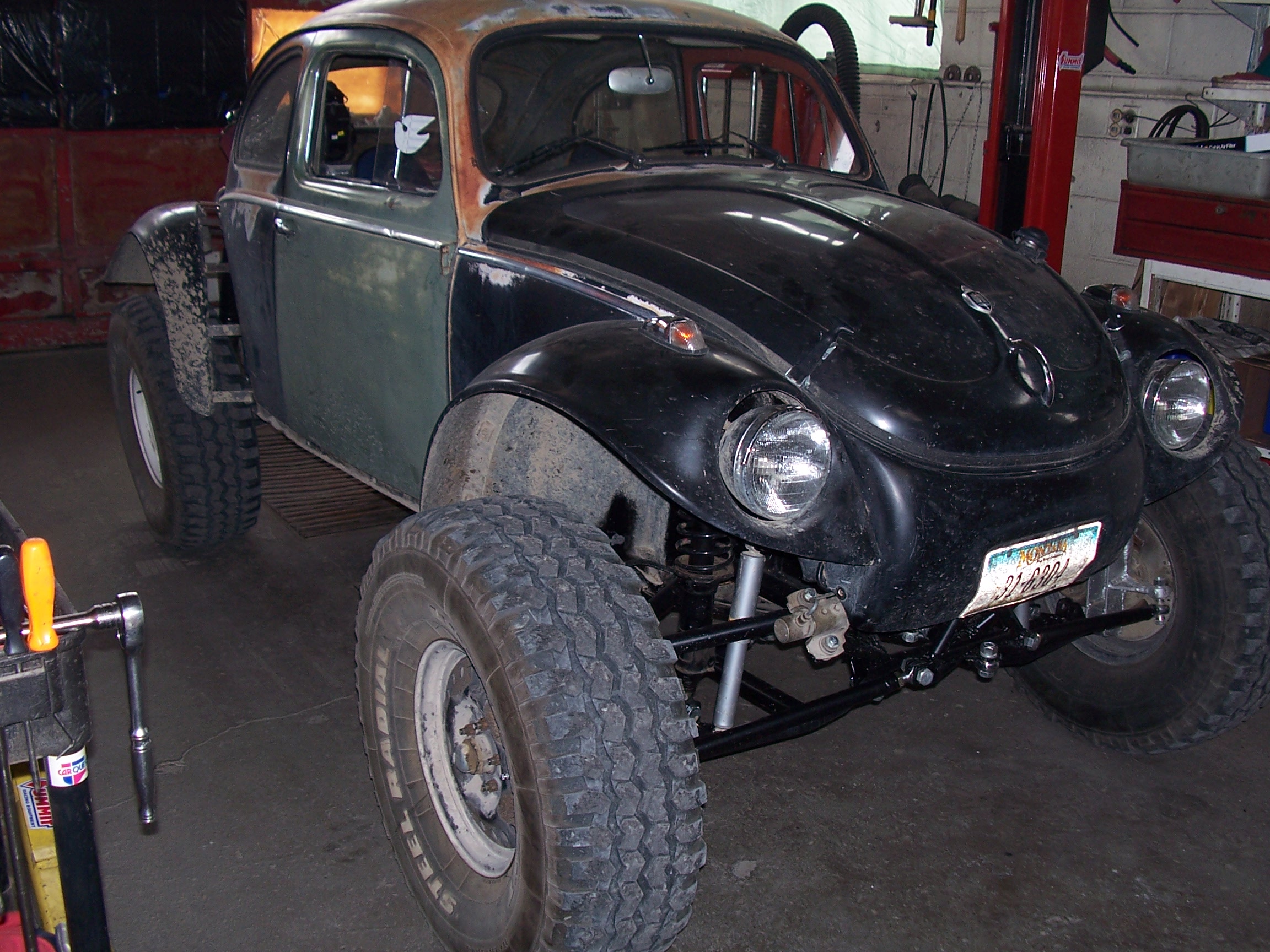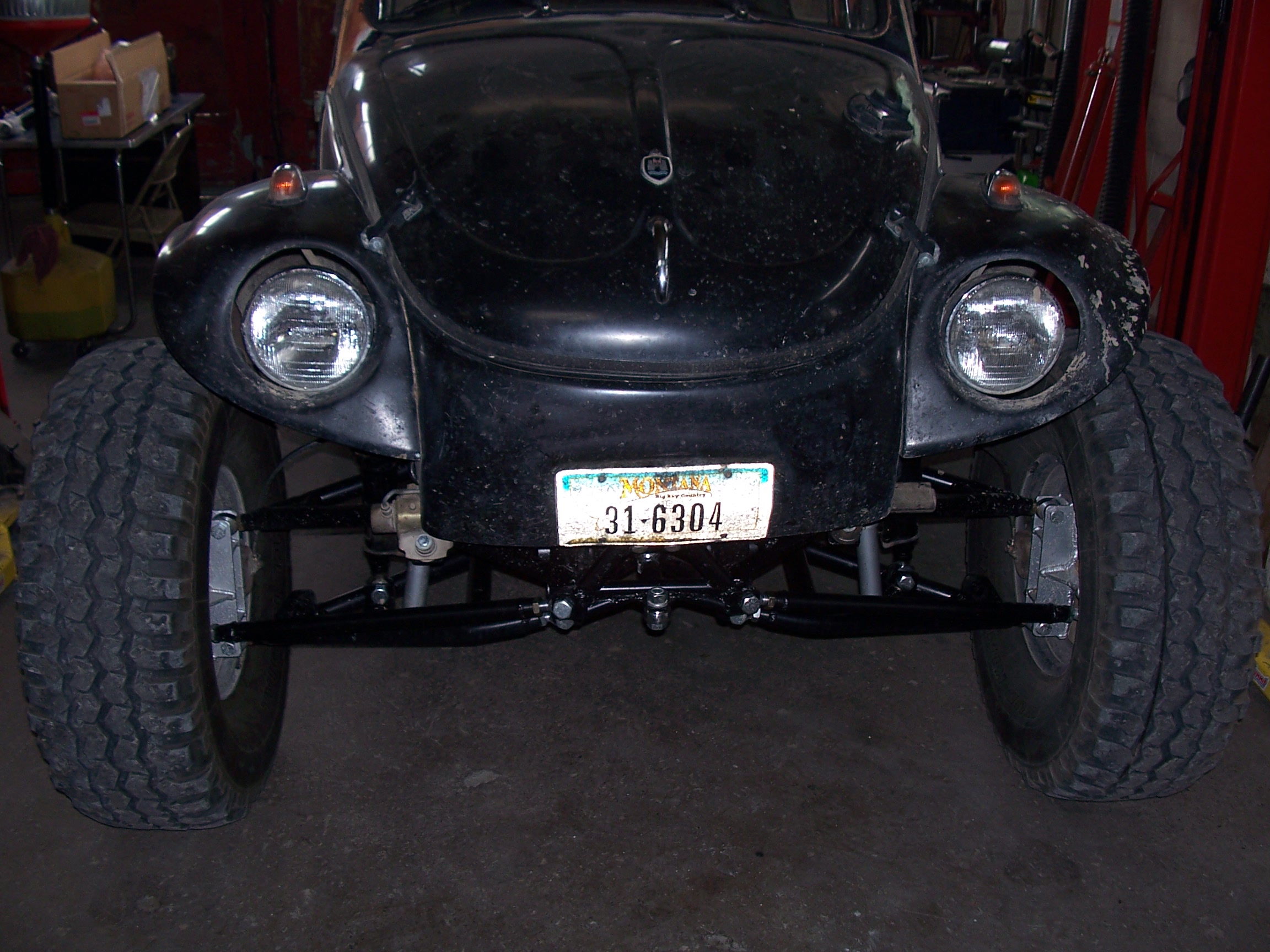 Ended up with 35x12.5 tires all the way around.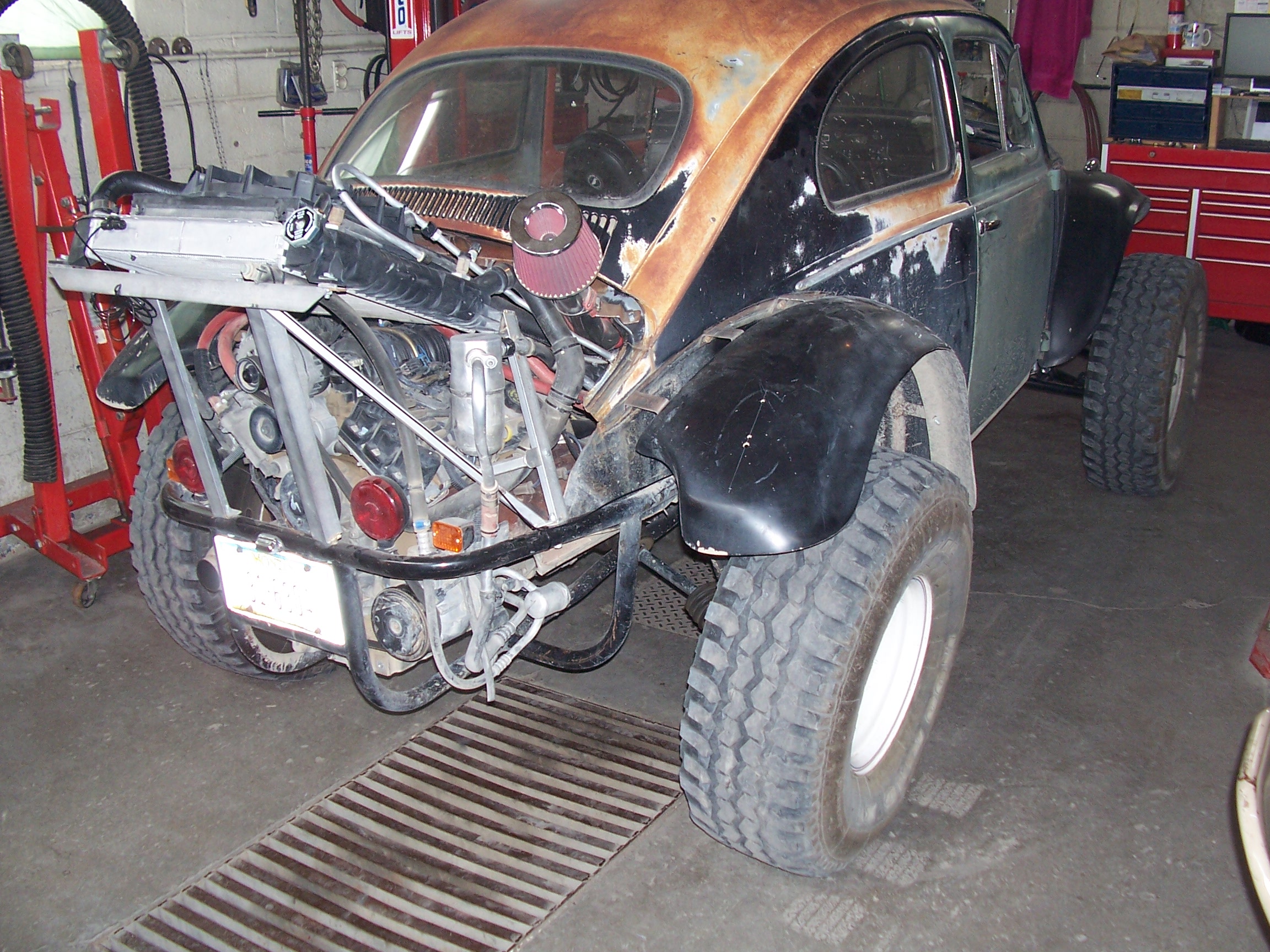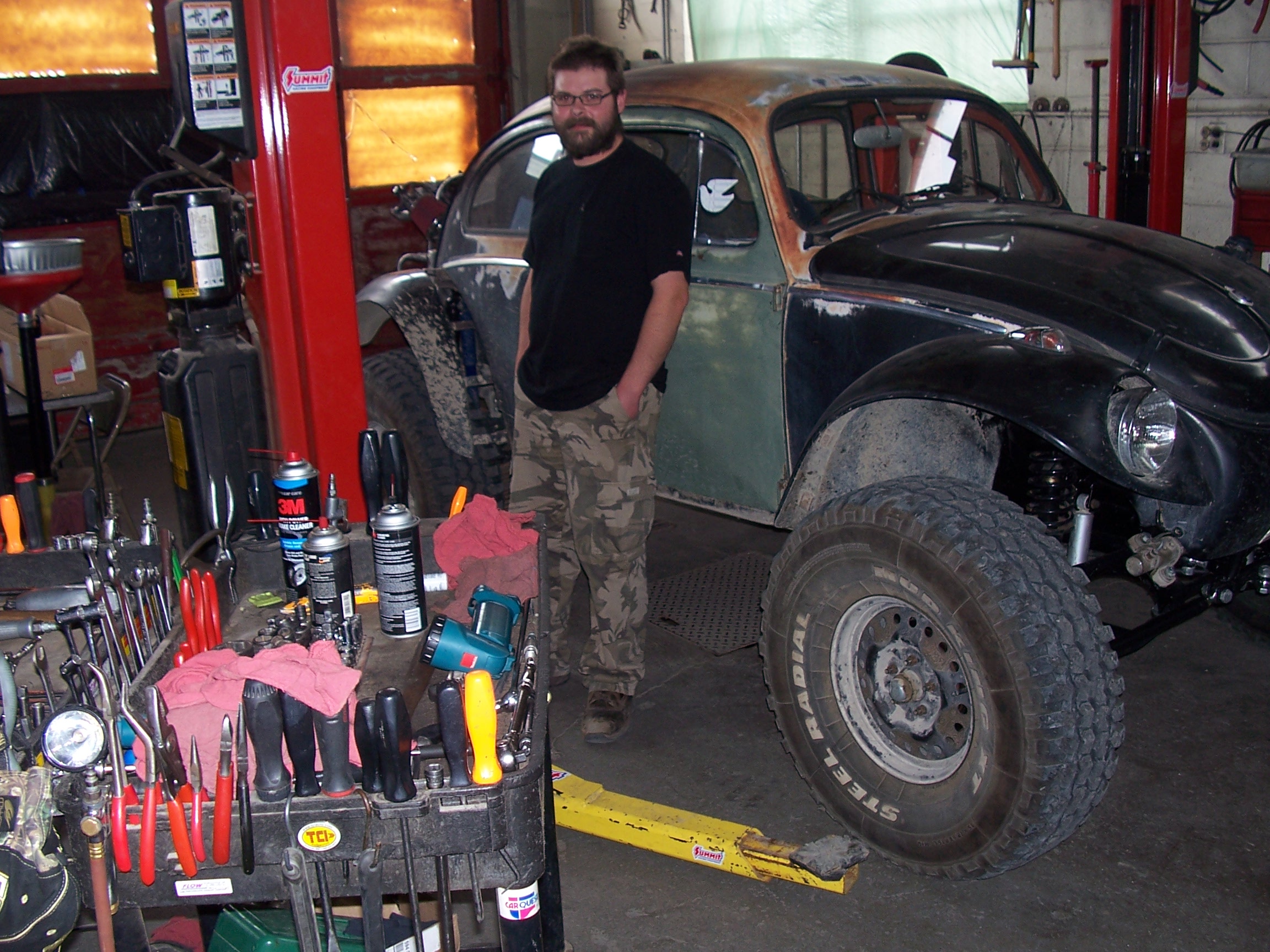 Wow, I've lost quite a bit of weight since then...
Dad's '59 beetle that he put the industrial 1600 engine into, from that spra-coupe. Too many bugs in one shop lol.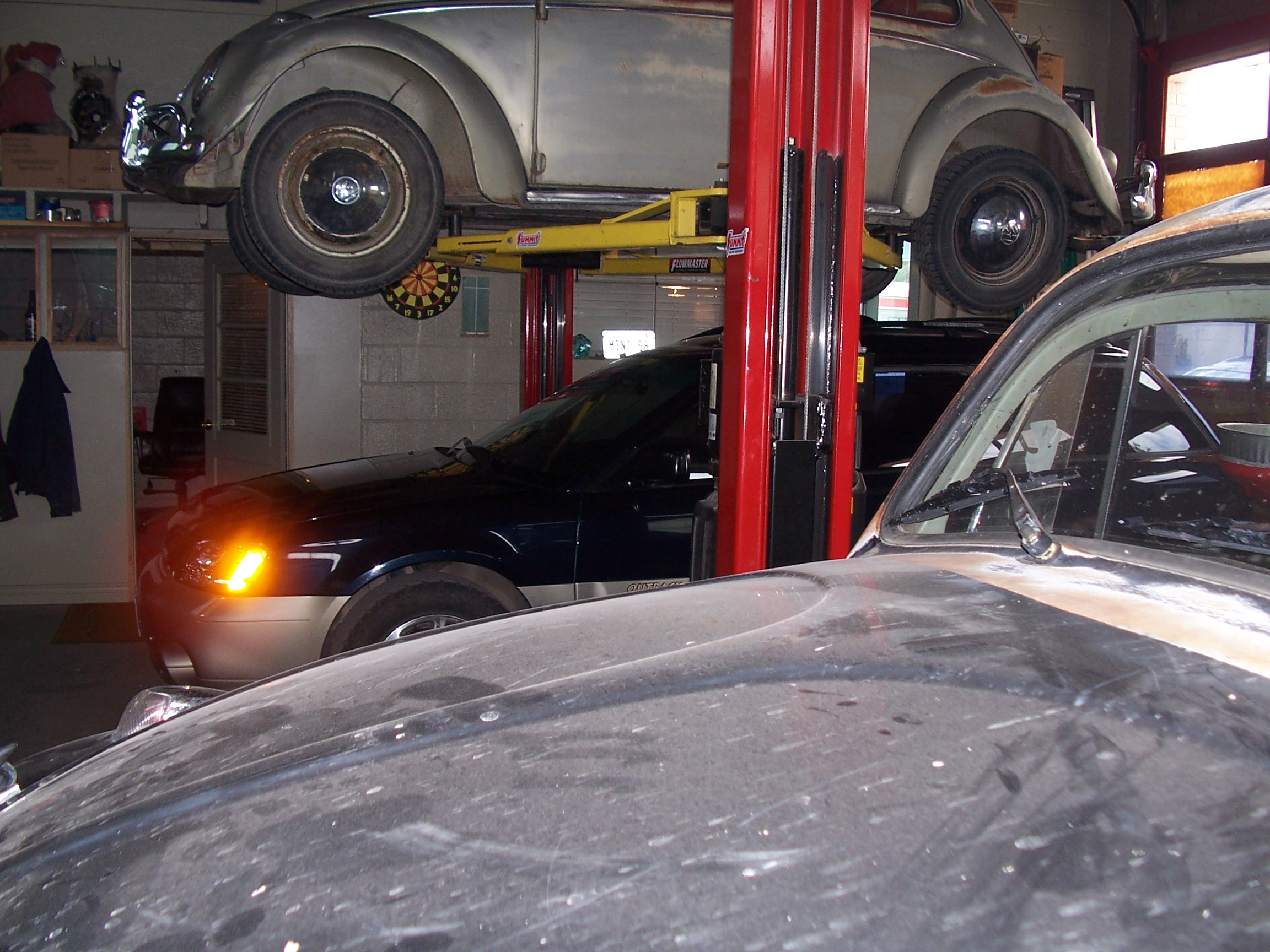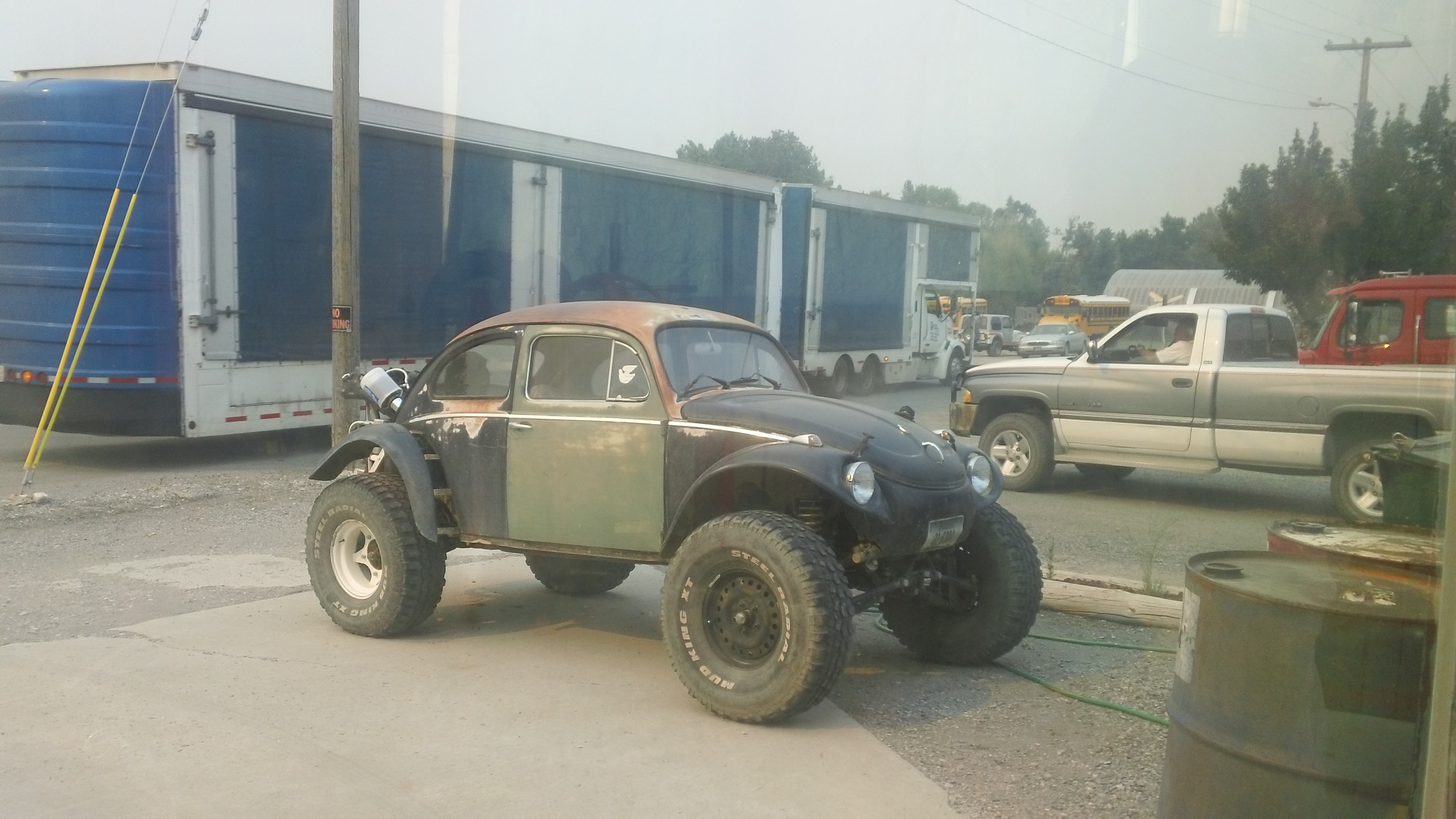 I have worked on it a bit since then, but not as much as I would like. Next steps are a roll cage (real one, not one you just buy and bolt in), and fabricate some rear suspension that doesn't camber in and out as it travels up and down. That car hauler semi behind it in the last pic was to pick up dad's '59 to take it to a new owner in Canada. Smokey day because of forest fires in the Rockies.