Post by deedolce on Dec 23, 2019 9:07:09 GMT -5
PLEASE READ THE RULES BEFORE JOINING THE GAME!!!
I'm calling it 'Traveling Slabbetts'. Here's how it works.
I send a finished cabochon in a small flat rate box, along with a variety of small almost preform slabs. You keep the finished cab, cab one of the ENCLOSED slabbetts and send it to on down the list. You can exchange slabbetts too, just try to keep a nice variety for the next person. This goes on until it gets back to the last person on the list, me!
To keep this moving there is a time limit, once you get your package you have 14 days, two weeks that is, to cab it and ship it forward.
Before you send the package to the next person in line, they should be contacted first to make sure they're ready and have time to cab and send the package. If they don't, they'll move into the on deck position and go to the next person up on the list.
Once you've received your package please photograph the cab sent to you and post pictures on the thread so everyone can ooo and ahhh at them. Give credit to those who cabbed it and say thank you! Pictures of what you decide to do with the cabs are also welcome anytime to the thread.
This is a game to give folks a chance to try a variety of rock, share some stash around, and get a nice cab to play with!
Please send a note with the package saying what all the stones are so people know what they're getting, when possible.
Recap:
• PM me (Diana - deedolce ) that you want to be in the game with your name and address. (I swear I will not spam you, or give your addresses to anyone ever except the person sending you the finished cab and rock.) If you have a preference of where in the list you'd like to be (beginning, middle, end or a certain month you know you'll have time) let me know that too and I'll do my best to accommodate.
• Receive your new cab and slabbetts
• Cab one of the slabbetts and an option to exchange some slabbetts to send within your 14 day period.
• Message me that you're ready to send your package and I'll give you the name and address of your recipient.
• Mail package.
• Then it starts all over again!
The first package will go out the first week of 2020.
Here's a pic of the starting rock, from my stash.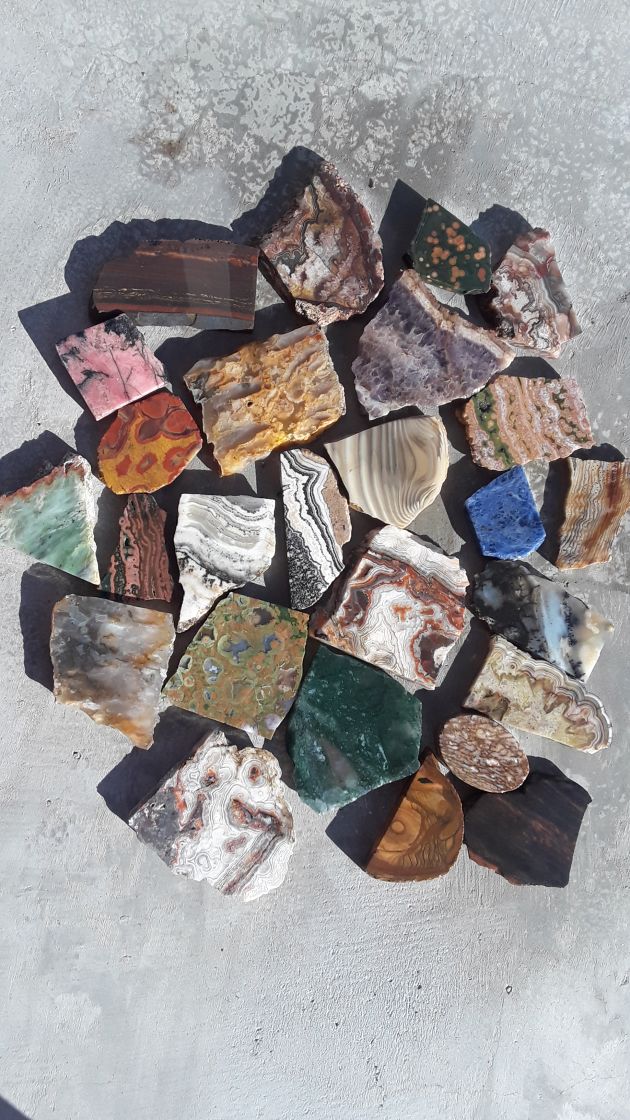 NOW LET'S HAVE FUN!!!
The following list can change as I accommodate requests.

_________________________________
1. NDK/Nate
2. opalpyrexia
3. alikat219
4. Tommy
5. Jim931
6. Hummingbirdstones
7. rads
8. MikeT
9. rxscram
10. hookedonrocks
11. julieooly
12. knave
13. Back to deedolce!