Post by holajonathan on Jul 30, 2021 21:43:12 GMT -5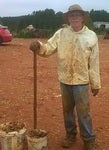 jasoninsd
Ok, I will throw my 2 cents in (no pun intended) A lot of the pricing depends on who your market is. If your selling on Internet, then you are going to reach more folks and your prices can be somewhat higher. If selling at a local Craft or Rock Show then you may need to price them lower, really depends on the crowd.
Another factor to consider, at the Craft Shows I do, a Fairburn or a TeePee Canyon agate does not normally register with most buyers. On the other hand the Botswana's are more striking and might attract more interest. Rare or hard to get does not translate to higher prices at a Craft Show
As I have mentioned more than once, I sell to make "Beer and Gas" money. I do try and weight the effort or cost into the price but I don't lose any sleep thinking that I may have priced something too low. I have no interest in building a 6 page spreadsheet to track every tiny expense per stone. If I was selling wrapped pendants, they would be priced higher than my shaped/tumbled/drilled/pinch bailed pieces as the effort involved in the latter is in theory less than the wrapped pieces.
There is one more odd factor to boggle your mind, sometimes priced cheap translates to the item must be of cheap or lower quality. That's a tough to wrap ones head around. Here again I don't lose much sleep pondering that one.
I would suggest a trial Show with a few pieces and see how they do. Or a trial posting on-line somewhere.
Good luck
Henry
"... sometimes priced cheap translates to the item must be of cheap or lower quality."
Here's a strategy: price some of your pieces very high, and most at the higher end up reasonable. No one will buy the really high priced ones, but potential customers will perceive that your work is valuable, or that you are capable of producing very valuable pieces. The lower priced ones will seem to be a good value. Here's another strategy: let's say you want to sell cabs for $40 each. Price them at 1 for $55 or 2 for $80. Buying 2 seems like a good discount. If they are priced 1 for $40 and 2 for $75, buying two does not seem like such a great deal. Not sure if these sort of pricing strategies work selling cabs, but they seem to have worked well for me selling other things on Ebay over the past decade.
The bottom line is that no one really knows what any particular cabochon is worth because that depends on how much someone likes it and is willing to pay. And most people don't know how much they should like it or how much they should pay. So can use your pricing to help them reach certain conclusions.