Post by Hefty on Dec 21, 2022 21:22:52 GMT -5
Hey all,
Not sure what category this creation belongs in. Not really creative at all but I've never seen anyone else do this so it was a totally self-explored effort. Might be a world first. I tried googling crystal key, quartz key, rock key, key carving, rock key carving, etc. and there's no real working keys, only symbolic keys. But I don't think google truly understands what I'm looking for either.
I knew going into this that it would be very fragile and difficult. Quartzite is abundant near me so I figured I would start practicing on that. I think agate might be a little better and jade would be the best from my understanding. I got really close with quartzite so I'm hoping the jade version works out.
I have a tiny bit of locksmithing experience; about as much as lapidary experience. Locksmithing is kind of like lapidary, actually; they're both hobbies that require attention to detail, patience, dexterity, yet no qualifications.
I decided to make a Kwikset KW1 key. It's one of the most common keys and the warding is something that I felt I could replicate with the least amount of equipment. For non-locksmiths, warding is the squiggly shape of the key hole that the key needs to slide into. Below is an image of common keys, and below each key is their warding profile. Note how KW1 is basically two straight grooves that make an S shape. Schlage's SC1 is similar, but the two grooves are angled 45 degrees. In retrospect, a SC1 key may be stronger than a KW1, if you can figure out grinding the warding at an angle.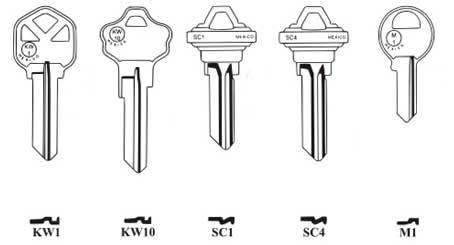 I glued a KW1 blank to a stencil sheet from Michaels and cut out the stencil. Then I ground down a preform to satisfaction and cast a mold of it in polymer oven-bake clay. I've never worked with polymer clay but they had it at Michaels and it gave me inspiration. I used the Fimo Leather clay, which offers flexibility to the final shape. I think this leather polymer clay was really useful because it molded the shape in fine detail and later I was able to flex the mold to remove the preform.
I used a grinding bit on my Hi-Tech Diamond flat lap to cut the warding. I don't think many people realize they sell them and that the flat lap can be converted. The grinder bits Hi-Tech sells are conveniently the same thickness (1.4mm) as the warding grooves.
I designed a jig for the clay mold to slide along. I used wood and vinyl from home depot with my router to shape the jig. I used some grease to lubricate the surface between the jig and clay mold. The wooden 'backsplash' portion of the jig turned out to be kinda clutch because when it gets wet from sitting in the drainage tray it expands to lock itself in position.
The success of this endeavor entirely depends on having sturdy, straight, flat planes. It's 50% of the reason that I bought a flat lap. I did hours of measuring and lapping to get the polymer molds to line up perfectly with the grinding bits. Some of it simply worked by sheer luck. The parts I got from HD just happened to fit and match perfectly with the clay mold to give me 1mm grinding depth. The grinding bits happen to exactly match the thickness of the warding grooves. The only bit in stock for the 0.5mm depth cut happened to be 1mm less diameter than the other bit, so I didn't have to adjust the jig. Other little things I'm thankful for made this possible with less effort from me. Even though this endeavor has so far been a failure I've really enjoyed and appreciated the challenge and process of figuring out each step.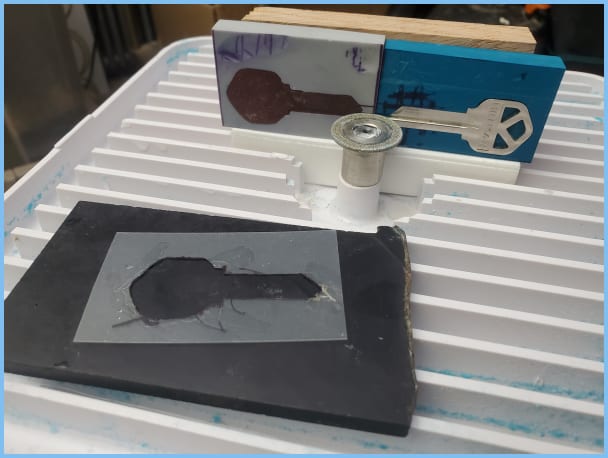 Here's the stencil and molds. I pressed the preform into the clay, baked it, then lapped it flush to the preform. The mold kind of acts as a go, no-go gauge. When the preform pops into the mold I'll know it's close enough to take to the next stage. Because of the 'leather effect' it flexes and tolerates millimeter inconsistencies. It also grips the preform and holds it sturdy in the mold while dampening vibration, in theory.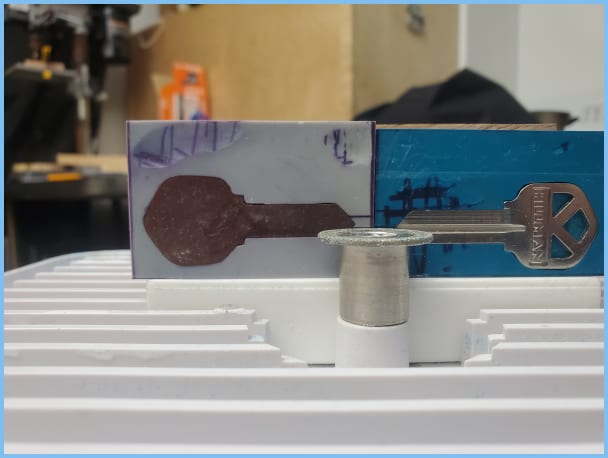 Closeup showing the alignment of the preform and grinding bit, held in the clay mold, resting on the jig.
These next three images show the first cut completed. This one I was most worried about because the bottom lip or ridge of the key is only 0.5mm thick. But I was able to complete this cut in the jig over the course of 15 minutes.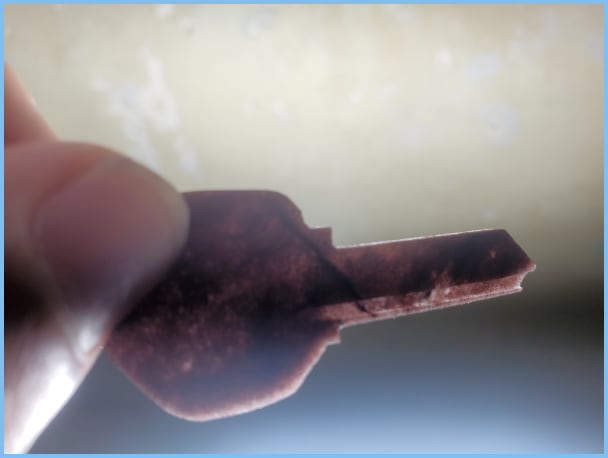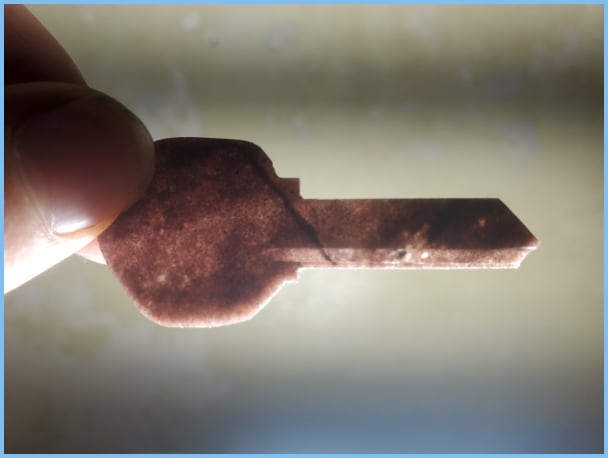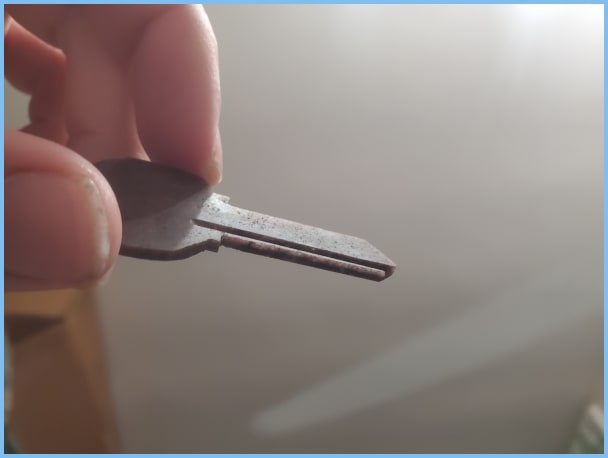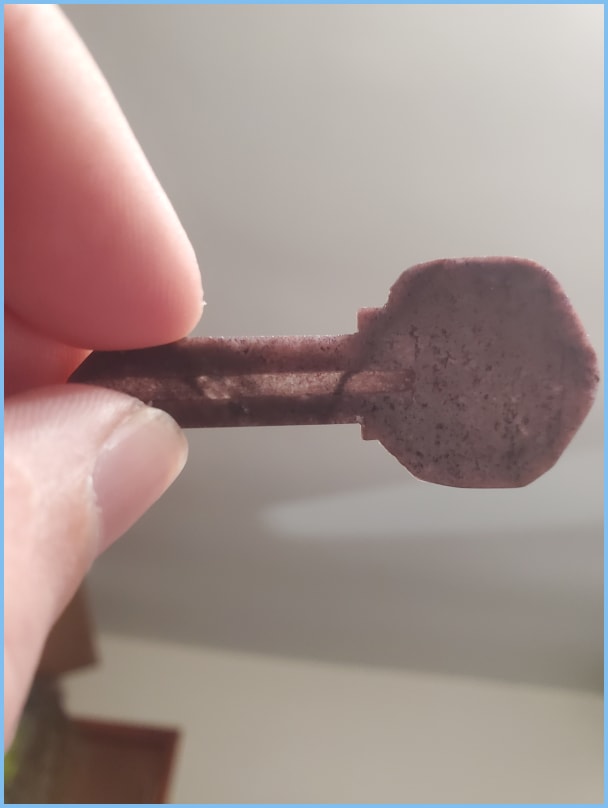 Here I'm showing the second cut made on the opposite side of the key. Before making this cut I filled in the first cut with plaster to lend it some structural integrity. I then filled this cut in before proceeding with the 3rd and 4th cuts.
I apparently forgot to take pictures last night, but I went ahead with cuts 3 and 4, which are 0.5mm grinds on each side along the top of the blade. I was able to complete this grind then soaked the key in water to remove the plaster.
The key was looking exceptionally cool. You could see through the entire blade, which was a squiggly 1mm at this point, and basically count the quartz grains. I attempted to insert it into a lock at this point, but immediately needed to make an adjustment to cut groove 2 deeper. I was really tired and decided to test these touch-ups without re-plastering the grooves. I refined groove 2 halfway before it started to make a worrying sound and I stopped. I re-inserted the key and sure enough, I was able to get it to slide in halfway. I really should have taken a picture at this point because it was pretty astounding.
I attempted to finish refining groove 2 today and was feeling more confident than ever from how far I'd come. But while removing the key from the mold this last time, it broke. Admittedly, my cuts are not 100% perfect so while a normal key may be 1mm at the thinnest, my carved key was 0.8, 0.5mm in some places to accommodate. I take credit for getting lazy and over-confident with the final cuts. The molds need tiny tweaks, and even then I'm worried that the leather flexibility is creating issues with precision. But I plan to try again with quartzite and eventually agate or jade.
If I can get a key to turn, the next project will be carving the lock!
I'm not sure if this is a cool idea or not. I mean, it's cool but it has limited practicality. As a locksmith, I'm not afraid of breaking the key in a lock, but if I can't make one strong enough to be useful then there's not much purpose. I was thinking maybe a locksmithing convention would be interested in one as a trophy or something, as a decorative commemoration.