Post by 1dave on Jan 14, 2023 21:29:11 GMT -5
One of my BYU Geology professors back in the 1950's mentioned that while working in the Joplin Missouri mines they encountered house sized spheres of copper they could do nothing with. They could not saw, drill, blast apart. They had to just leave them.
Now, over 70 years later I made a brief study with too many other things on my plate, so it ends with this brief document for others to peruse.
Little to no volcanic activity was noted in the vicinity, but generally ASSUMED, because how else could they get there?
They were found in dolomite, limestone, and sandstone and shattered bedrock.
The elements noted in the reports are probably far less than those that actually exist, but among those noted are:
Barite, cobalt, copper, lead, manganese, nickel, selenium, strontium, and zinc. How does that group suddenly appear?
THE COPPER DEPOSITS OF MISSOURI BY H. FOSTER BAIN AND E. O. ULRICH - 1905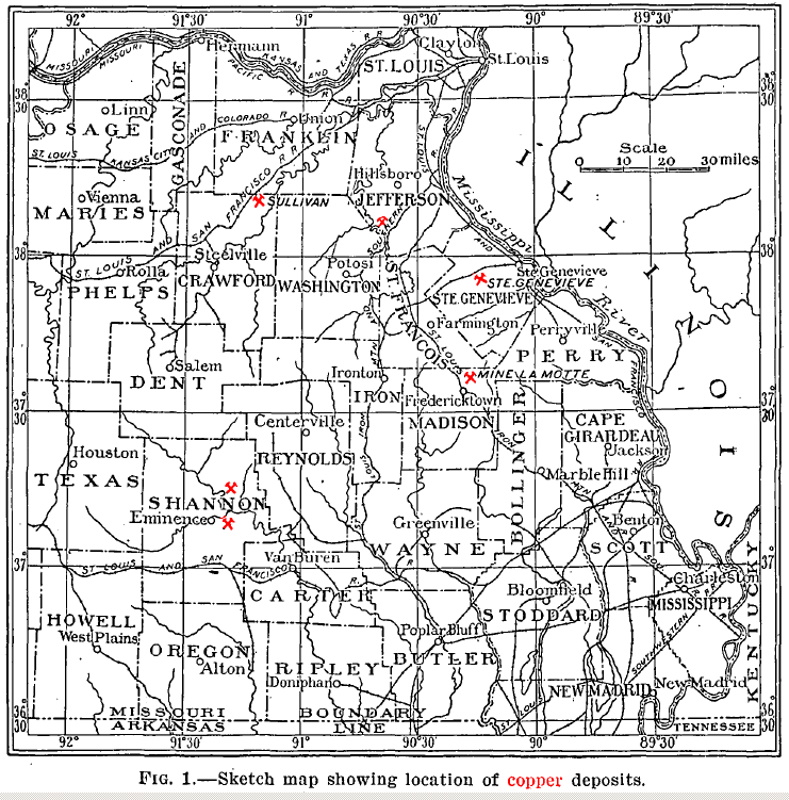 1. Sketch map showing location of copper deposits.................Page 11
INTRODUCTION.
Scope of this report. Copper is now being mined and smelted near Sullivan, Mo., and at other points in the State copper deposits are attracting attention. The present paper is a brief account of those deposits which have so far been mined, with such suggestions as seem warranted regarding further prospecting. The occurrence of copper in quantities permitting actual exploitation in the midst of a great area of unaltered and little disturbed sedimentary rocks raises many interesting questions. of genesis. These, however, can not be adequately discussed until the general studies upon the lead, zinc, and other ores of the Mississippi Valley are somewhat further advanced.

The present paper is based upon work done in 1904 by the authors, assisted by E. E. Ellis. Mr. Bain is responsible for all statements relating to the ore deposits and mines, while Mr. Ulrich has made the determinations of the geologic horizons and has written the description of the formations.

History.
Attempts to mine copper have been made in Missouri since 1837, and at different times copper furnaces have been operated in Shannon, Ste. Genevieve, and Crawford counties, while a matte carrying in addition nickel and cobalt has been steadily produced at Mine La Motte. These localities are shown on the accompanying sketch map (fig. l,.p. 11). Copper has probably been shipped in small quantities from several other counties also. Shumard," writing in 1860, enumerated 15 counties in which copper was known to occur.
Even at that he missed Ste. Genevieve, the one from which the main output has come. Very little attempt had then been made to develop the deposits. After the work of Joseph Slater in Shannon County in 1837 no serious effort to mine was made until 1876, when Charles T. Biser shipped a few carloads from the same locality. About the same time the Ste. Genevieve mines were developed, and they continued
in operation until about six years ago. In 1904 the furnace of
" Shumarcl, B. F., Report of progress : Missouri Geol. Survey, 1861, pp. 7-9.
Page 9
10 COPPER DEPOSITS OF MISSOURI. [BULL. 267.
the Missouri Copper Mountain Mining Company, at Sullivan, was put in blast and metal began to be shipped to Chicago for refining. There are no exact figures of the amount of copper so far produced.
Ladd a estimated the total as haying been worth less than $20,000.. This is probably too low, since the Ste. Genevieve mines produced regularly for some years and in 1880 alone were credited by the Tenth Census with an output of $25,730. Local estimates of the production of the Slater mine, in Shannon County, indicated a production of approximately $50,000. In 1903 the State mine inspector, G. K. Williams, is quoted 6 as estimating the sales of copper ore for the year to amount to $30,210. In 1904 the furnace at Sullivan shipped two carloads of metal, and for some years a copper matte has been regularly shipped from Mine La Motte. From this it appears that copper in important amounts has been actually marketed from this State for some years.

. . .

General distribution of the copper. Copper-bearing pyrites are
widely distributed in Missouri, as in "many other States, and the brilliant
colors of the alteration products lead to ready recognition.
Occurrences have been noted in Benton, Clark, Crawford, Dade,
Dallas, Dent, Franklin, Greene, Iron, Jasper, Jefferson, Lawrence,
Madison, Maries, St. Francois, Ste. Genevieve, Shannon, Washington,
and probably a number of other counties. For the most part these
occurrences may be at once dismissed as of no economic importance.
The four which have yielded ore have already been noted.
With the exception of one or two sporadic occurrences of merely
mineralogic interest, copper is found only in the southern part of
Missouri, within the region broadly known as the Ozark uplift. This
is an elliptical, warped plateau having a major northeast-southwest
axis of some 300 miles and reaching its topographic culmination at
Cedar Gap, somewhat west of the copper-bearing territory.
Its geologic center is to the east, where, in Iron, Madison, St.
Francois, and adjacent counties, there exists a series of semidetached
elevations made up of crystalline rocks, known as the " St. Francis
Mountains." These rocks, mainly granite and porphyry, but with
subordinate amounts of basic intrusives and probably of metamorphosed
sediments, are of pre-Cambrian age. Aroun'd them in concentric
belts, each wider to the west than the east, are the Cambrian,
Ordovician, and later rocks, more especially described below. The
region is one of important and varied mineral wealth. Iron, lead,
zinc, barite, and manganese, as well as copper, occur and are mined.
Despite the fact that it includes some of 'the earliest American settlements,
considerable areas within it are very sparsely settled, are
undeveloped, and, in comparison with the surrounding territory, are
a Ladd, G. E., Mining: The State of Missouri, by Walter Williams, 1904, p, 179.
"Eng. and Min. Jour., New York, vol. 76, 1903, p. 739.
UAIN AND")
ULW1CH. J INTRODUCTION. 11
inaccessible. It is not surprising, therefore, that promising mineral
prospects have been, in some instances, inadequately investigated.
Copper occurs as far south and west as in the Joplin zinc district,
where chalcopyrite is very common and many of the copper oxides,
carbonates, etc., have been recognized. It is to be noted, however,
that the areas in which it occurs so abundantly as to have induced
efforts to mine it are all located near the core of crystalline rocks, a
FIG. 1. Sketch map showing location of copper deposits.
relation which becomes more striking as the individual occurrences
are examined. The pre-Cambrian age of these rocks is well attested,
and there is no evidence of any later igneous activity in the district.
A possible exception is the occurrence of a dike of graphic granite
in Camden County, which Professor Shepard has described.0 Here
an intrusion took place in post-Ordovician and probably post-Devonian
time. It does not seem, however, to have been accompanied by
important mineralization, and has no apparent connection"" with any
copper deposit.

PUB2979-
dnr.mo.gov/print/document-search/pub2979
Missouri Department of Natural Resources
fact sheet

Missouri Department of Natural Resources
Director: Dru Buntin
Barry County

Lead and zinc mining in Barry County occurred primarily in the 1880s through 1890s, with some production in the 1910s, 1930s and 1940s (IMOP database). There was likely unrecorded production in the 1930s. The primary lead and zinc mining area was the Purdy mines area, located east of the town of Purdy. The mines are hosted by limestones of the Mississippian Osagean Series. The McDowell mines are the only ones specifically noted to have a mill on-site.
Central Missouri Barite and Lead District

Lead was the principal product of the Central Missouri Lead and Barite District from 1830 to 1910; there was also minor zinc production. After 1910, the district produced barite with lead as a byproduct (Kiilsgaard et al, 1967; Brobst and Wagner, 1967). Production ended in the 1950s. The district includes all or portions of Morgan, Miller, Camden, Moniteau, Cooper and Cole counties. Numerous deposits of barite, lead and zinc were produced. The district is located on the northwest flank of the Ozark uplift in Ordovician, Mississippian and Pennsylvanian rocks which are fairly flat-lying to slightly folded.

Ore grade varied from deposit to deposit, as well as within deposits. Mineralization was found as vein and fracture fill, breccia cement, solution channel and "pocket" fill, replacement of host rocks, filled sinkholes and as a residual material (Brobst and Wagner, 1967). In many cases the old lead pits were used as an exploration guide for barite mining, and led to considerable recovery of the remaining galena. In addition to galena and barite, the ores contain some copper as chalcopyrite, malachite and azurite (copper oxides). The barite contains up to 2% strontium.
Christian County