Post by yurii on Apr 20, 2023 11:21:40 GMT -5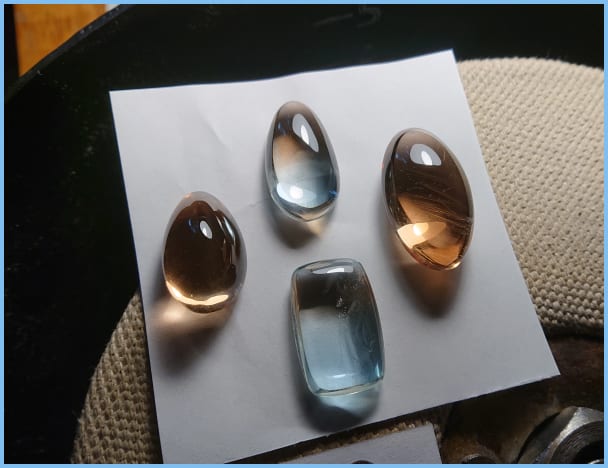 Good afternoon, colleagues. I want to tell you how I make cabochons on flat horizontal circles. It might be of interest to beginners. I use a cutting machine with a DC motor. Spindle speed 100-400 rpm. This speed is most optimal when using pastes and powders for fine grinding and polishing. For polishing I use cerium oxide and diamond. Cerium oxide - for gems of the quartz group of uniform hardness (chalcedony, agate, crystalline quartz), diamond - for all the rest. Already at the stage of sawing the plate, it is desirable not only to cut out the contour of the cabochon, but also roughly mark its top (especially if it is high) with a cut-off saw. This will reduce the time for peeling it later. Processing milestones -
1- Coarse roughing - I use a flat diamond disc on a metal bond with a grit of 160 / 125 microns (approximately 100 grit). On this stage, you need to remove all unnecessary material as much as possible and bring out the shape of the cabochon as carefully as possible.
2 - fine roughing - using a flat diamond grit on a metal bond with a grit of 63/50 microns (approx. 240 grit) or 40/28 microns (approximately 400 grit). At this stage, you need to completely cover up all the rough scratches from the previous circle and carefully form the geometry.
3- peeling the top of the cabochon on a soft diamond wheel. By soft wheel I mean a diamond wheel made of rubber, about 2.5-3 mm thick, glued onto porous hard rubber about 1 cm thick. Such circles were produced about twenty years ago in Kyiv. I have a couple left, I have been using them for a very long time and I hope they will last for a long time. I have an idea how to make something similar from diamond powder and silicone myself, if I have time, I will definitely experiment and publish it. Some of my friends use the so-called "turtles", - diamond soft circles with Velcro for stone processing. They are cheap and come in a variety of grit sizes, but I don't like the rough segments on their surface and that makes them unlikely to work well on small cabochons. So I use a soft circle with a grit of 80/63 microns (180 grit) or 63/50 mm (240 grit), depending on the material and size of the cabochon. What is the big plus of soft circles? They bend under pressure and envelop the already formed cabochon, while removing all the steps from the previous stages. VERY IMPORTANT ! - Depending on the temperature of the water, the soft circle behaves differently - the colder the water, the coarser the marks on the stone remain. With very warm water at 240 grit, for some materials, you can go straight to polishing. It is very important to remember that diamond (as well as other abrasives) will act more strongly on the surface of the stone, the harder the material of the wheel on which it is applied. That is, diamond paste of the same grain size will work absolutely differently on a wooden, rubber or metal wheel.
After these three stages, you can go in two ways - either polish the cabochons in a vibrotumbling machine (if the material allows), or continue with manual processing. Further steps for manual processing:
4 - processing on a tarpaulin (actually it is a cotton belting fabric for air filters 2 mm thick) stretched over a hard porous rubber about 1 cm thick. I have three of these circles. I use them with hard diamond paste (based on stearin, it is possible to use a hard water-soluble paste) grit 50/40 micron (320grit), 20/14 micron (1000grit) and polishing grit 2/1 micron (7500grit). In the event that I process a quartz group, I use cerium oxide on felt. If the stones are hard (more than 7.5) or non-uniform in hardness, I use wooden ones instead of canvas circles. Cabochons more than 2.5 centimeters I do not put on the frame, I hold it in my hands - this is optimal for double-convex surfaces. If you have any questions - write, I will answer. Of course, there are many more nuances than I have described here. And it is very important when working with diamond pastes to thoroughly wash your hands and cabochons between stages.
In the photo there is a set of my circles for cabochons and today made biconvex topazes, polished in vibrotumbling, followed by a slight polishing on a tarpaulin. I forgot to add - I do processing on canvas circles without water.