Post by deb193redux on Aug 21, 2011 22:35:25 GMT -5
Several folks told me about blocking large rough with angle grinder that is set up with a saw blade. Make a notch and then use a chisel.
I decided to give it a try when Harbor Freight put a 7" grinder on sale and then I also had a 20% off coupon. Unfortunately it uses 7/8" arbor holes, and all of my 7" blades are 5/8". So I had to go to Ace hardware and get a 7" MK Diamond masonry blade with 7/8" arbor.
Then I had to rig up a water supply. I clamped my hose nozzle onto a truck dolly that I pushed next to my work table (aka, a board on two saw horses in my driveway.)
Here are some pics of the 1st rock I did, an the water, and the grinder, and the notch I cut, and then the split with the chisel. (I don't have a pic of me using the grinder because nobody was here to take one for me.)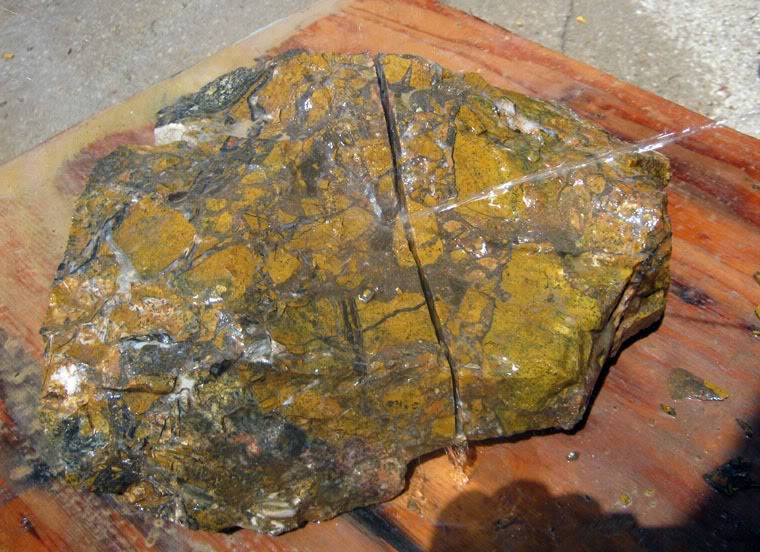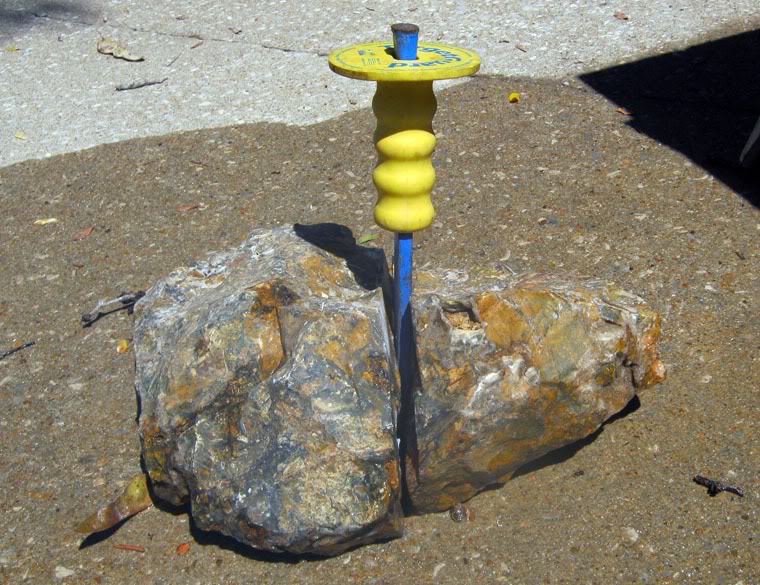 It went pretty well. The blade did not bind up in the cut, and the water was easier to manage than I feared, and the rock split with the 1st wack of the hammer/chisel.
So, I continued to notch the rock and split off pieces until I had a bunch of pieces that would fit in either my LS12 or the LS10 saw.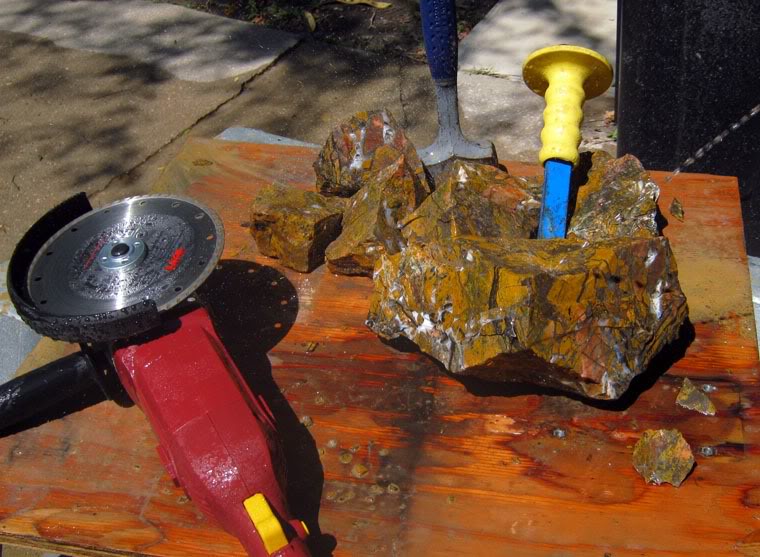 There is still one big chunk. I figure to slab the pieces I blocked and then come back to the big chunk if the rock proves to be worth the effort.
The blade had dulled and rounded a bit after cutting up that 1st rock, so I cut up a fire brick to expose more diamonds. It worked pretty good, so I cut a slice of brick between each rock for the rest of the day.
Then I blocked a piece of 4" thick tigereye, a large hunk of red-yellow-green jasper, a 5" cube of Rocky Butte that I had blocked using the 20" saw at the Salem club when I lived in Oregon - but it was still too big for my LS12, so I made 2 pieces.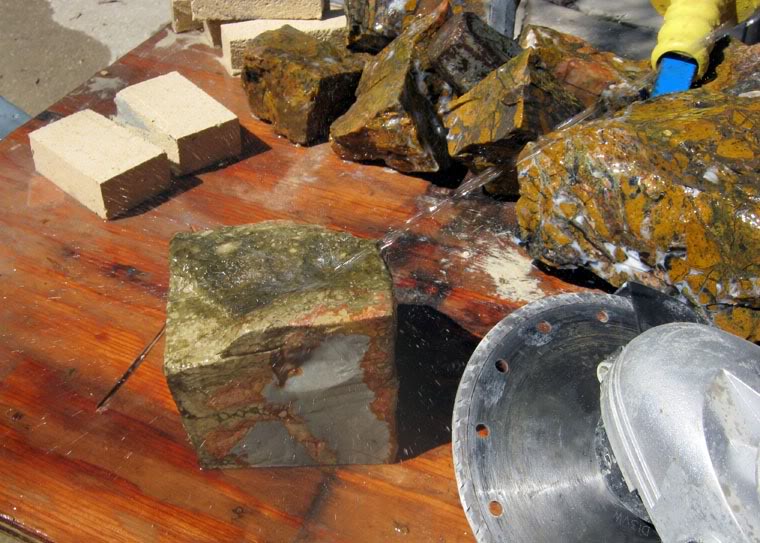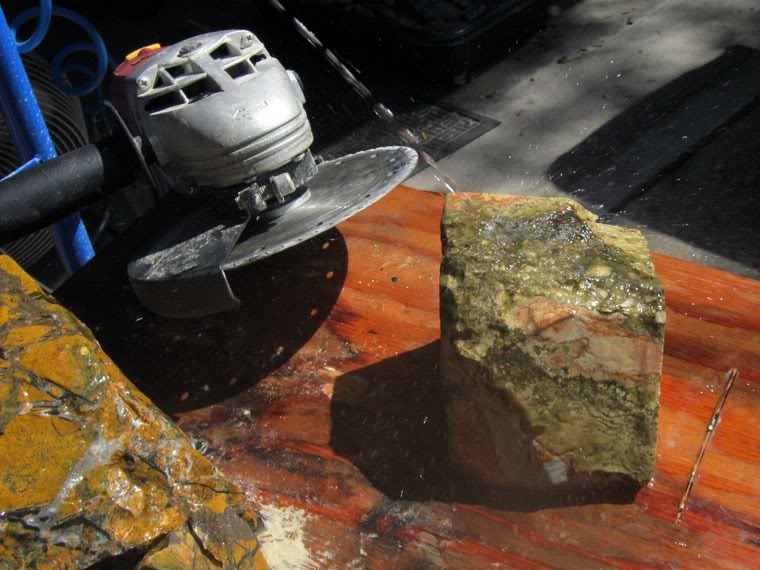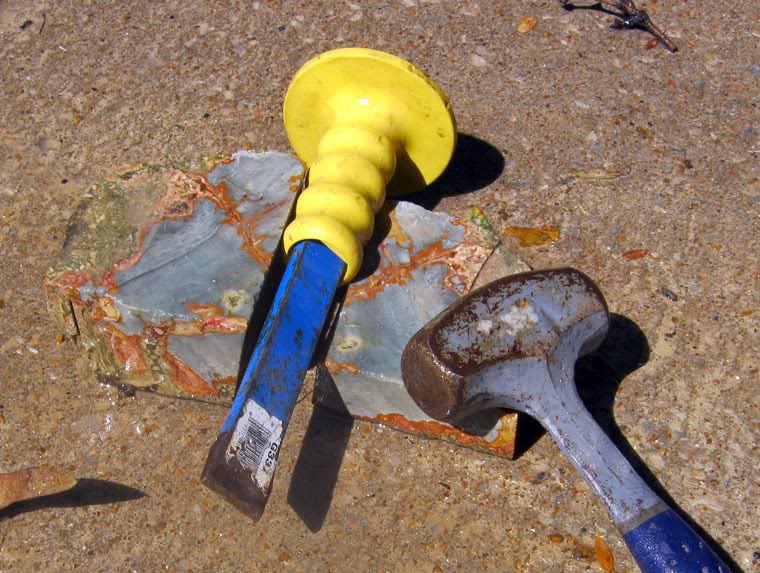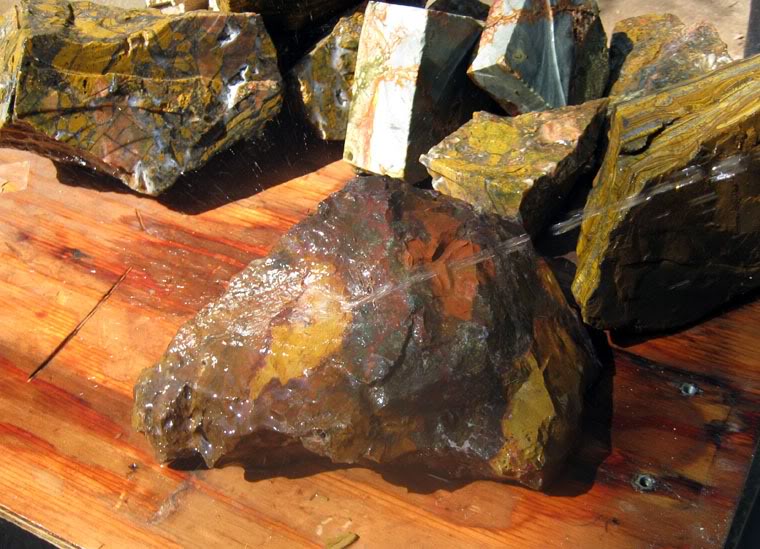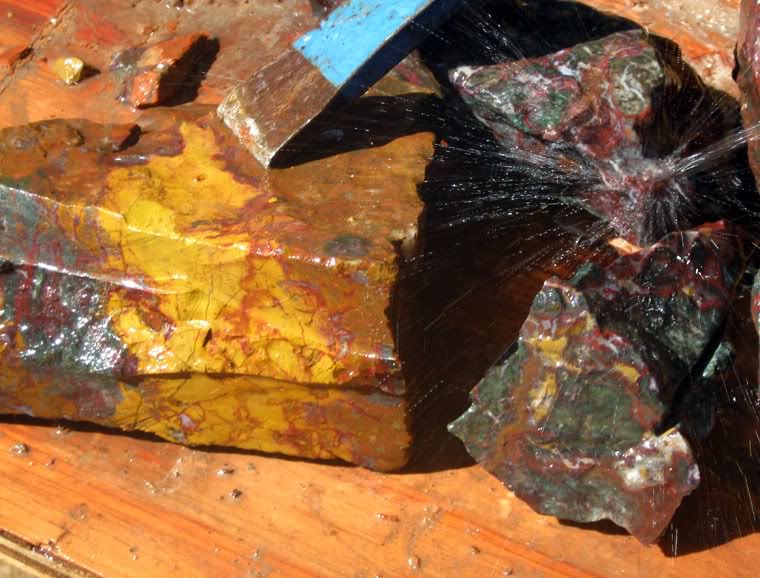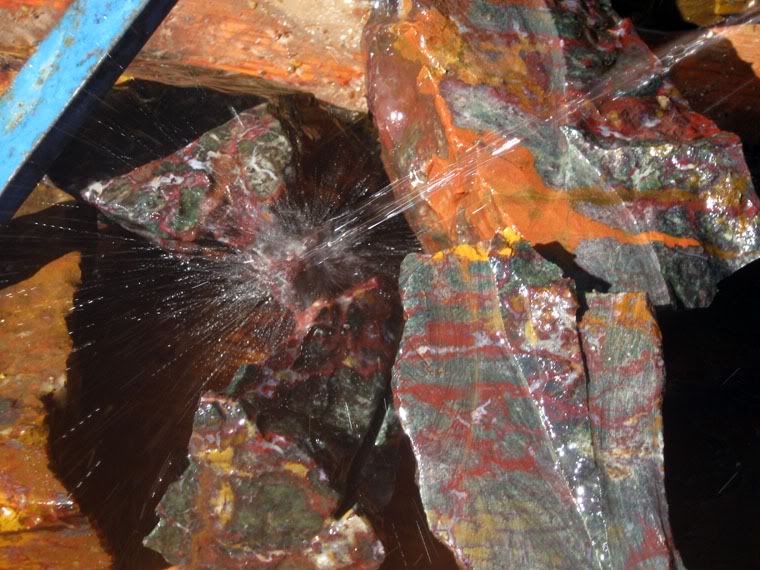 I decided to try a really large rock before I quit, so I got a piece of Rocky Butte that was bigger than a bowling ball. It was difficult to make notches deep enough, so the chisel and hammer did not make the pieces exactly as I wanted. But, it did give me some control over breaking up this stone. I got to roughly position the pattern the way I wanted it.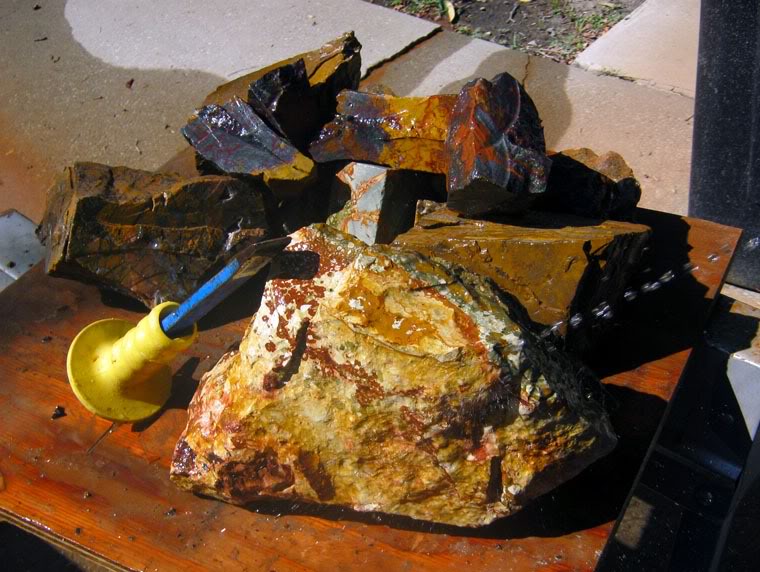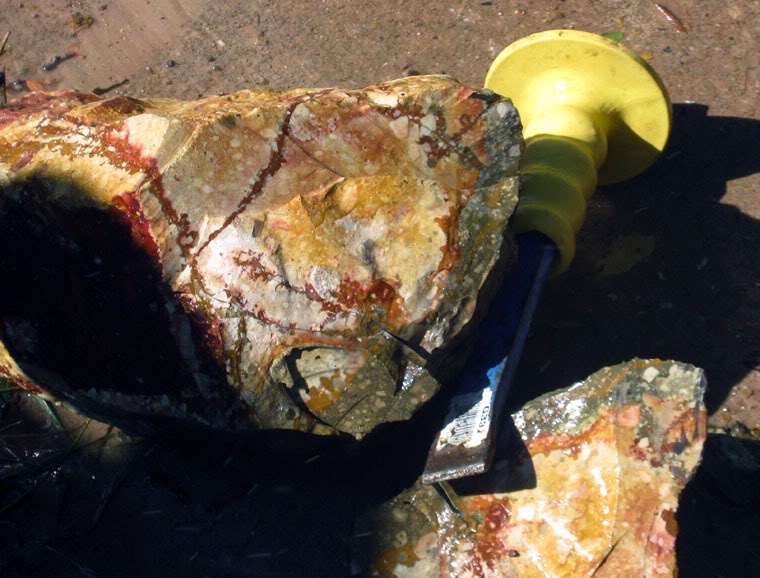 I took several breaks, and was also feeding my slab saws, but I spent about 4 hours to set up and block the 5 rocks. Not a bad days effort.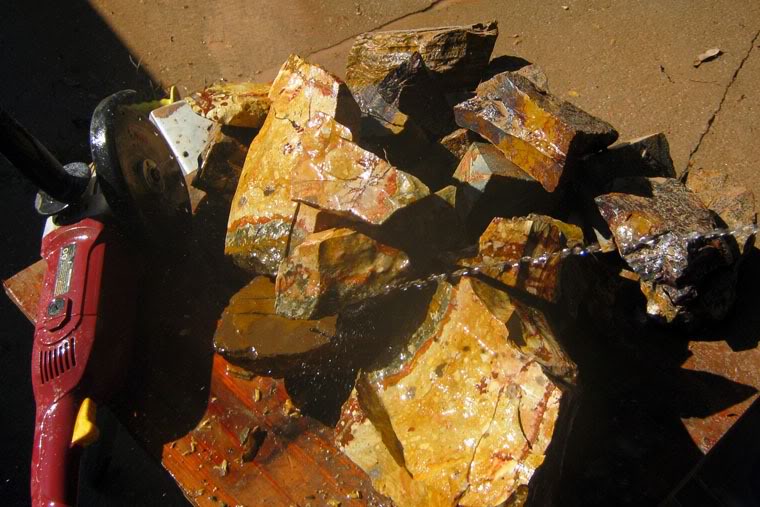 The blade shows a lot of wear. It is over half used up. I think I will get a bit better at being a little more gentle, but I think about 7-8 rocks may be the limit. It is a $27 blade, so that is about $5.50 per rock. I think this compares favorably with paying a few dollars per cut on a 20" or 24" saw. I will be on the lookout for cheaper blades, but I trust MK to put enough diamonds, so I will not go too cheap or too thin.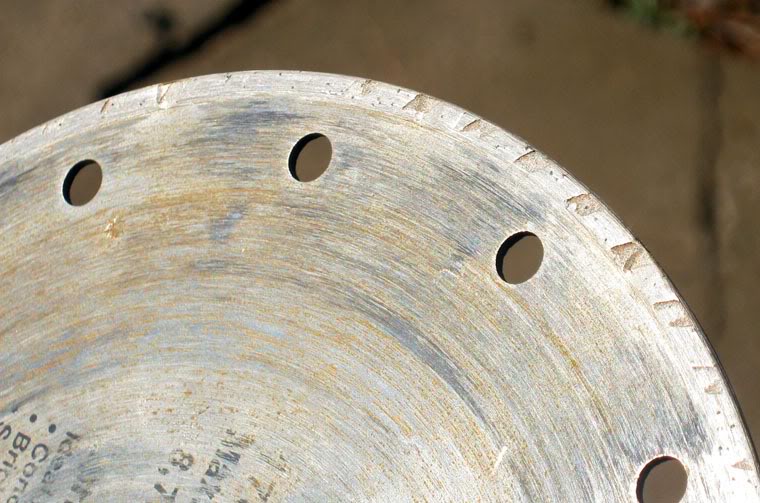 Anyway, the method seems to work pretty good, and a cheap angle grinder seems adequate. You can make deeper notches by spending a little more to get a 7" grinder. If you do this make sure your grinder is plugged into a GFI outlet because of all the water and not wanting to get electrocuted.
I think I will make a plywood box with sides to control spray (my car got a rock snot bath). I also want to rig a vise on the bottom of the box because the big stones stay put, but the medium ones move around while you are trying to make the notch. Also, I think I can improve the water supply by putting a post on side of the box and maybe getting some positionable tubing.
ADMIN EDIT - repaired broken images, original code below
--------------------
[IMG]http://i207.photobucket.com/albums/bb114/deb193/rough/blocking1/IMG_0299.jpg[/img]
[IMG]http://i207.photobucket.com/albums/bb114/deb193/rough/blocking1/IMG_0300.jpg[/img]
[IMG]http://i207.photobucket.com/albums/bb114/deb193/rough/blocking1/IMG_0301.jpg[/img]
[IMG]http://i207.photobucket.com/albums/bb114/deb193/rough/blocking1/IMG_0304.jpg[/img]
[IMG]http://i207.photobucket.com/albums/bb114/deb193/rough/blocking1/IMG_0306.jpg[/img]
[IMG]http://i207.photobucket.com/albums/bb114/deb193/rough/blocking1/IMG_0307.jpg[/img]
[IMG]http://i207.photobucket.com/albums/bb114/deb193/rough/blocking1/IMG_0309.jpg[/img]
[IMG]http://i207.photobucket.com/albums/bb114/deb193/rough/blocking1/IMG_0310.jpg[/img]
[IMG]http://i207.photobucket.com/albums/bb114/deb193/rough/blocking1/IMG_0311.jpg[/img]
[IMG]http://i207.photobucket.com/albums/bb114/deb193/rough/blocking1/IMG_0313.jpg[/img]
[IMG]http://i207.photobucket.com/albums/bb114/deb193/rough/blocking1/IMG_0314.jpg[/img]
[IMG]http://i207.photobucket.com/albums/bb114/deb193/rough/blocking1/IMG_0316.jpg[/img]
[IMG]http://i207.photobucket.com/albums/bb114/deb193/rough/blocking1/IMG_0318.jpg[/img]
[IMG]http://i207.photobucket.com/albums/bb114/deb193/rough/blocking1/IMG_0319.jpg[/img]
[IMG]http://i207.photobucket.com/albums/bb114/deb193/rough/blocking1/IMG_0320.jpg[/img]
[IMG]http://i207.photobucket.com/albums/bb114/deb193/rough/blocking1/IMG_0321.jpg[/img]
[IMG]http://i207.photobucket.com/albums/bb114/deb193/rough/blocking1/IMG_0322.jpg[/img]
[IMG]http://i207.photobucket.com/albums/bb114/deb193/rough/blocking1/IMG_0323.jpg[/img]
[IMG]http://i207.photobucket.com/albums/bb114/deb193/rough/blocking1/IMG_0324.jpg[/img]
[IMG]http://i207.photobucket.com/albums/bb114/deb193/rough/blocking1/IMG_0327.jpg[/img]
[IMG]http://i207.photobucket.com/albums/bb114/deb193/rough/blocking1/IMG_0329.jpg[/img]
[IMG]http://i207.photobucket.com/albums/bb114/deb193/rough/blocking1/IMG_0330.jpg[/img]
[IMG]http://i207.photobucket.com/albums/bb114/deb193/rough/blocking1/IMG_0331.jpg[/img]