Post by Jack ( Yorkshire) on Oct 24, 2011 4:28:01 GMT -5
Hi all
I have seen a few people struggling to take Digital Photos to get a good picture of a gloss finish isent too easy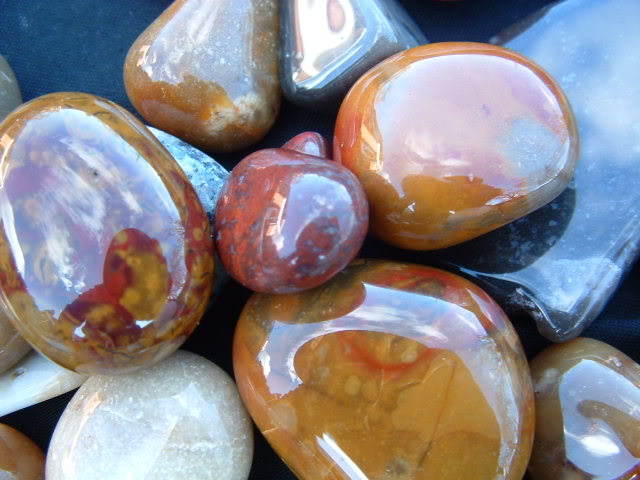 If you have any tips please add only please dont go into getting pictures onto RTH there is a seprate Pinned Tutorial on this above
Problems ,
Digital cameras are Slower reactions than Film cameras
This allows light to come back and upset the auto settings in a full sun situation
Glare or light Feed back
These are as highly polished as the above photo
You can see the difference to the left of the bottom top stone there is another in the shade showing a good polish
This proves this point , if you photo outside in the full sun always photo with your back to the sun and the rock/jewellery in the shade of your boady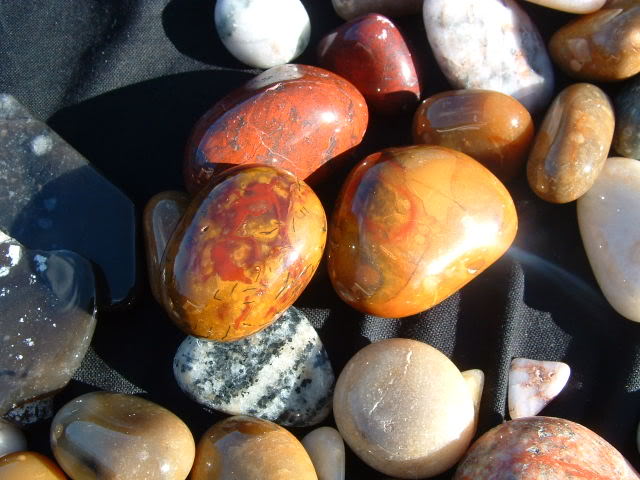 Background problem
The white news paper is the problem here if the background had been a Black sheet it would have been better but not perfect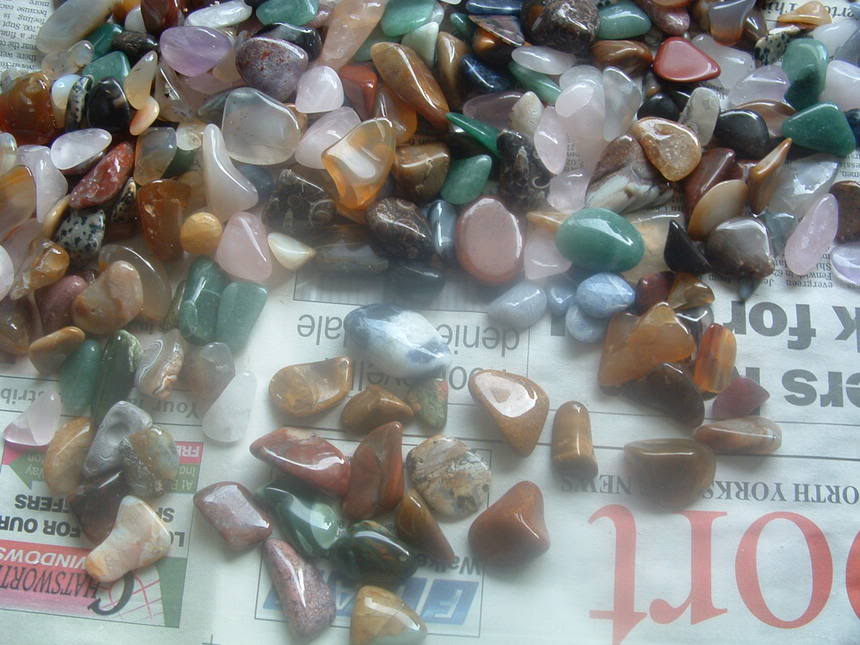 Background ok But Wow ! the light feed back
Lens flare as said below if you use a UV filter it helps but the problem is taking a photo in Direct sun and the reflection off the rocks is upsetting the photo
Camera shake
use a Tripod or Bean bag or auto setting ( see below )
Fuzzy picture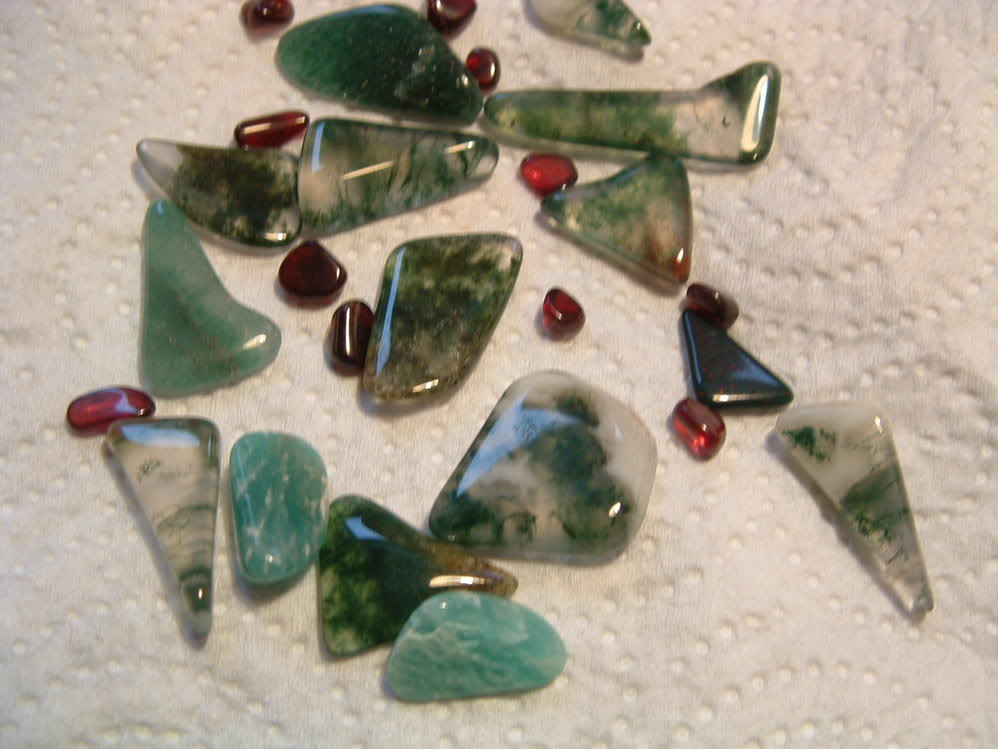 You can also hold on to a solid object , hold the camera into your self so it is a stable as you can get it use a tripod,
Auto 10 or 3 seconds
I use the auto settings a lot as when you press the shutter release you get a slight camera shake putting it on auto release on a tripod will get you away from this problem
Light Box for winter (Low light conditions )
Light intensity is very important
See the remarks of Unclestu, you have to get the light up to get a good photo
Here is a example of not enough light these are mirrow finished the MA at the front

should be showing the camera.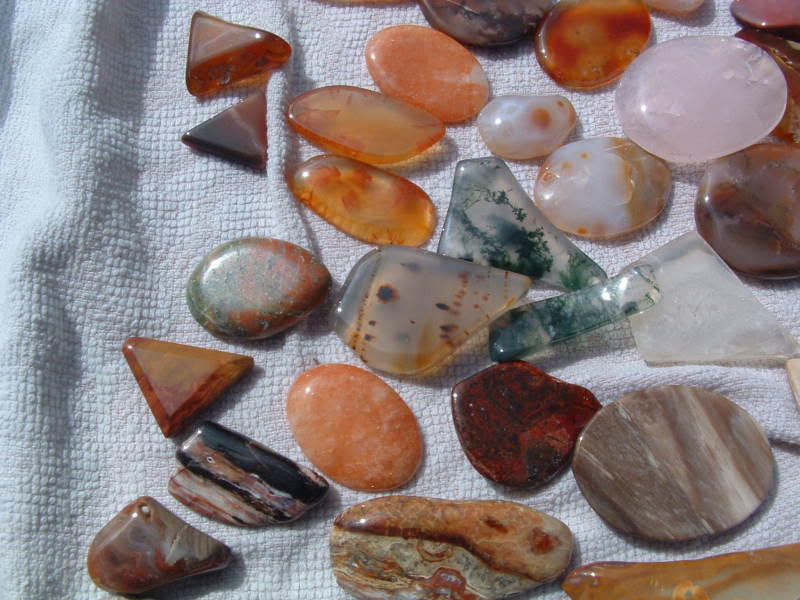 Not only for winter but sometimes that special jewellery item needs the extra light and solid suport
Well Im short of space in my workshop/greenhouse as you can see here is the light box ?? where ?
Ok here is the transformation set out to take photos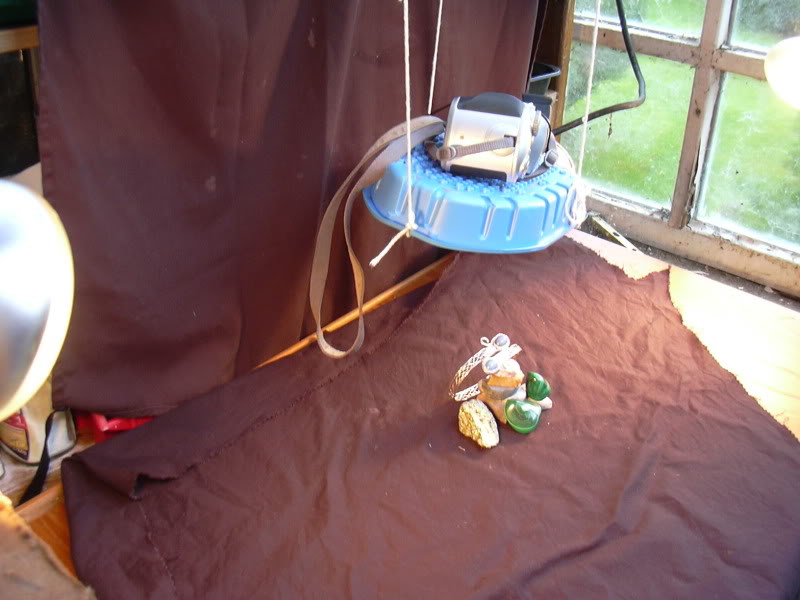 As sujested a bit more information,
2 spot light bulbs either side and a small one over the top (according to Unclestue not strong enough I agree ) Im learning also ,
The blue thing in a old food container with a hole cut in it for the camera lens, the strings give up and down adjustment and angle ajustment , Im working on a solid camera support
I still have more work to do on this L box but this is a Idea if your short of space, I probally need to adjust my camera as the black cloth has come out with a redish tinge, and increse the light Density
Please add your Tips and comments
ADMIN EDIT - repaired broken images, original code below
--------------------

[IMG]http://img.photobucket.com/albums/v357/john-edward/March1st007.jpg[/IMG]
[IMG]http://img.photobucket.com/albums/v357/john-edward/March1st005.jpg[/IMG]
[IMG]http://img.photobucket.com/albums/v357/john-edward/SLABSDecUSABatch006.jpg[/IMG]
[IMG]http://img.photobucket.com/albums/v357/john-edward/SLABSDecUSABatch021.jpg[/IMG]
[IMG]http://img.photobucket.com/albums/v357/john-edward/Dec1st018.jpg[/IMG]
[IMG]http://img.photobucket.com/albums/v357/john-edward/May1stbatch09006.jpg[/IMG]
[IMG]http://img.photobucket.com/albums/v357/john-edward/2011/DSCN0108.jpg[/IMG]
[IMG]http://img.photobucket.com/albums/v357/john-edward/2011/DSCN0109.jpg[/IMG]