Post by RocksInNJ on Dec 13, 2019 11:03:03 GMT -5
Wow, how do I even begin to explain this AMAZING story??? It's so hard to believe, yet alone put into words, but here's my best attempt......
So, I was contacted by a member here on RTH that had asked me via pm, that if they wanted to send me something where would they send it to. Well we had talked previously before about him wanting to send me some rocks, so naturally I figured that's what it was and gave him my address. Then I notice there's a separate pm from him....GET READY FOR IT.....that states, "Hey if I wanted to send you a UV-10 for Christmas, Birthday, Easter or whatever, how would I go about that?"
Send me a WHAT???

Dude seriously, if one of my ex-girlfriends hired you to give me a heart attack, please tell them that I'm seriously sorry for whatever it is I may have done. Man if I knew this, I probably wouldn't have already given you my address. I go on to tell him that I'm in no way judging him or his character in any way, but this is just unbelievably insane and that he has to remember that I'm from New Jersey and how the people here totally suck and things like this just don't happen here. Let alone happen to me of all people.
So of course I just can't come to grips with this and believe it's real. Again, nothing against him. Ive just never experienced anything like this before in my lifetime. I even go as far to tell him that if I wasn't in the comfort of my own home that I'd be like, ok where's the hidden cameras and wait for someone to come out and tell me that I'm on tv and have just been pranked lol.
Nope, he explains how people in his part of the world are completely different and that he is sincere. Ummmm ok, I'm sorry I still can't believe it, but there's nothing I can do now anyway as I already gave him my address and tried to explain how it wasn't necessary.
So time goes on and I'm still baffled in unbelief, when I get a pm with a shipping order invoice from therockshed.com that gets pm'd to me.
Wait, what? No this can't be. He just typed this up and made it look good lol. Yea, this can't be true.
Next day I get a pm with a tracking number, which indeed is to my address and from therockshed and I'm thinking, you gotta be kidding me. Maybe this is for real after all or I'm just having one hell of a dream. This really seems legit, but yet I still can't believe it. Things like this just don't happen, let alone to me of all people.
So the day it's supposed to get delivered, it gets pushed back a day. At this point I'm so excited, but still really not sure what to expect. Next day still no package at 3-3:30 when FedEx usually shows up, I keep checking the tracking and it says out for delivery. Game night with the guys that night and it's now 6pm and still nothing. Then at 7:30 the tracking says, delivery pending with no scheduled date now and I'm thinking, yea this isn't happening. I knew it was to good to be true and I must've finally awaken from my dream.
So friends and I are in the middle of gaming. Killing zombies left and right. When at 8pm a little box truck pulls up in front of my house and my friend says it's FedEx. Holy shit, you gotta be kidding me? So I run out to get the package and bring it in. Ok guys, game night is on hold for a few. I gotta open this and see what pops out. My friends all gather around as I open the box and lo and behold, there she is in all her beauty and she brought friends as well. Also included were all the stages of grit needed, along with small and large ceramic media. WOW, you have gotta be kidding me.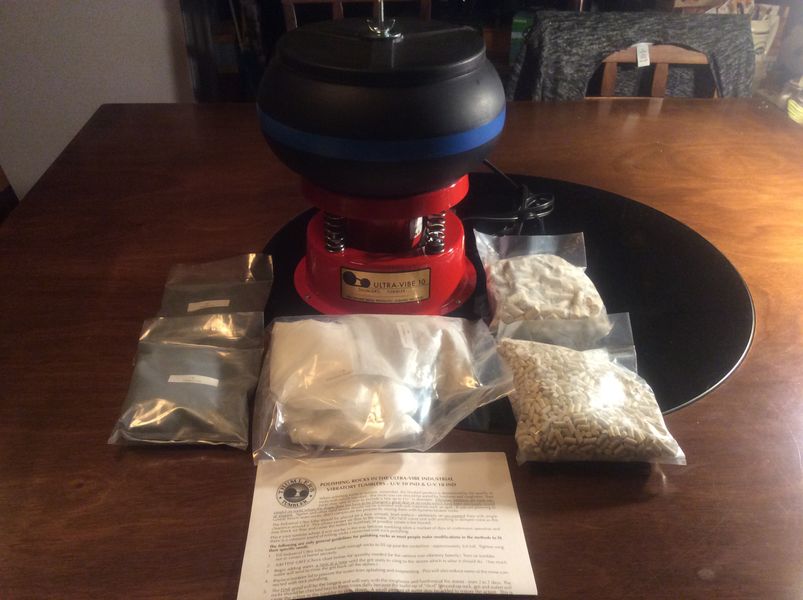 Even though she is sitting there right in front of my eyes I still can't believe it and even today I'm still in shock and awe. So indeed Santa does truly exist and by now you're probably wondering about the secret identity of this kind and most generous Santa.
Well without further ado I'd like to give a HUGE thank you to
EricD
not only for giving me the greatest Christmas EVER, but for showing me that there really are some amazingly kind and generous people on the outskirts of New Jersey. I AM TOTALLY BLOWN AWAY, and only hope that it somehow comes back to you some day and that I can hopefully be part of it and also hope that I can spread the love to others here as well. I hope that all your tumbles turn out to be gold or at least golden.
The kindness and thoughtfulness that I've been shown and given here since the short time I've been here is mind shattering. My apologies for such a long story, but even all these words can't explain how great I feel and just how blessed I am.
Once again, as I can't state it enough. Thank you, thank you, thank you. Your generosity is of the charts bro and I am glad to call you my friend and very much enjoy our daily chats. And for everyone else out there. I truly wish you all the merriest of holidays ever and thank you for taking the time to read this story and sharing the happiness with me.
Happy Holidays,
Bill