Post by 1dave on Oct 31, 2020 5:47:19 GMT -5
Shared by Calvin Warby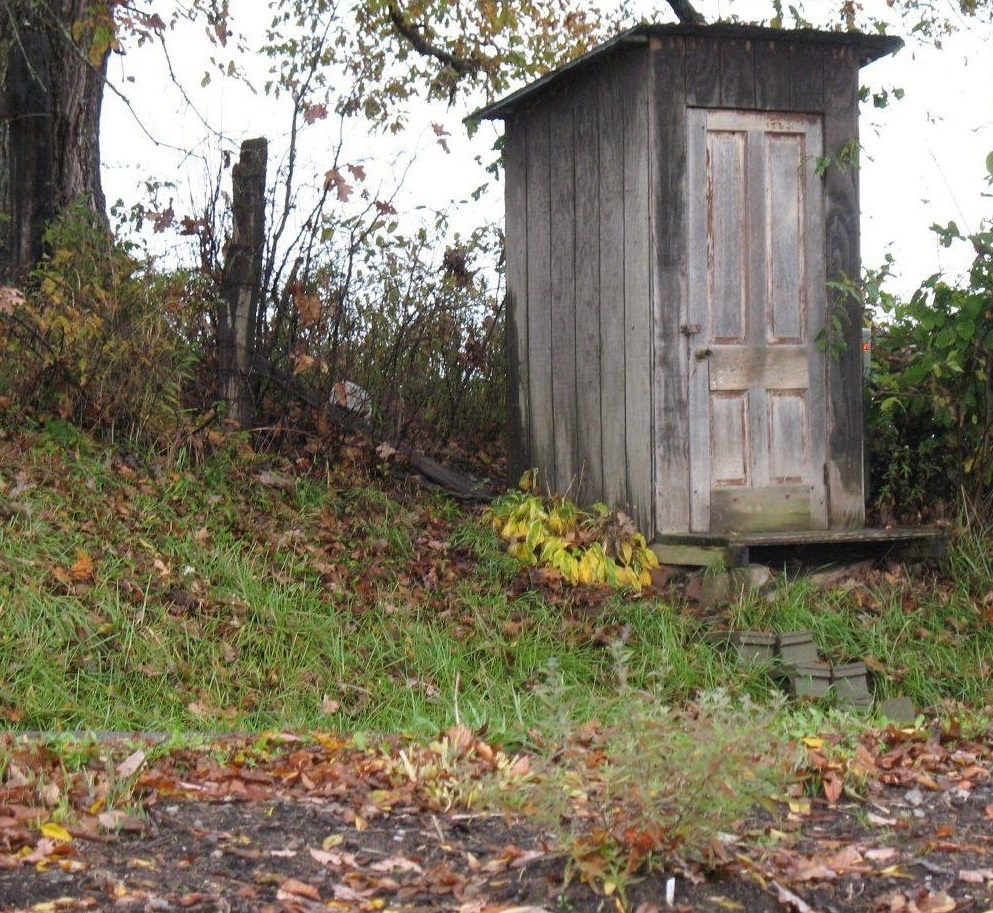 CHIPS, PATCHES AND KALSIMINE
--Georgean (Olcott) Warby, December 2001
Growing up during the "Great Depression" and the "War Years" was quite an experience to say the least. I imagine it was about as close to being pioneers as it could be. But we didn't know it then. It was just the way things were and everyone else was in the same boat.
I can't believe, when I really stop to think of it, how very pampered we are now. In the natural progression we have seen in our lifetime, even non-essentials seem like the necessities of life. And I am so grateful to have the comforts and amenities we enjoy now, and can't imagine having to subsist as we did then. Should we ever have to go back to "the good old days" I know I would have a difficult time surviving and it frightens me to think of the "children" who wouldn't have the slightest idea of how to survive.
Just to mention a few things that I don't see how they could work now, I'll begin with the old outhouse. Can you imagine every family having an outhouse in their back yard? Such a sanitary place! And the perfume that emanated from it constantly! Imagine the trip out to it, night or day, sunshine or snow, hot or freezing; Mother Nature never seemed to have much concern or care when she decided to call. Oh, but you say, there was always the thunder mug under the bed! Well, yes, but that was reserved for emergencies----that is, REAL emergencies. And it wasn't that comfortable, either.
Have you ever tried using a bedpan in a hospital? That's a breeze compared to a thunder mug. Especially if you are old and have set bones like I have now. To have that sitting under the bed was unpleasant, too. Then, come morning it had to be taken to the old toilet, emptied, then taken to the ditch or creek and washed before bringing it back into the house. It was just about as easy to make the trek in the first place.
Now, try to imagine life with out toilet tissue. I realize this is a delicate subject, but it was one of the necessities then the same as now. We usually were fortunate enough to have either an old Sears and Roebuck or a Montgomery Ward catalog that rested between the holes in the toilet seat. With as much use as the catalogs got being scanned for months as we daydreamed of all the wonderful things pictured therein, before it was relegated to the outhouse, you would suppose it had seen its day. Not so! After getting used to the smell, we would sit and study them again, on good days, until someone else would chase us out.
Sometimes the pages were especially rough. We would "ruffle" them up in our hands, manipulating them until they were much softer.
Speaking of rough! If we ran out of catalogs, what else could we use but the bark or chips from cedar trees that Dad chopped into wood for the stoves. There was always plenty of that at the nearby woodpile. To soften the bark up, we used the same method as with pages from the catalogs.
Whenever we shopped in town, all of our purchases were wrapped in paper and tied up in a package with twine. (String.) That paper was carefully saved to replace the bark. That is, unless it was needed to wrap our school lunches in. Also, we collected all of the newspapers we could. Much better than bark! Or chips!
Well, I believe you get the picture about that subject. Let's move on to patches.
Whenever our clothes got worn places or holes, they were never discarded as clothes are now. No sir! They were very carefully mended and patched. So very meticulously that it was generally difficult to ever see where it was patched, even with careful scrutiny. That was one of the marks of an excellent housewife.
Our stockings were darned whenever the slightest hole appeared. Now, shoes were something else. When we got a hole in the sole of the shoe, we would cut a piece of cardboard to fit and insert that into the shoe to do until we could get to a shoe shop and get them half-soled. Whenever we had to do that, we tried to get cardboard that had no printing on it or else we had to keep our feet flat on the floor if we sat down. We didn't want anyone to see that we had cardboard inserts.
We tried to keep extra half-soles on hand. If we had them, Daddy would put our shoes on the "last" and hammer the sole on with tacks. He wasn't an expert shoemaker, though, and sometimes the tacks came through the shoe. We then had to resort to covering them up with cardboard inserts. Try walking on a tack sometime!
The shoes that we wore for best were always polished to a shine. We wouldn't be caught dead in unpolished shoes. However, our everyday shoes were worn until they wouldn't stay on our feet any longer. I don't believe it was out of necessity, but just for fun, in the summertime we would make us some sandals out of old inner tubes. We didn't wear them a whole lot because we ran around home and the farm barefoot. I hated shoes in the summertime. I still kick my shoes off whenever I can.
Next subject----Kalsimine. Now, that is a word I would bet few of you have heard. As a loose definition, it was a sort of paint we painted our walls with. Actually, it was a little more durable and pretty than whitewash. Not very washable, though. Every spring we bought a few cans of kalsimine and rejuvenated the walls.
Since all of our cooking and heating were done with wood stoves, by the time spring came, even being as careful as we could, our walls would be coated with smoke. We spent weeks and a lot of elbow grease scrubbing walls to prepare them for a coat of kalsimine. Then we would carefully and thoughtfully select the most beautiful color we could find, in the few colors available, and tackle the job of painting. We really didn't have to worry about drips. They washed off the floor as easy as pie. That is, until the kalsimine cured for a few days.
We had to be very careful not to touch the walls until it was set.
We were as proud and happy to have a clean, fresh coat of kalsimine as we are of a good coat of paint today. It was also gratifying to know that we had "done it ourselves!"