Post by 1dave on Aug 12, 2022 21:52:10 GMT -5
I was writing about the Baringer Hill Yttrium Mine when William Hidden came into view.
How many fingers does he have on his left hand?
Initially, the Nernst lamp had a life of only two hours. Soon, this number was increased to seven hundred hours by another Westinghouse engineer, Marshall Hank. The lamp's design was also modified to accommodate a filament consisting of 25 percent yttria and 75 percent zirconia. These ingredients were made into a paste, squirted into strips, baked, and then cut into the proper lengths. When the mixture was cold, it was nonconductive, but after being heated, it became a conductor that gave off a brilliant light with wavelengths penetrating deep into the infrared.

With its technical problems solved, the Nernst Lamp Company, no doubt a subsidy of Westinghouse, decided to put the lamp into production and bought Baringer Hill through William E. Hidden.

During the winter of 1902-03, the Nernst Lamp Company sent Hidden, himself, to begin excavation.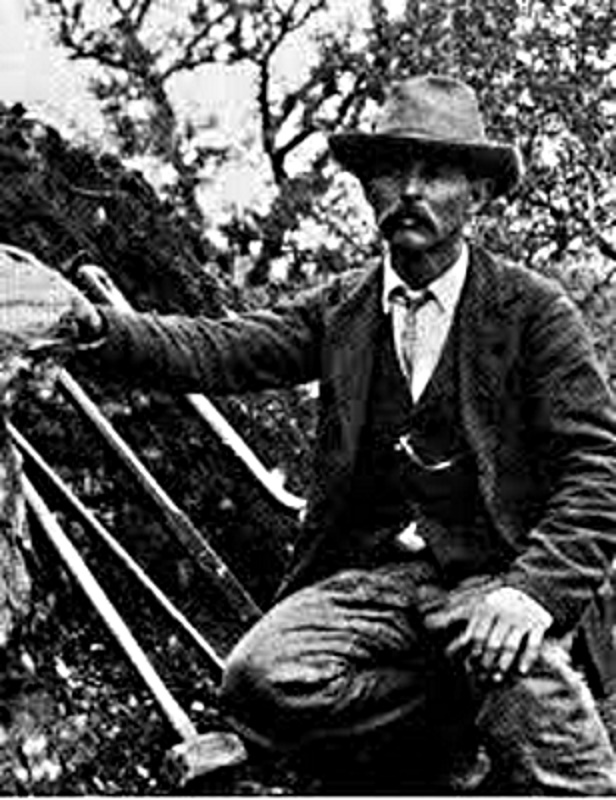 William E. Hidden next to a 73-lb. mass of Gadolinite in place at Barringer Hill, 1903 (6).

For four months that winter and six months the following year, a dozen or so miners worked full time for the company, including Tad Casner and Barringer, who was probably once again somewhat of a laughing stock for not getting as much money as he could have for the land. Work was slow because the minerals appeared in pockets. The miners struggled to remove ore using picks, shovels, and dynamite to quarry rock from open 40 foot deep pits around the edge of the mound. Despite the difficulty of their task, the men made progress. By 1904, they had blasted away the top of the hill. A 30 foot high quartz pillar, however, was left standing in the middle of the quarry because it contained almost no rare earth minerals.

Hidden and the miners made many curious discoveries about the minerals at Barringer Hill. Masses of purple and green coarsely crystallized fluorite up to 400 pounds were fairly common, as were enormous crystals of feldspar, some over five feet in diameter. From a cavity big enough to hold a horse, the miners removed a 600 pound single smoky quartz crystal which measured 43" X 28" X 15".

Other rock samples were radioactive, such as a seventy-three pound double crystal of gadolinite. Even seemingly common minerals could be radioactive. For example, in a 1905 publication, Hidden mentions that much of the fluorite from Barringer Hill exhibited "brilliant green light when strongly heated and viewed in the dark," and one piece was "self-luminous at night without heat."