Post by pizzano on Feb 16, 2023 12:08:45 GMT -5
Apparently, this is why my guitar was consider flawed.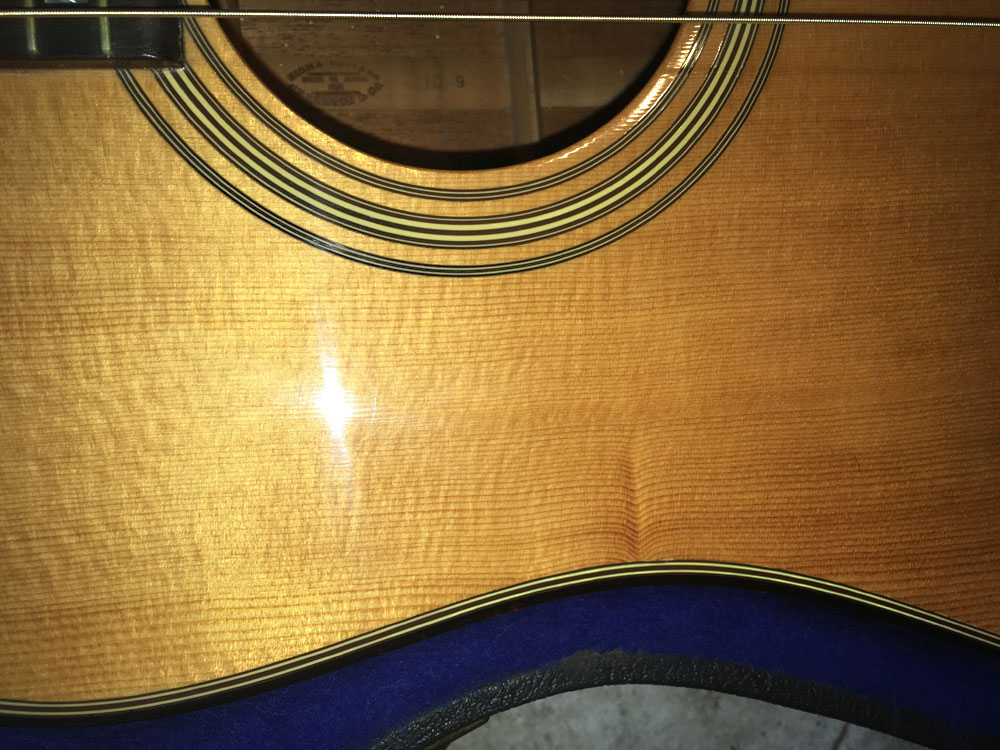 It is part of the natural grain.
I am happy the inspector considered this a flaw.
If this would have been a D 10 with no flaws the cost when I purchased it in 2019 would have been at least double what I paid.
If Cosmetic from nature, considered a natural blemish. Not really a "flaw" as stated by that inspector.......although that "photo" could lend itself to more scrutiny......since the black & white binder along the edge of the top seems to also have been disturbed, could very well be a compression made by an impact, rather a dent......a common "flaw" on "well traveled" soft Spruce guitar faces.
We've had guitar discussions in the past.......Yes, Sigma guitars were made in Japan in the 70's, for Martin. The less expensive alternative for American made Martin's. I've never owned one, but have played them. On par "tone" wise with most Spruce topped, lite internally bridged, constructed American made Martin's. I've owned American made Martin's, still my favorite today. But I've sold all of them and only kept my vintage 70's Japan made, Hohner and Takamine dreadnought Concert & Orchestra models. Still play each today, as my venues require. Why did I keep them instead of my Martin's.....? Well, because the Martin's were a bit to fragile for my use and were worth to much money to sit and collect dust.
They went to good homes......and more importantly, my two others have proved over the test of time and function, to sound and play just as well or better than the Martin's, and both have worn well from the beatings they have experienced.......lol.....and they still have a little "monetary" value if I ever chose to sell, which I won't.........many 70's Japan made acoustic guitars priced in the upper ranges, commissioned by well respected American guitar manufactures, have held their value and quality over the years.....to include Sigma......not so much today. Japan still designs/constructs their very own, very high end guitars, but most are now manufactured in China with little to no real quality control.....don't buy into that "inspected by" the American manufactures representative BS.....Absolutely every musician I know will not play or purchase anything made in China ........regardless of brand name. Wonder why.......lol